We decided to finish one of our guest bedrooms. It had a mattress on a frame and small Ikea nightstand; although functional not very welcoming. We started by making a farmers bed using Ana Whites Farmhouse Bed pattern. It took Herman and I a full day to build it, and me a whole week to finish it.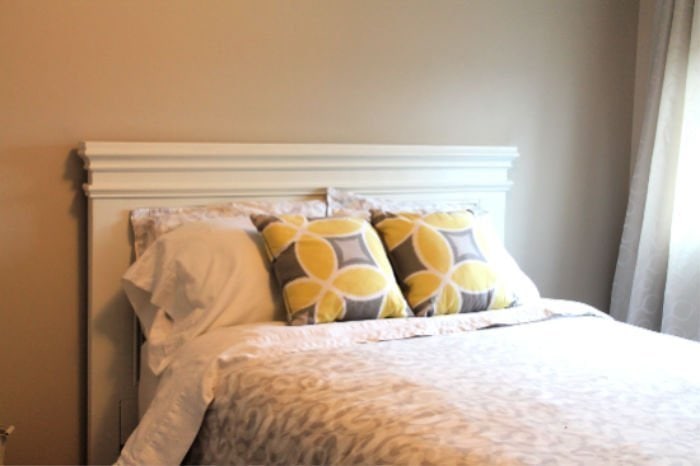 My go-to colour is always white. It brightens any room and is easy to update with accessories. For these projects I chose Benjamin Moore Linen White paint in satin.
I wanted the bed to have a smooth and satiny pottery barn type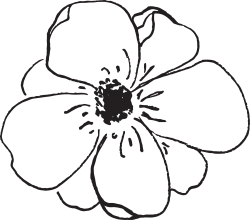 finish. I ended up spending twenty times as long sanding it as I did painting it. The paint finish is shiny and smooth, but forewarned it takes hours of hand sanding to get it that way.
To paint and finish any piece of furniture you will need.
[wc_row][wc_column size="one-half" position="first"]
paint
80, 120, 220, and 2000 grit sandpaper
paste wax
[/wc_column][wc_column size="one-half" position="last"]
cheesecloth
natural bristle brush ( or 2000 grit sandpaper)
[/wc_column][/wc_row]
Start by thoroughly sanding your wood surface. Start with 80, then 120, and finally 220 sanding paper. On new lumber you can start with an electric sander when refinishing all the sanding should be by hand.
Once the wood is sanded, apply a coat of primer, then lightly hand sand with first 120 and then 220 grit sandpaper the dust off with a soft cloth.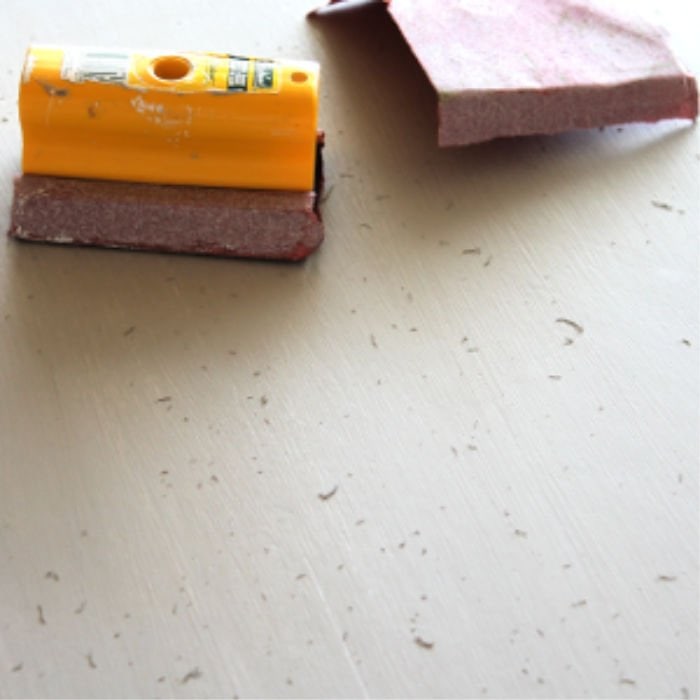 Repeat with three coats of paint, lightly sanding with 220 sandpaper between each coat. This picture is from the shop and shows how the paint gathers. I hope you can see the texture grain pulling through the paint.
Between each coat of paint, run your hand over all the surfaces to find any rough spots. If you do, re-sand with 220 grit sandpaper. I learned by experience that the rough portions from early coats transfer through to the next coat where you can't sand them off.
Once you have applied all the paint, let it dry for 24 hours before starting to apply wax.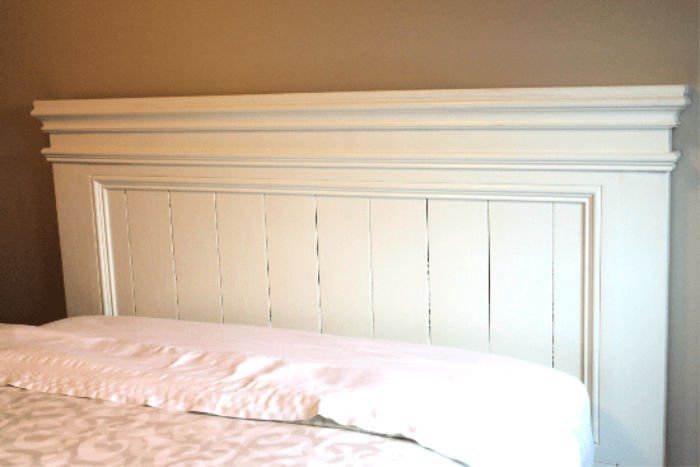 Apply paste finishing wax with a cheesecloth, rub it in according to manufacturers instructions. Let the wax dry, polish with a soft cloth and then scuff it very lightly using a natural bristle brush, or 2000 grit sandpaper. You won't feel the roughness, but its necessary for the separate layers of wax to adhere to each other. Add at least one more coat of wax and polish it with a soft cloth.
Your paint finish will have slight grain and shine, it should feel slippery smooth when you run your hands over it.
I also refinished a very old table to use as a night table.
This table spent the last three years in the corner of Herman's man cave. I love the tiger wood, but it has developed a crack in the tabletop that needs repairing, and the oak finish doesn't match our other furniture. It is was originally put together from odds and end pieces.
The table is quite high making it a perfect match for the farmhouse bed.
It received the same refinishing treatment as the farmhouse bed. It took me three days to paint and sand, it's not as smooth as the bed because the wood has lots of knicks and scars from years of service. Now it should have a few more years in semi-retirement service in a guest room that's not always occupied.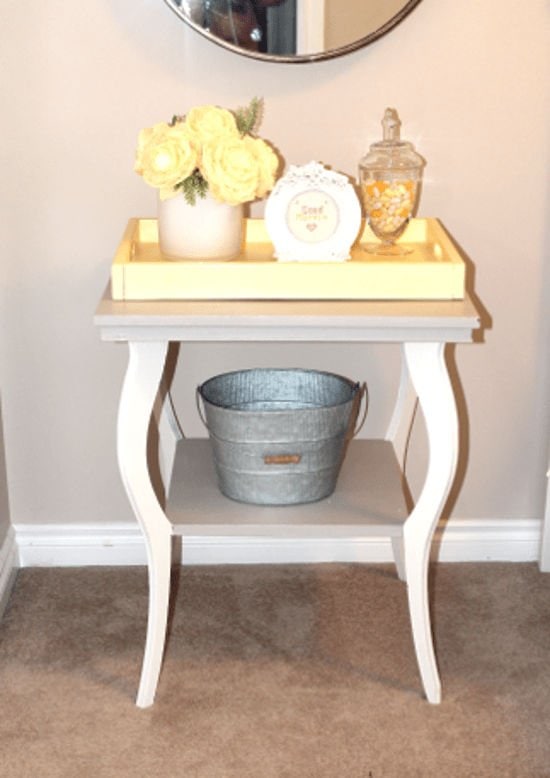 We did a couple of other small projects for the bedroom. I will be posting them in the next few days.
Leanna