DIY Bedroom Ideas on a Budget
With limited home decor budgets we all need to pick and choose where to spend, and where to save. We managed to update a guest room, including making an Ana White Farmhouse Bed, and give it an ice smooth Pottery Barn copycat finish for less than $200. It took a few DIY Bedroom Ideas, but its now a guest room nice enough for guests.
How to Build and Finish an Ana White Farmhouse Bed
Our bedroom started with a new mattress on a plain metal frame. Comfortable but not in the least welcoming, it needed a headboard. Before blogging Hubs and I made this farmhouse bed, using Ana Whites Farmhouse Bed pattern. Making the bed is very straight forward and Ana White's directions are easy to follow. But the secret to making the gorgeous Farmhouse bed amazing is the finish.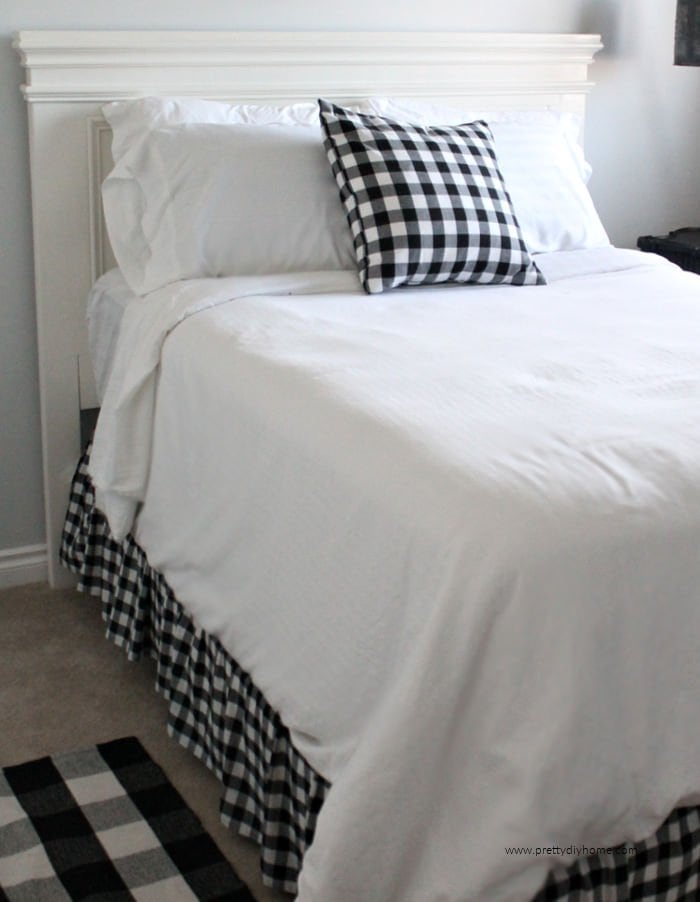 My go-to colour is white, its timeless, brightens any room easy to update with accessories. For our bedroom I finished everything in Benjamin Moore Linen White paint in satin a satin finish.
I wanted the bed to have a smooth and satiny pottery barn type finish. I ended up spending twenty times as long sanding it as I did painting it. The paint finish is shiny and smooth, but forewarned it takes hours of hand sanding to get it that way.
Farmhouse Bed Refinishing Supplies
To paint and finish any piece of furniture you will need.
White Latex Paint (we used Benjamin Moore White Linen)
Binz latex primer
80, 120, 220, and 2000 grit sandpaper
Minwax Paste Wax
Cheesecloth
Natural bristle brush ( or 2000 grit sandpaper)
This finish takes quite a bit of work, but its soooooo worth it. Our guests love this bed and to replace this solid wood bed would be up to $2000. Its not at all hard to finish, you just need to sand. Because I took the time to do all this sanding no one thinks its a DIY project.
Start by thoroughly sanding your wood surface. Start with 80, then 120, and finally 220 sanding paper. On new lumber its fine to work using an electric sander.
Once the wood is sanded, apply a coat of primer, then lightly hand sand with first 120 and then 220 grit sandpaper the dust off with a soft cloth.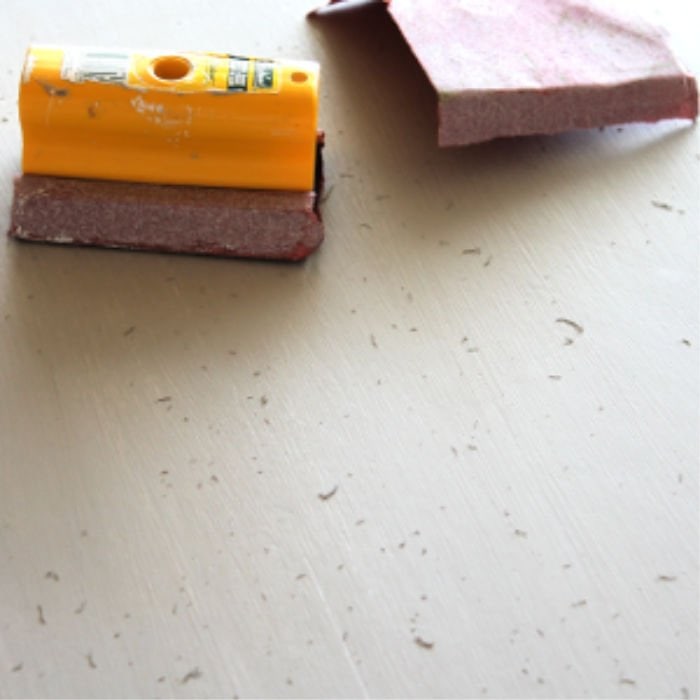 Repeat with three coats of paint, lightly sanding with 220 sandpaper between each coat. This picture is from the shop and shows how the paint gathers. I hope you can see the texture grain pulling through the paint.
Between each coat of paint, run your hand over all the surfaces to find any rough spots. If you do, re-sand with 220 grit sandpaper. I learned by experience that the rough portions from early coats transfer through to the next coat where you can't sand them off.
Once you have applied all the paint, let it dry for 24 hours before starting to apply wax.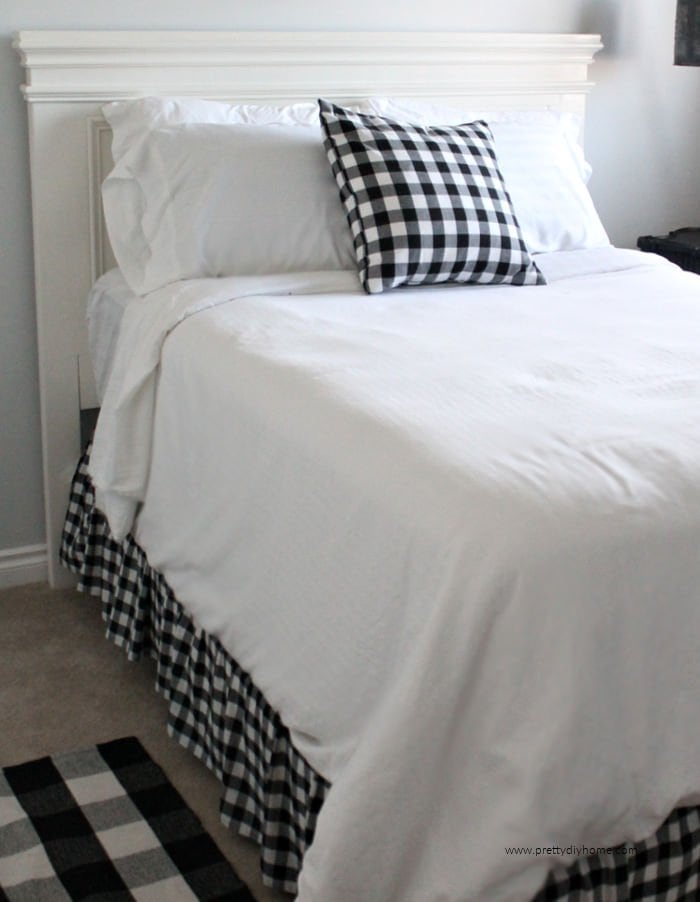 Apply paste finishing wax with a cheesecloth, rub it in according to manufacturers instructions. Let the wax dry, polish with a soft cloth and then scuff it very lightly using a natural bristle brush, or 2000 grit sandpaper. You won't feel the roughness, but its necessary for the separate layers of wax to adhere to each other. Add at least one more coat of wax and polish it with a soft cloth.
Your paint finish will have slight grain and shine, it should feel slippery smooth when you run your hands over it.
Night Table
As I am sure you know for budget decorating its always cheapest to look around home for something you can either move, or refinish.
This night table is a $5 garage sale find. I gave it a quick makeover with Binz primer and two coats of Fusion Mineral Paint in Coal. There are lots of curves to this little stand, so I did not distress it at all. Easy peasy.
Cameo Wall Art
I found some cameos at another garage sale. This DIY Cameo Artwork adds a little bit of drama to the bedroom. bedroom.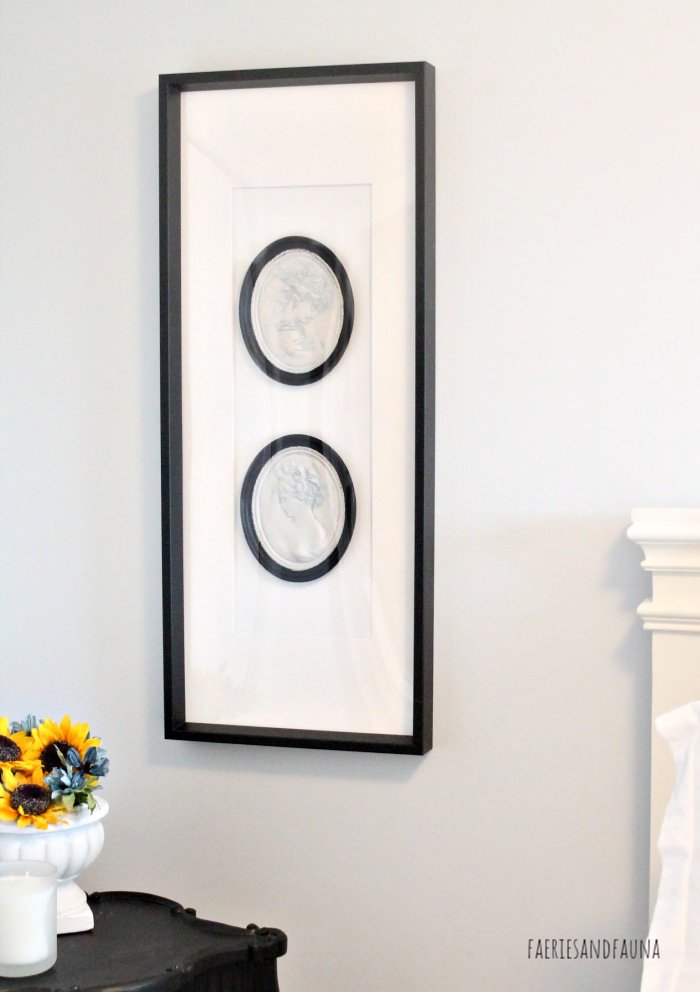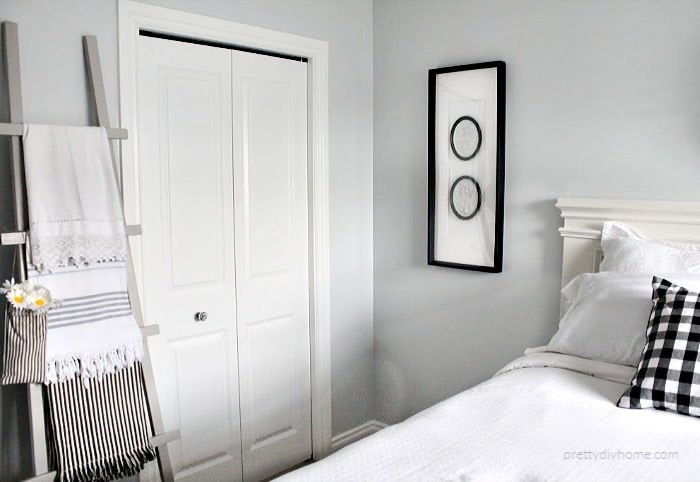 Farmhouse Wreath
The little space above the bed can be a challenge to decorate, but it needs something, don't you think? The solution was this little DIY Rag wreath craft made inexpensively with ticking and drop cloth. I can easily update the wreath for any season.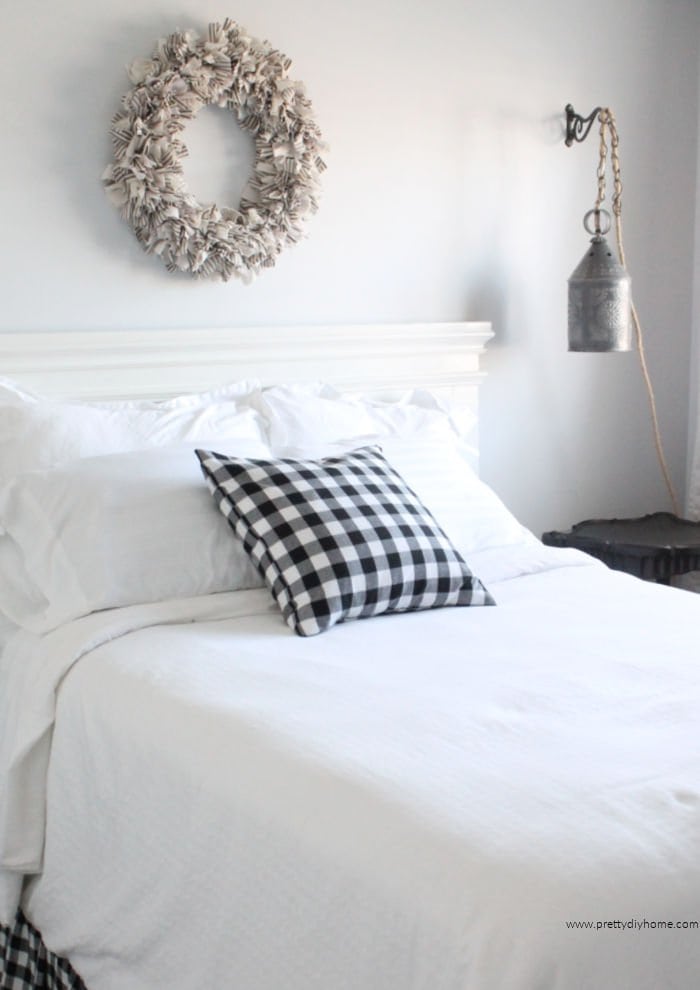 DIY Farmhouse Ladder
These simple Farmhouse DIY Ladders are so easy to make, this one is a simple grey one, but I want more. They are so handy for holding bedding, and for home decor. I highly recommend making one of two.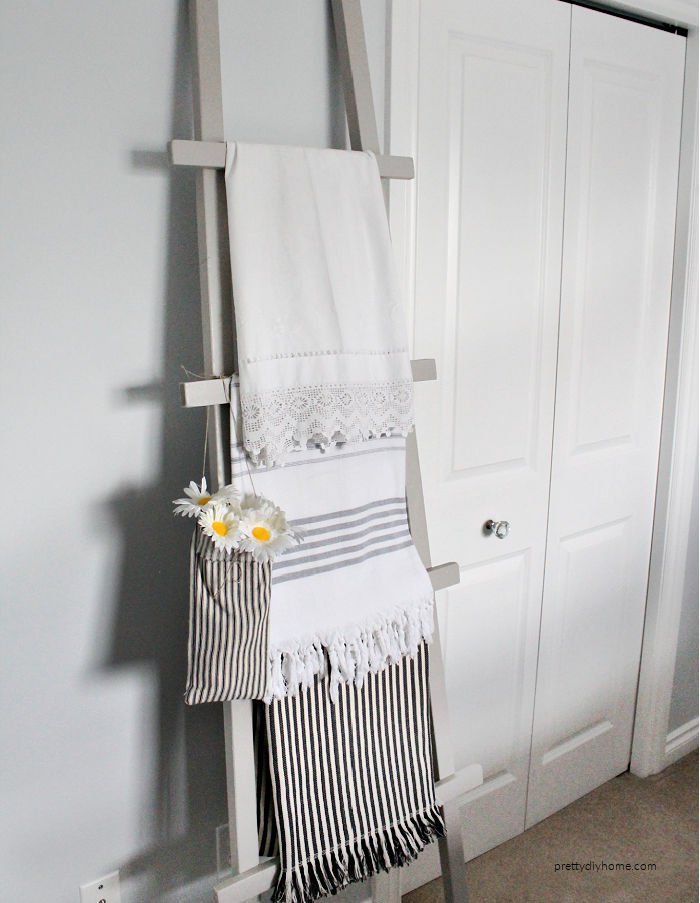 Black and White Decor
I love monochromatic home decor throughout my home, especially black, grey's and whites. I find it makes seasonal decorating very fun and easy to add in any colour I choose, I understand that many people love bright colours. The next section shows you how I decorated the same room in red for Christmas.
Christmas Bedroom Update
We love having this bedroom, I enjoy updating it for guests, and especially for Christmas. Here is a post showing the room decorated for the Christmas Holidays.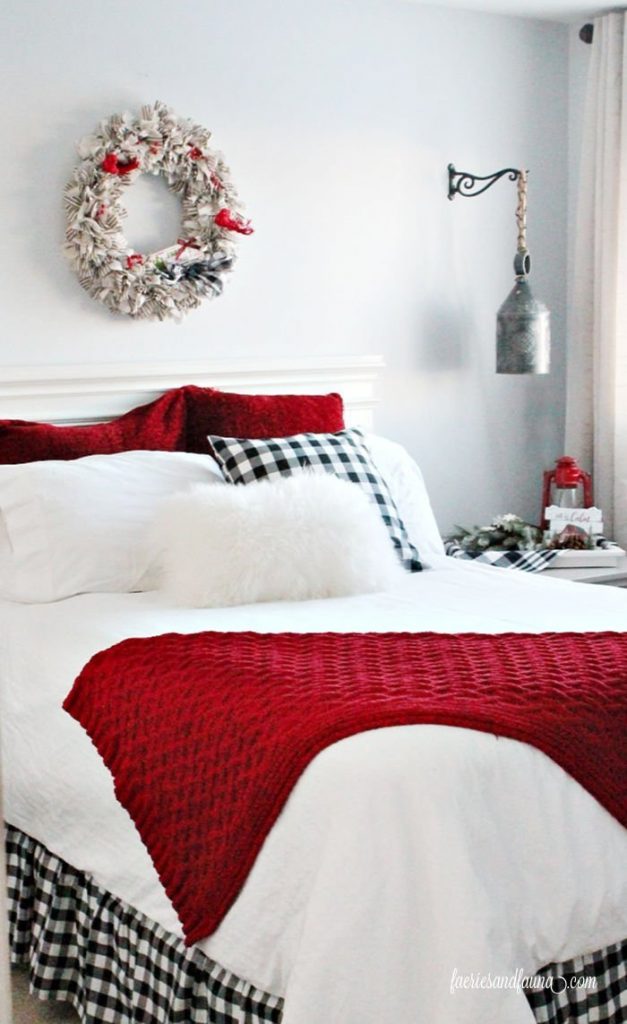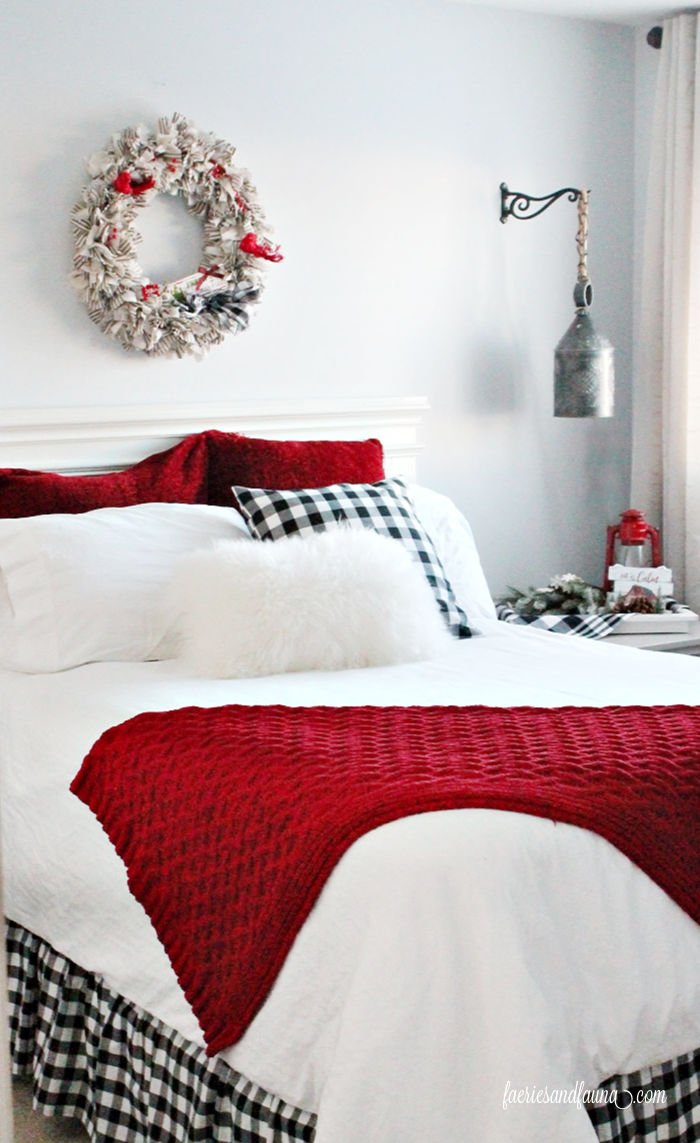 You can create a very nice space on a low budget, this room cost less than $200 for lumber, paint, and craft supplies. No doubt a small budget can be challenging, and you need to make choices. It takes more time and patience but I hope its so worth it. A pretty home can be done with minimal funds, but like the saying goes. You can eat an elephant, but you need to take it one bite at a time.
Thanks for stopping by.
Leanna