DIY Farmhouse Christmas Decor
Our guest room is small, but that does not mean it can't be welcoming and special for Christmas. Every year I decorate both guest rooms one for kids and this one for adults. I have always thought Christmas bedroom decor set with special touches for guests adds a magical welcome to their stay. I love adding bits of Christmas cheer to the guest bedroom in readiness for my sons and daughter in laws. They tell me they look forward to it each year. As always I have to figure out a way to do it on a strict budget with more effort then cash, I hope I inspire you and Merry Christmas!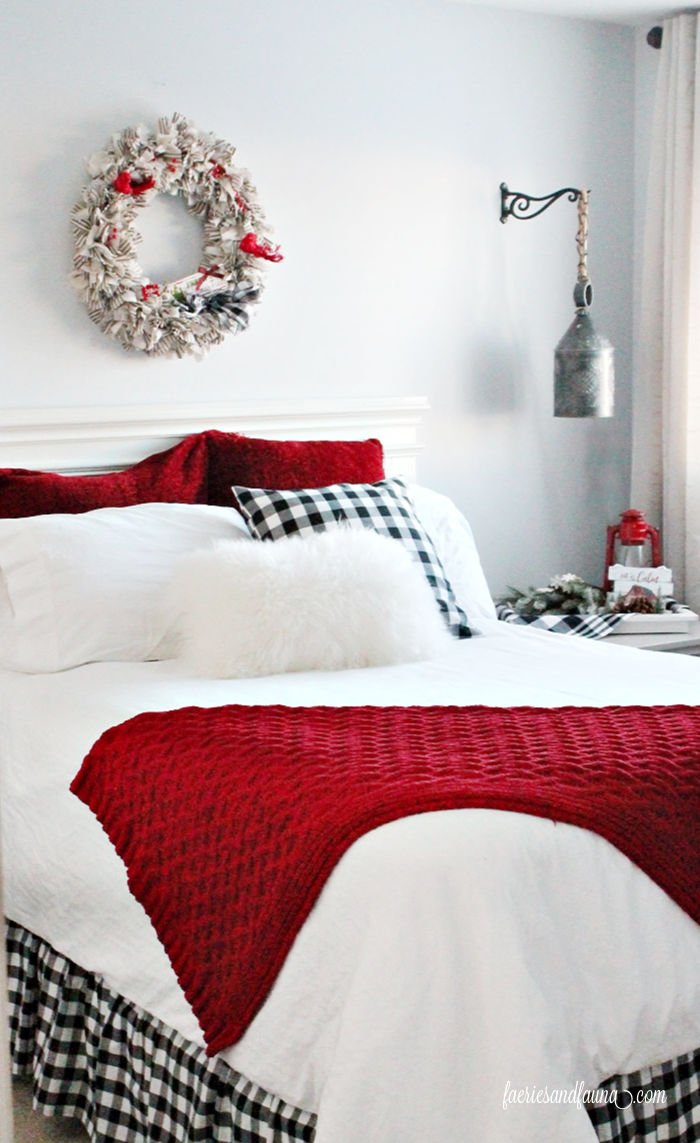 How to Create a Christmas Guest Bedroom for Cheap
Creating a special guest room for Christmas is certainly achievable on a budget, but does require some planning and DIY Christmas projects. My first suggestion is to come up with a theme you love, and stick with it for two or three years. Basic neutral colour choices help. For this room the theme is always white, seconded by farmhouse, and buffalo check. As the room is mostly white, I stick with black and white buffalo check that can be used year around if I want. The white bedspread (3 years old) can be used year around as well, and of course all the remaining furniture.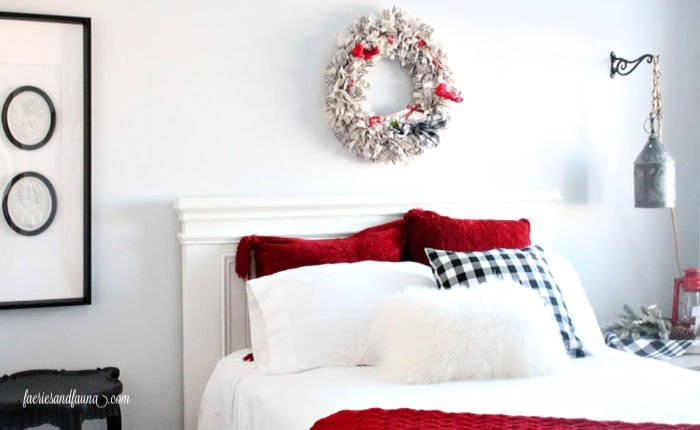 The buffalo check rug (1 year old) is small, I want to paint a larger one using dropcloth but for now I like it find. The furniture are all DIY projects, including the white farmhouse bed I am over the top proud of. The white farmhouse shelf we built just before Christmas, and two garage sale antique tables I have painted.There is also an antique dresser in this room that I was given eons ago, but can't decide if I want to paint it or not.
If your favorite colour is turquoise, or pink, you can do the same thing, just carry the colour scheme throughout the room. White or wood furniture makes it easy to match.
Reducing Christmas Clutter in a Small Room
Christmas clutter is one of my biggest pet peeves, even pretty stuff when its everywhere makes me stressed. Who can have fun when you have no place to play or organize, or put snacks, and new precious gifts. Since this is a small room instead of covering the dresser and end tables with Christmas decor, we made and then decorated this simple farmhouse shelf.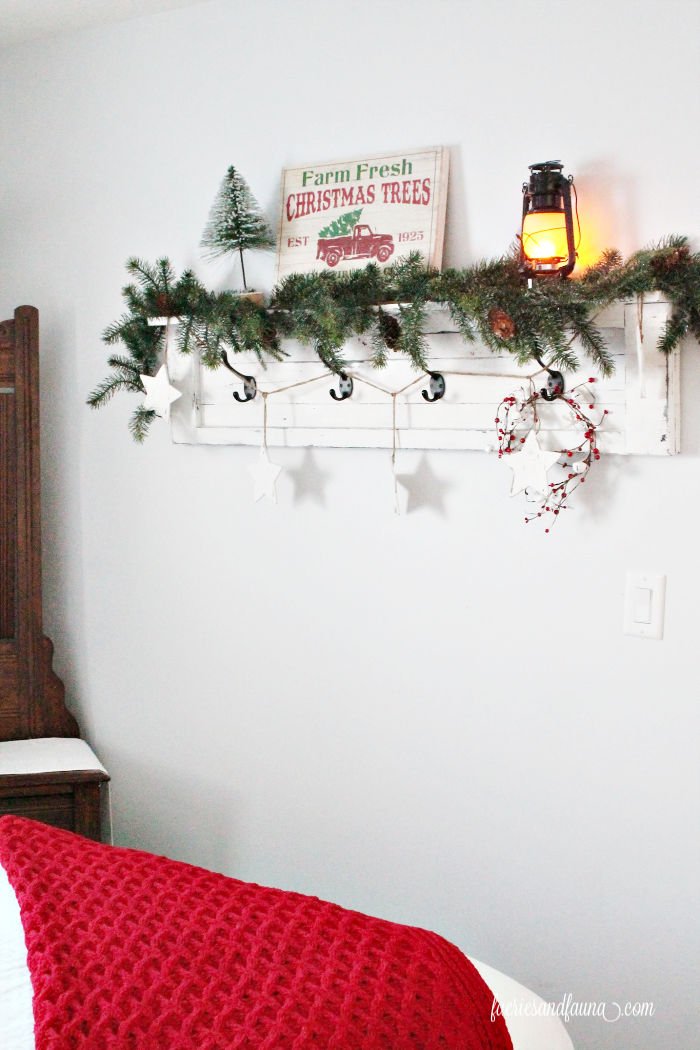 Its still pretty but leaves space for our guests to place their own items, on the dresser and nightstand.
Christmas Decor Ideas
I collect lanterns, especially old red lanterns, I did find a cute battery operated lantern that was this year's splurge. The star swag is cheap craft project and the faux greenery was purchased one or two a year until I had enough. I always prioritize purchasing decor staples over trendy Christmas knick knacks. I recommend making the shelf, and then decorating it with whatever you have. Pay attention to backdrops first, next year add more knick knacks. This tray is 5 years old, the DIY buffalo check is last years, and the lantern is a $4 garage sale find. The barn sign is a Christmas tree ornament from last year.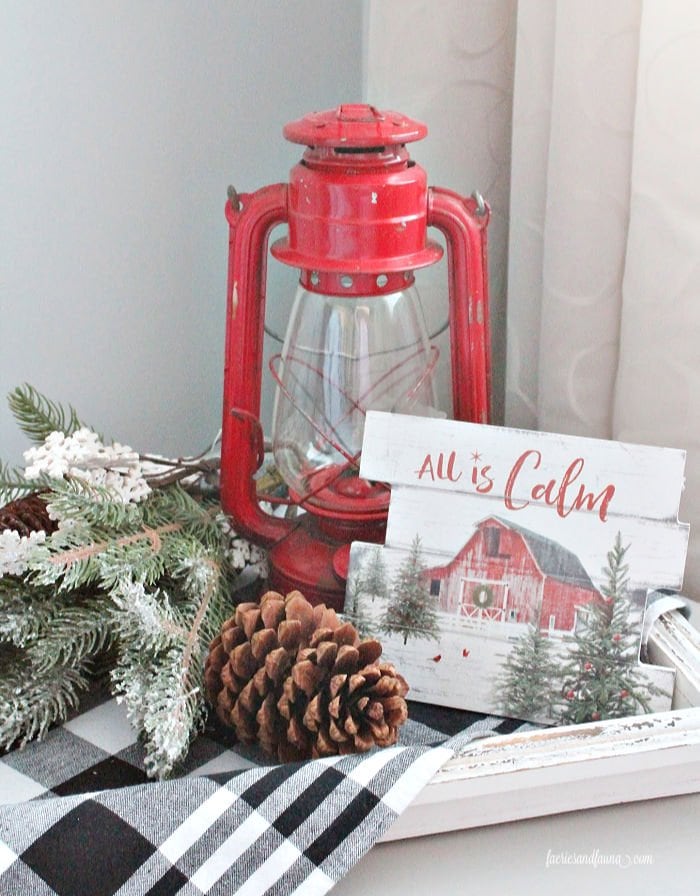 You may have seen my tutorial for the Farmhouse Wreath, updated for Christmas, the two European cushions are homemade and I whipped up the envelope cushion covers using an old throw throw that got ruined in the wash. I was unable to unknot all the tassels, so I cut the tassels off and sewed cushion covers.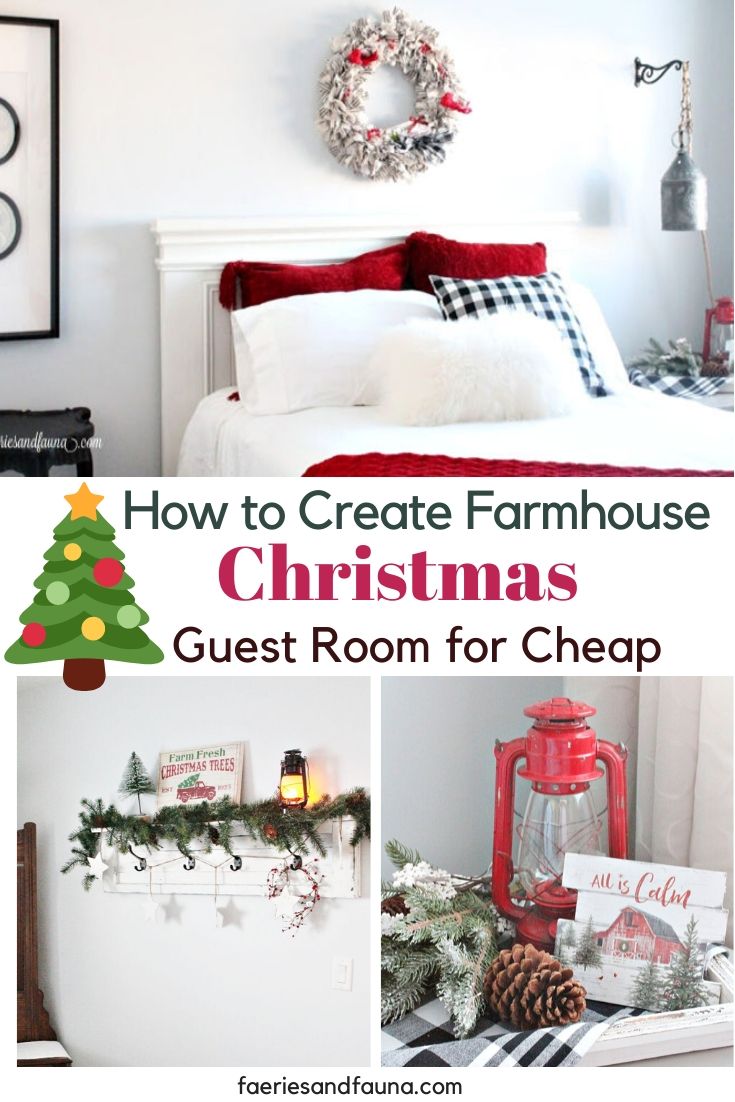 The entire room including bed and furniture was less than $1000. The room is too small to show a pretty picture but there is a blanket ladder, with cozy winter comforters, in white and burgundy faux fur. This year I specifically made the shelf that cost $50 because the coat hooks were pricey.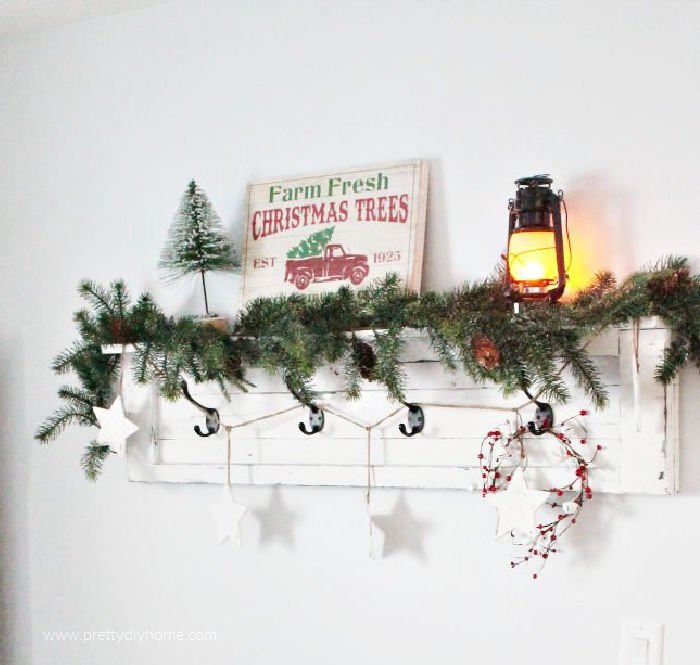 The little battery lamp was $20 splurge. The Christmas banner and wreath were like $20 for both. The buffalo check bedding was last year' s Christmas purchase.
To manage the costs I shop garage sales during the summer. We make wood projects summer and fall. Buy all our Christmas gifts in September. Early gift shopping allows me a bit of money for Christmas ornaments and Christmas crafts in October/November. December is mostly about food preparation.
Next years plan, will include something for the floor, and maybe more artwork backdrops.
The bedroom will remain white, not sure if the buffalo check will remain, maybe it will have drop cloth accessories. The only thing I know for certain is I will build upon what I already have.
Hope your Christmas is both Merry and Calm
Leanna