Galvanized DIY Farmhouse Christmas Ornaments
DIY Christmas Decor Ideas
With everything happening around us, I think were all yearning for distractions to happier times.  I certainly am, I hope Christmas this year can be better than ever. Its so hard not seeing my loved ones.  So  when I saw that Terri from Decorate and More with Tip was organizing a Christmas in July blog hop with all new designs and craft ideas, I wrote her to join in.  I hope your looking forward to reading these posts as much as I am.  Grab something yummy to drink and enjoy.  Sometimes a little escapism is what we need. You will find the links to the remaining posts after mine.
DIY Tart Tin Christmas Ornaments
Modern farmhouse decor is still as popular as ever, and its an especially great theme for Christmas decor.  Chalkboard paint, buffalo check, real wood frames, twine, plaids, and farmhouse animals. So many things to love. These Christmas ornaments are easy to make, I designed a free farmhouse animal printable so you can just cut just print and cut them out.  I am determined to spend more time with my cutting machine, but Not today.  Today is easy peasy crafting.
Supplies for Six Farmhouse Tart Tin Ornaments
Whenever I create a Christmas ornament for the tree I always make a minimum of six.  Of course you can make more or less, but my supplies amounts are for six.
6 – 6″ Galvanized tart tins (Michael's)
2 – Sheets white and grey plaid paper
Free farmhouse animal printable
Glue stick
4 – Dollar Store red berry branches
Hot glue and glue gun
Cording of your choice
Preparing the Tart Tins
My glorious little tart tins from Michael's came predrilled with holes at the top.  If you can locate cheaper tart tins (quiche tins) go for it.  Just hammer a hole in the top of each tin with a large spike.
Next were going to add the paper backing.  Using the tart tin as a guide, draw a circle on the back side of your plaid paper.
Once drawn cut the circle out, double check the sizing by placing inside your tin. Once you know its the correct size, use the first circle as a template for drawing and cutting out 5 more.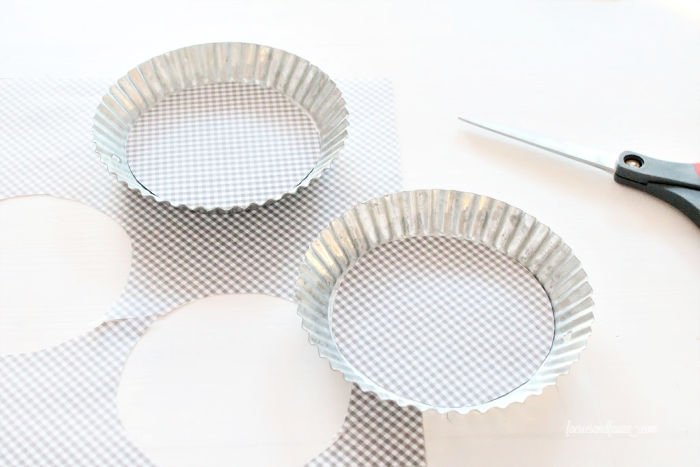 Adding the Barnyard Animals
Print out the free animal printables on plain paper.  Cut out which animals you like.  I added horses (my fav) and a donkey (it is Christmas after all). Using the glue stick apply the paste to the back of each paper animal cut out, and attach to the plaid paper circles.  Set aside and let dry.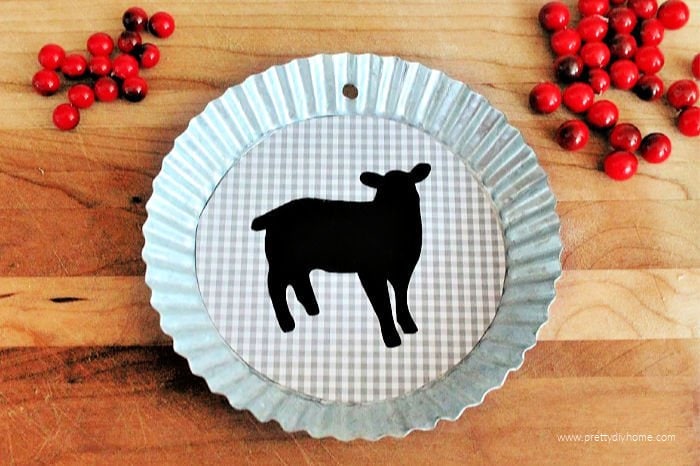 Dollar store cranberry berries were much cheaper than red beads, but you need to cut them off the branches first.  Some of the berries may lose their red coating.  You can toss them, or turn them so the little white part is glued to the back.  Remove all the berries while you let the glue on the animals dry.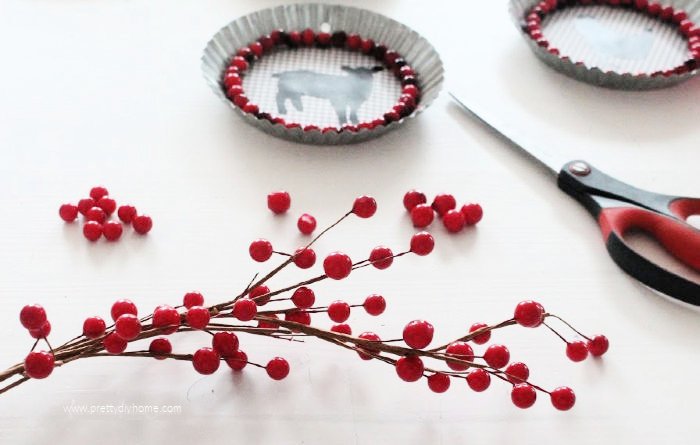 Add hot glue to the back of each ornament one at a time.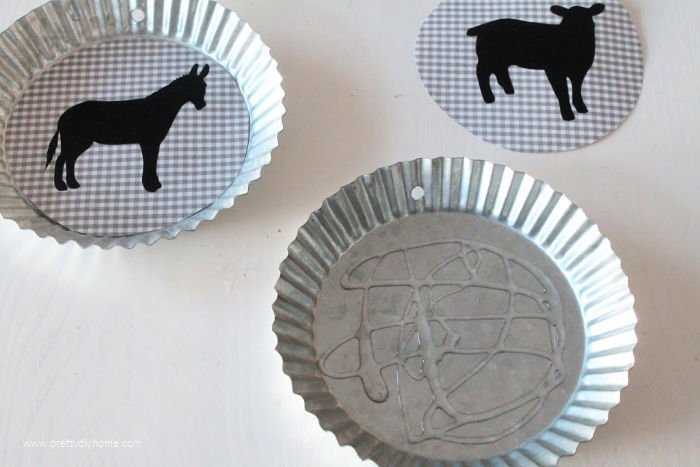 Apply the paper circles to the center of the galvanized tart tins, making sure the top of the farm animal lines up with the hole in the top of each tin tart tin.  Press in place.  Repeat with the remaining ornaments.
Using the red cranberries and hot glue.  Glue a circle of red berries around each ornament.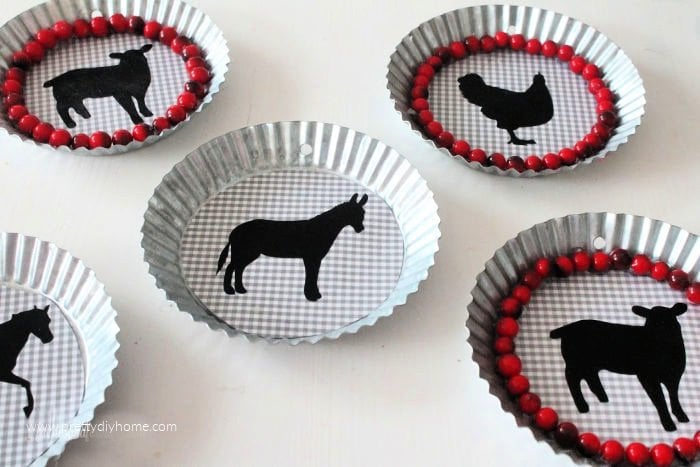 Hanging the DIY Farmhouse Christmas Ornaments
Cut out six one foot lengths of cording, ribbon, twine, whatever you have handy and make hangers for the tree as shown.  I had a little bit of black macrame cord left over so I used that.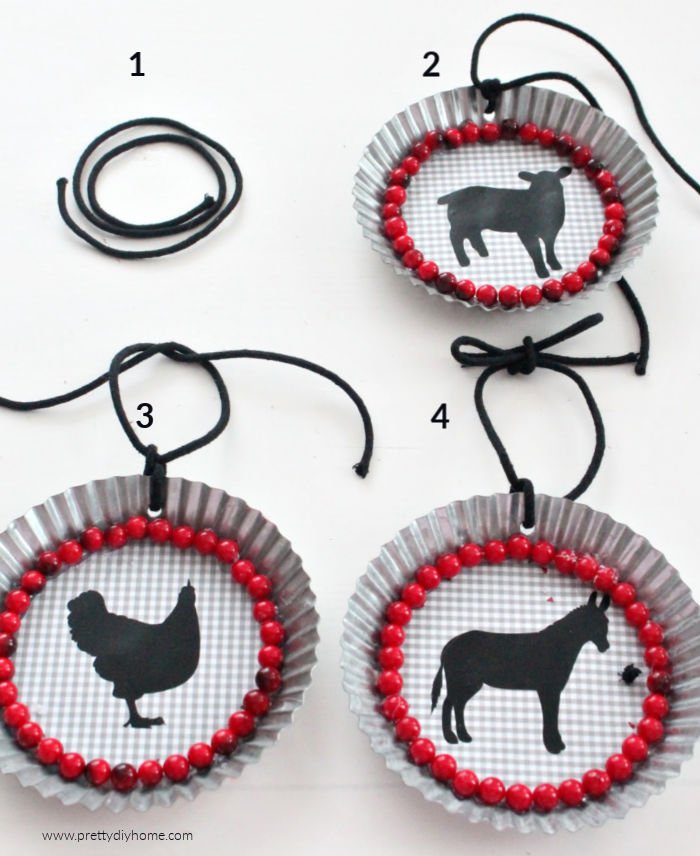 These farmhouse DIY Christmas ornaments can be made it any colours you enjoy for the holidays.  That's the really great part of having galvanized backs and black animal silhouettes, you can pair them with blues, greens, or brighter colours.  You may have seen some glittery examples on Pinterest using glitzy garland instead of the berries.  These ornaments have more of an understated rustic look with the simple berries, but if you love glitter I say go for it.
I hope you love these ornaments as much as I do.  They are certainly a fantastic way to just relax and play with craft supplies for a while, no stress, no fuss and no messy clean up even.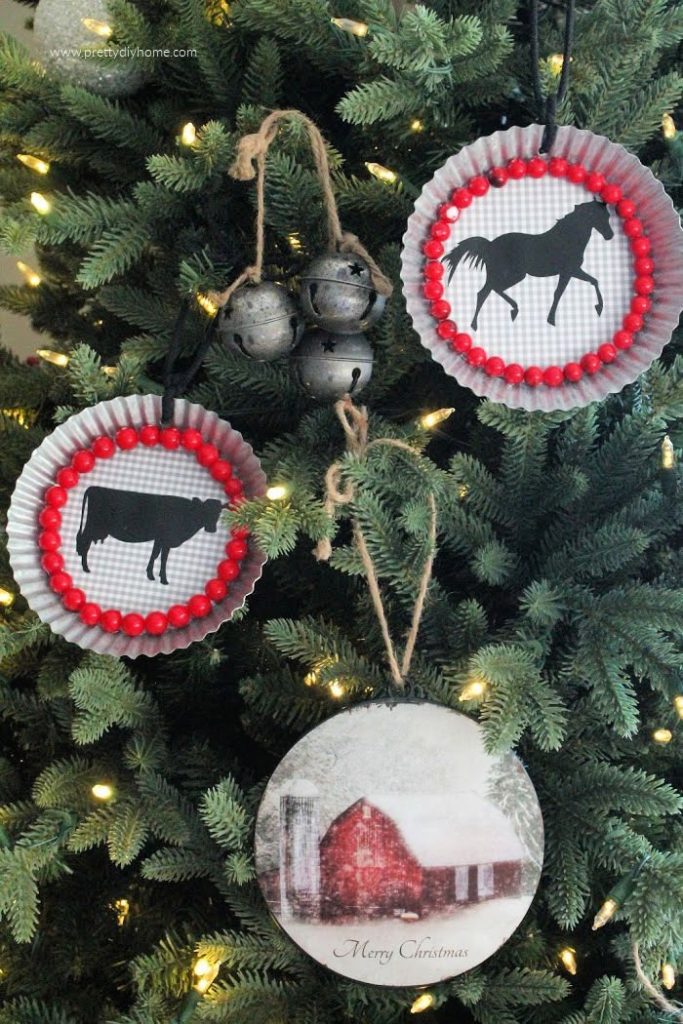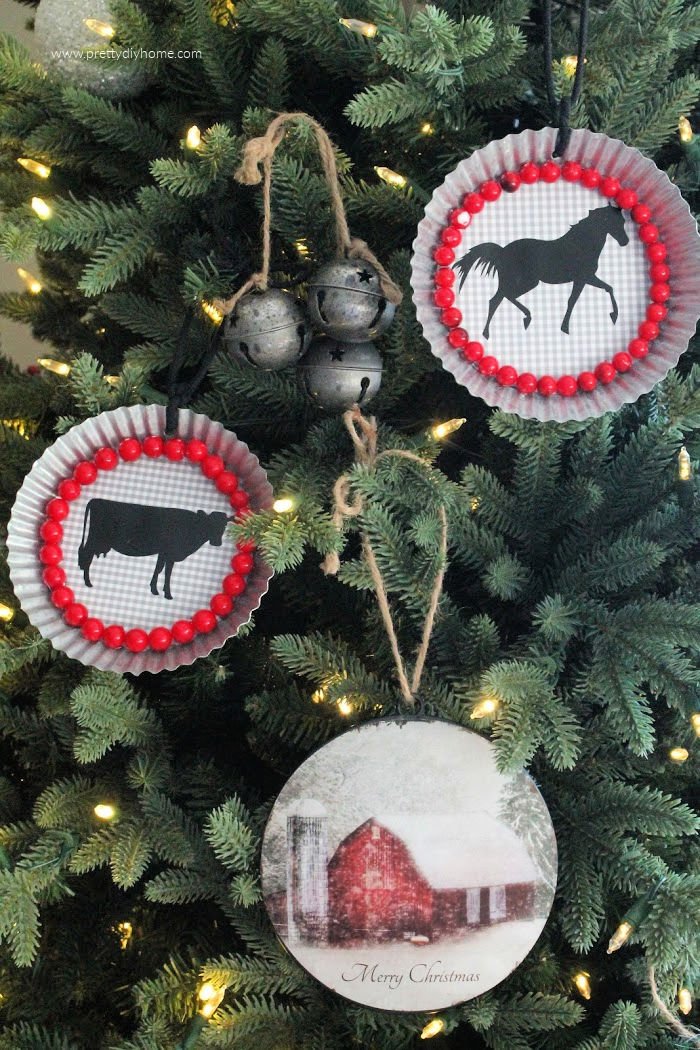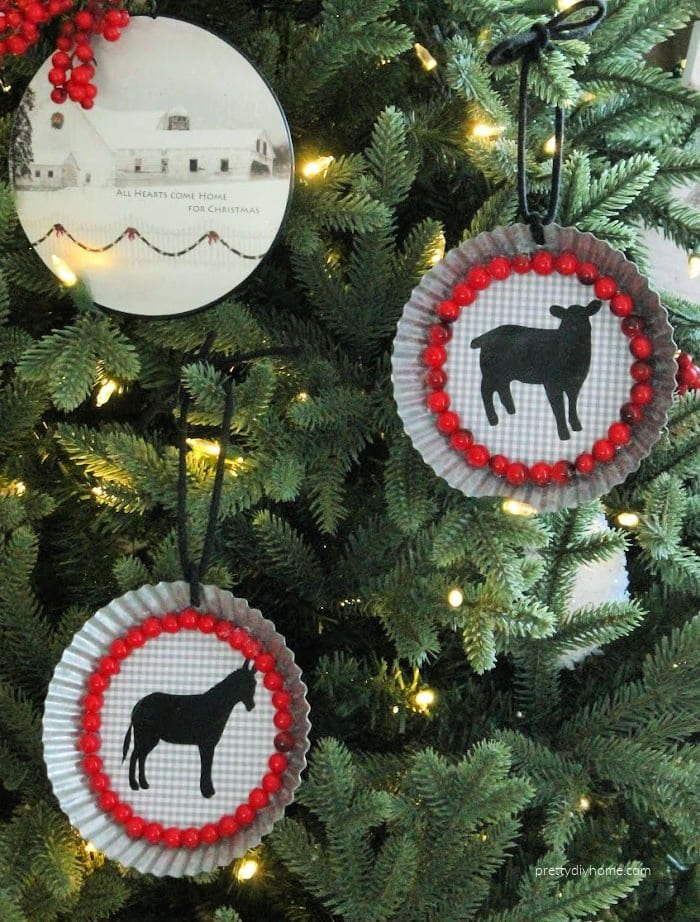 Decorating Ideas for Christmas
Decorate and More with Tip | Sew Sassy by Paula | DIY Vibes | Pretty DIY Home
Bluesky at Home | Patina and Paint | Celebrate and Decorate | B4 and Afters
A Vintage Flare Farmhouse | LeCultivateur | Country Road 407 | The House House\
Jessica B Simmons | Living Little John
Have you started thinking about Christmas yet?  If not, I think its a great idea if you do.  Just imagine the wait time on deliveries if were all stuck at home in November.  My plan is to start creating right away, and shopping for my grand children.  Please comment and let me know if you think its wise.  Or am I being overly organized?