Garage Sale for Vintage Toys to use for Christmas Decorating
Finding Thrifted Toys for Christmas Decor
First of all, let me say that when garage saling and thrifting I am much more about being persistent then I am organized or great at it. I am one of those people who get lost in a mall so garage saling can be stressful, but it's worth the time investment. Today's post is all about looking for vintage toys at garage sales or thrift stores now so that you have time to update and use them for your Christmas decor. I am sure you're going to enjoy this post, there are so many talented bloggers who take vintage toys and create a fantastic scenes for the holidays.
The ideas are collected by vintage toy theme. You will notice that in several of the Christmas arrangements you will find several different vintage toy ideas grouped together.
Rocking Horse
Rocking horses have been giving children joy for four hundred years, and are still loved. The oldest ones come from Europe but you can often find reproductions of them at estate sales. If your budget allows you can purchase a new one and make it your own like Marian from Miss Mustard Seed did.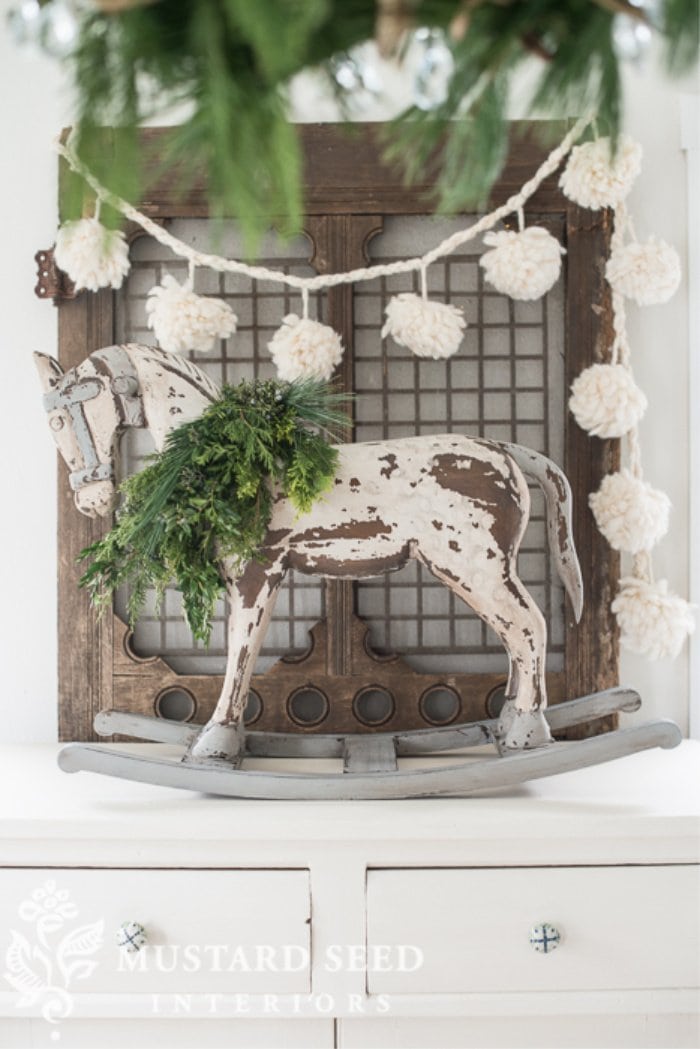 Rocking Horse by Miss Mustard Seed
Or repair an old rocking horse, refinish and paint it.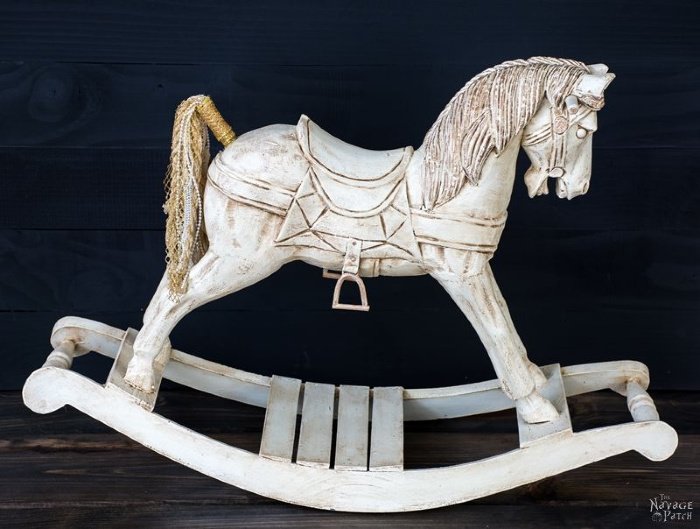 Rocking Horse Makeover by The Navage Patch
This riding horse has been in my guest room since last Christmas, I love it perched up on the dresser. It's been painted dapple grey as they are my favorite type of thoroughbred.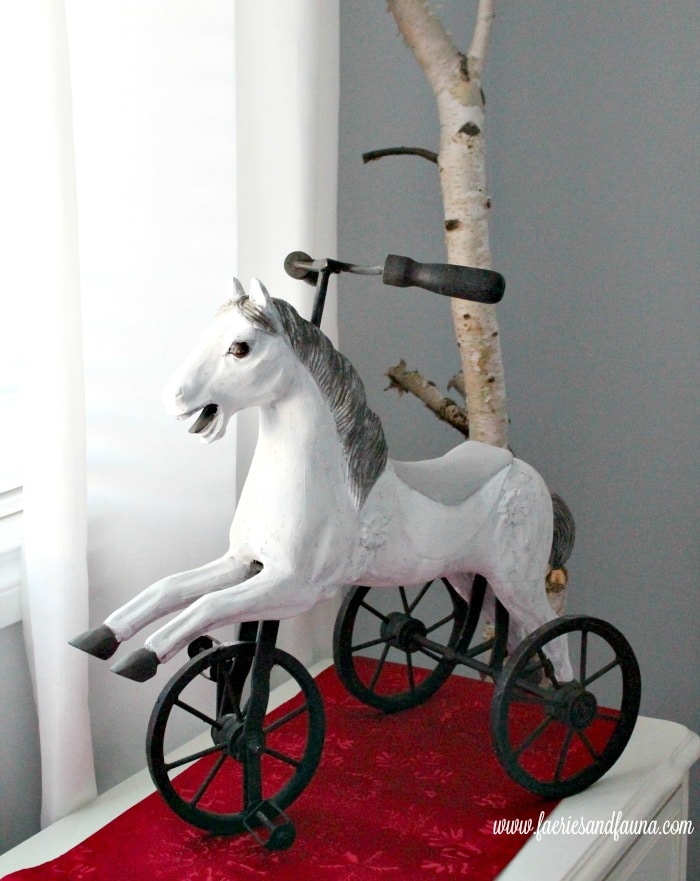 Riding Horse Makeover for Christmas Decorating by Faeries and Fauna
When I was a little girl large Spring horses were in style and I remembered loving mine. Rocking horses weren't as popular when I was a kid so its wonderful to have one now. Are there any old vintage toys that you would like to find that I haven't mentioned? If so please let us know in the comments.
Ice Skates
Worthing Court blog shows us a fun vintage example featuring fun vintage colours. She has a vintage sleigh and skis in this arrangement. So retro and fun.
Most Popular Christmas Posts by Worthington Court
A beautiful old child's sleigh and skates don't need much more adornment to be festive. I found some vintage sleighbells at a garage sale that would really suit this arrangement as well. This vignette reminds of us of the wonderful Christmases gone by.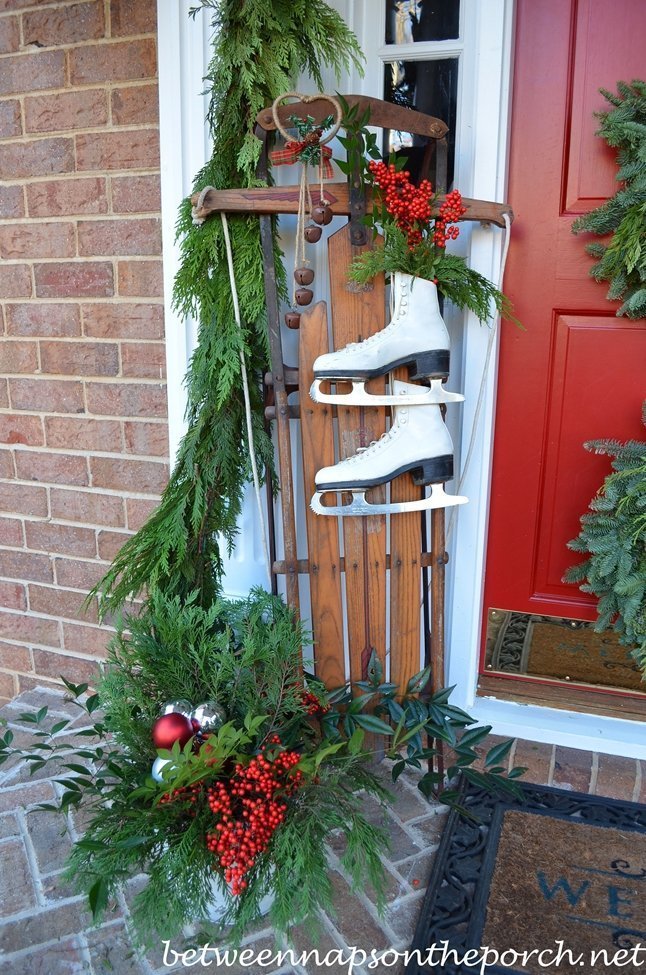 Front Porch Decorated for Christmas by Between Naps on the Porch
Children's Sleigh
Funky Junk Interiors shows us that a child's sleigh can be used in almost any room. This sleigh is obviously in the washroom, but I love this idea for anywhere in the home, or even in a corporate office for festive Christmas shelving.
Christmas Snow Sleigh by Funky Junk Interiors
While looking for vintage sleighs, skates or toys, you may be able to locate vintage lightbulbs or handknit mittens like the Lora Bloomquist blog used.
10 Ways to Decorate a Vintage Sleigh by Lora Bloomquist
It amazed me how nordic and rustic the sleigh from the Vintage Nest Blog looks. It makes me think of fantastic sleigh hills covered in snow, even though the background is all beautiful living greenery.
Nordic Style Front Porch Sleigh by The Vintage Nest Blog
Teddy Bears
After a couple of hours of looking online, it was difficult to find a photo that I could proper credit to the original blogger who posted the example. I refuse to share without proper credit so the only example of teddy bear decor I have for you is my own.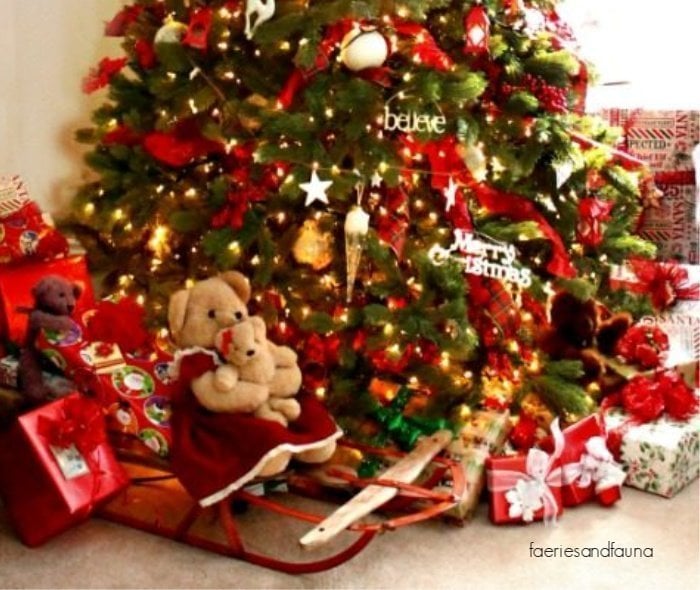 This large collection of vintage bears has become old right along with myself. I like to stick them among the presents or to replace the presents once the gift opening is done and the tree looks so bare.
Christmas Home Tour by Faeries and Fauna
Skis
Can you believe these were in the trash? Christy from Confessions of a Serial DIYer didn't even have to garage sale to find these. They were tossed to the curb right next door. When you see how they turned out, they certainly are worth garage saling for though. Skiis are on my garage sale list right now, wish me luck finding some.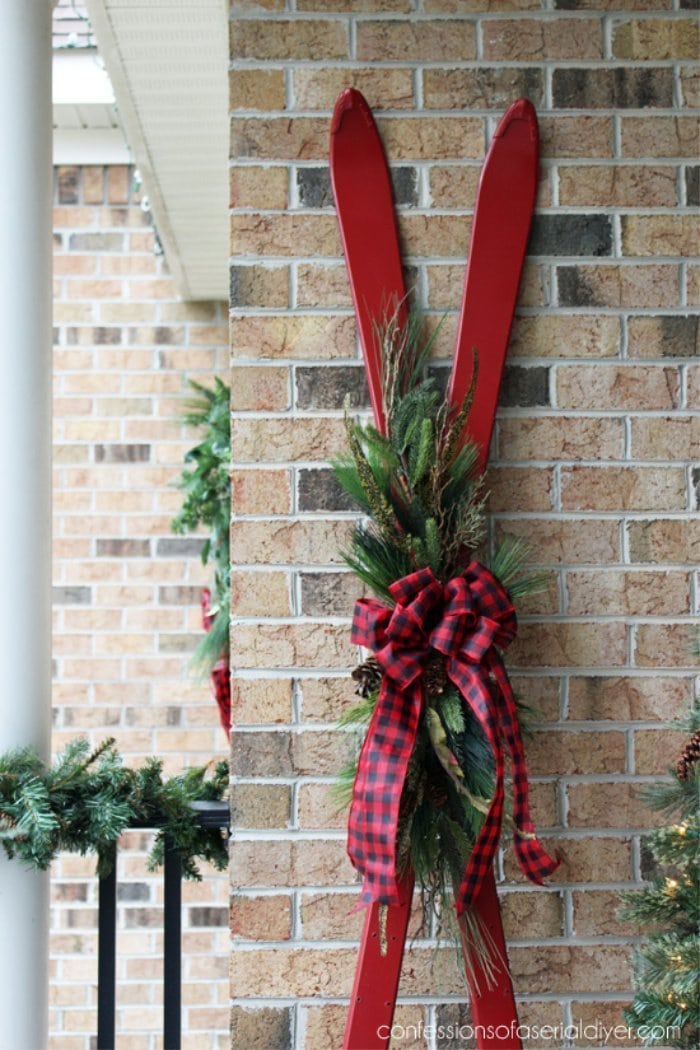 Christmas Skis by Confessions of a Serial DIYer
When you open this post from House of Hawthornes you will see all kinds of vintage items. Pam makes a pretty Christmas porch using a sleigh, thermos, coolers etc. So pretty.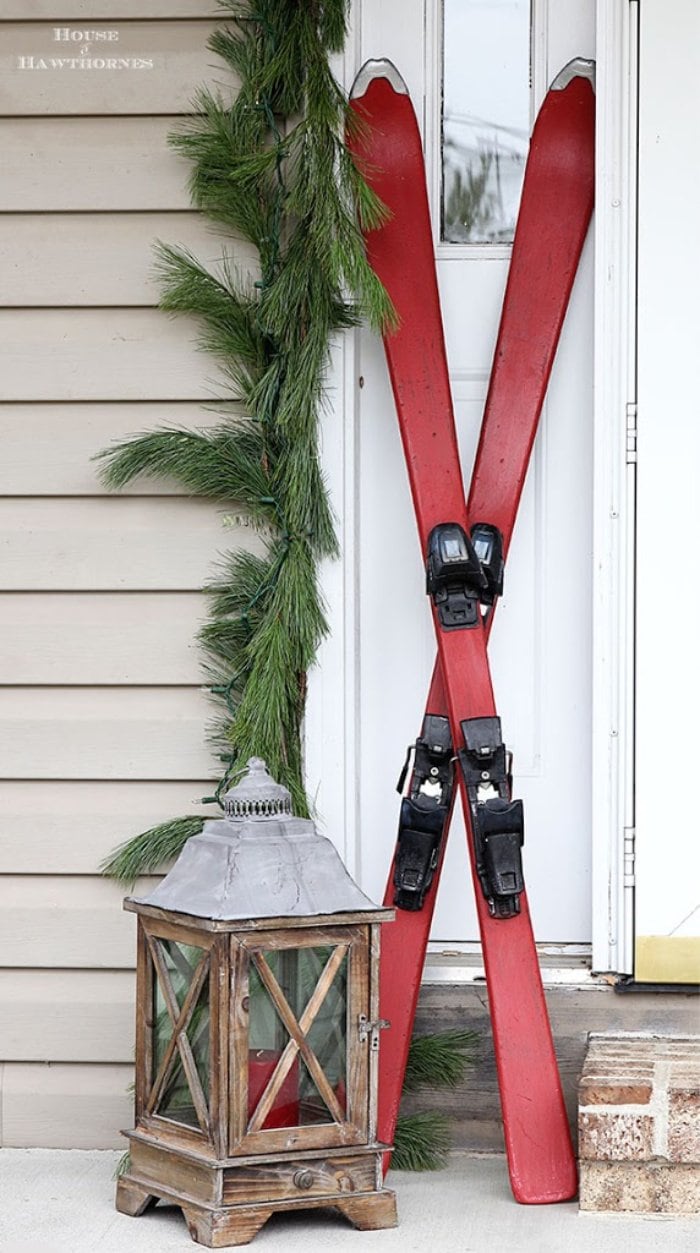 Holiday Front Porch by House of Hawthornes
Snowshoes
Thrift snowshoes don't need to be in perfect shape to be used for decor. Snowshoes are wonderful for decorating, they add a little bit of playfulness to any decor arrangement, especially nordic, ski lodge, or rustic Christmas themes.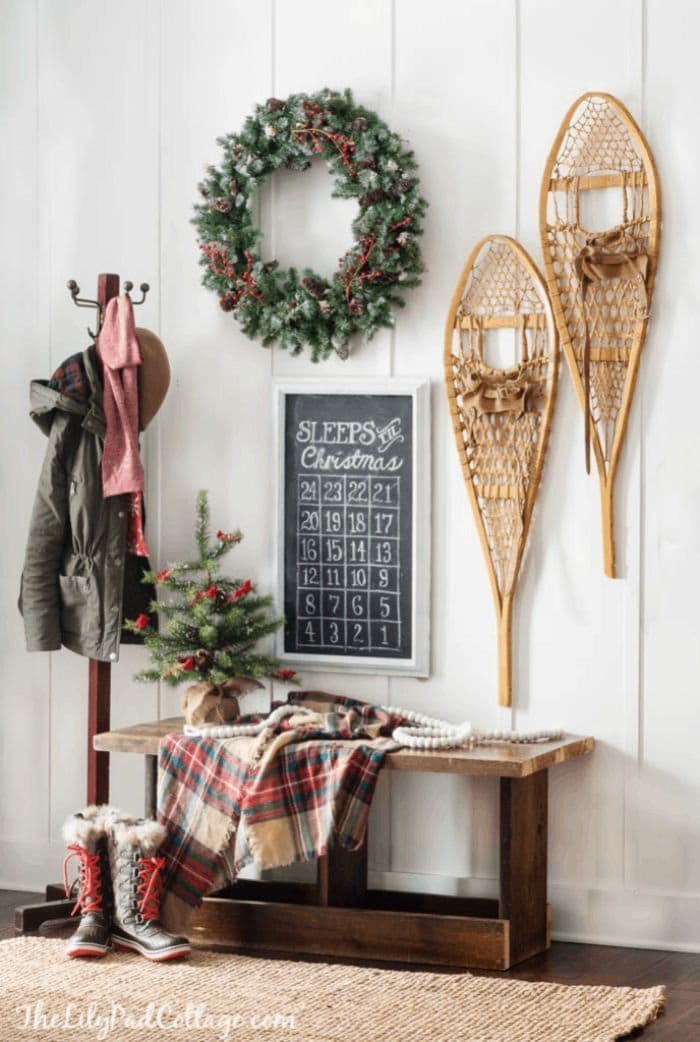 Ski Lodge Christmas Home Tour by the Lily Pad Cottage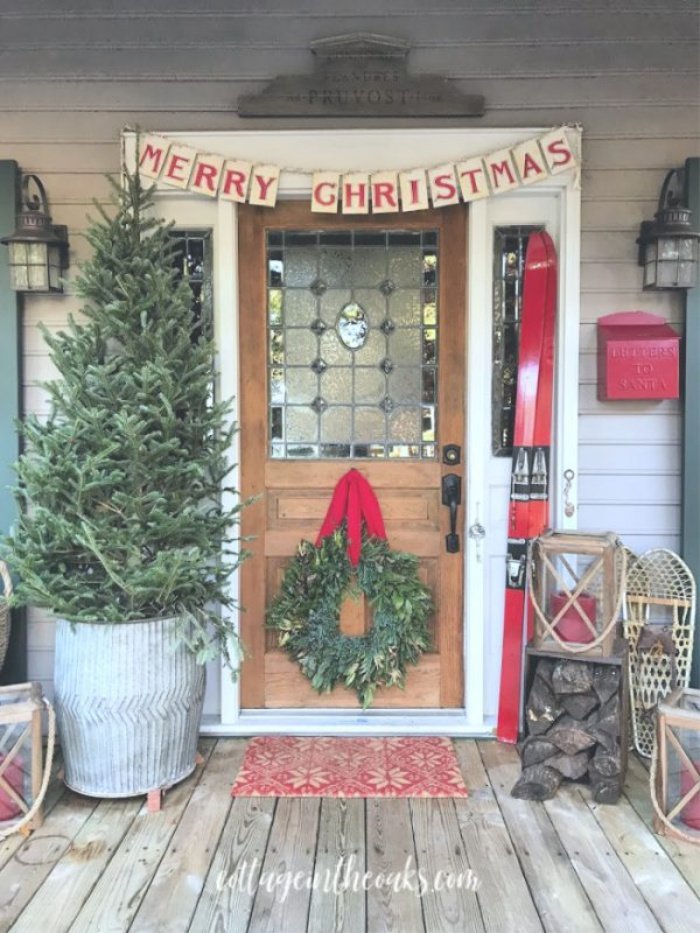 Cottage Christmas Front Porch by Cottage in the Oaks
Toy Trucks
By now everyone is aware of the white-hot red truck trend for Christmas decorating, but any kind of old toy truck works well. I prefer these two examples to the replica red truck I bought for hubs last year.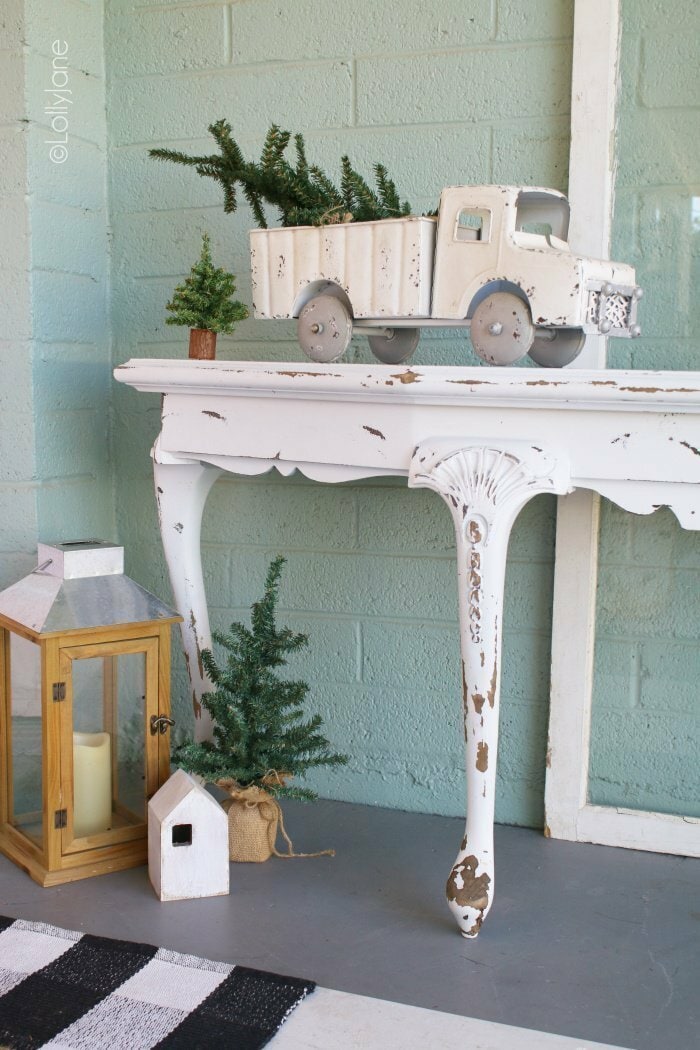 Christmas Front Porch by Lolly Jane Blog
The Robbestyle blog post shows several different examples of toy trucks decorated for Christmas. I picked this green one, but she has red, yellow and other pretty toy trucks as well.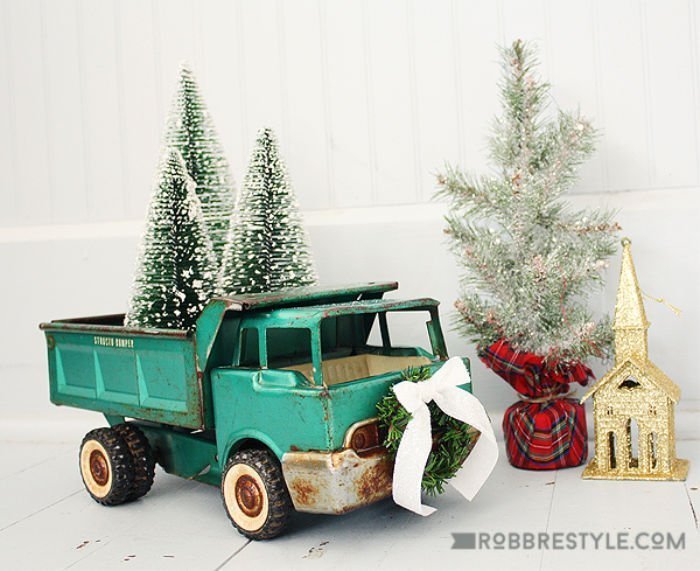 Vintage Toy Trucks by Robb Style
More Thrifted Ideas to look for Garage Saling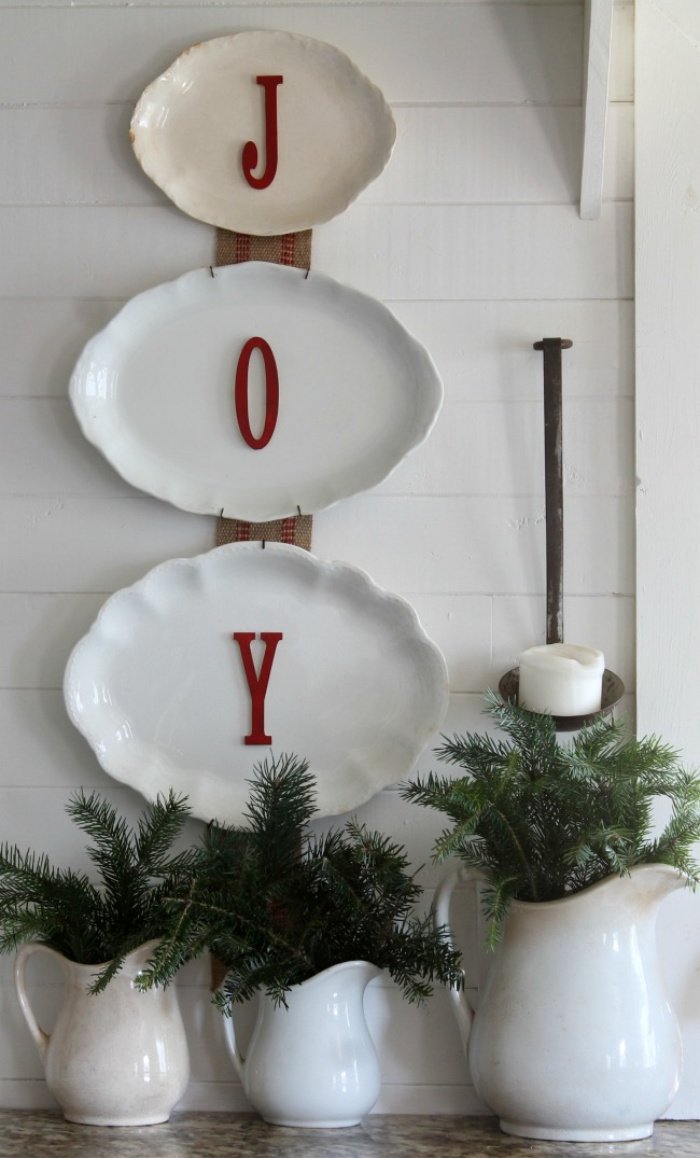 Everygreen and Antiques Free Christmas Decorating by Knick of Time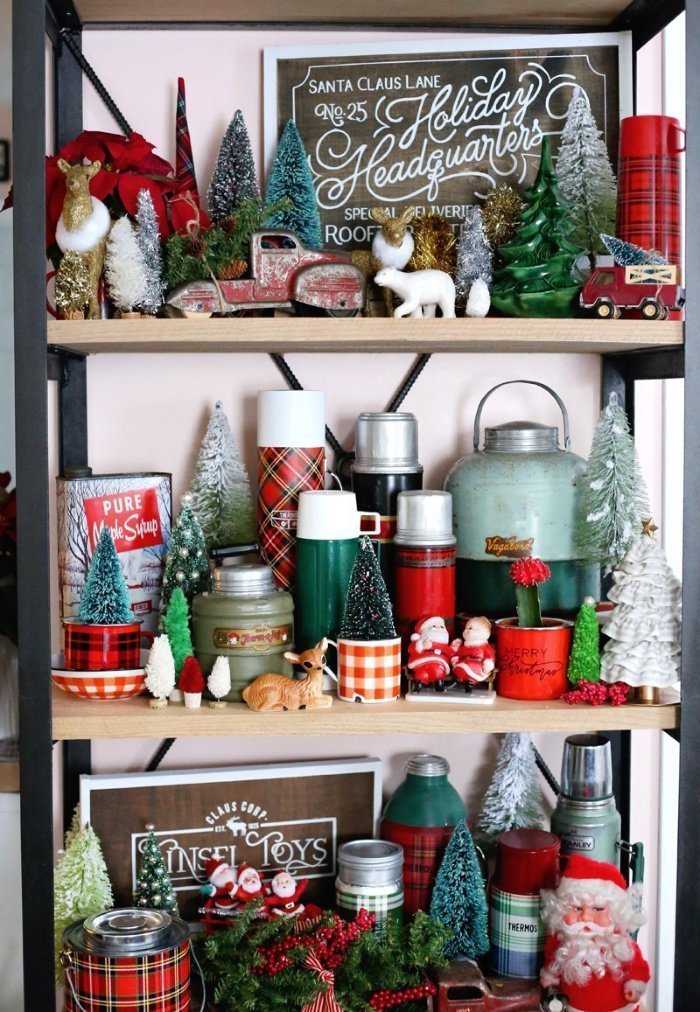 Vintage Inspired Vignette by Fynes Designs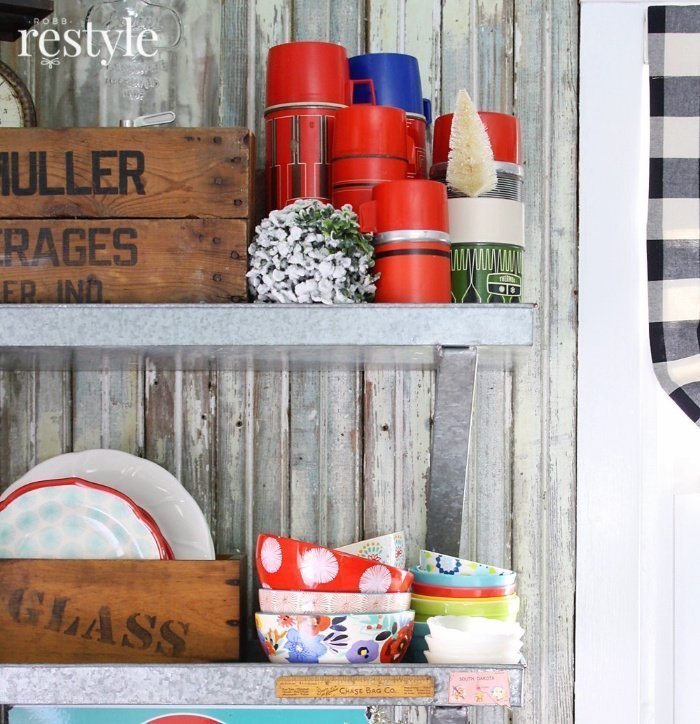 Vintage Collectors Holiday Kitchen by Robb Design
The best scenario for finding vintage toys would be to ask family if they have any laying around. Long ago I donated all my boys real metal tonka trucks to another abused Mom who needed them. I hope she still has them as I certainly wish I did. Ask and see what you can find that someone may have an attachment to. If they aren't willing to share it with you, maybe you can convince them to use them again.