Christmas Decorating with Antiques for Less
Finding Vintage Toys for Christmas Decor
Its obviously not the Christmas season yet, but it is garage sale season. Have you ever tried Christmas decorating with antiques? Christmas decorating vintage skis, or decorating snow shoes. Garage sales and thrift stores are the perfect place to explore and search for affordable antiques or copycats you can use for Christmas decor. I am sure you're going to enjoy this post, there are so many talented bloggers who take antiques, toys, vintage items and create fantastic Christmas decor for the holidays.
The ideas are collected by vintage toy theme. You will notice that in several of the Christmas arrangements you will find several different vintage toy ideas grouped together.
Christmas Rocking Horse Ideas
Rocking horses have been giving children joy for four hundred years, and are still loved. The oldest ones come from Europe but you can often find reproductions of them at estate sales. If your budget allows you can purchase a new one and make it your own like Marian from Miss Mustard Seed did.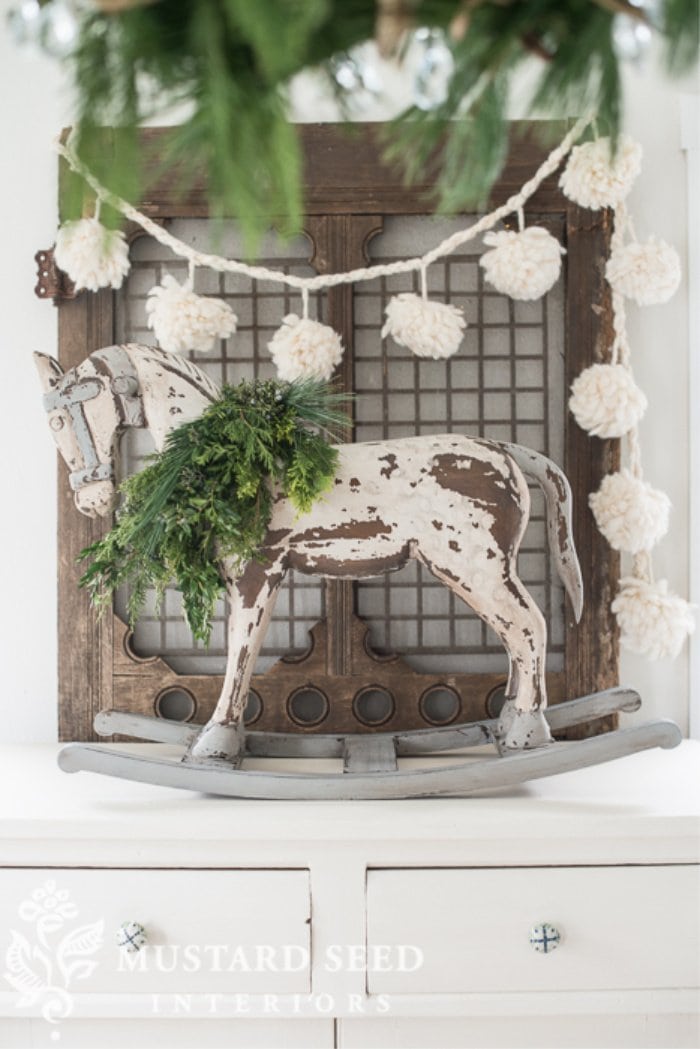 Rocking Horse | Miss Mustard Seed
Or repair an old rocking horse, refinish and paint it.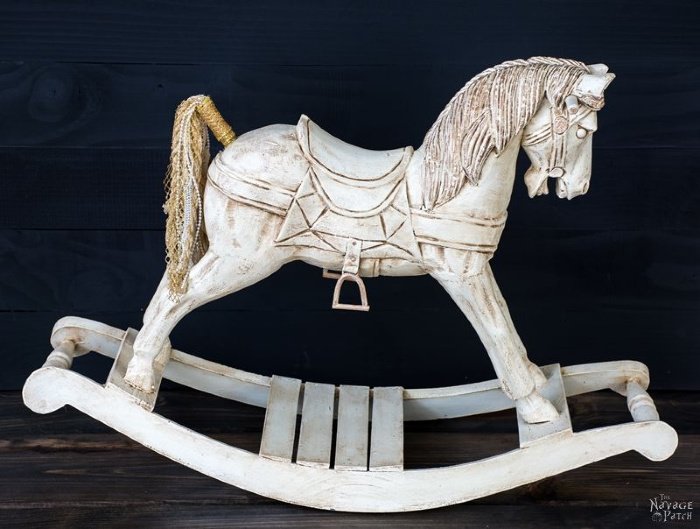 Rocking Horse Makeover | The Navage Patch
This riding horse has been in my guest room since last Christmas, I love it perched up on the dresser. It's been painted dapple grey as they are my favorite type of thoroughbred. This is a $20 estate sale find I couldn't scoop up fast enough.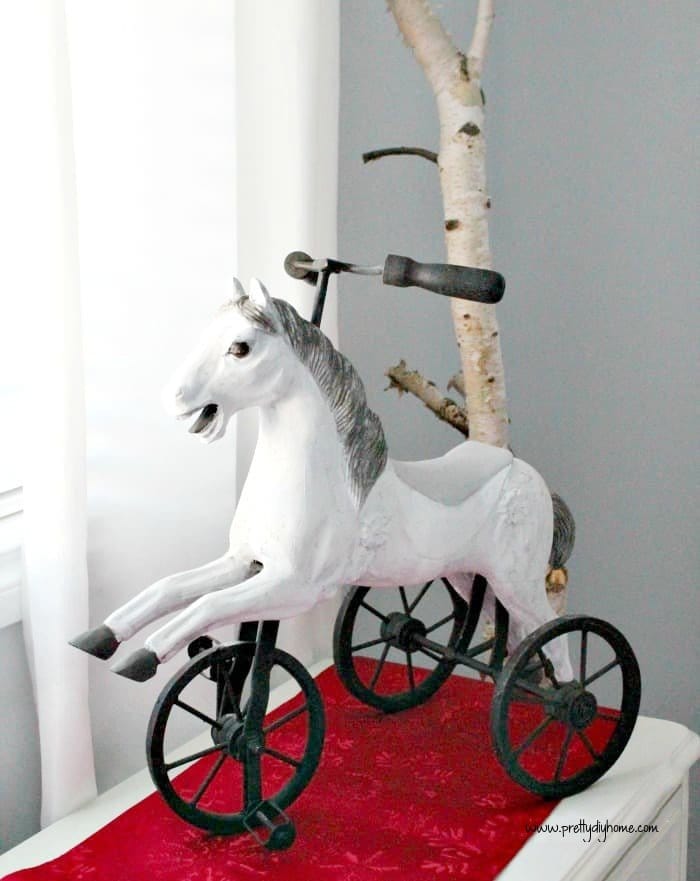 Riding Horse Makeover for Christmas Decorating | Pretty DIY Home
When I was a little girl large Spring horses were in style and I remembered loving mine. Rocking horses weren't as popular when I was a kid so its wonderful to have one now. Are there any old vintage toys that you would like to find that I haven't mentioned? If so please let us know in the comments.
Christmas Decorating with Ice Skates
Decorating with antiques doesn't need to be expensive. Antiques can be very inexpensive if they aren't rare. Vintage or antique skates are often easy to find for a reasonable price.
Worthing Court blog shows us a fun vintage example featuring fun vintage colours. She has a vintage sleigh and skis in this arrangement. So retro and fun.
Most Popular Christmas Posts | Worthington Court
A beautiful old child's sleigh and skates don't need much more adornment to be festive. I found some vintage sleighbells at a garage sale that would really suit this arrangement as well. This vignette reminds of us of the wonderful Christmases gone by.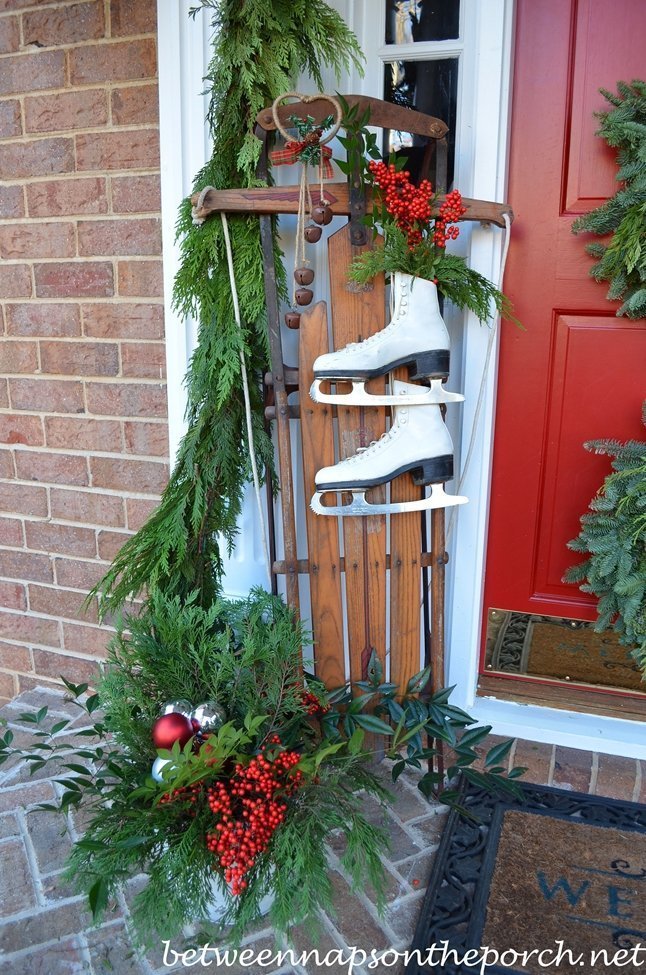 Front Porch Decorated for Christmas | Between Naps on the Porch
This post from South House Designs has an entire collection of various old skates painted for Christmas, including this fun candy cane themed skate. Its a joyous post to read.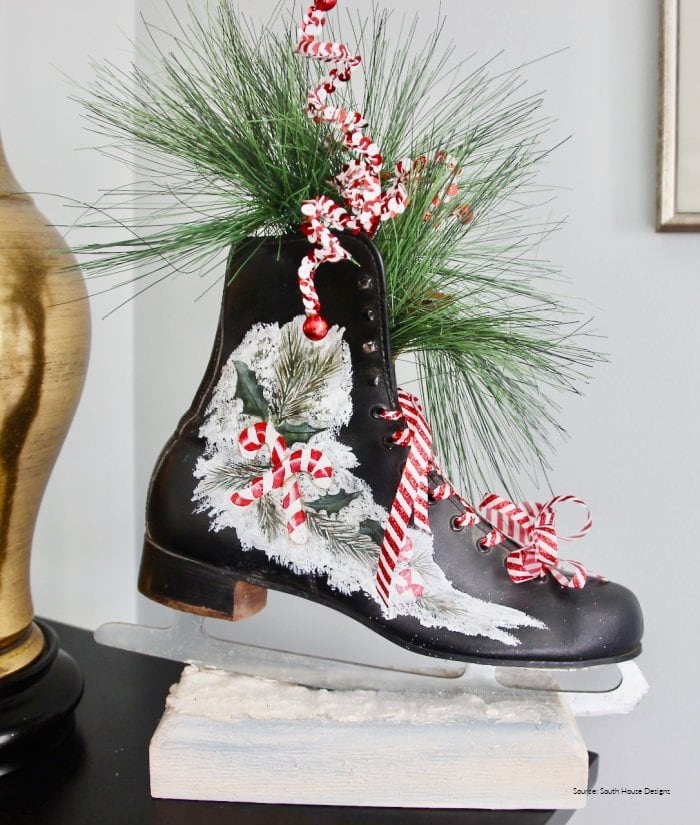 Vintage Ice Skates | South House Designs
The contrast between the dark evergreen wreath and snow white skates is really striking. This is such a simple Christmas wreath idea for the front door of your home.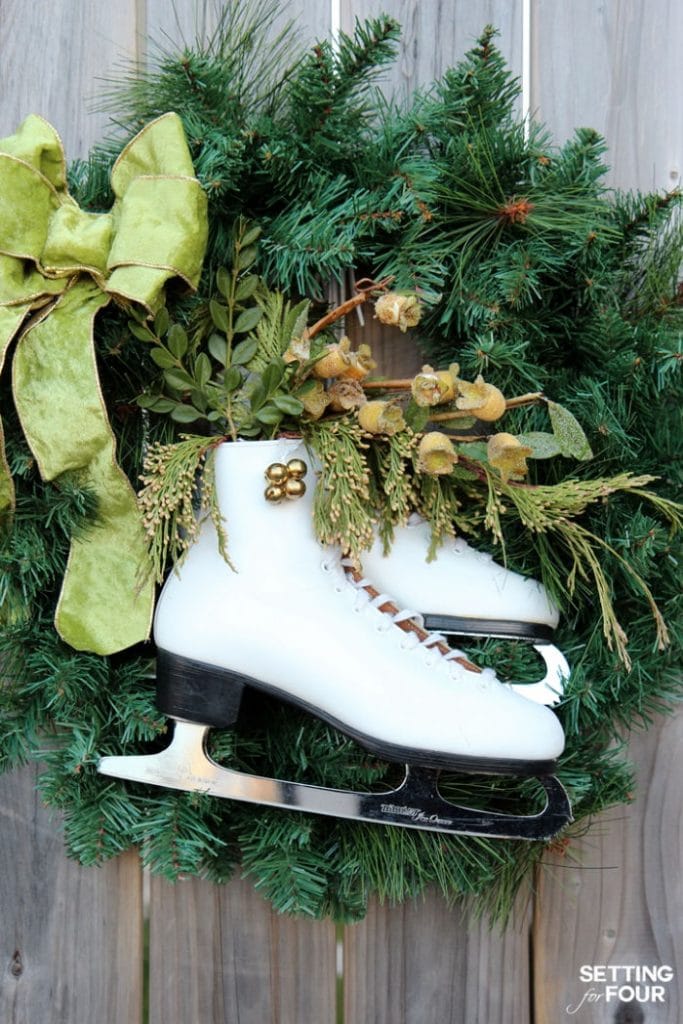 DIY Ice Skate Wreath Decor | Setting for Four
Decorating Sleighs for Christmas
Funky Junk Interiors shows us that a child's sleigh can be used in almost any room. This Christmas sleigh is obviously in the washroom, but I love this idea for anywhere in the home, or even in a corporate office for festive Christmas shelving.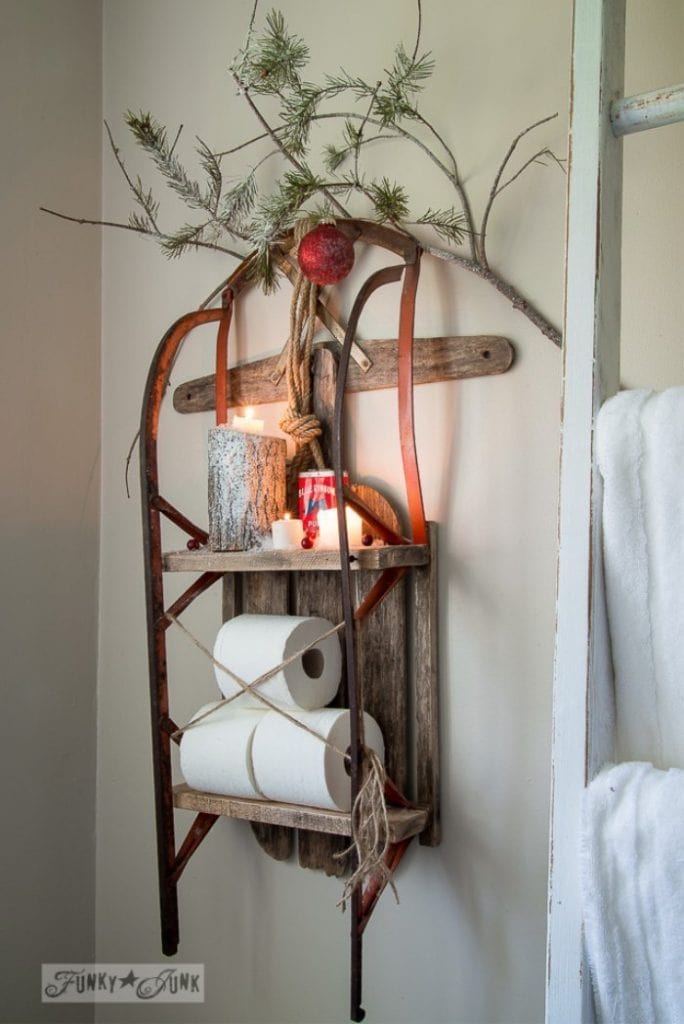 Christmas Snow Sleigh | Funky Junk Interiors
While looking for vintage sleighs, skates or toys, you may be able to locate vintage lightbulbs or handknit mittens like the Lora Bloomquist blog used.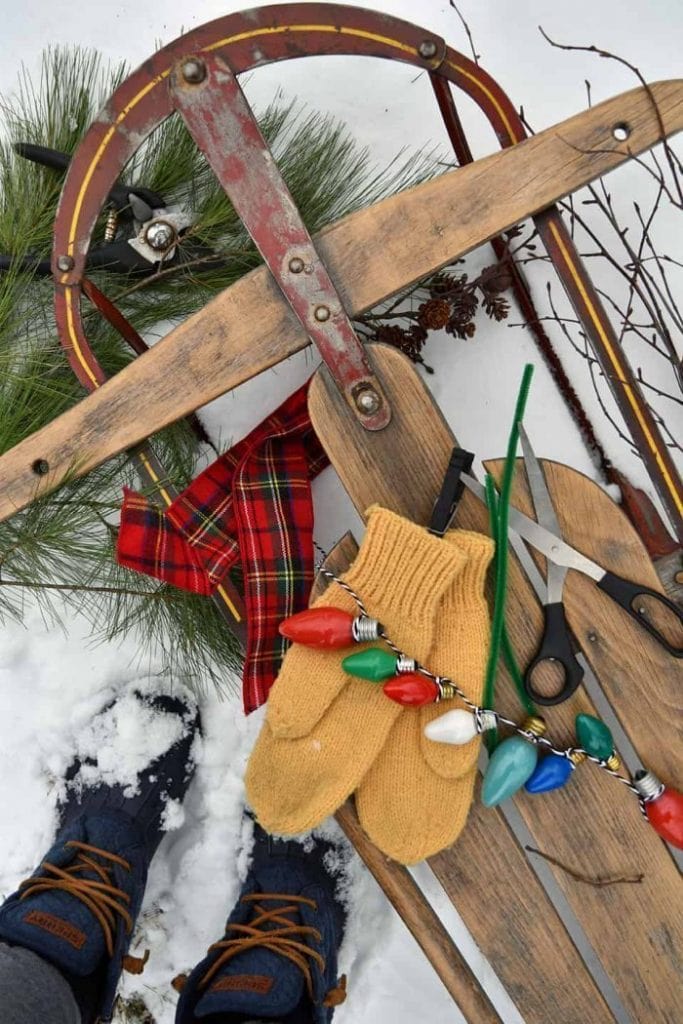 10 Ways to Decorate a Vintage Sleigh | Lora Bloomquist
This front porch from Hoosier Handmade uses an older style Christmas sled, but also the much larger tobaggan. Doesn't it make a fantastic backdrop on her front porch. Using the enamel canner is brilliant, especially since the black matches the edge of her tobaggan. Another example of how decorating with antiques or vintage items can be done for less. I wish I had my sons old tobaggan to recreate this!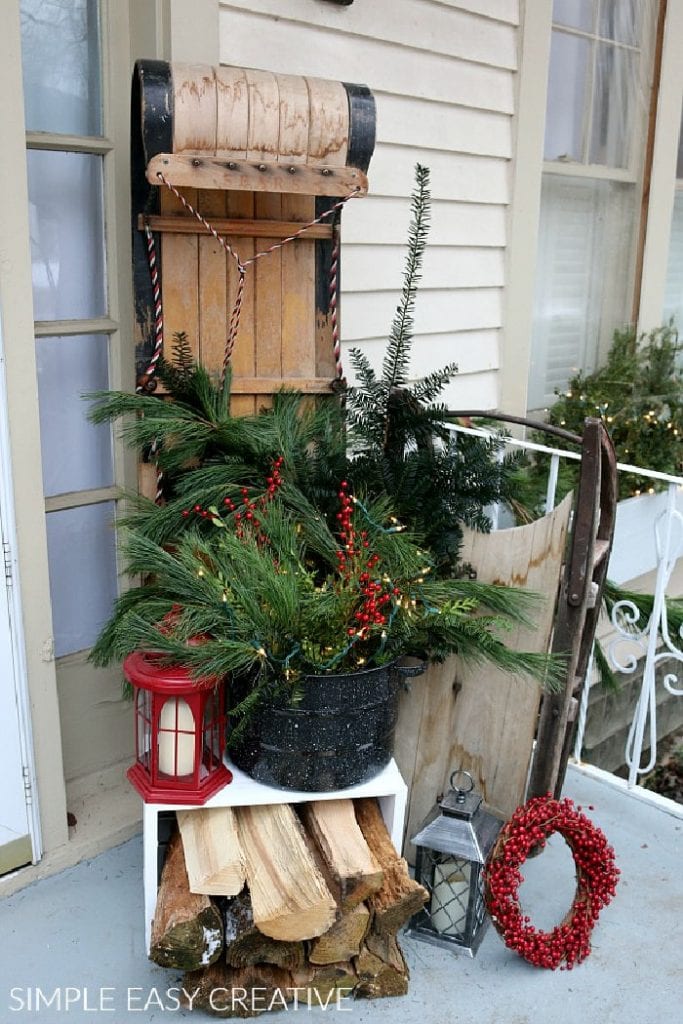 Christmas Porch Decor | Hoosier Homemade
Decorating with Teddy Bears
When my children were little I collected Teddy Bears, as I aged so have they, but I still keep my favorites to place under our Christmas tree. It may not be exactly Christmas decorating with antiques but its way too close for comfort. These are Gund teddy bears, there is one small Steiff antique bear in my collection. They are a simple way to fill in under the Christmas tree once the presents have been opened. This year I also used a vintage sleigh I got at a garage sale for $7. Do you have a set of collectibles you could display for Christmas?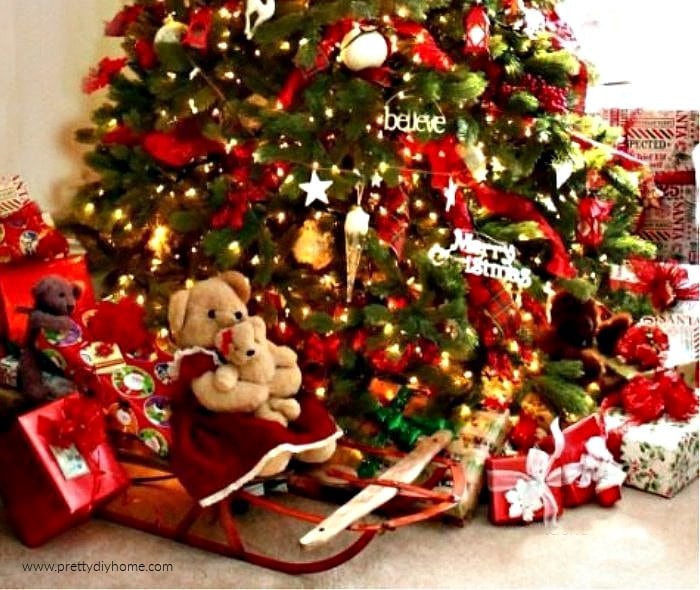 Christmas Home Tour | Faeries and Fauna / Pretty DIY Home
Blair from Urban Women went thrift store shopping and created a Teddy Bear Christmas Tree on a budget. This would be fantastic in a kid's Christmas bedroom as well.
I Rescued Orphaned Teddy Bears for Christmas | For Urban Women
Unfortunately after spending a couple of hours and seeing oodles of shopping images I was not able to find anymore posts about decorating with teddy bears for Christmas. I did find two unsourced images with examples.
These his and her teddy bears on a sleigh are so soft and cozy looking sitting alongside a roaring fireplace. The teddy bears remind me of several Gunds from the 80s. I love how they were given matching PJs, so cute.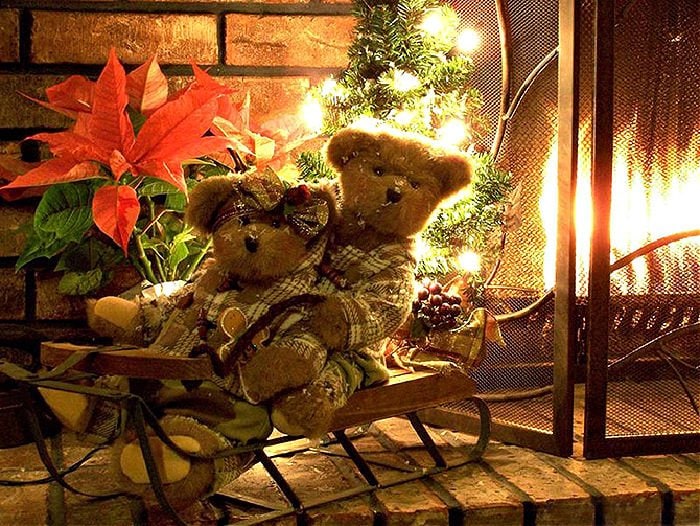 A cute little teddy bear arrangement you could add to any empty corner in your home.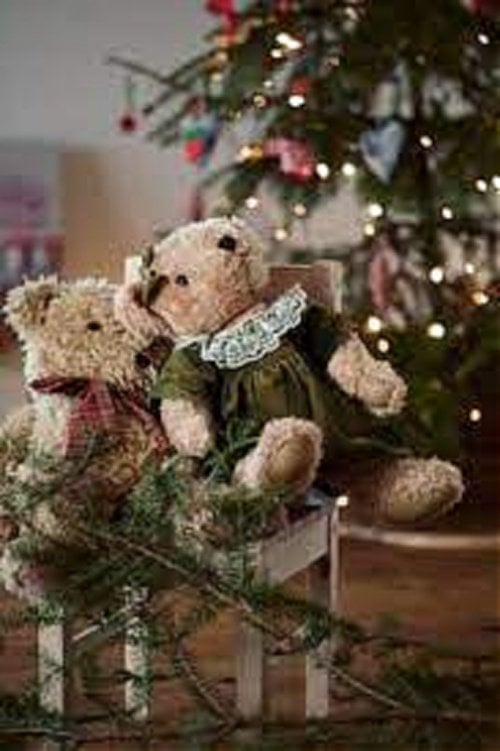 Decorating with Skis for Christmas
Can you believe these were in the trash? Christy from Confessions of a Serial DIYer didn't even have to garage sale to find these. They were tossed to the curb right next door. When you see how they turned out, they certainly are worth garage saling for though. Skiis are on my garage sale list right now, wish me luck finding some.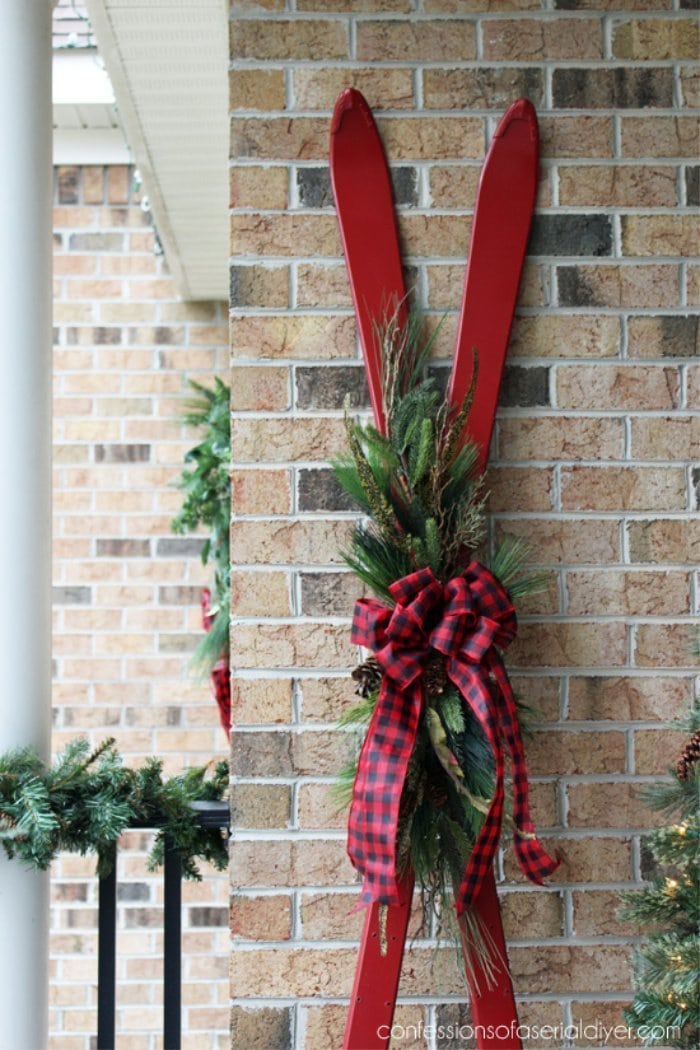 Christmas Skis | Confessions of a Serial DIYer
When you open this post from House of Hawthornes you will see all kinds of vintage items. Pam makes a pretty Christmas porch using a sleigh, thermos, coolers etc. So pretty.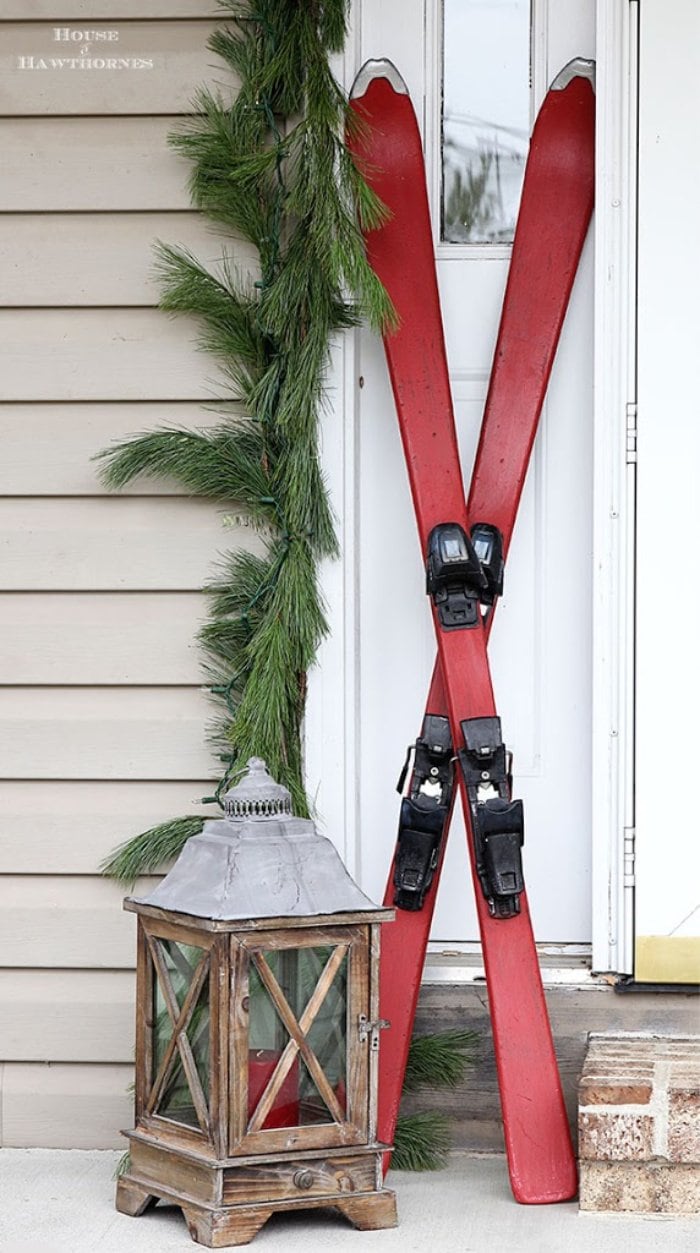 Holiday Front Porch by House of Hawthornes
Update: I wasn't able to find wood or vintage skis for cheap, so I did the next best thing. I purchased some old fiberglass skis and updated them with wood grain paper.
Decorative Christmas Ski Upcycle | Pretty DIY Home
Christmas Decorating with Snowshoes
Thrift snowshoes don't need to be in perfect shape to be used for Christmas decorating. Snowshoes are wonderful for decorating, they add a little bit of playfulness to any decor arrangement, especially nordic, ski lodge, or rustic Christmas themes.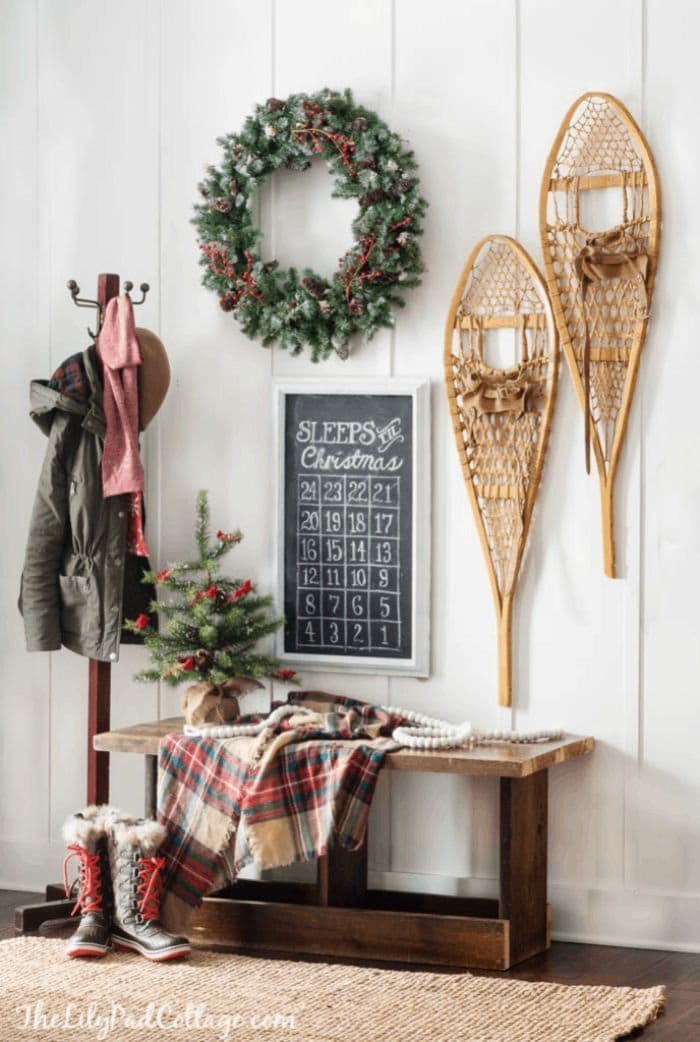 Ski Lodge Christmas Home Tour | Lily Pad Cottage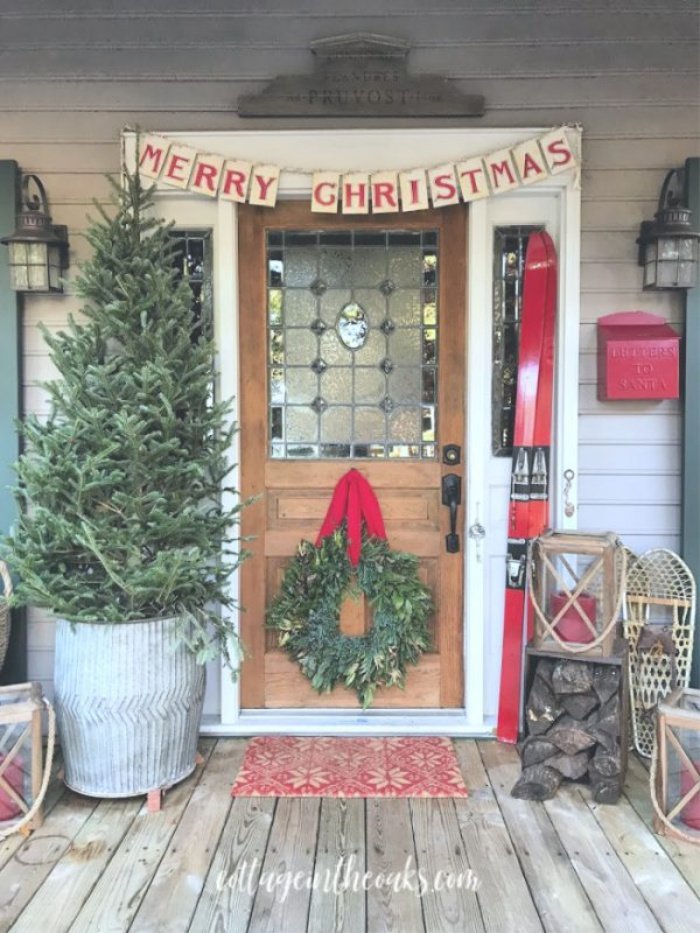 Cottage Christmas Front Porch | Cottage in the Oaks
These snowshoes have a feminine softness to them. The soft golden tone of the wood has a soft look in her very welcoming Christmas entryway.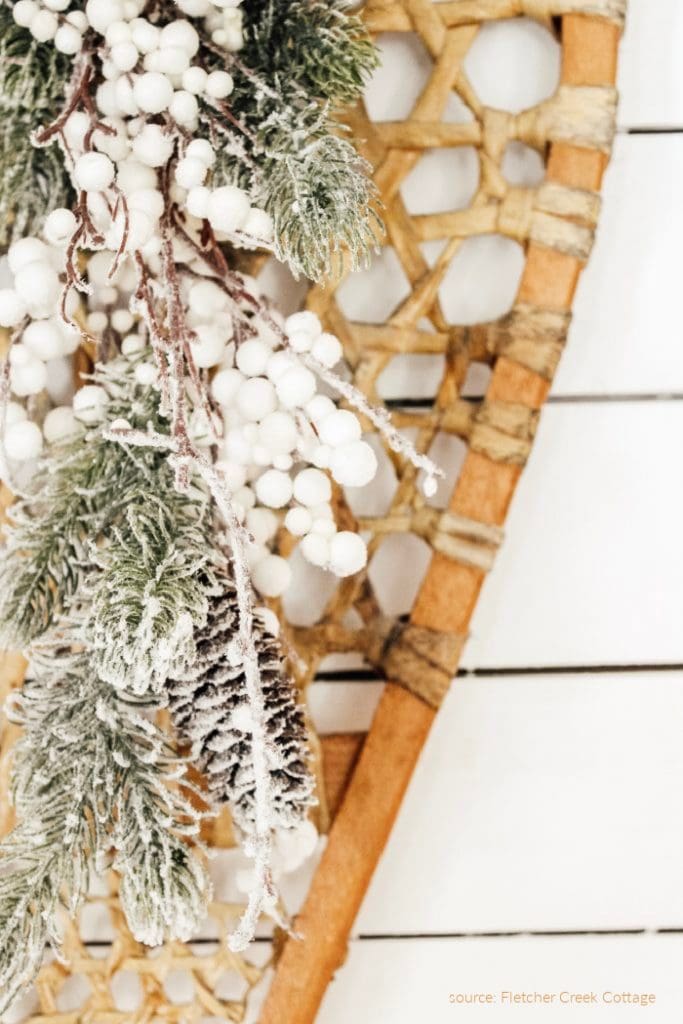 How to Create a Welcoming Entryway for Christmas | Fletcher Creek Cottage
Toy Trucks
By now everyone is aware of the white-hot red truck trend for Christmas decorating, but any kind of old toy truck works well. I prefer these two examples to the replica red truck I bought for hubs last year.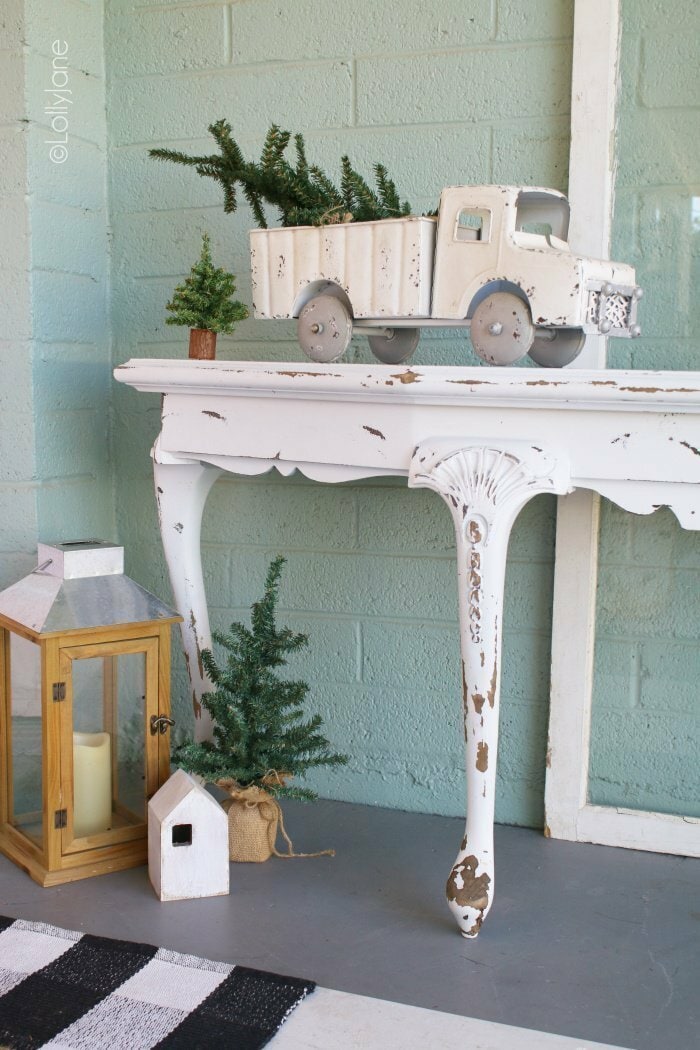 Christmas Front Porch | Lolly Jane Blog
The Robbestyle blog post shows several different examples of toy trucks decorated for Christmas. I picked this green one, but she has red, yellow and other pretty toy trucks as well.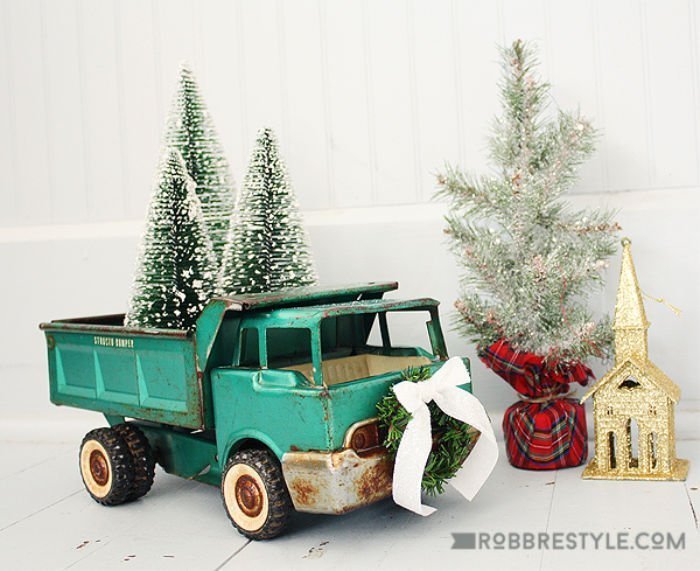 Vintage Toy Trucks | Robb Style
More Vintage Ideas to look for Garage Saling
This Christmas decor idea using platters is so simple to put together. It brings a touch of nostalgia to the kitchen, and imagine if they were heirlooms.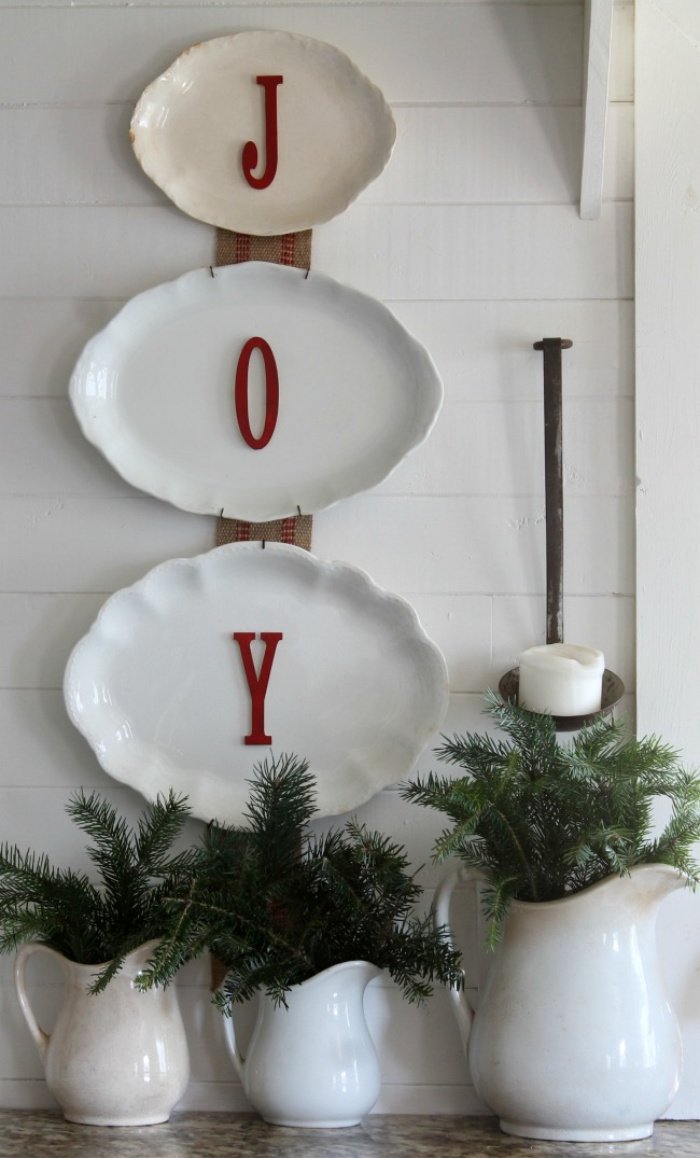 Everygreen and Antiques Free Christmas Decorating | Knick of Time
This whole shelf of Christmas collectibles makes me happy. So many fun and interesting things to look at and wonder about their history. I had a plaid thermos like the one on the upper shelf, and in Canada the canned maple syrup is always thought of as the most authentic. I wonder how old the little Santa is on the bottom shelf? Imagine gazing at these collectibles from the kitchen table and daydreaming about all the stories they could tell.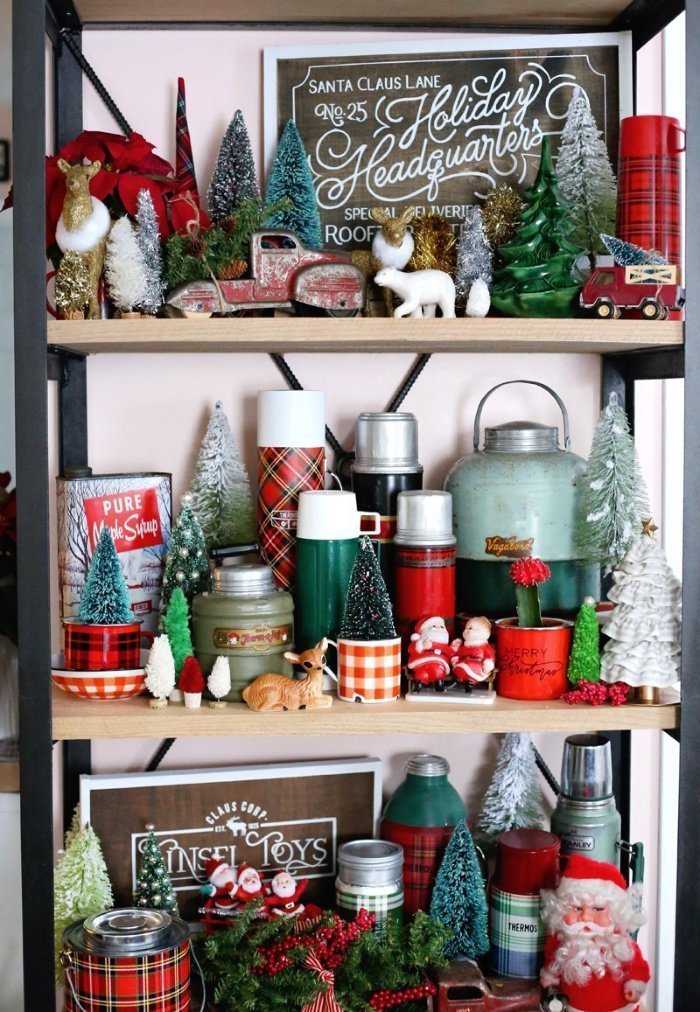 Vintage Inspired Vignette | Fynes Designs
You can take just about anything you love as a collectible and display it for Christmas. These vintage bowls, and thermos look so cheerful snuggled up on this shelf.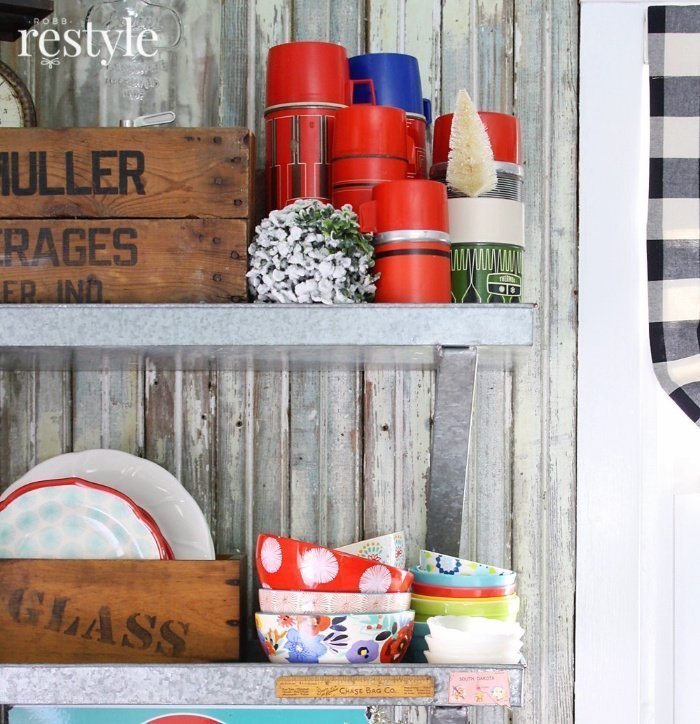 Vintage Collectors Holiday Kitchen | Robbs Design
Toy Trains
Decorating the bottom of your tree with a vintage toy train set is almost as classic as the Christmas tree itself. Although its very unlikely you will find one at a thrift store, sometimes you can find them at auctions. This Vintage Toy Christmas Family Room for Ella Claire has not only a train at the bottom, you may see a bicycle snuggled into the branches as well as the teddy bear. Don't you find this Christmas tree whimsical and fantastic? I spent a long time searching it for different touches she used. What lucky children.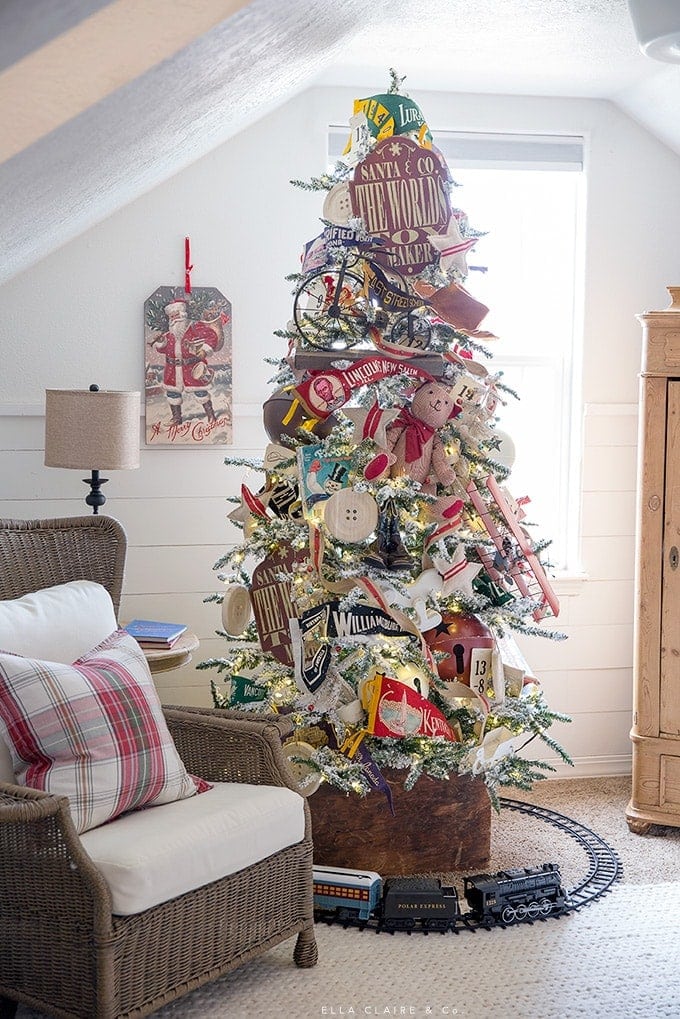 Vintage Toy Christmas Family Room Play Room | Ella Claire
The best scenario for finding vintage toys would be to ask family if they have any laying around. Long ago I donated all my boys real metal tonka trucks to another abused Mom who needed them. I hope she still has them as I certainly wish I did. Ask and see what you can find that someone may have an attachment to. If they aren't willing to share it with you, maybe you can convince them to use them again.
Pin this to have it while you go exploring for Vintage Ideas and Antiques for Christmas