A Grove of Fresh Minimalist Christmas Trees
A Different Style of Christmas Tree
These kinds of Christmas trees may not be everyone's cup of tea. These minimalistic Christmas trees are fresh and unadorned for the most part. Every year I have at least two trees and this year I chose to only do one traditional style Christmas tree and then this small grove of fresh trees. The smell is wonderful.
We are almost done with the 12 days of Christmas, it has been such a blur of activity and its been really fun to work with this lovely group of creative ladies.
Welcome to Day 10 of the Fourth Annual 12 Days of Christmas Series!
We have teamed up with 50 plus bloggers to bring you a oodles of DIY Ideas and Recipes to make your holiday season merrier. There are 12 different posts in the series and we have spread them out over a four week period with three posts per week. Now is the time to subscribe!
GO HERE for the complete list of Dates and Topics plus a collection of most popular holiday ideas including ornaments, games, recipes and more from all 50 plus talented bloggers!
On the first Day, we designed Wreaths
On the Second Day, we made DIY Christmas Gifts
On the Third Day, we created Christmas Countdown Calendars
On the Fourth Day, we put together Christmas Crafts for Kids
On the Fifth Day, cooked Party Food
On the Sixth Day, we did craft DIY Christmas Ornaments
On the Seventh day, we shared Holiday Decor Ideas
On the Eighth day, we made Christmas in a Jar Ideas
On the Ninth day, we wrapped some Pretty Presents
It's Day 10 and we are sharing our Christmas Trees!
---
This year I moved away from having everything glitz and glam and chose more rustic, humble Christmas decorations, with buffalo check, birch bark, and tonnes of DIY projects. The idea is to have a grove of tiny trees with simple sparkly lights, allowing the super cute oh so natural trees to stand out on their own.
Of course, you could go to a nursery and purchase small perfect little trees, but instead, I chose to bring back some childhood memories with rugged forest trees.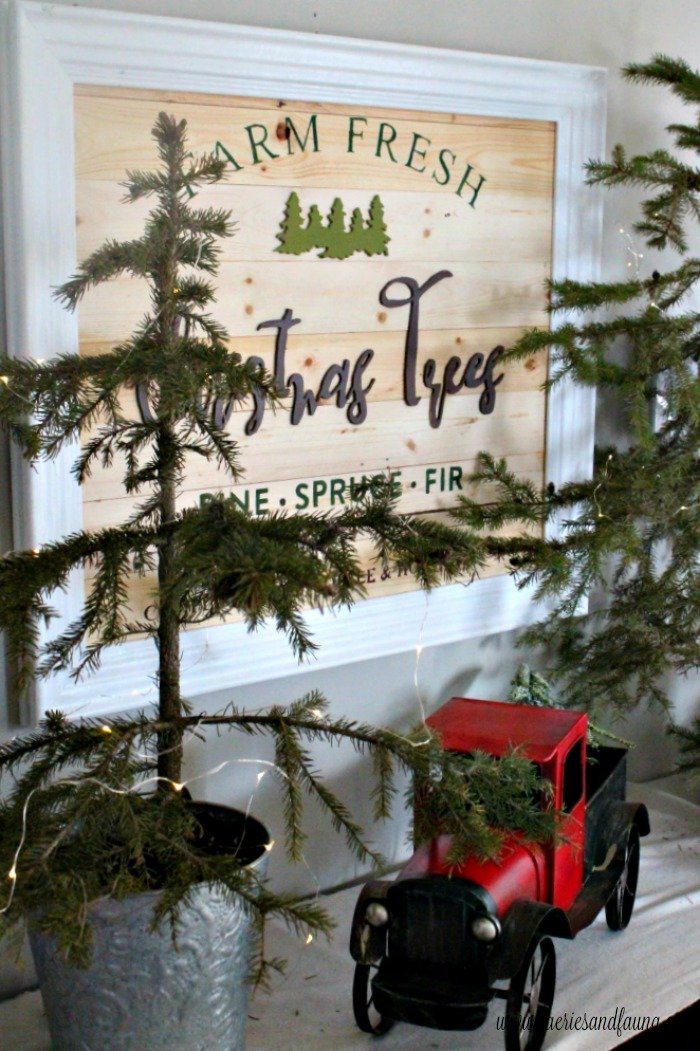 I grew up with this kind of Christmas tree and I hope you find them as pleasing as I do. As it is Winter here we did chop these little guys down instead of digging them up.
After bringing your trees home, trim off the bottom branches so you have about a foot long trunk. Make a fresh slice on the bottom of the tree. Place the trees in buckets, these ones are DIY burnished buckets. Then fill the bucket with potting soil to hold the tree straight, add water and pack the dirt down. Refill with more soil if needed.
Place your trees in a grouping, these ones are at our front door with the DIY Tree Farm sign I will post soon. My other idea was to put the trees in a very large bay window we have in the upstairs man cave. The foyer won because it's impossible to take nice pictures with the window because of all the neighbouring houses. A group of trees would look gorgeous in the window though.
If you are using the wild trees instead of nursery trees I think you need some sort of focal point. The wild trees don't stand out like the gorgeous cultivated and pruned trees do. These trees are lit with battery pack sparkle lights on little tiny copper wires I chose these lights so that the small trees weren't cluttered with the heavier wiring of plug-in mini lights.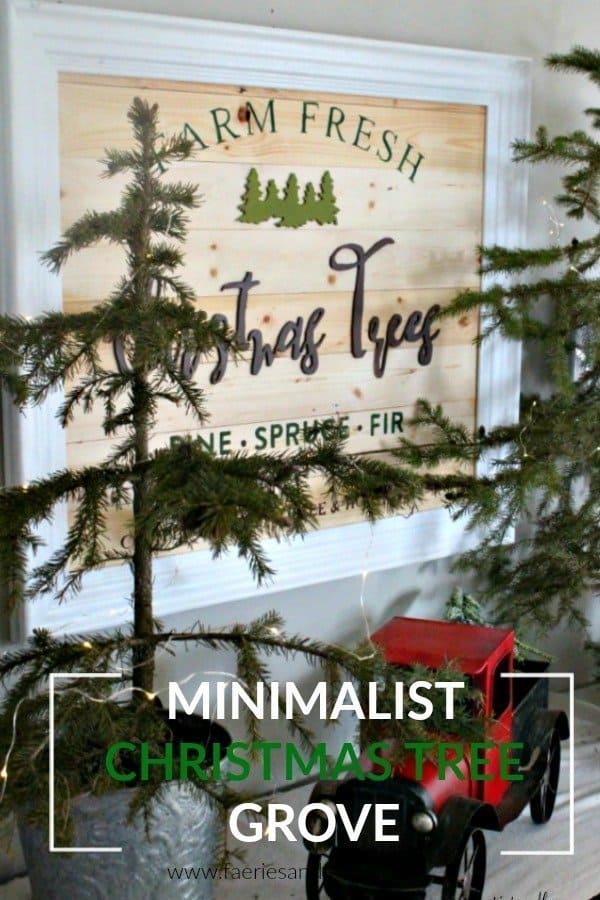 If interested I did do a large fully decorated Christmas Tree featuring Buffalo Check.
Please let me know what you think about having a grove of small trees in your home. Is it something you would consider doing?
Scroll down for many more Christmas Tree decor ideas you can use this holiday season!
---