Hand Stamped No Sew Cloth Napkins
These hand stamped DIY no sew fabric napkins are easy and fun to make. The no sew napkins are made using duck cloth, or you can use drop cloth if you have it on hand. Hand stamp them with a cute saying and place them on your table. As the napkins are plain and made with heavy duty cloth you don't have to fret about washing them often. Spray the stains, and toss them in the bleach wash, they can be washed in hot water if you like. Inexpensive, sturdy, cute , with easy to make no sew fringed edges, they are meant to be both practical to make and cute to use.
I really love the simple natural fibres of the duck cloth, its smooth and so sturdy looking. These napkins just give the impression of "good for everyday use."
Supplies for Four DIY No Sew Fabric Napkins
1 yard of duck cloth, or drop cloth
Small letter stamps and ink
Elastic band
Cut your fabric in four 16 inch squares.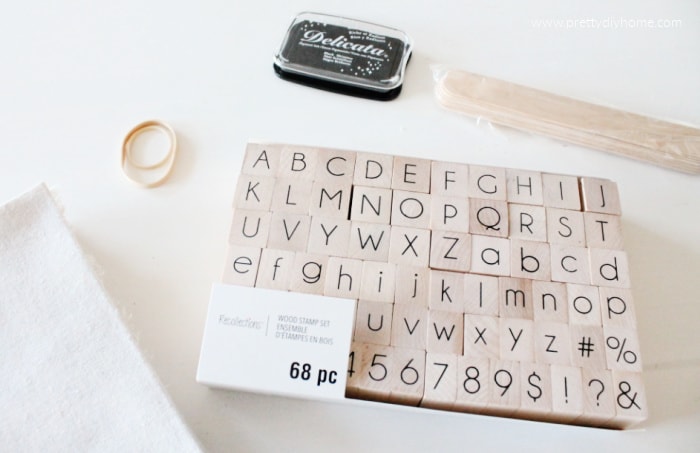 Remove the outer thread on all four sides until you have a thread that pulls out the entire length of one side of the napkin. Repeat for the other sides.
You can trim the fringe to be as neat and short as you like, I left mine longer.
Fold each napkin in half. Press with an iron.
Fold in half width wise. Press.
Fold in half width wise again. Press.
Turn so the fringe ends are on the bottom and outside edge.
Stamping the DIY No Sew Fabric Napkins
For fun I stamped the napkins with the words Yum and Yuk. Lets face it sometimes the dinner menu isn't exactly as you like> If your as fussy as I am about eating meat as I am Yuk works. Besides I thought using the work Yuk was cute. The choice is yours as you make them exactly the same way.
Lay the letters for the words together and wrap with an elastic so the stamp blocks stay aligned.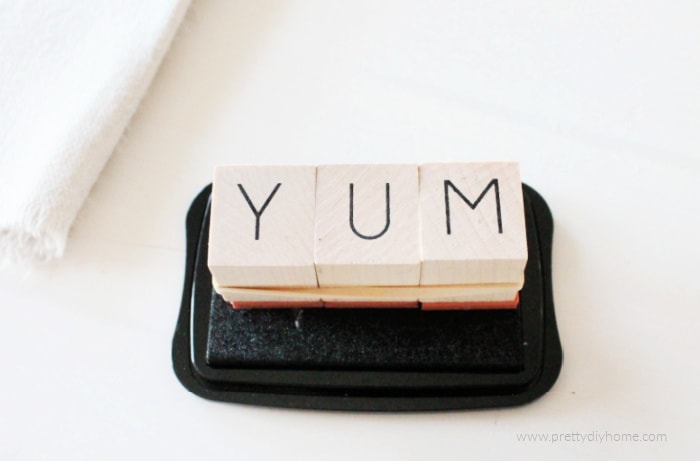 Press then lightly onto the ink pad. There should be a little bit of ink along the lettering.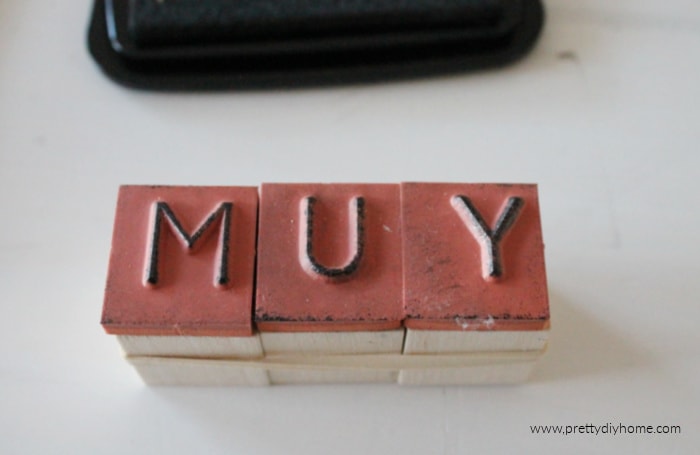 Once your sure their is enough ink on the stamp to outline the letters place the stamp on the napkin. I eyeballed mine center and and an inch from the bottom edge.Stamp the first mapkin and then layed it beside the second blank napkim so that each napkin is stamped in the same spot.
Once stamped press with a hot iron to set the ink.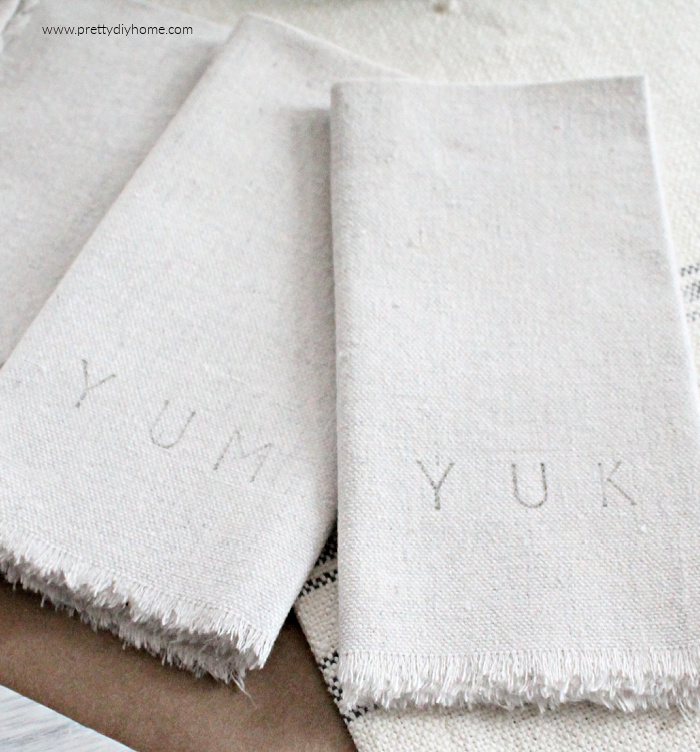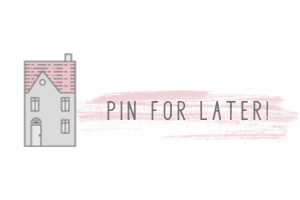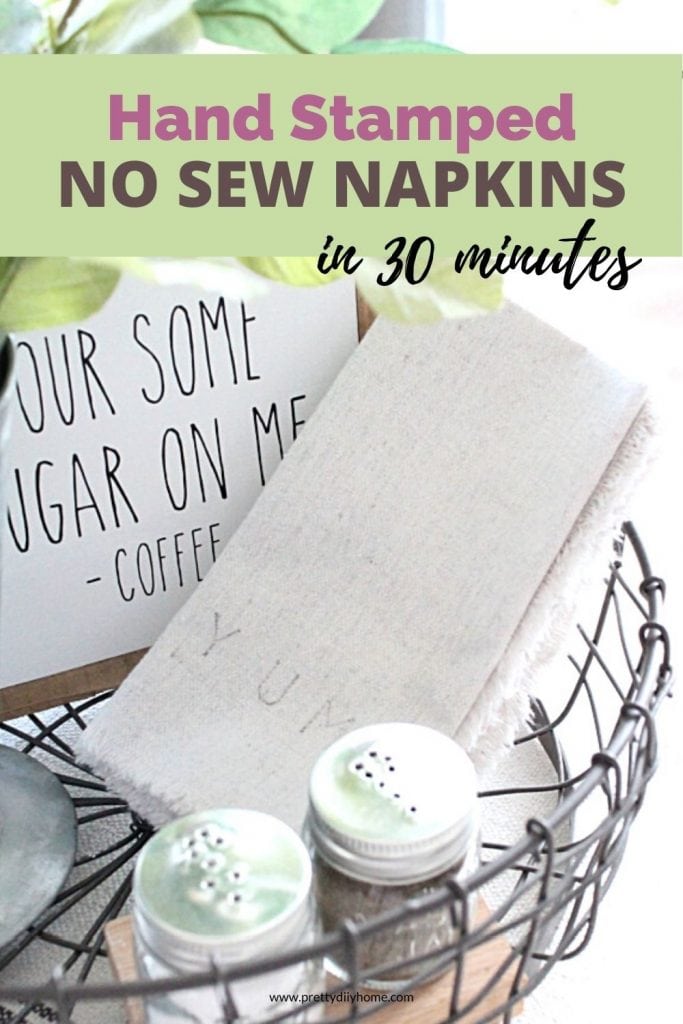 Related Posts
These fringed easy sew cushions are really trendy right now. In this post I share a super easy way to add the lettering without fiddling with all those individual appliques.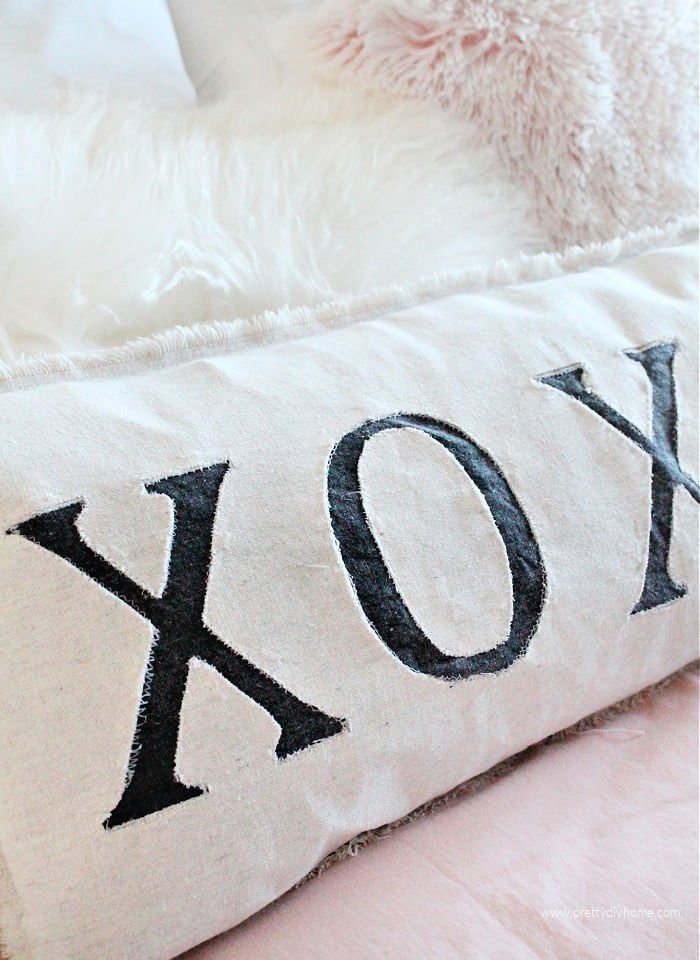 I have no yet written the post for those little dollar store mason jar salt and pepper shakers. As soon as its written I will add the tutorial here.