How to Organize a China Cabinet in the Living Room Idea
How to Place and Decorate a China Cabinet without a Dining Room
Where to Put the Tall China Cabinet
Most of us have a problem with storage, whether its clothes, knick knacks or dishes, storage is always precious. Most of us cannot afford off site storage or a massive home. and have to rely on furniture like china cabinets, coffee tables with drawers, ottomans with storage etc. Our home has a full sized china cabinet that we purchased for our former home with a designated dining room. Our current much newer home has an open floor plan and no great designated perfect spot for the china cabinet. I wish I could do without the needed dish storage but I can't.
Our main living area has a long wall with all kinds of lovely large windows. So nice during the never ending dark winter months, but the windows take up all kinds of wall space. The other short wall has a fireplace that's the focal point of the room. There is one short remaining blank wall, where I typically keep the couch so I can sit and look out the windows.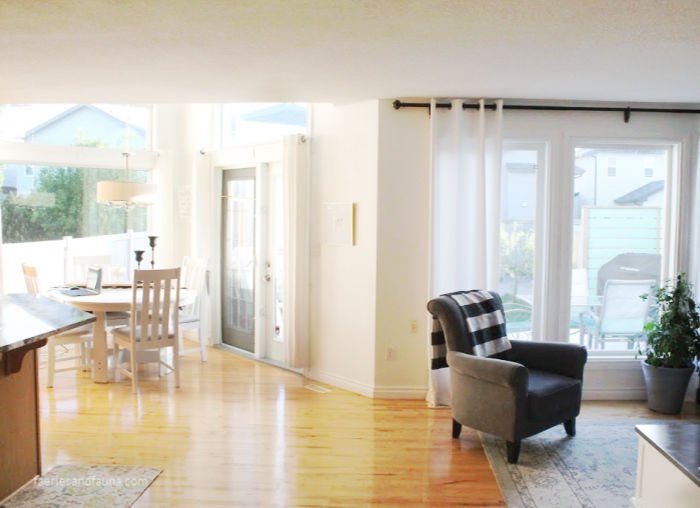 As you can see it has no designated "spot" for a tall glass door china cabinet. I spent a few hours moving my china cabinet from corner to corner, finally deciding on the "not perfect spot" in the corner of our family room. But you know what? It works, and the longer I have it there the more I love it.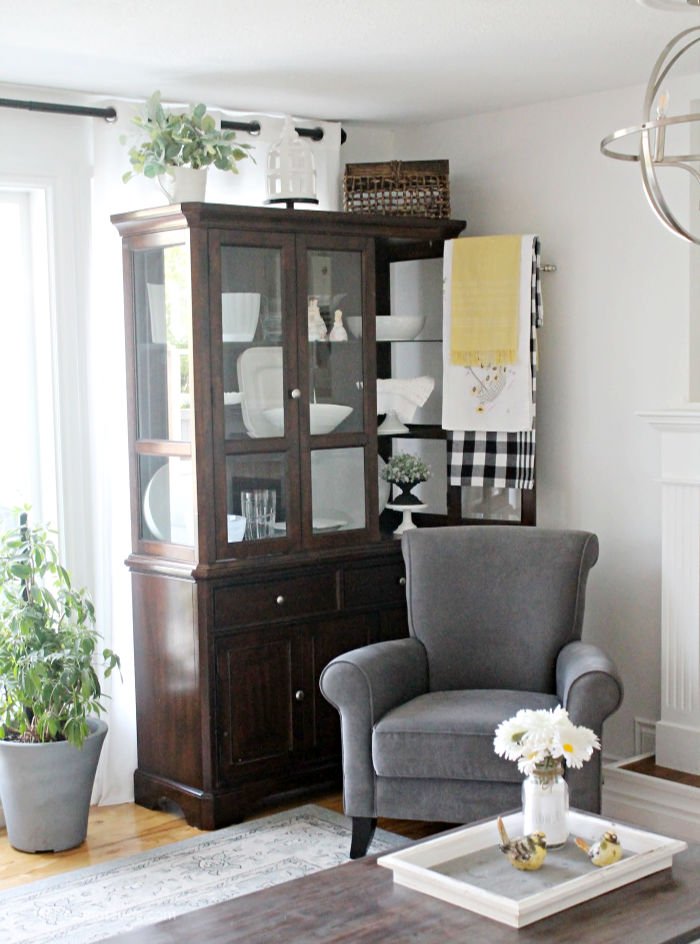 Tucked in the corner it doesn't overbear the room, its far enough away from the fireplace that it doesn't compete for focus. I tucked it away even more by placing a chair in front of it and opened one door in the corner. My final solution was to hang some linens on the open window. The linens act like a piece of artwork behind the chair.
Finally I placed some living room decor on top of the china cabinet.. It's not the perfect spot, but I just love it now, and that's the happy spot we all look for in decorating isn't it?
So look for a corner someplace in your home, that maybe you could slide your china cabinet into, and give it some decor that gives it less of a dining room look.
Decorating the China Cabinet
So now that its part of the family room I needed to rearrange the articles within the cabinet.
My china cabinet has two parts, the bottom section with doors that I love, and the tall glass section that I wasn't sure what to do with. I honestly considered tossing the upper glass door section out, but kept it because I need all the dish storage I can find, and Hubs likes this cabinet just as it is.
As the china cabinet is in the living room I didn't want to display my antique china. Its very nice, but definitely states its for a dining room setting.
My preferred colour for most things is white including most of my dinner and serving ware. Start by sorting your items into categories that work for you. By colour, and size is a good place to start, large bowls, platters, vases etc. The dishes that didn't fit into a useful category I donated away. I said goodbye to quite a few teal pieces, but someone else will love them for me.
If tossing is hard for you, just think of another woman who can seriously use them. For decades a thrift store was the only place I could buy pretty things. Something nice and modern was truly exciting to find. When I donate I always do so with this imaginary woman in mind.
Organizing the Dishes behind Cabinet Doors
For the closed door section, stack in as many dishes as possible. As you can tell by the picture this section has nothing to do with pretty, but its functional and I holds a large 8 piece setting of antique stoneware with left over room for lots of small clutter pieces.
Sort the dishes by type and stack neatly. want to use some stacking shelve so your delicate pieces aren't stacked too high. ms are all sorted and then stacked neatly. You may want to purchase some stacking shelves so your delicate pieces aren't stacked too high. For messy items you can even use a container or two, the plastic container holds all my seafood lanterns, crab forks etc. Once done I was pleased to see I even have a little bit of room left.
The items in this portion aren't on display, but they are easily retrievable, I can see what I have and they are stored securely to avoid breakage.
The China Cabinet Drawers
My china cabinet has two lovely drawers, I use the drawers for things like napkins, and steak knives. Some year I will get silverware. Right? I sure hope so. But for now these drawers are handy for holding dining knick knacks.
Behind a China Cabinets Glass Doors
Now comes the fiddly part. I had to maximize storage while making it as "pretty" as possible. This is the sequence I suggest working with for your own items.
Large Platters
Next I placed any large platters on the back wall of the china cabinet. Holding them in place stick on tabs from command hangers.pushed along the bottom so they won't slide forward. If you don't have command hanger tabs I often use dollar store poster putty.
Largest Serving Pieces
Next came an assortment of big bowls and servers. Place them so now two large pieces are together. Try your placement several times, moving them around until it looks balanced, not too many large items on one shelf, or on one side of the cabinet.
I find pedestal dishes so handy, if you have pedestal plates place them between the large bowls, stacking smaller ones if your shelf height allows.
I still have one very large clear pedestal plate to deal with. For now its packed into the basement where it can nag at me to put it away properly somewhere.
Small Ornaments & Vases
Finally came the smallest pieces. This was the easiest part, because I was able to stuff lots of them inside the bottom portion of my cabinet. I kept out the vases that I use regularly and my vintage glassware. If you still have more buy a couple of baskets, place on top of the cabinet, and put them in there. The one on top of my cabinet is currently empty, but I know I will fill it with some white dish garage sale find.
I grouped my small items in groups of 3 or five. The bigger items (and less pretty ones) in the back.
Decorating the China Cabinet
The open cabinet door and shelves are a little bit show cased. Place your favorite pieces in these areas, and find something you love to hang over the door. I can be linens, or maybe a piece of stained glass, or even a small wreath. For my cabinet I went into my antique linens. The white embroidered linen was made by my grandmother and is at least 90 years old. I use to have tea parties on it as a little girl, its precious to me so this is one of the rare occasions I display it.
My favorite milk glass piece has handmade lace of my mothers, and finished it off with modern black farmhouse decor and some greenery.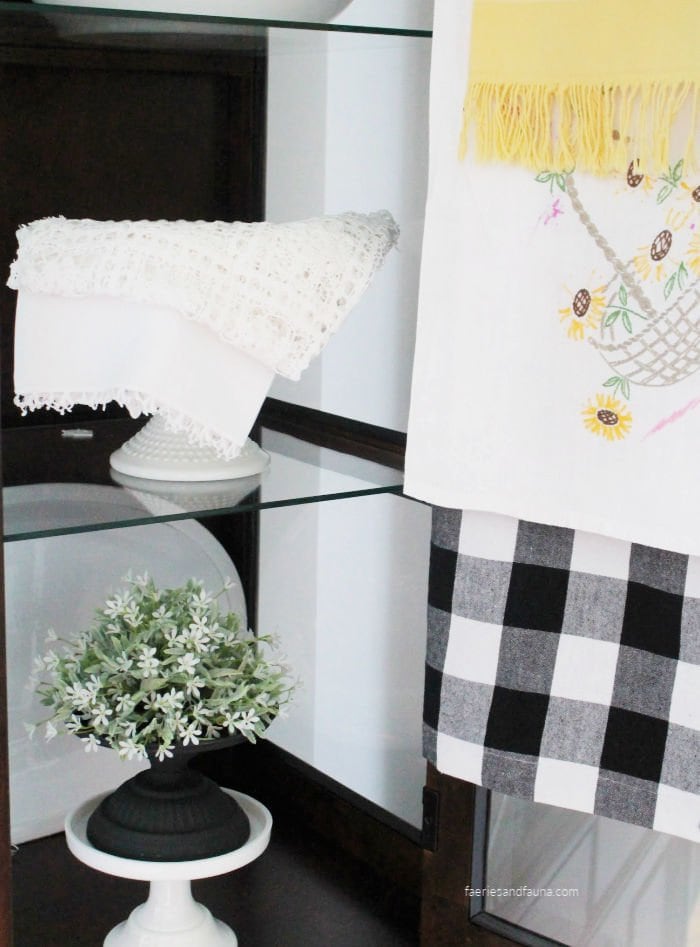 On the top of the china cabinet I shopped at home, found a basket, a bird cage and a pitcher that use to be inside the china cabinet. The final touch was some greenery.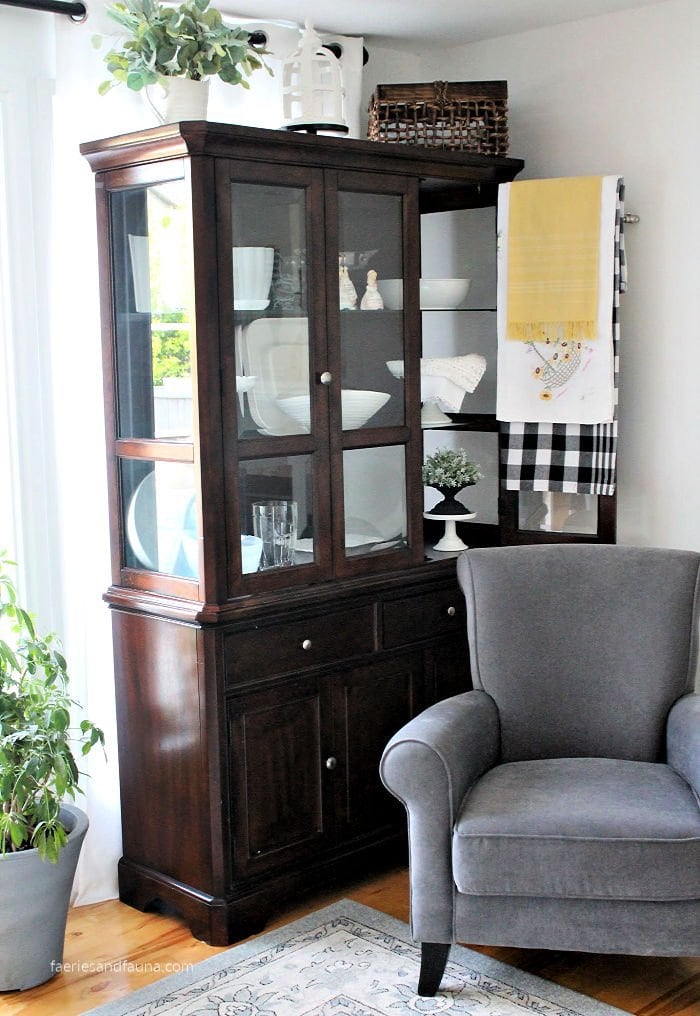 Like this idea? Pin it for Reference!