Drying Wheat for Decorations
How to Preserve Wheat Stalks for Fall Decorations
We live in one of Canada's prairie provinces and although a mountain girl, the prairies during harvest season are breathtaking. Driving around sight seeing and hunting for antique barns, I noticed all the wheat and decided to dry some wheat stalks for decorating. This old barn is about 5 km away from the major city of Edmonton.
I remembered seeing this barn last year but in my memory I thought it was a waist high wheat field. I drove out to it again and it actually sits in a pretty field of canola.
Besides wheat stalks, we can easily gather branches, pinecones, corn stalks and Fall leaves for decorating. I cannot imagine anything more farmhouse styled for Fall than homemade sheaths of wheat.
How to Preserve Wheat Stalks
Earlier this year I made these super easy to make flower drying racks so I decided to get some fresh wheat and dry it myself for Fall decor. Once prepared it takes anywhere from one to four weeks to dry.
You need to start by gathering the wheat stalks, to be honest, these may be barley but I don't know the difference, either way, I love the little whispy tops. The colours are beautiful shades of soft green to golden yellows.
Once gathered you need to clean them and I suggest doing them outside as the plants are wild and may have bugs, mine had a ladybug and an ant. They weren't prickly at all.
Go through each shaft of wheat removing all the lower leaves, tossing out any broken or miscoloured stems.
Once you have the extra leaves removed, place the stalk ends in water. Although I know they get rained on, I wasn't comfortable immersing the fresh grain ends in water so I kept them dry.
Clean each stalk with a soft cloth making sure not to break them. After you clean each stem set it aside in a single layer on a towel to dry. Let them dry for several hours.
Bundling and Hanging your Wheat Stalks
Bundle your stalks by holding the bottom of each grain section between your thumb and finger.
These wheat stalks are gathered 20 stalks to a bundle. Place an elastic around the stalks. Place a second elastic lower down the stalks as well. Trim the ends of the stalks off evenly.
Hang them to dry seed side down for one to four weeks until completely dry.
Making Wheat Bundles
Gather the wheat into a hand held bundle. Arrange the wheat so the ends of the seedy section line up. Use raffia or a bit of twine wrap the wheat bundle several times and secure with a small bow. Once wrapped tightly trim the ends of the stems evenly.
Update: These wheat stalks have kept very well. I created some updated pictures for them after 2 years and a move this is what they look like.
Pin this Post and Enjoy Gathering!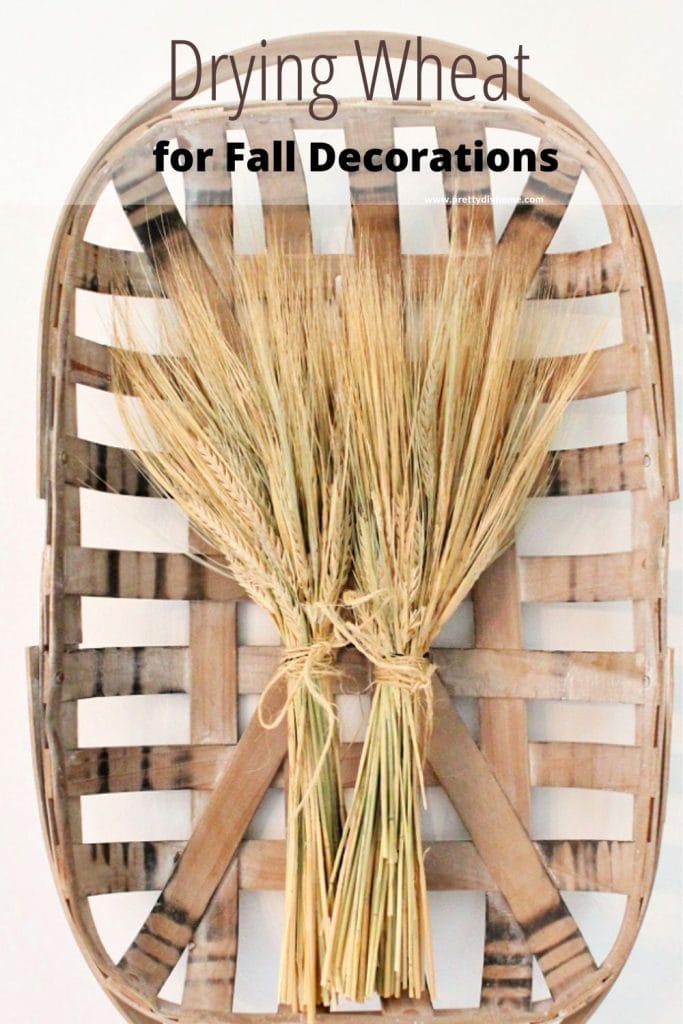 Are there any local naturals you gather to use for Fall decorating? Do they need some time to preserve before you can use them? Let me know in the comments, I always enjoy hearing from you.
Some Other DIY Fall Decor Ideas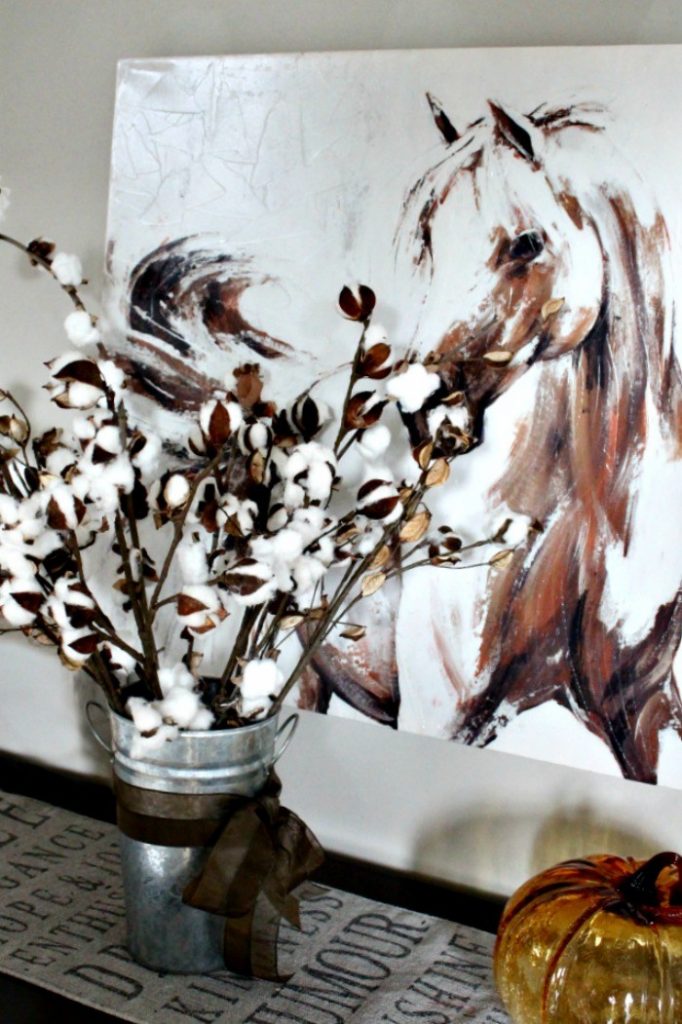 Realistic DIY Cotton Boll Stems
These cotton stems are made using branching, spruce cones, large cotton balls and paint. They look very realistic and unlike purchased stems these are very affordable.
Printable Leaf Banner
Print out as many of these neutral coloured Fall Birch leaves as you like and string them anywhere you want to add some whimsy to your Fall decor.