How to Build an Old Window Frame using Lumber
Easy to Make Old Window Frame Backdrop Project
Thankfully Summer is still here and I am loving the time outdoors building simple things and enjoying every ray of sunshine. Unfortunately, lazy summer days don't last forever and before we know it Fall and Halloween decorating seasons will be here. This year I am getting a bit of a head start by making background decor items while there is lots of time. The first of these is this old window frame project.
There are so many gorgeous examples of home decor using old window frames, I love all the different old window crafts and window frame ideas. Unfortunately, there are not many old pane windows available where I live and if you do find one, they come with an antique price.
Its also much less work to build one of your own then it is to try and find an affordable one in the architectural resale places or buy one online. In addition, this one weighs less than half of a real window as there is no glass, and the wood is less than an inch thick.
My youngest son decided to hang out in the garage with me, and even with visiting and figuring out what leftover wood we could use it took us less than two hours to build the window frame and if you have to buy the lumber etc, I guesstimate the cost at under $20 for this three by four foot  large window frame.
Supplies for Building an Old Window Frame
2 – pieces of 1 by 6 lumber 4 feet long.
2 – pieces of 1 by 6 lumber 3 feet long.
2 – pieces of 1 by 2 lumber at least 40 and 30 inches long (you will trim them to size)
4 –  L-shaped flat brackets
4 – straight flat brackets
Sandpaper 60,120, 150 grit
Wood glue, clamps and wood screws.
Old Window Frame Tutorial
Start by sanding all your lumber with 60 grit and then 120 grit sandpaper.
Cut the ends of your 1 by 6-inch lumber at 45-degree angles.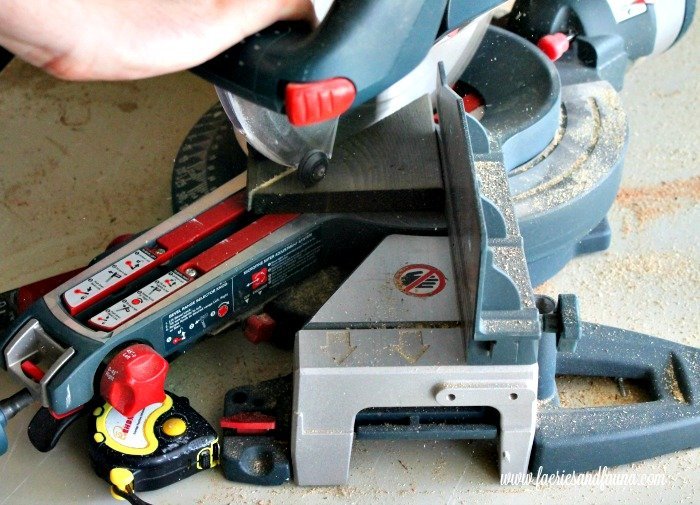 Make sure the angles are cut in the right direction so that the four pieces of lumber fit together.
Apply wood glue to the seams.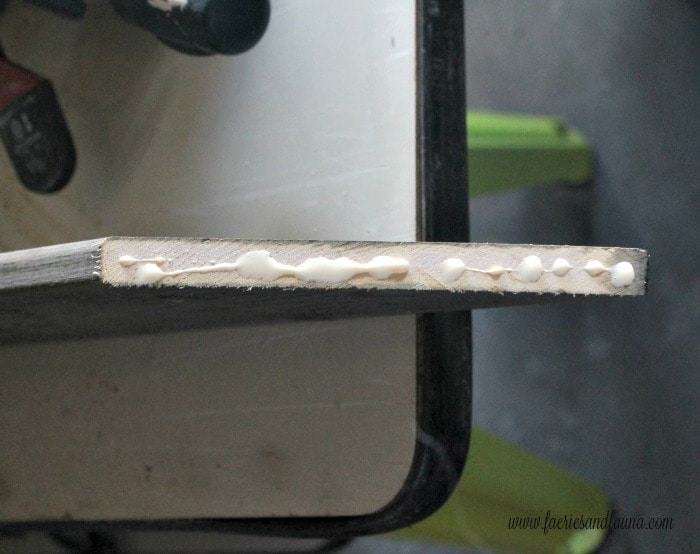 Attach clamps to hold the corners together.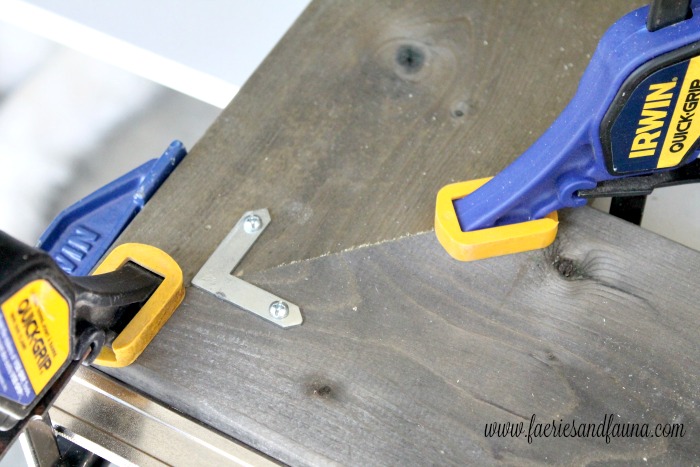 Attach the L brackets on all four corners and let dry.
Making the Panes
There are a couple of ways to do this.   Now that you have the wood frame put together, measure the opening and cut your two cross pieces to the exact length.
Find the center of the 1 by 2.  The actual width of the 1 by 2″ board is 1.5″, so measure back from center 3/4 of an inch each way and mark with a pencil.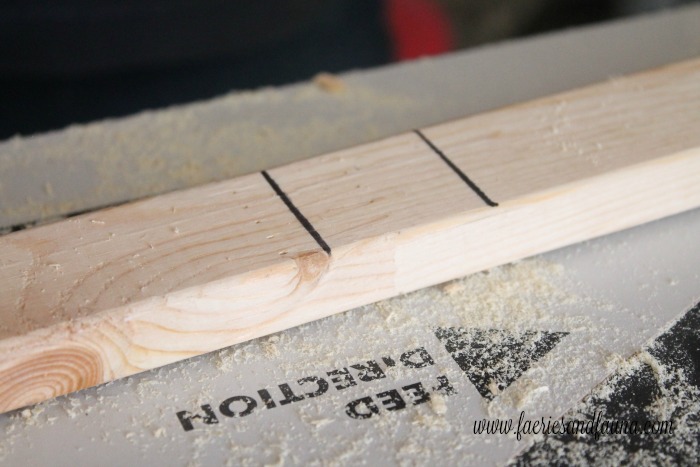 Using a router or a chisel, remove half the thickness of the wood between the two marks.

Alternative Method
Measure your first board and attach at the middle. Measure the distance from the edge on both sides and cut two pieces.  Glue and clamp in place,  use a straight bracket to hold the cross piece.  Fill the seams with wood putty, let dry, and sand well.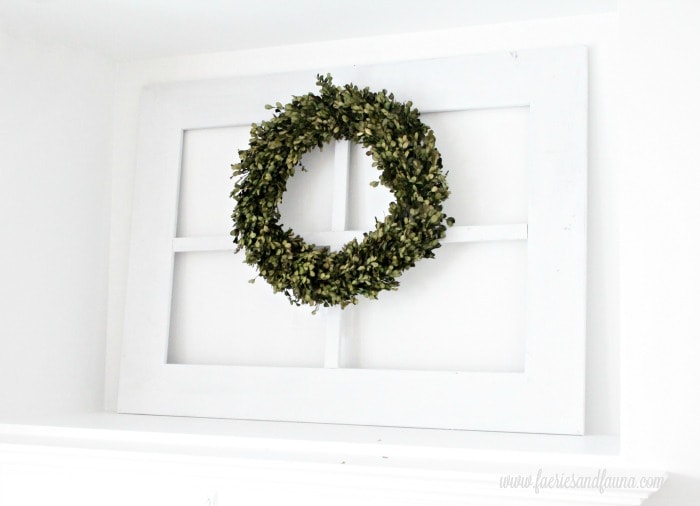 Finishing
This simple project was finished using two coats of grey chalk paint, and one coat of white chalk paint.  I sanded well between each coat with  150 grit sandpaper.
I did not distress my frame,  but you most certainly can.
Using in Decor
There are so many uses for this large backdrop, it adds height to any vignette, you can hang large decor items from it, or banners, wreaths, galvanized signs, mini lights, etc.  So many fun choices.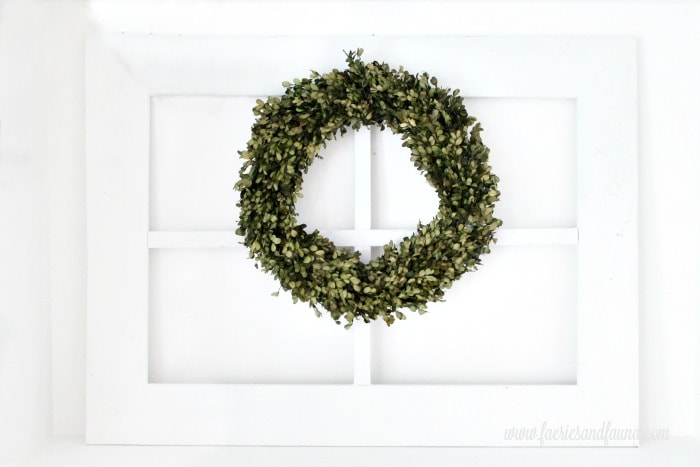 This frame was made for my fall decor, but today's post I am posting plain pictures of it so the frame itself stands out.  I will share more images of the frame once I complete my fall mantel.  Here is a neutral fall home tour showing you some other ideas I have had using backdrops for fall decorating.
Related Posts
It can often be much cheaper and much quicker to create your own backdrop that it is to look for something vintage you can fix up for the right price.  I find everyone of my DIY backdrops very helpful when decorating on a budget.
Here is a tutorial for a Farmhouse DIY door backdrop I made two, one is on my front porch and the other is in our living room this summer.  I decorated them with simple Forsythia wreaths, but they will work for seasonal decor as well.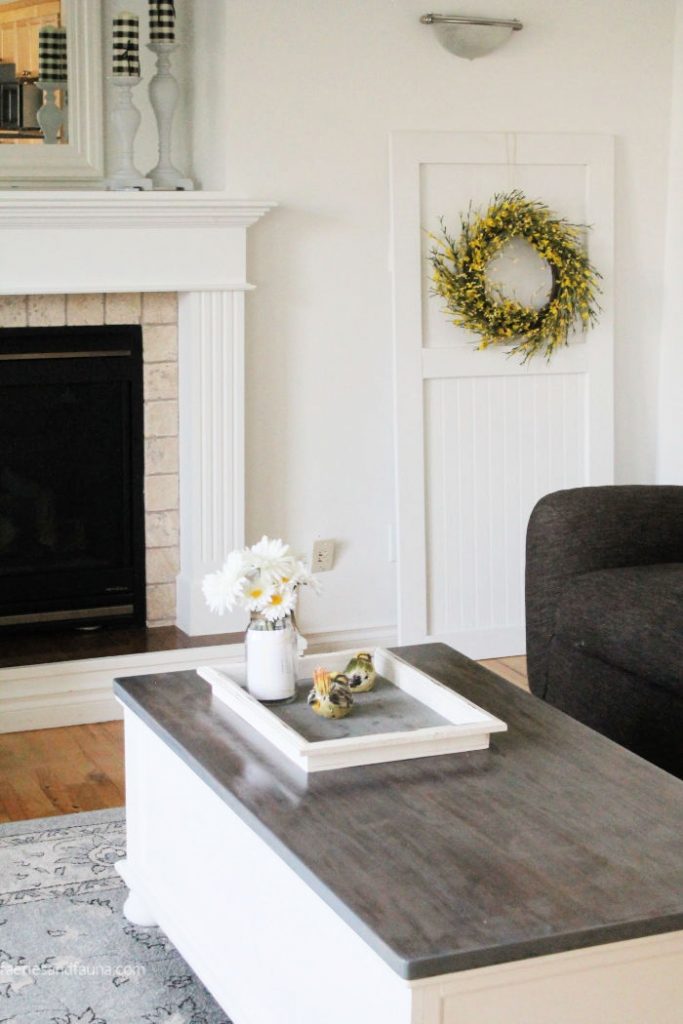 Another simple DIY build you may like are these full sized DIY Shutters for Decorating , so cheap to make and my son and I made two of them in a few minutes.   You will see them in various posts throughout Pretty DIY Home, as I use them regularly.