How to Refinish Chairs and add No Sew Seat Covers
Just like the table I shared yesterday, these chairs and hard working, sturdy and practical. I think we all have that happening in our homes all the time. So frustrating especially when its furniture you love. Let me show you how to you how to refinish wood chairs in gorgeous white and farmhouse ticking. I am happy to share that the chairs are really easy to update. There are two parts, painting the chairs and recovering the chair cushions.
Here is the chair before, its in pretty good shape, but they certainly won't match the table any longer.
As our table is an active area, I did two chairs at a time. That way we had two to sit on while I finished the other two.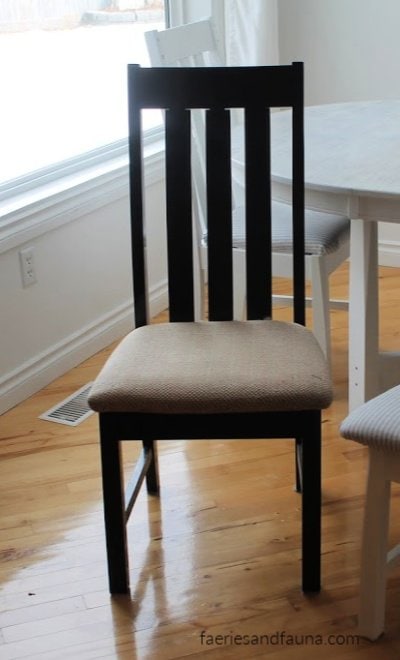 Supplies Needed for Repainting Chairs
120 grit and 220 grit sandpaper
Binz white primer and sealer
Fusion Mineral Paint in Picket Fence (or other latex paint you like)
I realize lots of tutorials advise that you can skip sanding, but I always sand mine first. The half hour of sanding is well worth the time. This way I am ensured the paint will adhere well, and you will get a good finish.
Wash all your chairs off with TSP, and remove the cushion. Sand all the surfaces with 120 grit sandpaper, until the shine is removed. I love using my little mouse sander for this. You don't need to sand to the wood, just enough to scratch up the surface. Wipe the dust of with a cloth.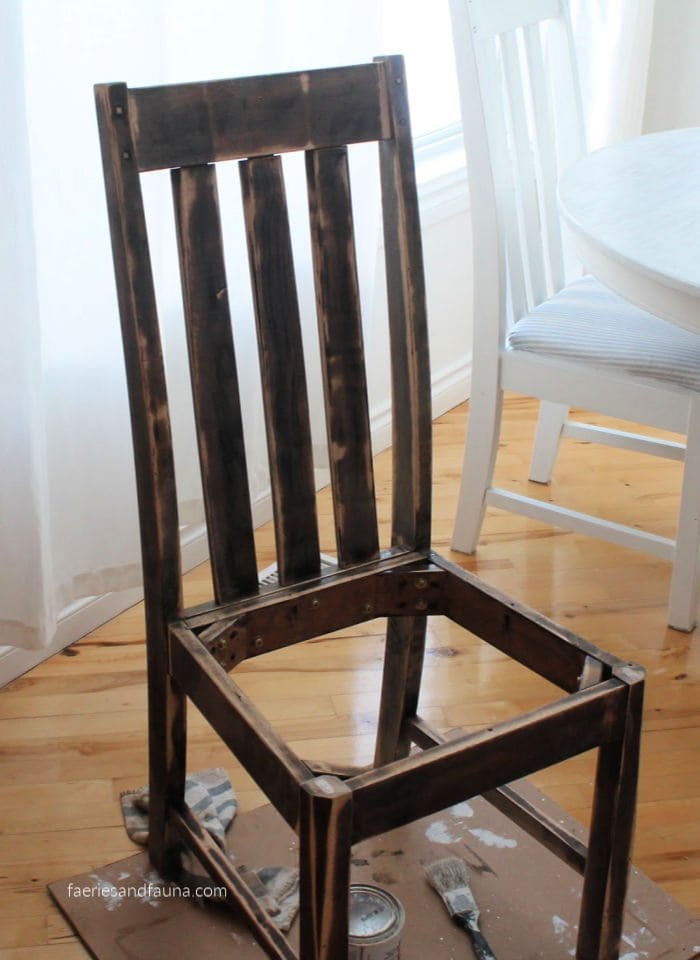 How to Paint a Chair in a Farmhouse Style
Begin by flipping your chair over and painting the underside of all the wood surfaces with Binz white primer sealer Flip the chair right side up and paint all the other surfaces starting from the top down. Chairs have so many edges and crevices it can be a challenge to paint without getting drops. To avoid drips load your paintbrush with tiny amounts of paint, dipping your brush often. It works better than loading your brush with lots of paint and trying to paint large areas. Once you surfaces are all primed, hang by heck to see if any paint drips develop. For me its always a sure thing. Let the primer dry for an hour before painting.
Painting the Chairs White
White is by far my favorite colour for anything decor. It makes a room bright and is so easy to accessorize in different colors. It comes as no surprise that white farmhouse decor is so popular, I have always loved it.
Each chair was paints with two coats of Fusion mineral paint in Picket Fence white. Like the primer begin by painting the underside of each chair. Then flip the chair over and paint the remaining sections. Let the chair dry for an hour before applying the second coat.
The drying time is pretty awesome because by the time you get the fourth chair done the first chair is ready for a second coat. Sand your paint lightly with 220 grit sandpaper between coats, be careful along the edges that you don't remove too much paint. You don't have to sand between coats, but it will give your chairs a professional icy smooth finish. Let the second coat dry for an hour.
I added polyurethane to the table for extra wear, I did not do that for the chairs. Unlike chalk paint Fusion mineral paint doesn't require a final coat for regular wear.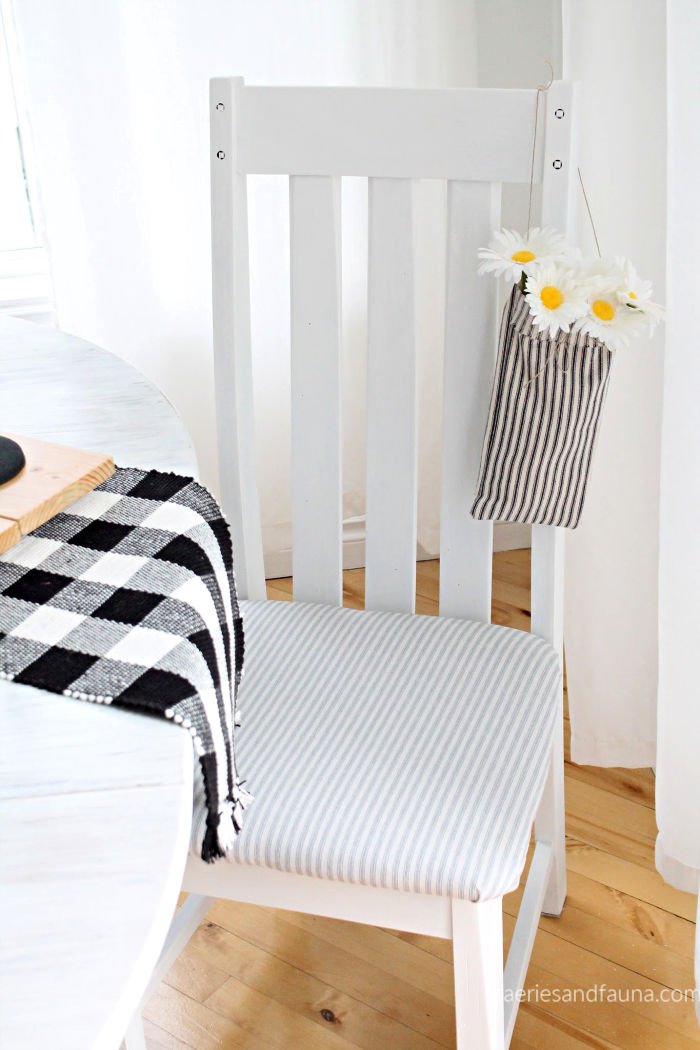 No Sew Chair Cushion Cover Tutorial
To give my chairs a serious farmhouse feel I purchased heavy duty ticking fabric. You can pick any fabric you prefer but make sure its heavy. I even considered using unbleached drop cloth for this project. That would be a really inexpensive update.
Supplies Needed
Small screw driver and pliers
1 yard of fabric per chair cover
Staple gun and 3/8 inch staples
Scissors
Remove the underside backing from your chair with a small screw driver and pliers. Depending on how dirty your seat is you can choose to remove the fabric. My chairs were clean so I left the original fabric attached.
Lay your new fabric out flat so that the ticking stripes are vertical. Ticking looks best if the stripes go from back to front. Place the chair cushion on top of the fabric.
You don't need a pattern but you have to make sure there is enough overhang to fold and pull the fabric over the cushion. I cut my fabric about five inches wider on all sides than the chair seat.
Start with the top and bottom edges. Fold your fabric over to form a neat edge. Then fold it over you chair. If you have more fabric than you need, trim it. Using a staple gun, staple into place. Repeat with the opposite edge.
Turn you cushion and repeat the process with the other two sides.
Its unlikely that your chair cushion is perfectly square. The back of my chair cushions was narrower so I needed less fabric. I trimmed my fabric to shape before folding the edge and stapling it. It doesn't have to be perfect, its hid in the fold. I just wanted to reduce the bulk of the fabric.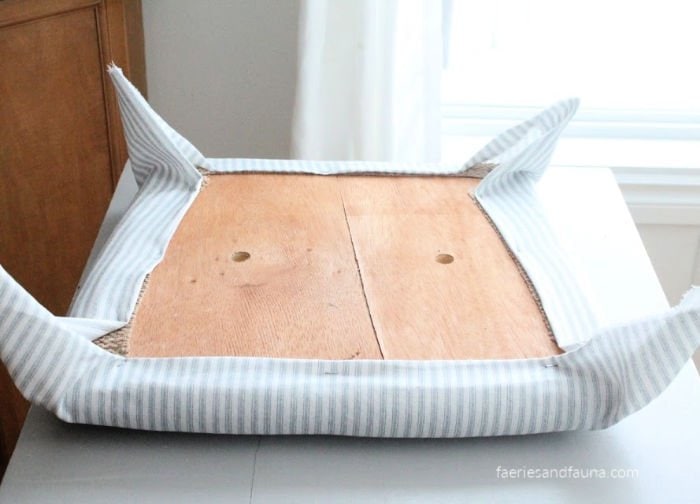 To finish the corners I used the other cushions as a guide and copied it. I folded the fabric from both sides so it met in the middle of the corner. then folded the corner towards the middle. Securing it with staples. Then trimmed off the excess fabric.
This is what the corner looks like once finished.
Repeat for the other three corners making sure to keep your fabric tight. Once the fabric is all tight reattach the original bottom of your cushion.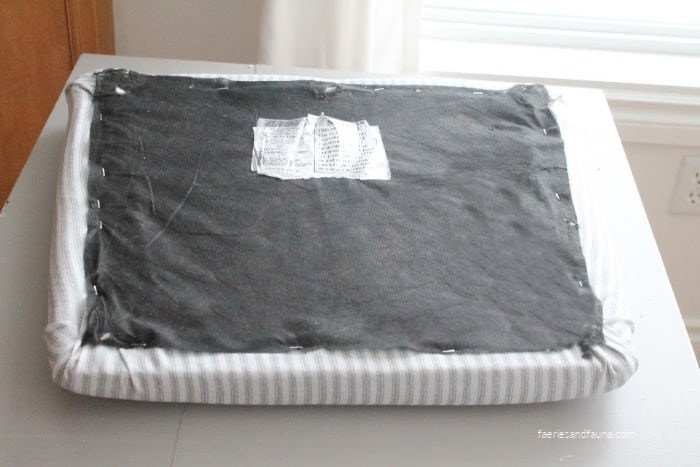 Using the original screws, screw the chair seat back onto the chair frame.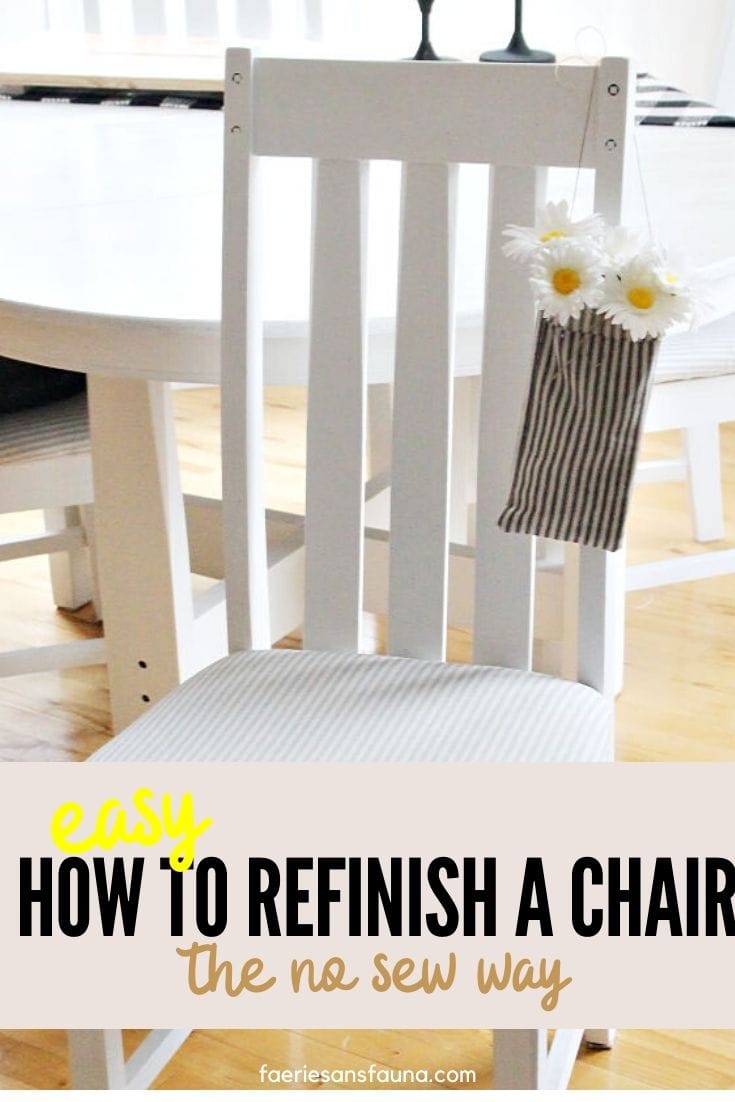 Here is the tutorial for the Modern White Farmhouse Table Makeover