Small Wooden Houses Craft
Miniature Wood Houses using Scrap Wood
You must have seen those adorable wood houses for a tabletop in gift shops or on Pinterest. They are really so cute and have to be easy to make. As its just warming up enough to be outside in the garage, these small wooden houses craft idea is painted in soft Spring colours. To make a mini wood houses use a different colour, or add some miniature embellishments like a wreath.
These two mini wood houses houses have unique roof lines. I thought they would be really easy to do, and they were once I figured out the angles. I spent far too much time trying to figure out how to do the angles on wood. I finally went girly and simply drew houses out and instead of sharing the measurements here are the wood house craft patterns.
Lets me show you how to do make these two very different small wooden house craft.
You will need a couple of feet of 2″ by 8″ or 2 by 6″ lumber. I used 2″ by 8″ but use what you have on hand.
Begin by tracing out the miniature houses on the wood. Then line up the saw to match the angles. We used a mitre saw, but you could use a skill saw.
Cut off the roof lines before you trim the house height. This keeps your hands farther away from the blade.
Cutting the Cabin Shaped Wooden House
Print out your pattern, cut it out and then trace the outside dimensions onto your wood.
Cut the long length of the roof line. For this cut set the at a 35 degree angle. Starting at the peak make your cut.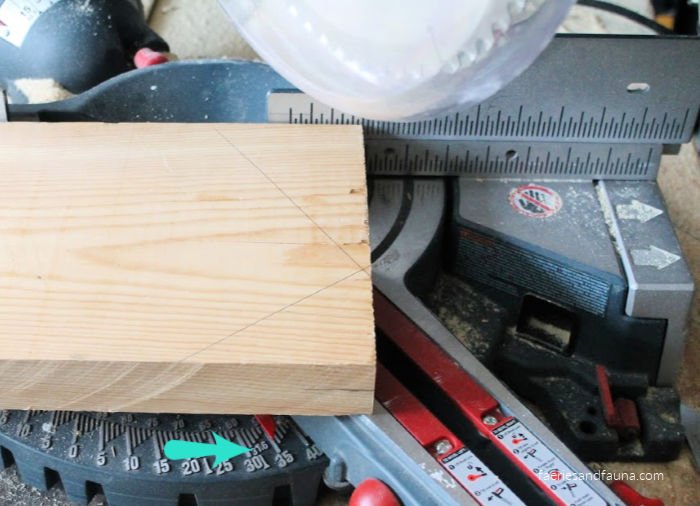 Flip your board over, cut the short edge of the roof line is cut at a 50 degrees angle.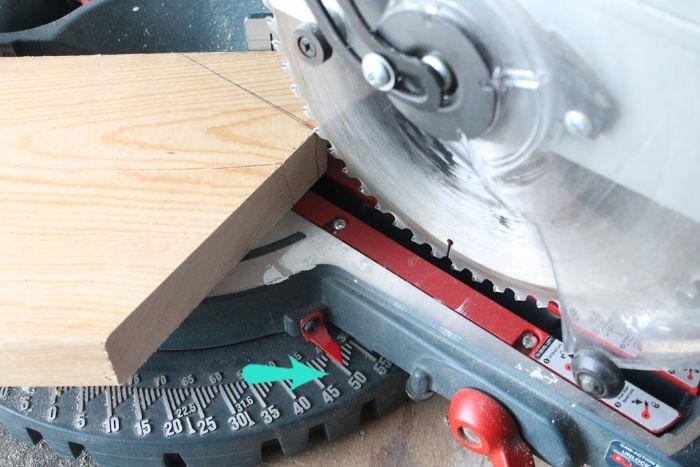 Once you have the miniature roof lines cut, cut the bottom square edge.
Cutting the European Wooden House
You would not believe how many different ways we tried to cut this miniature roof line before finding the one way it would work with our mitre saw. My idea looks so easy when drawn on paper, but yowsa I couldn't figure out how to make the angles work within the parameters of our saw.
To work around this I cut this house style in two pieces.
Here is a side view so you can visualize the roof line. The top of the roof is straight, but two identical angle cuts for the front and back.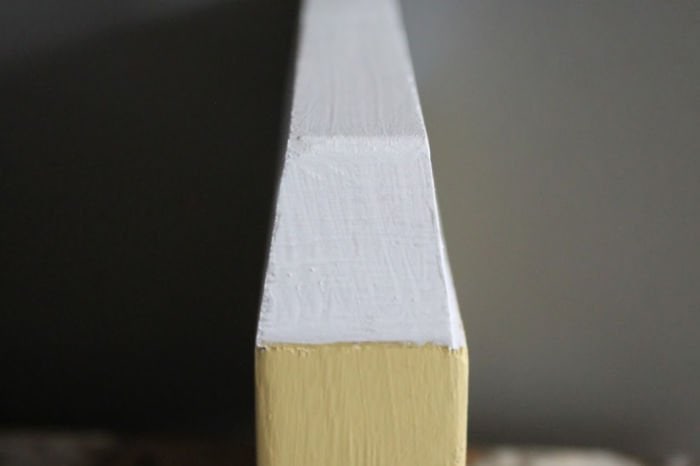 Roof Section
Measure the thickness of the board and make a note. Our 1 by 8 is 1 1/2 inches thick.
Cut from a long piece of lumber, you don't want you hand close to the board.
Make sure the end of your wood is cut square. Measure from the edge back the thickness of your wood (1 1/2″), and mark. Set your mitre saw to 10 degrees.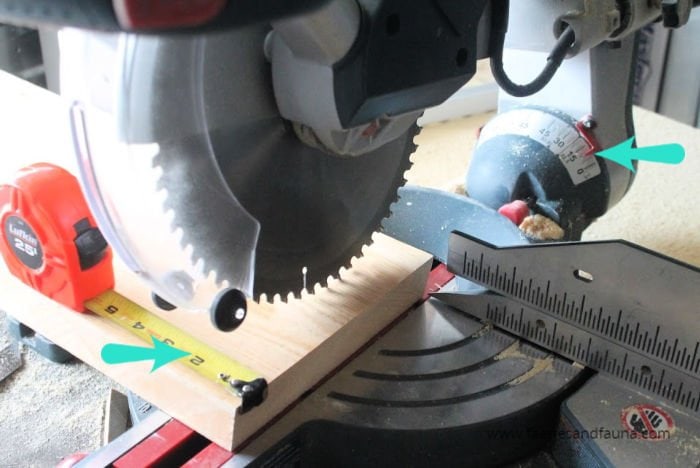 Turn the board over and measure the sane distance (1 1/2″) from the end. Do a second cut.
Now cut the board at 90 degrees to square the bottom two inches from the end.
Completing the Small Wooden House Craft
Begin by attaching the two pieces of the house together with wood glue. Clamp in place and let dry thoroughly.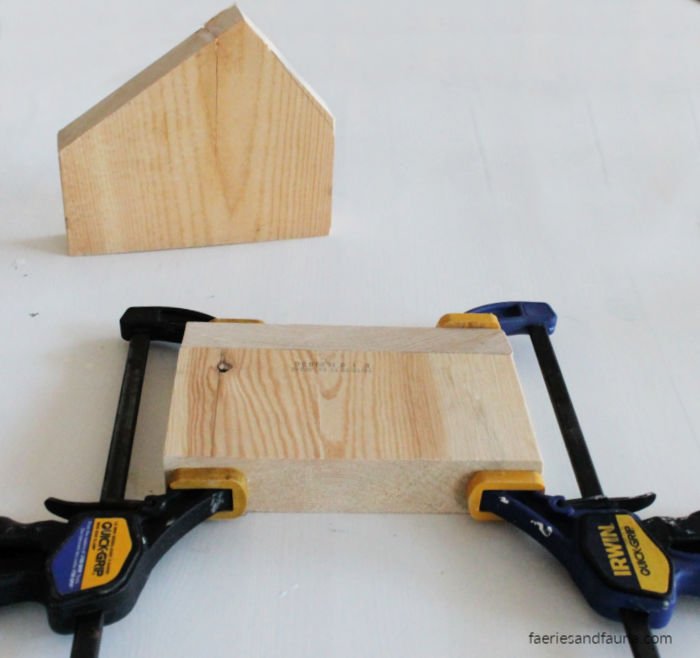 Once you have the wood house glued together, transfer the pattern for the windows and door onto the front of your houses.
The chimneys are simple wood dowel pegs that I painted black. Hubs drilled the holes into the wood and then I glued the pegs into the holes and let dry.
Using a black paint pen or Sharpee pen colour in all the windows and door. Let dry.
When your adding the outside borders to the windows use a white paint pen. I found that the Sharpee pen ink would lift up onto the wet paint pen. To get around this I would wipe off the ink on a spare piece of paper before painting again. Give the windows outlines two coats of white.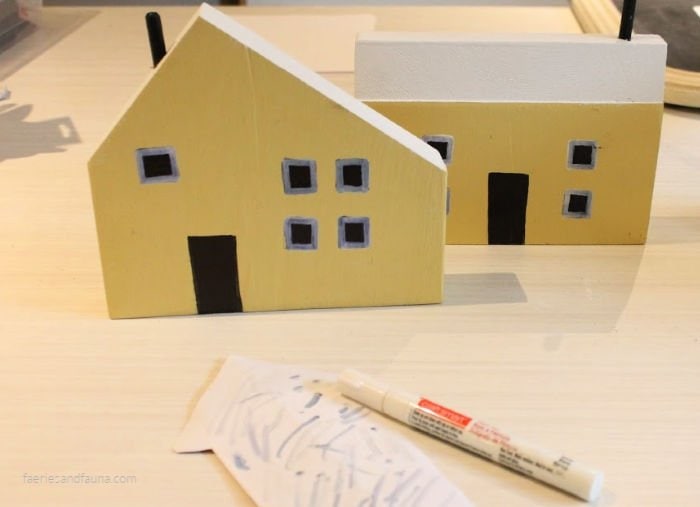 I am just thrilled with how these houses turned out, especially the one with the front and back slanted roof. It just looks very European farmhouse to me. I know this tutorial is very step by step, but if your learning to work with scrap wood I hope you all the detail helpful.
Thinking about making these mini wood houses. Pin to Pinterest for Later.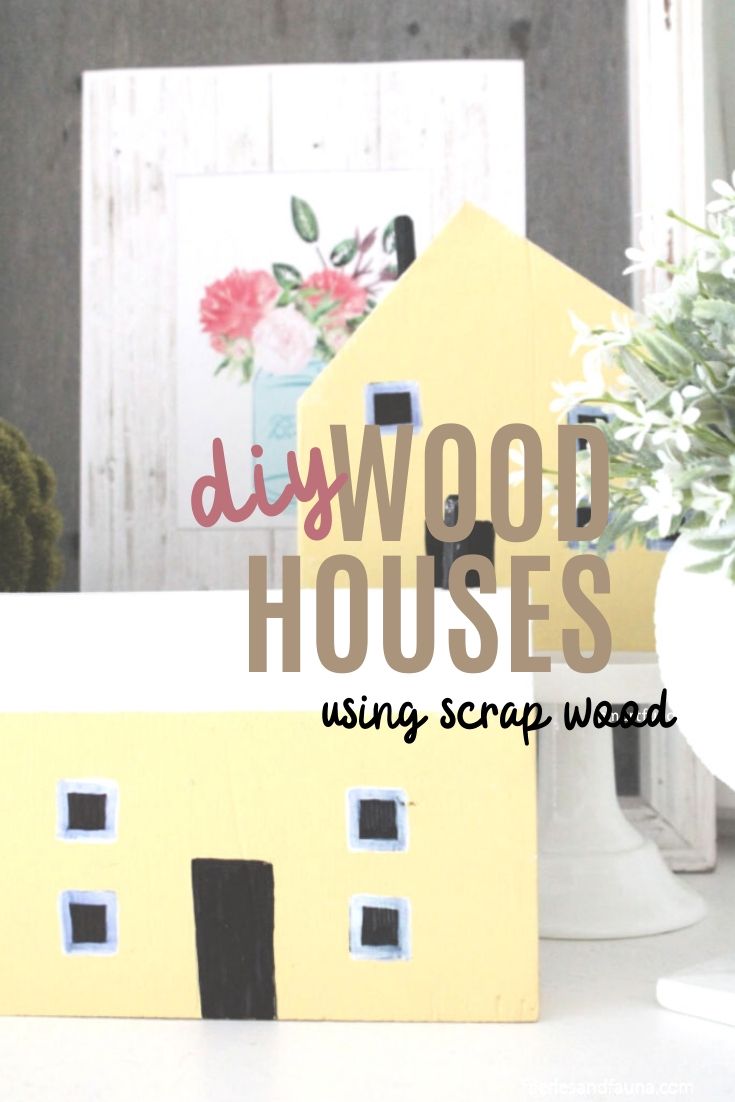 Whenever I make something new or find something that inspires me I add it to this Wood Project Board on Pinterest. Lots of inexpensive and easy ideas.
Other Small Wood Crafts using Scrap Wood
This small wooden houses draft is one of several projects I enjoyed making with scrap wood. Besides getting inexpensive home decor it helps practice wood working without the stress of using expensive materials. With these small scrap wood projects we often can try and try again without stressing about it. I hope you like these other ideas I chose.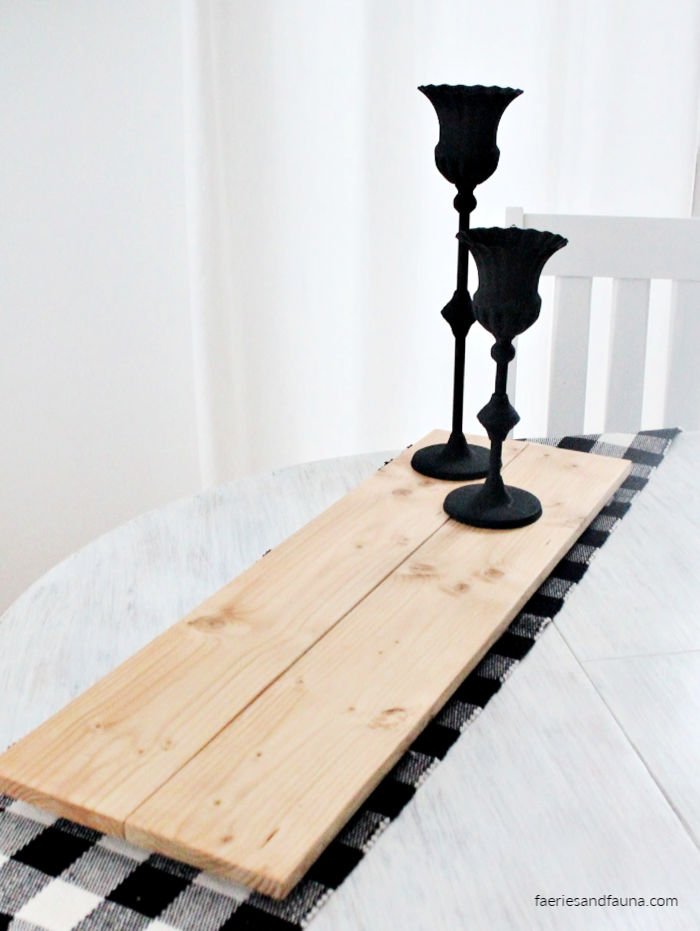 DIY Wood Risers for Tabletops
A very simple to make diy farmhouse wood riser using scrap wood. These wood table risers are very handy for table tops and counters as they both protect them from heat, and add a simple focal point for decorating.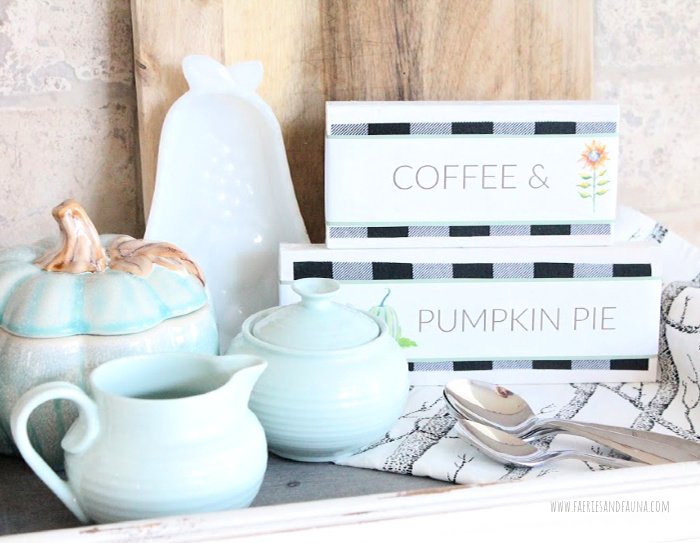 Wood Block Signs for Fall and Halloween
Very easy to make wood block signs for decorating your kitchen. These wood signs are painted, mod podged and then wrapped in a free printable.