How to Repurpose Old Cushions into New DIY Cushion Inserts
Making DIY Cushion Inserts
The topic of this post is hard to pin down, it's about decluttering, reusing what you already have, and how to sew new DIY pillow forms. After purchasing many seasonal cushions I ended up with a cushion closet. I once had a full closet of them, I downsized into making my own cushion covers and quit buying the whole pillows. But I still have a shelf full and of half of the unused pillow forms still cluttering up the closet. Instead of tossing or donating them I purpose the duplicate sized square cushion forms into two large European DIY cushion inserts and a bolster DIY cushion insert.
This is the third set of DIY European sized cushions I have made. These ones go in our second guest room and I am very excited to have them, especially because I am repurposing existing cushions which makes them almost free.
European cushions are generally 26″ square, so the inserts fit 26″ covers. To make them extra luxurious I am going to add a mountain feathers. This has the added advantage of making the European cushions easy to set up straight at the back of the bed and will use up more of the unused cushion stash
Easy European Feathered Cushion Inserts
I used the feathers from six 20 by 20 cushions, yup six of these unused cushions will be gone. Your cushions don't need to be feather filled. My goal was to declutter, so you can use whatever filling you have on hand, cushions, pillows, unwanted stuffed animals will all work.
Besides the stuffing you need.
Four metres (yards) of muslin fabric ( mine was 36″ wide)
Needle and matching thread (optional)
Cutting the Fabric
For two cushions cut four square pieces of inexpensive muslin 27″ by 27″
Stitch around the cut muslin seal the edges. (Optional for this project, as you will never be washing these inserts, so they are not likely to fray).
Pin the fabric pieces good sides together and sew on three sides.
Sew the remaining side but leave six inches open so you can insert the stuffing.
Make sure you put in lots of stuffing a small hill of stuffing just will not do. If you're using feather stuffing you will want to have a vacuum nearby, trust me somehow it was snowing feathers everywhere.
Once the cushion inserts are filled the last step is to sew the opening closed. You can do this by hand with a needle and thread or try and push the cushion along while you run it through the sewing machine. Either method takes less than 5 minutes.
Before using the sewing machine, make sure to pin the seam really well. The thick weight and bulk of the full cushion tend to pull at the seam. The pins help to keep your seam together. Sew a seam about 1/4 inch from the edge.
Once sewn together I used the vacuum to remove any feathers from the outside of my DIY cushion inserts.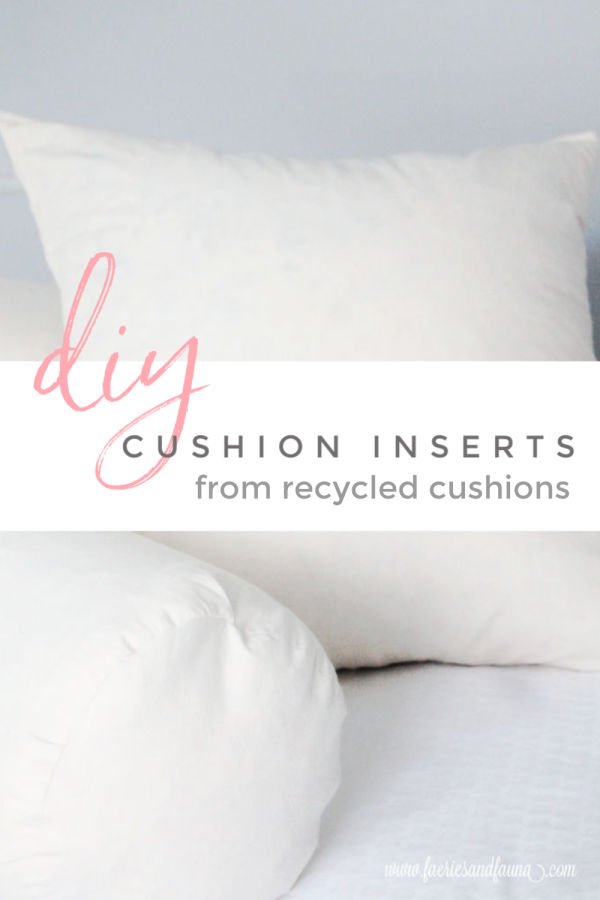 Bolster Cushion Insert
You may know this kind of cushion as a neckroll cushion. I have a fun cushion cover in mind for a bolster cushion, so my first step is to create the DIY bolster cushion insert.
Supplies for DIY Neckroll Cushion Insert
To stuff this pillow I used two unused 20″ by" 26 oblong cushion inserts. I think that would be similar to three of the square cushion covers.
You will also need 1 1/2 meters of muslin.
Needle and thread (optional)
Cutting the Muslin Fabric
My cushions final size is 9 by 29 inches. To allow for seam allowances cut:
Two 10 inch circles. I cheated and used a cake pan. I just placed a ten" cake pan on my fabric and drew around it with chalk, so easy. You could also use a pot lid, an embroidery hoop, or draw a circle using string and chalk.
To use string and chalk, tie a string around your chalk. Make your string 5″ long (the radius of 10″ circle). Hold the string end firm at the center of your circle on the fabric. Pull the string tight and draw a chalk mark in a circular motion until you have the circle.
Cut a rectangular piece of fabric 31.5″ (circumference) and 30 inches (width)
If you want to make a different size decide on the diameter of the end circles first and then do a quick calculation to figure out the circumference for the rectangle. The formula is 3.14 x the diameter of your circle =πd
So in this case 31.4 x 10 = 31.4″
Assembling the DIY Bolster Cushion Insert
Iron all your cut out fabric pieces.
Seal all the outer edges of the rectangle and circles with a zig-zag stitch.
On the circle fabric pieces sew a second circle of zig-zag stitches 1/2 inch in from the edge.
Using the second circle of zig-zag stitches as a guide cut out little 1/4 inch notches every inch or so around the outside edge. You will be cutting through your outer zig-zag seam. You don't want to cut through the inner circle of stitches. Set the circular pieces aside.
Take the rectangular piece and fold it in half, along the circumference edge good sides facing each other. Once folded measure to be sure, your fabric will still be 30″ wide. (if its 31.5″ you need to fold it the other way).
Line up the two seams, pin in place. Sew a 3/4 inch seam, leaving the middle six inches unsewn. The central unsewn cap is for the filling.
Once sewn iron the two seam allowances flat. This will give you a nice edge for sewing closed.
Now that you have the rectangular piece sewn into a tube, you will add the two end circles.
Place one end into the circular end of the sewn tube. Pin in place, start by pinning the circle in equal quarter sections. It's best to do it this way as you will be making small gatherings in the fabric as you fit the two pieces together.
Once you have four sections, divide each of the four sections in half so you get eight sections, repeat until your circle end is very well pinned.
Repeat the process with the second circle. Making sure to do the even sections on each end prevents any twists you may get by simply working your way around each end. Having it so well pinned makes sewing it together super easy.
Sewing the DIY Bolster Cushion Insert
Three simple seams and were done.
Fit the circle ends into your sewing machine and sew a half inch seam around the edge. Repeat on the other end.
Once sewn turn the insert right side out.
Stuff with feathers just like the European cushions and sew shut either by hand or with your sewing machine.
Of course, these DIY cushion inserts are going to get some new cushion covers. I will share those cushion covers later this week. I am excited to show you how they turned out
One more closet is done, and all I have left to downsize is the food pantry and the garage. Wow so much work, I cannot wait to be done.
As I explained earlier these DIY cushion inserts are the third set I have made. I love having them. Here are the other two sets.
DIY Cushion Covers with Luxurious Inserts