Tips for Installing Solar Lights Outdoors
Things to Know before Installing Solar Lights
Wondering how to install outdoor solar lights in your yard this summer? Or why do some solar lights look so nice in some yards, and others not so much? When done well outdoor solar lights are a very easy and inexpensive way to add flare to your outdoor living spaces. If you have a very dark yard surrounded by trees like we do, they are a great way to illuminate a walkway, or add pizazz to a garden feature.
In our home we were able to add solar lights to a garden area that not only looked nice, but added much needed light to the edge of the yard when walking our dog before bed. Although solar lights are both affordable and easy to install, there are a few tips you should know before installing them. Spend a few minutes reading my tips and I promise your outdoor lights will look wonderful.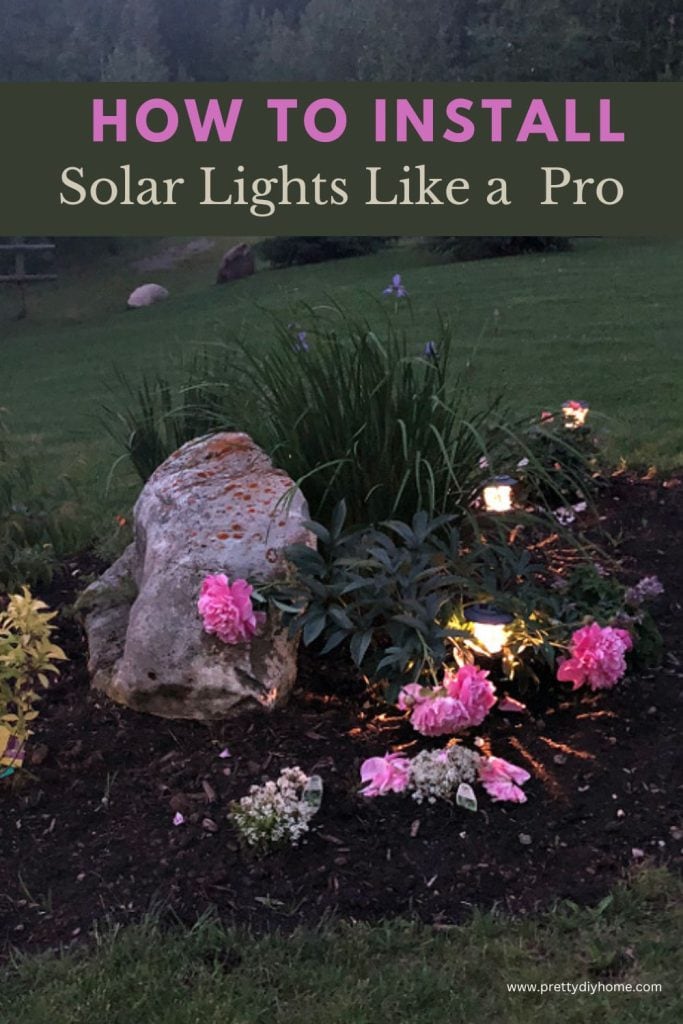 What to Look for When Purchasing Outdoor Solar Lights
When purchasing solar lights you need to decide how many lumens your light should be. The more lumens a solar light has the brighter the light will shine at night. As a general guideline landscape lights are between 50 and 300 lumens depending on purpose. Path solar lights should be at least 120 lumens, but 200 is better. The boxes of solar lights should be marked with the number of lumens per lamp.
If your adding lights to the front walkway for decoration and there is adequate lighting already, your lumens can be at the lower end of the scale. If your wanting the solar lights to actually illuminate for added safety and security make sure the lumens are higher. Here is a simple lumens to watts equivalency chart from Lamps One to help you decide how many lumens and lamps you need.
Outdoor Solar Light Placement Tips
Here are a couple tips about solar light placement. You don't want you solar lights to become a tripping hazard too near the driveway, walkway or kids play area. You don't want them to be awkward to mow around or where the lights are likely to get broken. More often than not I think flower beds and under the eaves next to the house are the easiest places to find the right spot for your solar lights.
You want the solar panel part of the solar lights to be in full sunlight if possible. The more sunlight your lamp gets the better they will charge. And if you want your lights to be nice and bright the first night you install them, I suggest charging your lights before using them.
Preparation
Once you have purchased and decided where you want to place your new outdoor solar lights, its time to think about preparing the area for placement.
Most solar lights are made of a hard plastic with a large plastic spike on the bottom. The plastic isn't really strong and if you have hard soil (like clay) use a shovel and rake to break up the soil ahead of time.
If you still have a hard time inserting the spikes try wetting the ground a little bit to soften it. I highly recommend working the soil up instead of pressing harder on the plastic. It would be very frustrating to break one of the new lamps.
Installing Outdoor Solar Lights
After all that planning lets talk about the simple task of putting the solar lanterns into the garden or lawn.
Have you ever seen a neighbours yard that has ugly solar lights? Most of the time the problem is using unmatched lights, and no thoughts to measuring and placement.
To properly install your solar lights you need to purchase enough matching lights for the area, then a measuring tape and a level!. If you take the time to use first measure the distance equally for each light, and then use a level to make sure each light is straight, I promise its worth every second of the little bit of extra effort. I would rather risk my yard looking runway, than haphazard and cluttered.
Pathway Lights
Measure from the edge of the walkway to the base of the light, between 6 and 8 inches from the pavement edge..
Keep your lights all at the same height. Between 12 and 14 inches high.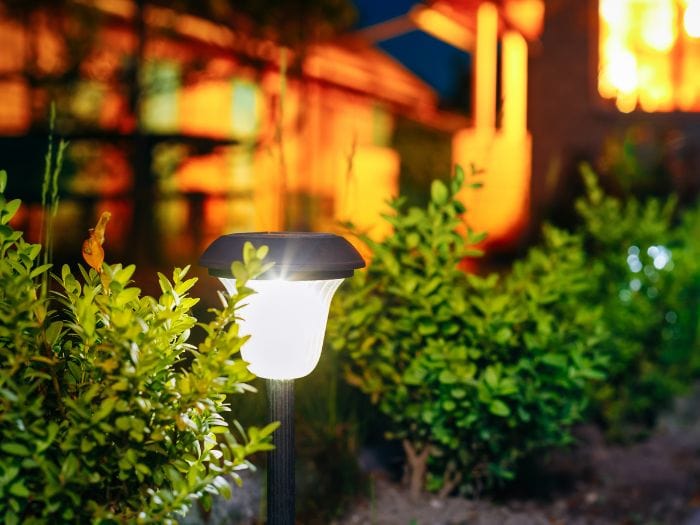 Distance between each light should be all the same. Between 6 and 8 feet. For example if your pathway is 25 feet long (300 inches) and you have 4 lights, place the lights 6 1/4 feet (75 inches) apart.
Flower Gardens and Focal Point Solar Lights
Solar lights can be really beautiful at night to illuminate a special flower, house numbers, or ornament. Another good way to use solar lights by inserting them into flower pots. Commercial properties with yard signs have been doing this for a long time, but now us home owners can do the same using solar lights.
Just place the lights where they shine on your focal point in a manner you like. Install them the first night and see how you like it, they can always be adjusted.
Why Use a Level and Measuring Tape on Solar Lights
For a very Very long time I absolutely refused to have solar lights in our yard. They were a cluttering, tacky looking mess as far as I could see and I 1000% refused to have them in my yard. Hubs first convinced me to have a couple our potted flowers and in our new yard we needed them for safety. I begrudgingly agreed to have some and spent some time checking out yards to see why some yards looked good with lights and what they were doing right. The answer was neat symmetry.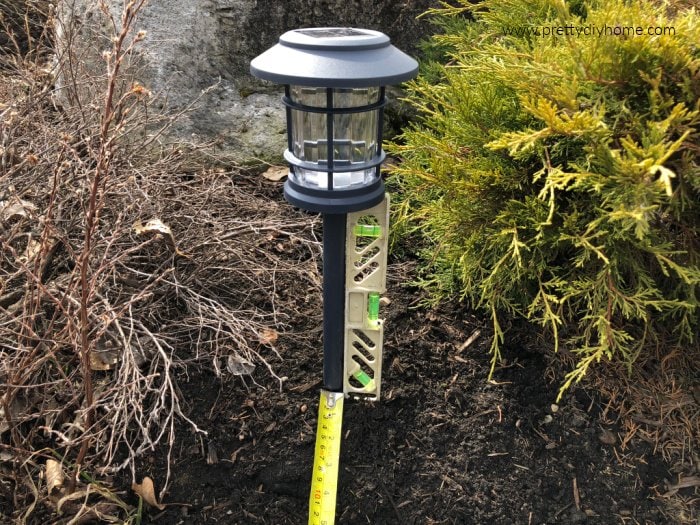 Using a measuring tape with equal distance between each light as well as having them the same height.
Even more important is inserting them so they are straight. Nothing looks worse than a row of unevenly placed solar lights that lean this way or that. Next time your going for a drive at night have a look symmetry gets rid of the cluttered look.
Our Yard
As I said we just moved in and are discovering our homes needs and our wants. We needed the solar lights for safe walking with our dog, and then found out we wanted some new plants as some of the original bushes were dead. I replaced the dead plants a month after installing the solar lights. Home ownership sure comes with an ever ending list doesn't it.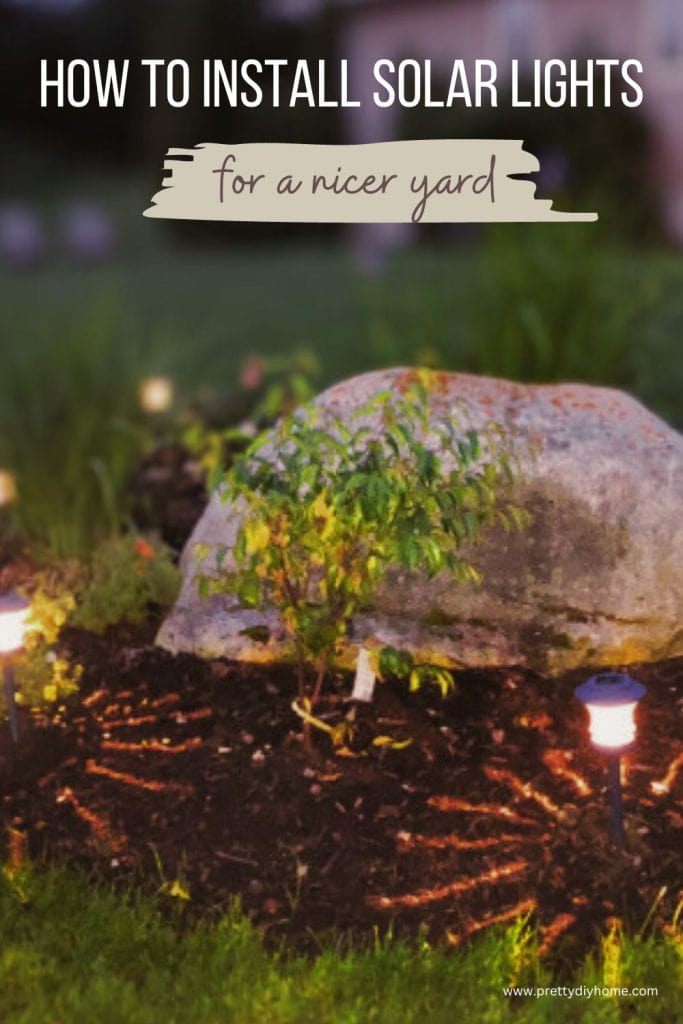 Other Solar Light Projects
Solar lights are a very inexpensive way to add bits of light to our homes. Here are a couple other solar light ideas you may be interested in checking out.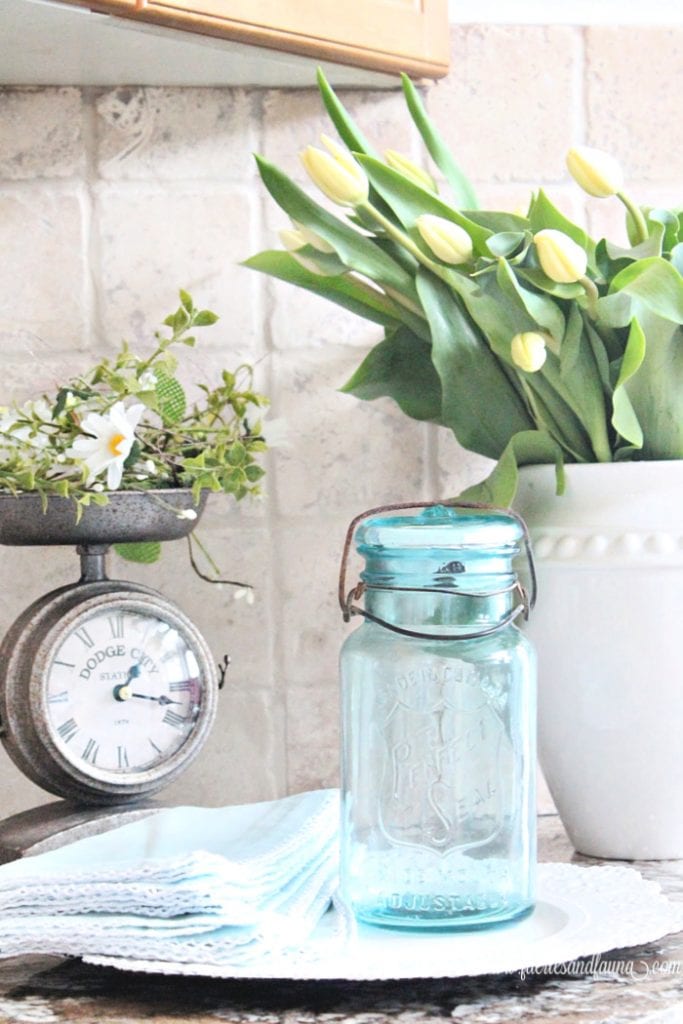 DIY Outdoor Solar Light with Shade
Some old lamps, paint, dollar store waste basket and lanterns is all you need to make these adorable outdoor solar lamps with shades.