Large Custom DIY Spice Rack for the Pantry
Easy DIY Spice Rack
Did you ever notice how many spices your Grandmother had? My mother and her friends had maybe 6 spices in a little rack. We still use the same basic 8 spices (cinnamon, nutmeg, cloves, poultry seasoning, paprika, chili, and allspice). These days its fairly common for us to have 30 or more different spices. This DIY spice rack has room for all of them, tit holds 40 jars with room for other condiments and snuggles into an unused spot of your pantry.
Placement and Sizing of your Spice Rack
Our kitchen has a teeny tiny pantry, and by tiny I mean less than 9 square feet, it's always so full. The pantry has two floor to ceiling shelving units and two narrow bare walls on each side of the pantry door. We built this DIY spice rack to snuggle in between the smaller of the shelves and the pantry door, its only 12 inches wide, but its a glorious six feet tall.
Given the constraints of the small pantry, it's impossible to take a picture of the entire rack inside the pantry, so I set it up quickly to show you.
DIY Spice Rack Measurements
Measure any empty wall space you may have in your pantry. The width of our open wall space between the shelves and door is 12 inches.
For easy access to the spices, you will need the spice shelves to be a minimum of 6 1/2 inches between the bottom of the upper shelf and the top of the lower shelf. This rack has 7 small shelves and 2 tall ones. If you have room for a taller spice rack make sure you lengthen it by at least 6 1/2 inches.
This spice rack has two taller shelves on the bottom for small containers, like my box of salt. If you have more spices than I just make all small shelves the whole length of the spice rack.
Build the DIY Spice Rack
To make a DIY spice rack the same dimension like this one you will need:
2 – 1 by 3″ boards cut to six feet (Long Casing)
2 – 1 by 3″ boards cut in 2 – 11 inches pieces ( Top and Bottom casing) and 8 – 10-inch pieces (Spice Shelves)
1 – 1 by 2″ board cut into 8- 10-inch pieces (Shelf Support)
99 inches of small molding cut into 9- 11″ pieces (Cross Bar)
Screws, small nails and white paint.
Build the Outside Casing
All your cuts are simple square cuts. Cut two 1 by 3's six feet long. If there is enough board left over, cut two 11 inch pieces. If not use a new board.
Make sure all the boards are square and edges meet exactly. Screw the short boards to the ends of the two long boards. (Careful not to attach on the inside of the long pieces or your shelves will be too short.)
Build the Shelves
Using the remains of your 1 by 3 " boards, cut out 8 – 10 inch pieces (Spice Shelves)
Starting at the top. Measure 6 1/2 inches with a pencil, down each of long casings. Double check to be sure they are even on both long pieces. ( this ensures level shelves). Once you have confirmed that you like the spacing, screw the shelves into the place through the casing.
Next, take a 1 by 2″ inch board and cut into 8 – 10 inch pieces. The shelf supports not only strengthen the shelves. You will use them to attach your shelves to the wall.
Place the shelf supports under each shelf and screw into place.
Cut the moulding into 9 – 11 inch pieces. Place one of your spice jars on the shelf and place the moulding where it will hold the jar in place while allowing the jar to be moved easily. Ours is 1 inch above the shelf.
Nail the moulding into place with small nails or an air nailer.
If you like you can fill all the screw and nail holes. Frankly, this is a practical piece so I didn't bother. It was given two coats of white paint.
Attach the DIY Spice Rack to the wall with screws into the studs. Due to the weight placing the screws in a wall stud is important. If the screws are not centered to the spice rack, it's in a pantry and doesn't truly matter. After locating the studs Hubs drilled two holes towards the top and again near the bottom of the spice rack. Then attached the spice rack with four 2″ screws.
a
Jars and Labels
a
The jars are from the Dollar Store, I purchased them for 3/$1.00. I suggest buying a few extra bottles and having them on hand in case you ever get a new spice. After all this work you want the jars to match. The labels were made in Word using a free Microsoft clipart of a mixer and Avery 22804 labels.
Organized Pantry
Adding the DIY spice rack emptied most of a pantry shelf. The little project made a really big difference. The spices are stored in alphabetical order and I can easily find what I want. The pantry is not pretty I admit that, but it is extremely functional. At least it is now that I have the extra spice storage.
a
Let me know what you think, and please pin the project if you think your friends may find it helpful.
Related Posts
When you have as many baking supplies as we do, its take lots or organization. If I didn't have things where I could find them I swear everything would tumble out of the cupboards burying me. Here are some other Kitchen Pantry Organizers I have created.
These DIY can organizers are made using a tmeplate and cardboard so I could make them large enough to hold big tomato tins and such.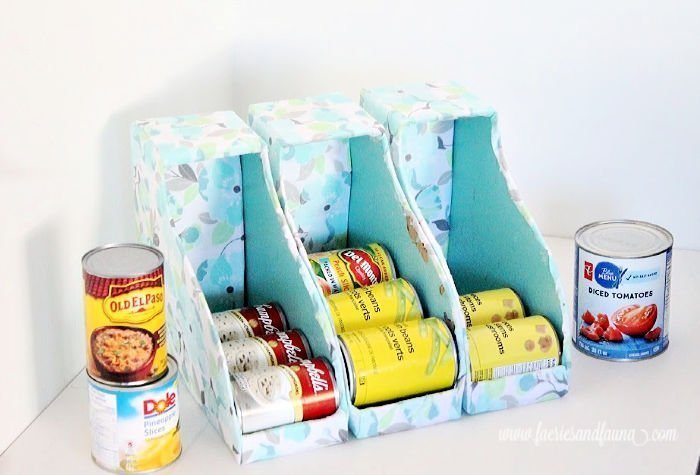 DIY Can Organizers for the Pantry
I have another pantry that I use to hold all my cake decorating stuff, baking pans. I created these easy to make pantry organizers to keep my glass pans safe, and organized where I can see them.
The actual food stuff I prefer to keep in boxes with lids. I recently made some fancy dancy labels with the Silhouette machine. The pattern is on the post.