Refurbish Flower Pots to Match
Are you constantly refreshing and redoing your home? I certainly do. I have a bad habit of constantly updating and changing my home. As a teenager and young woman, I would rearrange all the furniture three or four times a year. These days I am not physically able to move china cabinets and beds by myself, but I can still lift a mean paintbrush.
Our home is monochromatic, with splashes of colour that are easily updated. Last year the family room and back deck were decorated in green accessories, this year I they are yellow and white.
To give the plants some chance at survival I added some plant care hints to stencil on the front. They look much nicer and brighter in the flat white.
Flower Pot Tutorial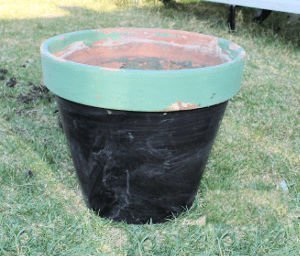 Originally these pots were green or brown. They were all painted in green and black chalkboard paint; they lasted two winters stuck out in the garage and certainly needed updating.
Wash and sand them really well before painting. My flower pots needed four coats of white external flat paint to cover the black chalkboard paint.
Once the paint was dry, using a silhouette cameo create and cut out your sayings on stick on vinyl. Remove the excess vinyl, apply the transfer paper and attach the lettering to the freshly painted flower pot. You're done.
Repeat this process for "I'm Thirsty" and "Feed Me" sayings. These flower pots don't look brand new, but they don't look eight years old either. The upcycled flower pots match are clean, bright and cheerful.
The best part is with the extra prompts they will look nice with living healthy plants and blossoms.
Leanna
Resources: