Pretty Blue Refurbished Stool
A Stool Makeover for the Craft Room
We bought this house with an unfinished basement, its about half done and I am determined to create a thrifty DIY craft room.  We built a large functional table, but still need bar height chairs to go with it.  All the craft room furniture must be both study and inexpensive because I expect it to receive lots of abuse and activity.  This pretty turquoise stool is just perfect and is a simple and easy DIY stool makeover project.
f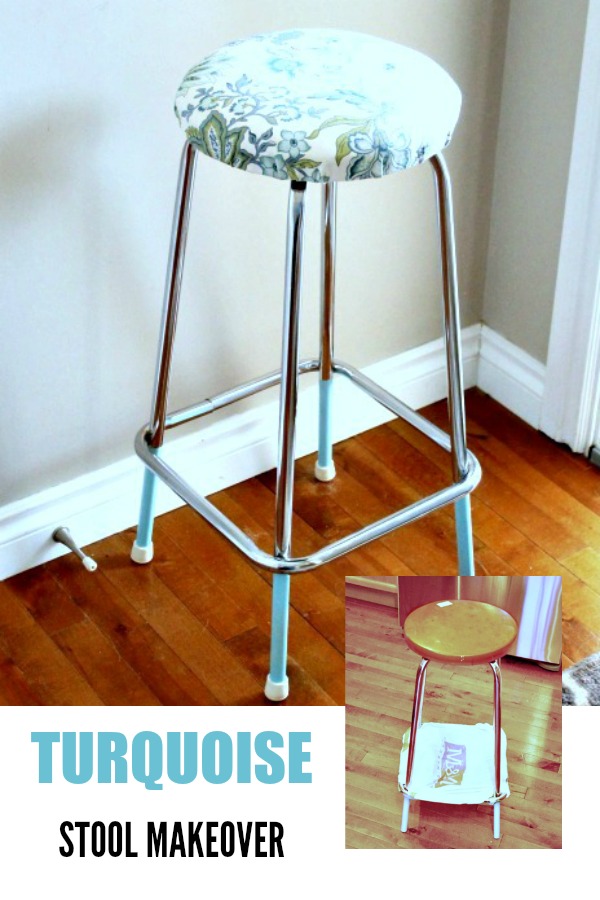 Cleaning and Painting the Chrome Legs
I have sewn some cute curtains from a purchased pattern, and luckily had enough material left over for this little vintage stool.
The first step was to remove all the built-up ick, grease, grime, rust and paint splatters with CLR and a magic eraser sponge.  Once clean the chrome was intact and very shiny.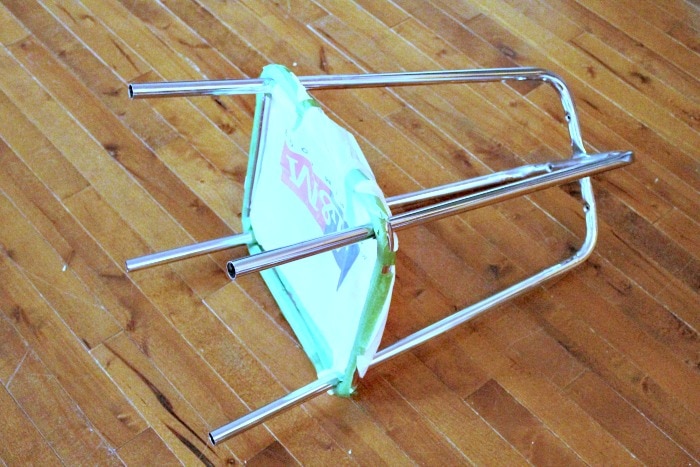 k
Take the legs off of the stool and set aside the seat portion.
To give the chair a modern fun look I chose to give it dipped legs.  To get the look, tape off the bottom portion of the legs to prevent splatter.  Make sure the tape is square around the leg so the "dipped" portion has a tidy even border.
Once the chrome legs are thoroughly protected apply three very light coats of baby blue spray paint.  Three light coats will reduce the chance of runs.  Let the paint dry thoroughly between coats according to the instructions of your spray paint.
While the paint was drying I tackled the seat of the craft stool.
Fixing and Covering the Stool Seat
Tear apart the existing layers of the cushion.  The stool had a horrible orange plastic outer layer that was likely very trendy in the 1960s.  It is surprising how the manufacturer's upholster furniture sometimes, this one was ugly underneath.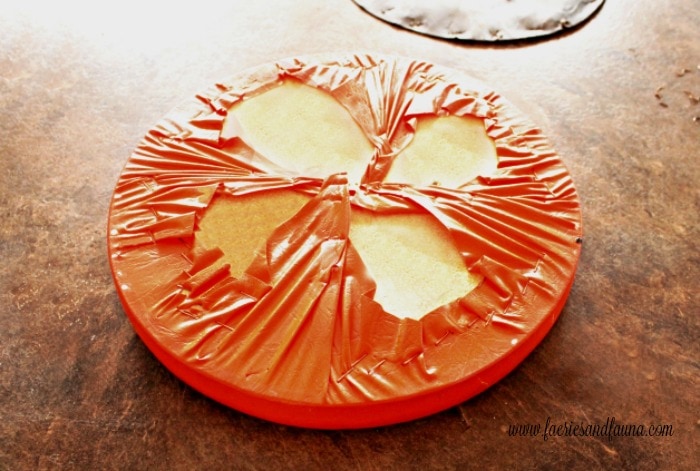 f
Under the plastic was a super thin foam and finally a very nice sturdy wood center. Each layer was held on with a multitude of staples so it takes patience to remove them all. Using the wood as a template cut a piece of 1-inch thick foam for extra cushioning. I used some old couch foam left over from a couple of years ago.  Your stool may have enough cushioning so you can skip this part.
Lay your fabric down first, the original foam, the new 1-inch thick foam and then the wood core.   Cut a circle in the fabric making sure you have enough fabric to wrap over the sides.
aa
Wrap the sides of the fabric over the edge of the stool.  Staple the fabric back in to place.  Think of the circle as a clock, and start stapling at 12, then 6, 9, and 3.  Then work between each staple finishing the sections.
Line the original holes in the bottom fabric with the holes drilled in the wood so that you know where to screw the legs back to the stool.  You can use whatever you have but I picked toothpicks.  Once the original bottom fabric is placed back in its original position staple everything down securely.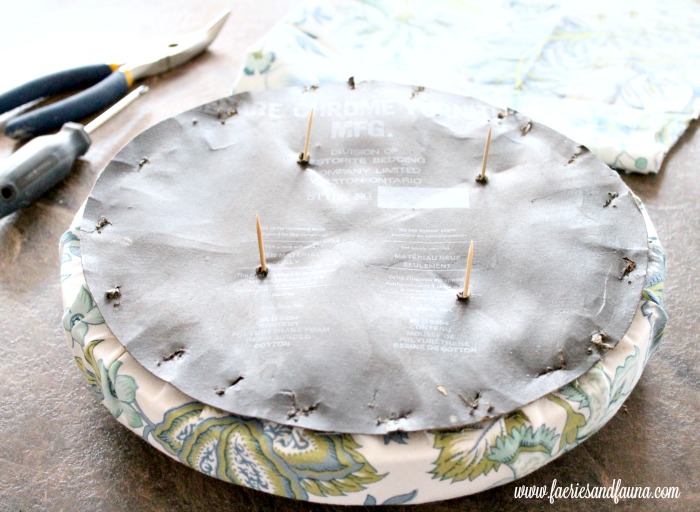 l
Let the chair dry for 24 hours before reattaching the stool seat and adding new rubbers to the feet.
a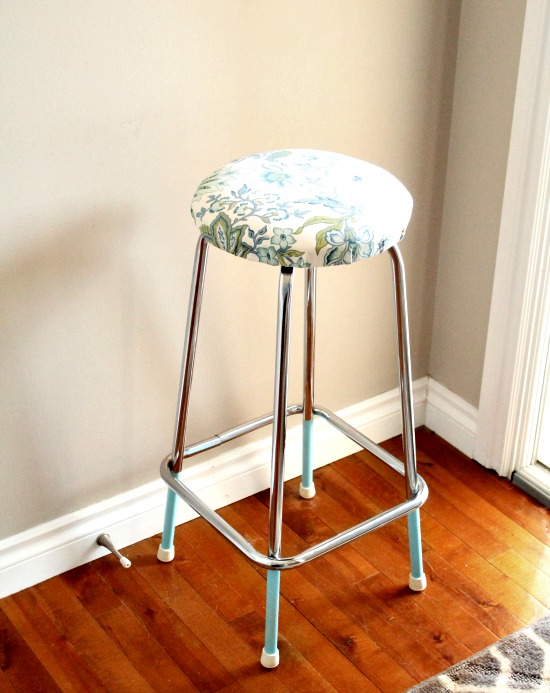 f
These old real metal stools are the best, I am always on the lookout for an old Cosco stool.  These old stools may not be trendy but they are so very useful, hardworking, store easily and very handy to have on hand.