Welcome Spring with a Three Tiered Tray
It's not quite Spring we still have two weeks of official Winter left and I am ready to welcome Spring. Am I ever ready, Spring can't get here soon enough. Winter has been showing us who the boss is with several fresh inches of snow and very cold weather. Winter is misbehaving so I am ignoring its' bad behavior, by turning up the central heat, opening the curtains wide and finishing my Spring cleaning.
The outdoors may still be white, but I can have Spring indoors. Pretty pastel colours, fresh smelling moss, and fresh flowers will bring Spring to our home until the sun does.
a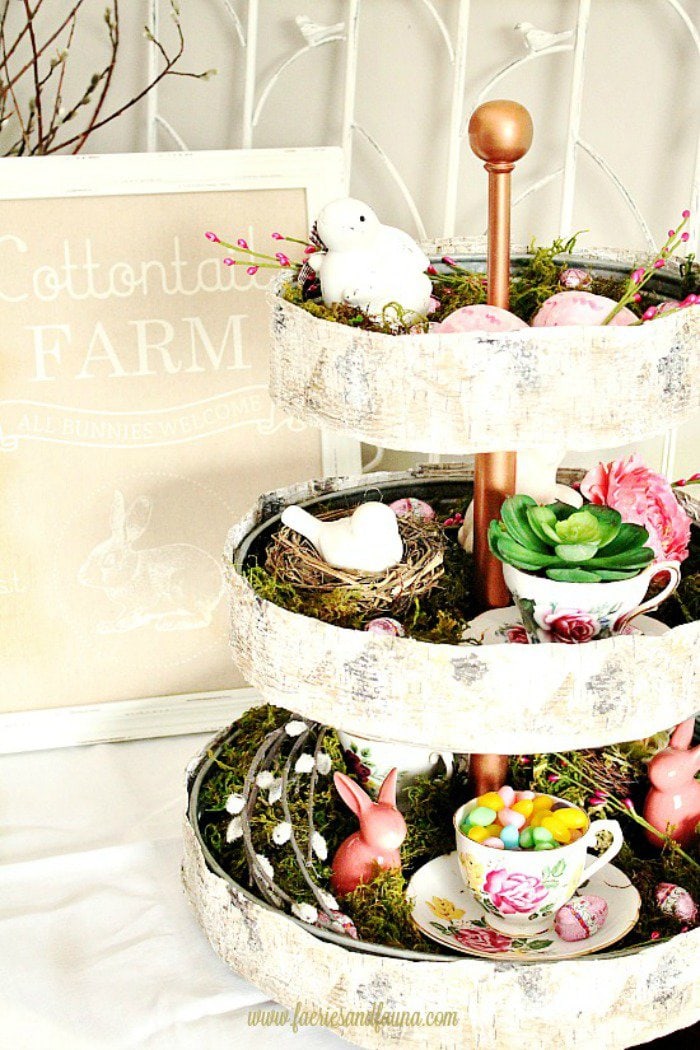 a
This three tiered galvanized tray was first used last fall for the Three Tier Fall Tray post. This tray with its copper markings is better suited for Fall. To brighten it temporarily I wrapped each layer with faux burlap ribbon. I made sure the ribbon was tight, folded the ends to make nice edges and then sewed the ends together. If you don't want to sew it, hot glue will work just as well.
a


Adding Teacups

Next, I gathered some pretty pink teacups from my collection. The picture shows how I bundle them stacked with the fragile handles inside the neighbouring cup. The cloth the cups are sitting on is my Grandmother's and more than 75 years old. It's hand embroidered on real linen and worn thin with time. I treasure it.
a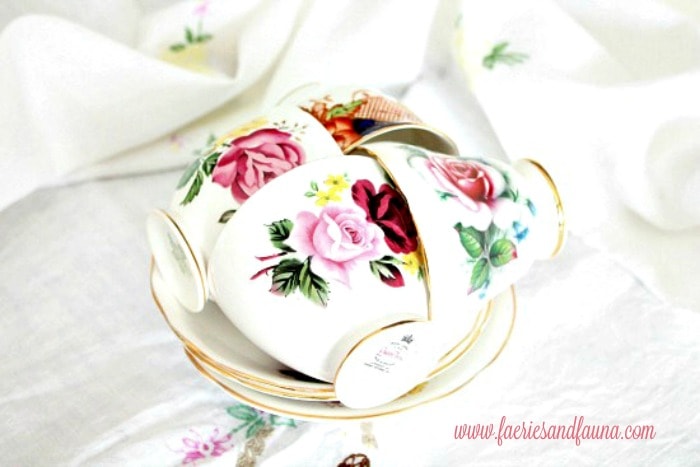 a
My initial plan was to place a teacup on each layer, but there was not enough room on the top layer of the 3 tiered stand for my smallest teacup so I had to rearrange it.
Once the teacups were on the tiers I filled in the open spots with moss then started nesting groups of little ornaments.
Adding Ornaments

a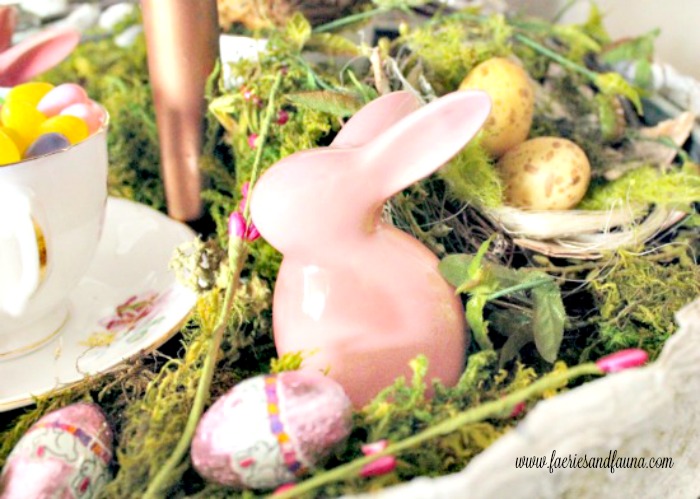 a
I could not afford several beautiful napkin rings from Pier One, so I bought just one and used it as a focal point. I think the colour is stunning, do you agree?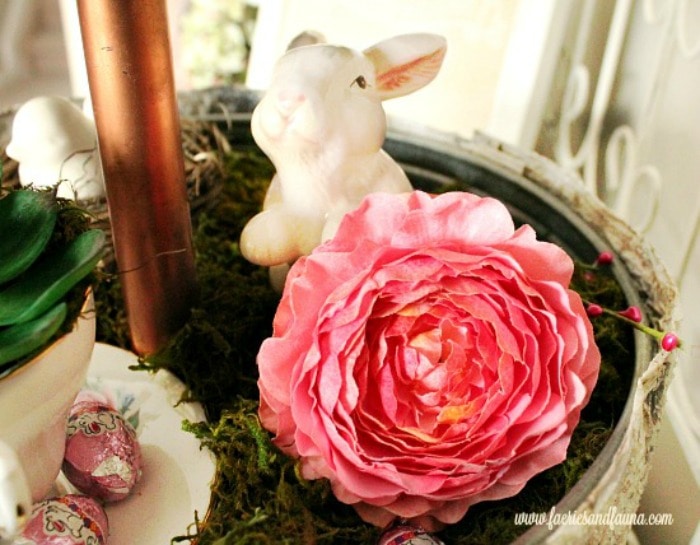 a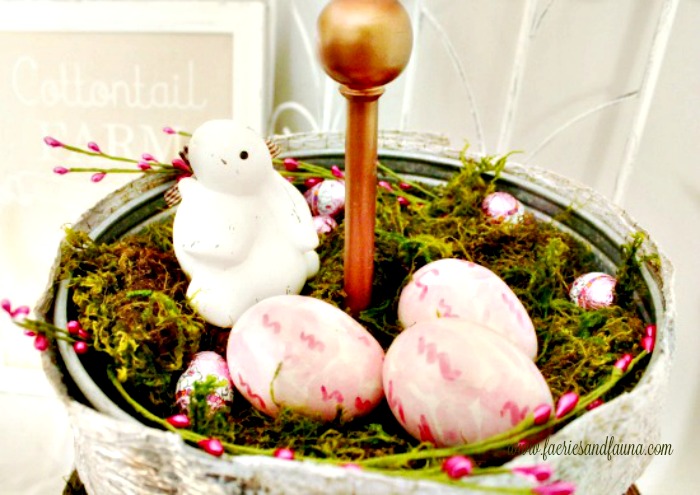 As a final touch, the teacups were filled with assorted pastel coloured candies. Pink foiled chocolate eggs were sprinkled on each layer to create a miniature Easter egg hunt.
a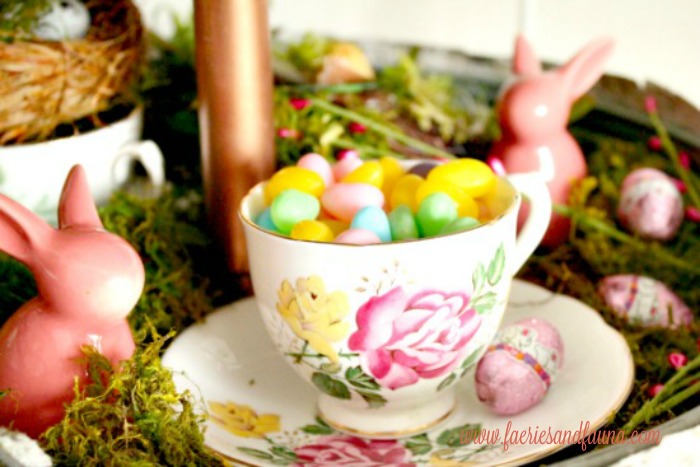 a
This 3 tier tray is in the entry and I fully expect my family to nibble on the way in and the way out. Likely the stand will need to be straightened out several times. The only fragile item is the teacups and I am certain the high edge of the galvanized tray will keep them from getting broken.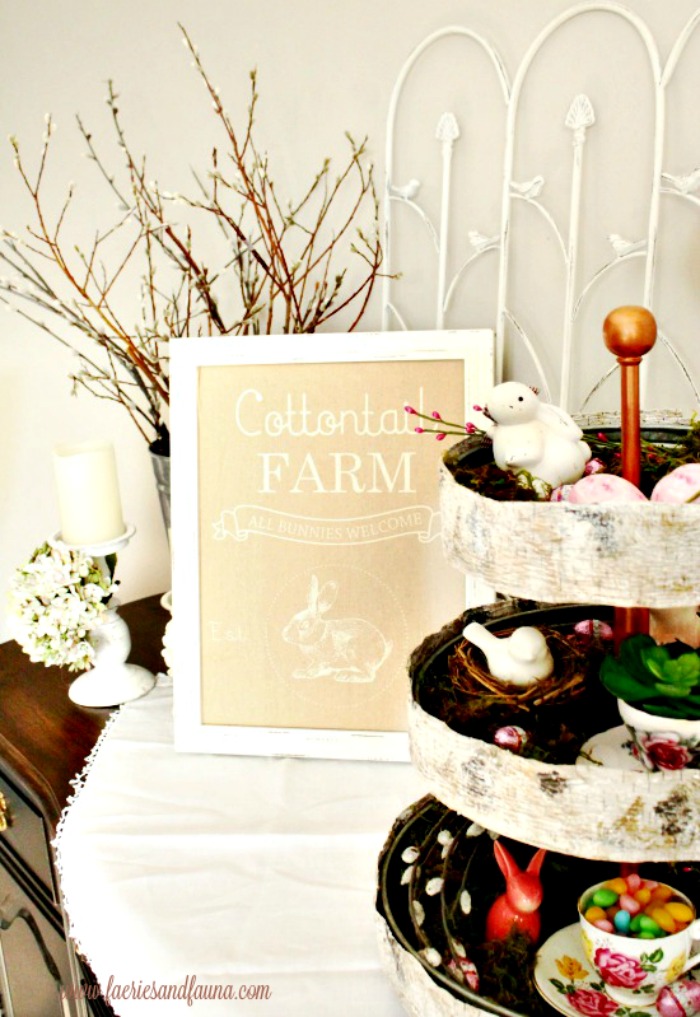 a
Now that the spring purge and spring cleaning is finally done, there will be time to do several more DIY projects for Spring and Easter. Winter can misbehave all HE wants to, I will be happy creating new cheerful bright crafts and enjoying my indoor Spring.
Happy Spring