Burlap Pumpkin Pennant
This fall pumpkin banner is large and can be hung from a window, mantel, or even a large piece of furniture. Our home has a large front window that can display a very large display of various handmade pumpkins.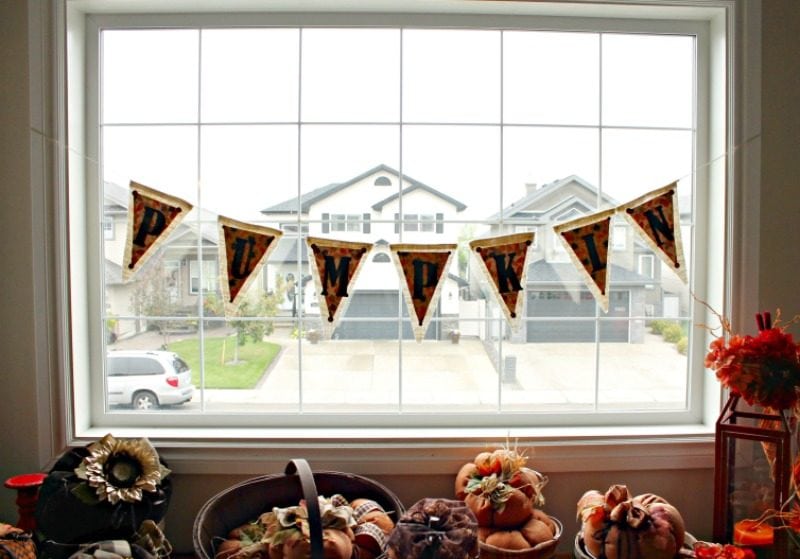 The banner is made using burlap, iron-on interfacing, cord, scrapbook paper, picture mounts, buttons and this Pennant Pattern
Making a Pumpkin Banner
Start by cutting out the burlap triangles for the background of your banner. The ones in the picture are 8 by 5.5 inches. Cut two for each letter. For the word, "Pumpkin" cut 14 triangles, but you could use the same process for Fall, Autumn, Gather, etc. as long as you cut two triangles for each letter.
Place interfacing between the two burlap triangles and press. The interfacing adheres the two layers of burlap together and provides the necessary stiffness for your banner. Repeat for each section. Don't worry about any ragged edges we will trim them later on.
Choose any card stock you like. Cut one smaller triangle (blue triangle in the pattern) for each section. I think coordinating paper in different patterns adds interest, and I just had to purchase the sunflower paper.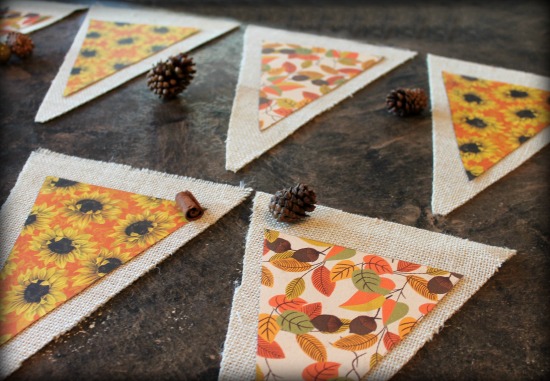 a
After a couple of attempts, I discovered that burlap is hard to attach to. Hot glue wasn't working very well, so I went to the dollar store and found a package of picture mounts.
The doubled sided picture mounts worked very well to attach the scrap paper to the burlap. Alternatively, you could sew the paper to your burlap, by hand in each corner. I prefer using the picture mounts.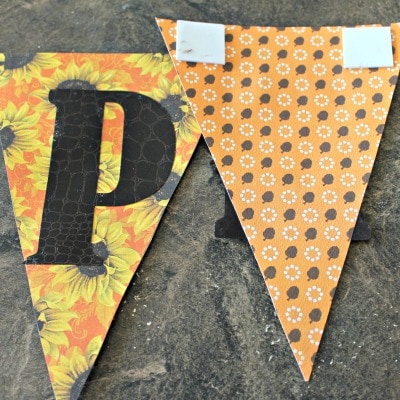 a


Attaching the Lettering

The letters are cut out with a cutting machine. If you don't have a machine, print out the letters on card stock and cut them out carefully. Or an even easier method is purchasing pre-cut letters. They are available in all sorts of different colors and styles at Michaels.
Assembling the Pumpkin Banner
Fold the top of each section over about half an inch and sew the two corners. Finish the top by adding glue along the very edge to prevent fraying. Hold in place while the glue dries.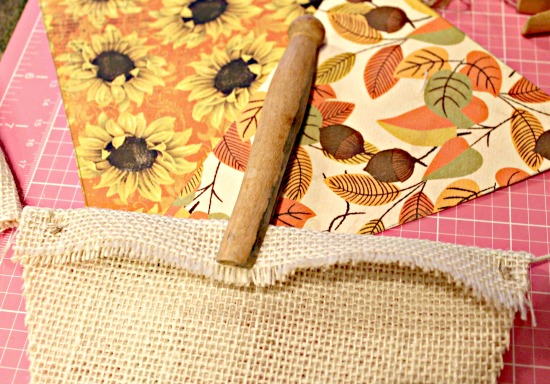 If you choose you can glue buttons or small acorns to the three corners of your paper triangle.
a
To hang the banner cut a piece of twine about 9 feet long, thread the banner with the twine.
Create a noose knot on each end. This will allow you to adjust the length of your pennant.
Once your banner is together, trim off any frayed edges from the burlap.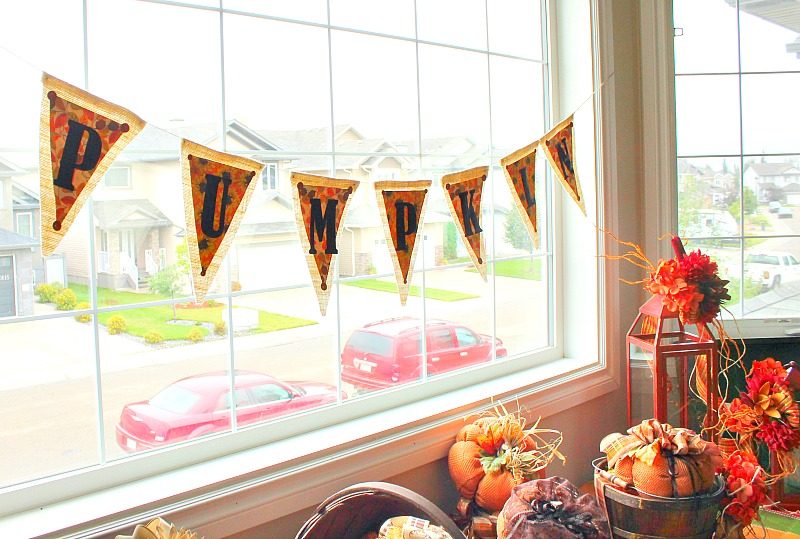 These fall pumpkin banners are fun to place anywhere in your home. This time I put it on the front bay window, with the pumpkin patch displayed below.
Happy Fall