How to Host a Halloween Party in a Flash
How to Organize a Halloween Party Fast
This Halloween Party took in an hour and a half to plan including shopping. Last year before I began blogging I found out in the morning that my two granddaughters were able to come up for a visit and were already on their way.
Not being able to see them on Halloween I took the time to throw together a party for them and thought I'd share how you can throw together a Halloween party really quickly.
Plan on being Fast
The distance from the girl's house to mine is about two hours. Because time was very short I had to cut corners where ever I could. As I want to have everything done before the girls arrive so that I can just play and have fun with them.
First thing I had to do was run for supplies. Giving myself an hour and a half total to have their party ready. Budgeting an hour for shopping at the grocery store for food and the dollar store for decor, and half an to toss it all together.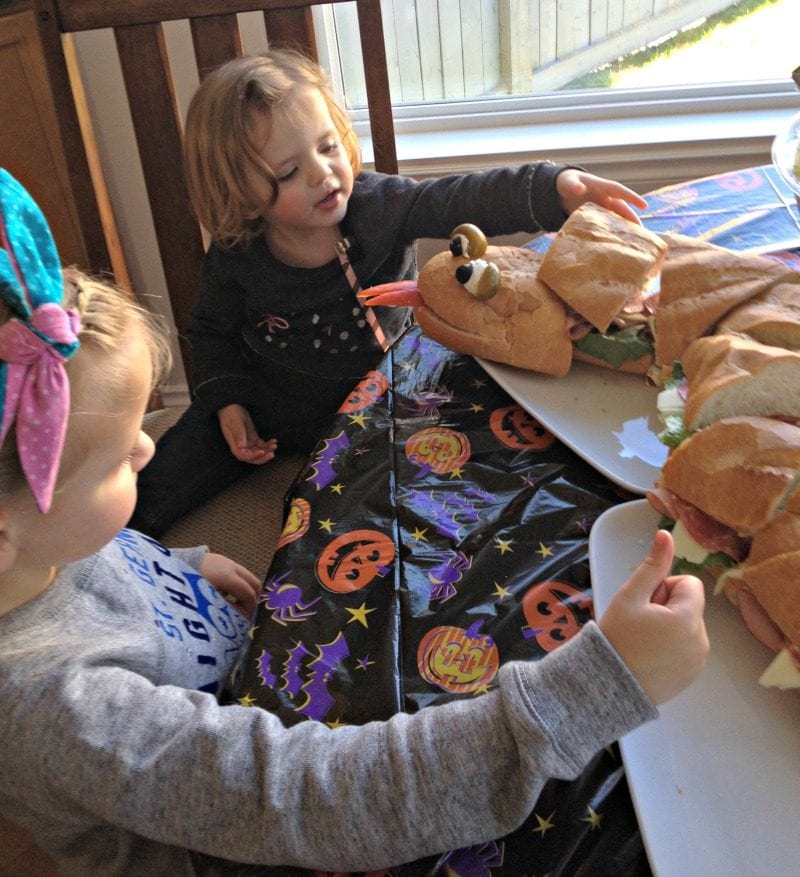 a
Shopping for the Halloween Party
Dollar Store – $20 Budget
There are a couple of dollar stores very near our home and for the most part, I know what they carry, including simple craft supplies, paper products, and really inexpensive seasonal decor stuff. I made a general list of what I wanted to find and ended up gathering the following items.
[wc_row][wc_column size="one-half" position="first"]
Halloween themed tablecloth
2 – Small Halloween buckets ( one for each little guest)
Halloween plates and napkins
[/wc_column][wc_column size="one-half" position="last"]
Orange glitter glue
Orange glitter
Dollar store moss or something similar
[/wc_column][/wc_row]
Grocery Store – $100 Budget
Food was going to be much more expensive, not so much for the little girls, but I knew there would be adults enjoying the snacks as well, and that I would have the family here for both lunch and dinner.
Here is what was purchased for both lunch and dinner and I added pumpkin for crafting.
[wc_row][wc_column size="one-half" position="first"]
2 – French loaves
Assorted cold cuts
Cream cheese
2 – Large olives or dill pickle
Whole seedless black olives
Strawberries
Bags of Caesar Salad
[/wc_column][wc_column size="one-half" position="last"]
Juice boxes, bandage tape, or masking tape (cheaper)
Root beer
Pumpkin
Premade veggie tray
Premade pizzas
Mozzarella cheese slices (not a brick)
Halloween candy
[/wc_column][/wc_row]
Getting Ready
Run home and put it together as follows.
Set the table with the Halloween themed cloth, paper plates, napkins.
Wrap juice boxes in masking tape like a mummy, draw eyes, place in the fridge.
Place candies in Halloween buckets, set as table centerpieces.
Sneaky Snake Sandwich
The lunch menu was featuring a sneaky snake sandwich. Start by cutting two french loaves in half lengthwise, Set two bread crusts aside. Make the sandwich with whatever toppings you like.
Cut each loaf into 5 or six slices and angle them on a large board or plate into an "S" shape for the body.
To make the sneaky snake face roll two balls of cream cheese, use olives to make googly eyes and black olives for the eyeballs.
Using carrots, cheddar cheese, or red peppers cut out two long skinny triangles for the tongue.
Attach to the sandwich with toothpicks to make a face.
Caution: One of the little ones will inevitably want the face. They will require supervision with the toothpicks.
aTurn on youtube and play Sneaky Snake
Serve with a veggie tray, strawberries, and the juice boxes.
Fairy Pumpkin Activity
The girls always arrive at Grama's house expecting to do a craft of some sort. Even before I started blogging I always kept a big box of craft paper, glue, felt, and stickers for them. Now, of course, I have more craft stuff than ever and the little ones remember that.

Fairy Pumpkin Craft Activity for Children
Cut out the side of the pumpkin like an extremely large window.
Apply glue and glitter to the sides of the pumpkin. My granddaughter who is 3 was able to do this. Sprinkle with more glitter.
Fill the inside and around with any type of natural elements. Go outside and gather twigs and make a fairy ladder if time permits.
Place fairies and table inside, or in our case, our little ones decided the "fairies" wanted to be outside on the counter.
Halloween Party Supper Idea
For dinner, start with two good quality large rectangular pizzas. Bake the pizzas as directed.
In the meantime cut the mozzarella cheese slices into ghost shapes.
When the pizza comes out of the oven, top with the slices. The hot pizza will melt the cheese a little bit allowing the shapes to stay ghostly.
Out of necessity corners had to be cut wherever I could, the pizzas weren't homemade the decorations weren't either, but we made some memories. The girls really loved the Sneaky Snake. Typically I am a complete planning nut, last minute anything makes me beyond anxious, but sometimes you just have to fly at it.
If you use this idea, I would love to hear from you.
Happy Halloween
Leanna
PIN IT FOR LATER