Realistic DIY Cotton Boll Stems
Make your own Cotton Boll Branch Arrangement
As part of the Craft Destash challenge,  I was trying to think about what I could make with what I have on hand.  Last year I created some cotton bolls for a post.    There were several requests for a tutorial, so today I am showing you how I make mine.  This cotton craft project for branches is a little bit different as they have one more step and I think it makes them look very realistic.
a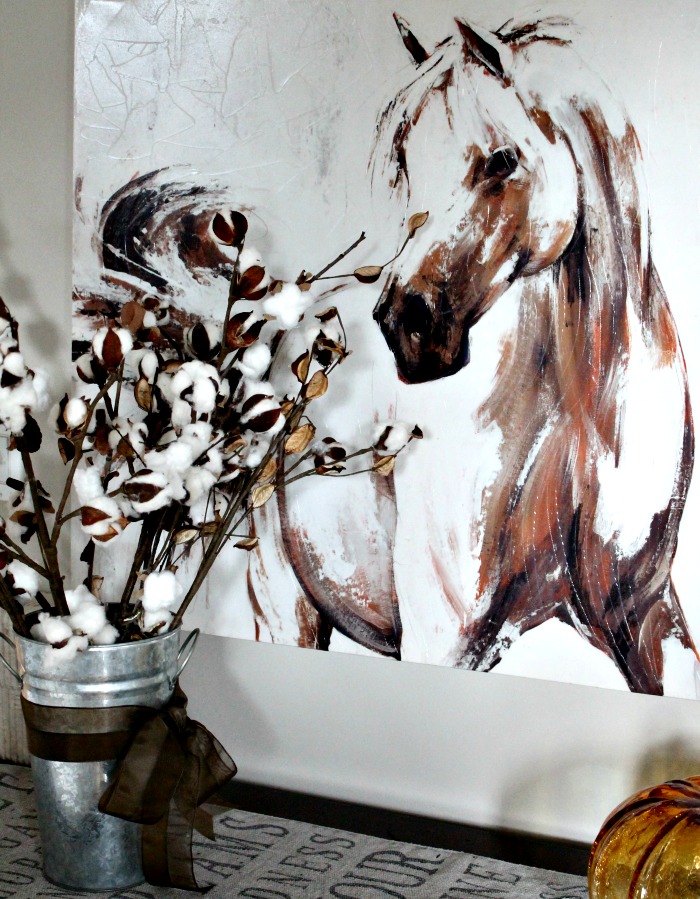 a
Living in Canada you don't see cotton plants so when I first saw a cotton stem I thought they were amazing,  I even took pictures and sent them to my friends.  Unfortunately, they are very hard to locate locally and very expensive.  Last year I  purchased a couple strands in and made the rest for this  fall decor post.    Time to bring them out of my stash and add a few new DIY branches to them.
The cotton boll pod is really simple to make and costs less than $5.00 for a bouquet of them.  If you manage to purchase some cotton stems it will cost significantly more.
Living in Canada you don't see cotton plants so when I first saw a cotton stem I found them amazing,  They were so novel I   took pictures and sent them to my friends.  Unfortunately, they are very hard to locate locally and very expensive.    Last year I found a couple of stems to purchase and made the rest of this post.  Here is how I did it.
Cotton Boll Branch Tutorial Supplies
Here is what you will need:
a
[wc_row]
[wc_column size="one-half" position="first"]
Bag of supersized cotton bolls, check out at a beauty supplier I found mine at Sallys.
White thread
Brown paper  bag
Large pine cones
[/wc_column]
[wc_column size="one-half" position="last"]
Branches
Clipping sheers
Hot glue gun
Brown leaves, or small leaves and brown paint and beige paint.
[/wc_column]
[/wc_row]
This project takes two evenings  One for the preparation and then an hour or so to put them together.
Make the Cotton Bolls
Making the cotton boll pods consists of three stages.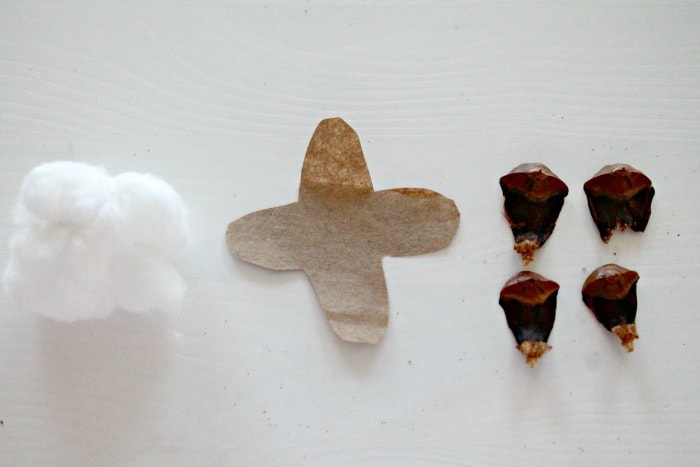 a
Create the Cotton Centers
Let's start with the cotton balls.  Take the extra large cotton balls and fluff them by pulling them apart a little bit.  Wrap the cotton ball with the thread, hold the end of the thread and wrap the boll upwards and then sideways.   This puts four sections in the cotton to mimic the natural shape. Glue the thread in the back. Make a pile of them and set aside, you will need approximately 10 for each branch depending on how large your branch is.
Break off the Pine Cone Scales
Prepare the pine cone scales keeping only the large scales.  The smaller ones don't simulate the cotton boll well enough.   It's much easier to snap off the scales from the underside of the cone.  This particular large pine cone has large scones right to the bottom.   Which is perfect.  Other pine cones may have small tight scones at the bottom, if your pine cone is like that, take clippers and remove the bottom portion first, it makes the larger ones easier to take off.   To remove them just grab one and snap it off.  Set them aside.  You will need four for each cotton boll pod.
a
a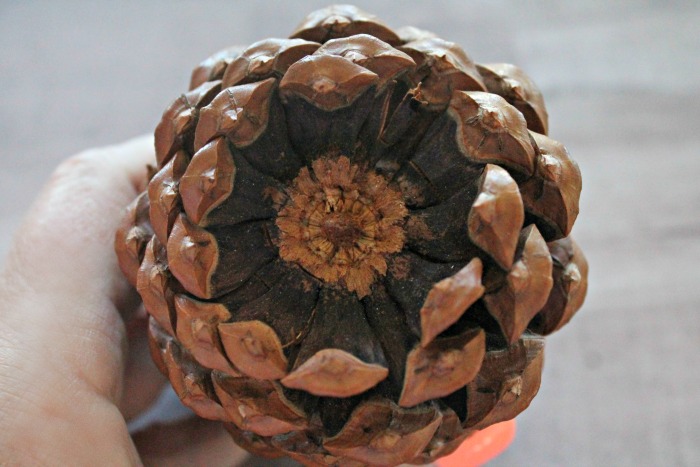 Paper Bag Leaves
A real cotton boll pod as a light underside and a rough outer side.    Cut a  paper bag using the pattern provided.  You will need one cut out for each cotton boll.  Set aside.
Assemble the Cotton Bolls
Take one of the tied cotton bolls.
Form the paper cutout into a cupped shape  Attach to the cotton boll with hot glue.
Glue one large pine cone stem on each side of the cotton boll, partially covering the brown paper.    Set aside.
Make several more for each branch.
Here is one natural cotton boll, along two DIY ones.  I think they look very similar.
a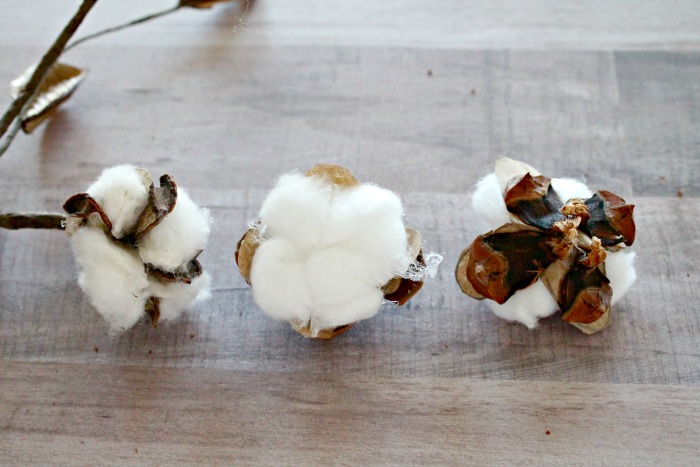 Prepare the Leaves
When you look at the natural cotton boll the leaves are brown on one side and lighter brown on the other.  I had a few dried leftover leaves but they weren't enough of them so used some dollar store leftover green leaves and painted them light brown on one side and dark brown on the other.   The painted ones take a bit longer, but you can't beat free.
a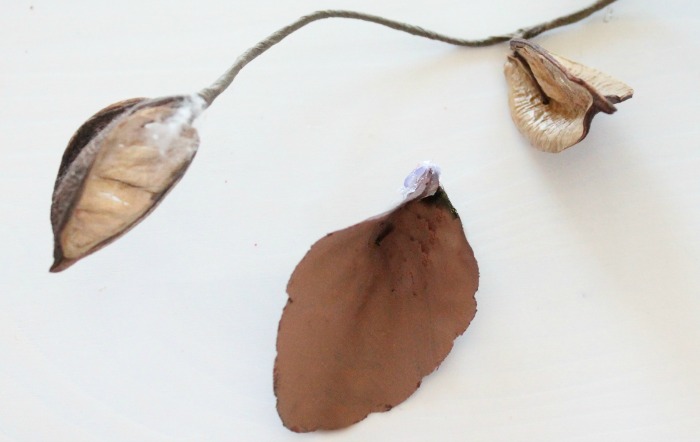 Make the Cotton Boll Stems
Take some small branches (about 18 inches), if you can't find them locally you can use dried branches from the dollar store.  The ones I used are natural aspen branches I gathered along the highway.
Take your mountain of  DIY cotton pods and hot glue along the branches along the branches ever 4 to 6 inches.  Glue the leaves along the branches somewhere the pods are and some more between them.
Making the Arrangement
My arrangement has about 1/2 purchased stems filled in with my DIY ones.  Every year I add to it.    Here is a close picture to show you how real the DIY stems look.  The blue are the DIY ones and the pink are the purchased.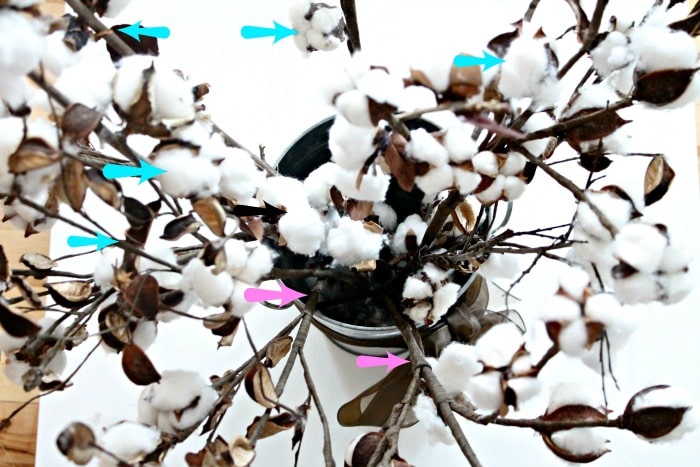 The easiest way I know of arranging flowers is using a flower frog, you can find them for less than $10 at antique stores.  Here are three different size examples that I love using.
a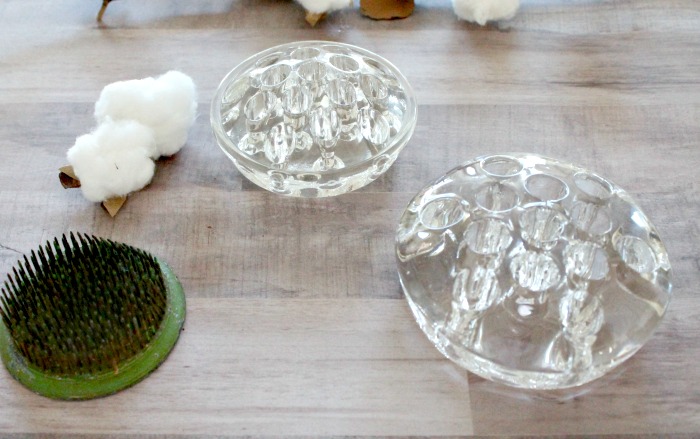 a
The next time you see one of these at an antique store I really recommend swooping one up.  Not only do they make it super easy to arrange flowers evenly, but they also add much needed weight to the bottom of a  tall floral arrangement.
In the meantime, until you find one,  crisscross the top of your vase with tape.   Place the tape as evenly as possible and then insert your branches.
a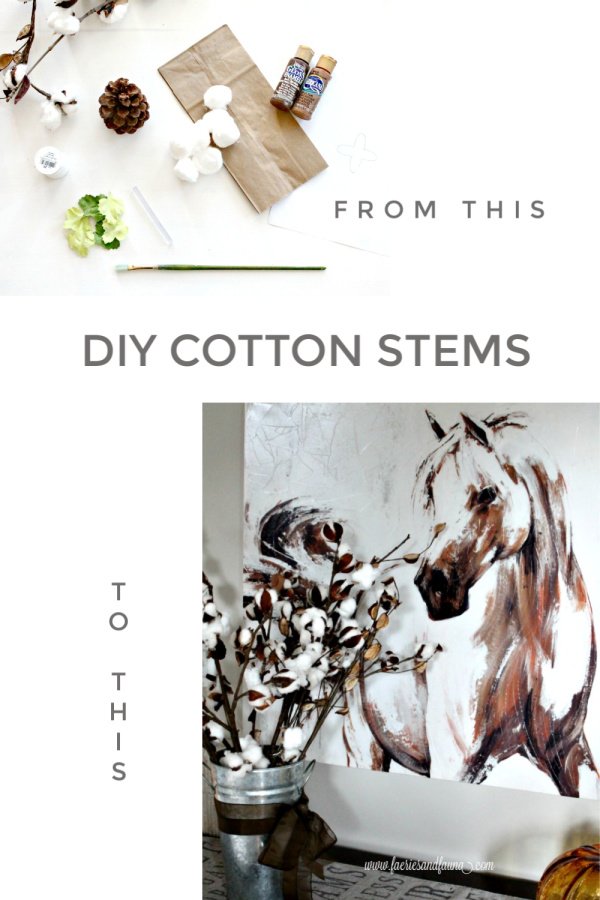 a
Let me know if you have any questions or comments, I love hearing from you.  Now let's see what my blogging buddies have been up to this month.
Craft Room Destash Challenge
Every month, a group of bloggers challenge each other to create a new craft or project from their own stash of goodies! Check out some awesome creations you might be able to make from your own stash! #CraftRoomDestashChallenge