Rhubarb simple syrup is made using rhubarb, sugar and water that's made into a simple syrup you can add to drinks, or you can cook it longer to serve as a topping for pancakes, waffles, ice cream or use it in a trifle.
What Is Simple Syrup?
Simple syrup is used for various drinks, its a mixture of white granulated sugar and water that is brought to a boil and allowed to simmer until the white sugar is fully dissolved. Most people use equal parts of sugar to water, but you can add more or less sugar depending on sweetness level wanted and use.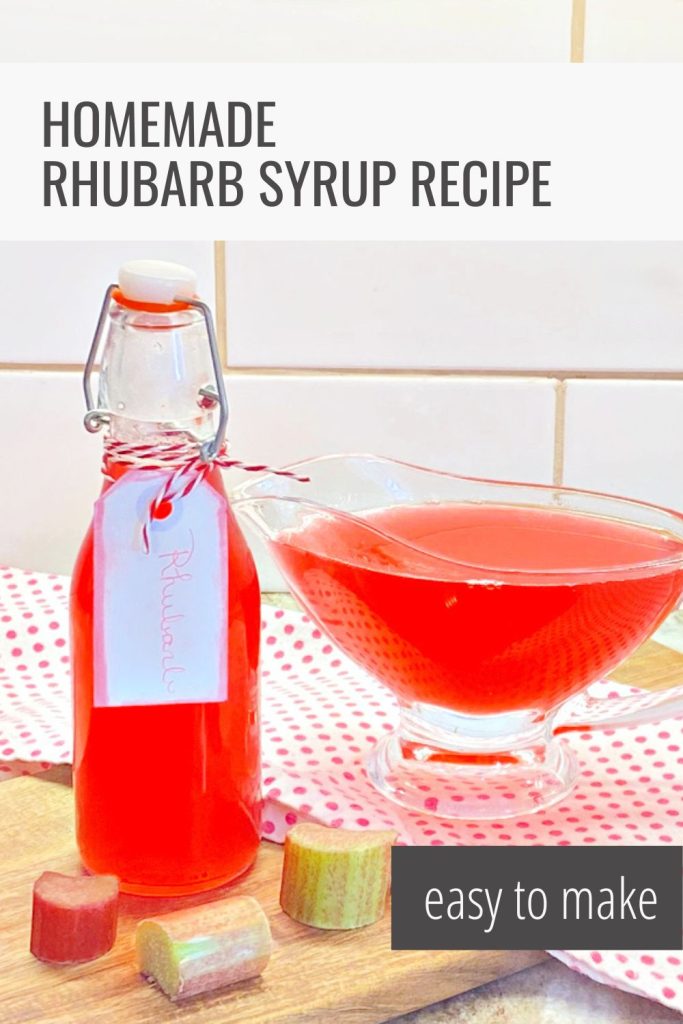 Rhubarb pairs well with most berry flavours, raspberries, strawberries, blackberries and citrus. Some recipes also use ginger, cinnamon or vanilla with rhubarb. For todays recipe I am going to make an plain pure rhubarb syrup to use on pancakes etc. Then I will use it as a delicious topping over strawberries and cream for waffles.
Choosing The Best Rhubarb Stalks
Look for firm stalks, avoiding any which are limp or blemished. If the leaves are attached, they should be fresh and crisp.
If purchasing pick stalks with deeper red colors if possible. This will make for the prettiest syrup with beautiful natural colour. Our rhubarb plant stalks are greenish on top and dark red on the bottom. I use them as they are, waste not I always say.
Do Not Use Rhubarb Leaves
Rhubarb contains oxalic acid that can be poisonous in large quantities. Fortunately the stalks do not have a large of amount of oxalic acid. Too much oxalic acid can lead to kidney stones and kidney failure if we eat lots of it.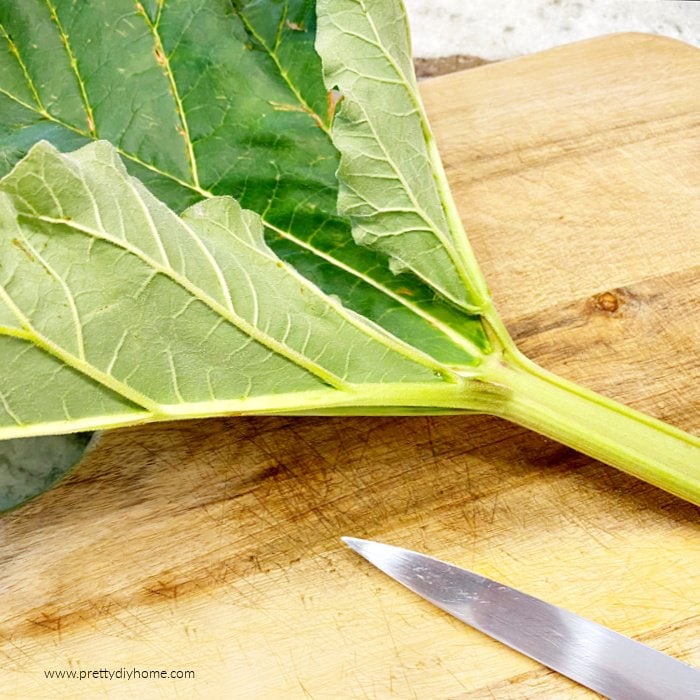 I did some looking and according to Heathline a person would have to eat between 5.7 and 11.7 pounds of rhubarb leaves, and much much more rhubarb stalks. Oxalic acid is toxic to dogs, so don't feed your furry friend either the rhubarb stock or the leaf.
Rhubarb Simple Syrup Ingredients
4 cups rhubarb
2 cups water
2 cups granulated white sugar
Rhubarb Syrup Instructions

1. Rinse the rhubarb clean.
2. Remove the ends and chop the rhubarb into pieces about an inch long.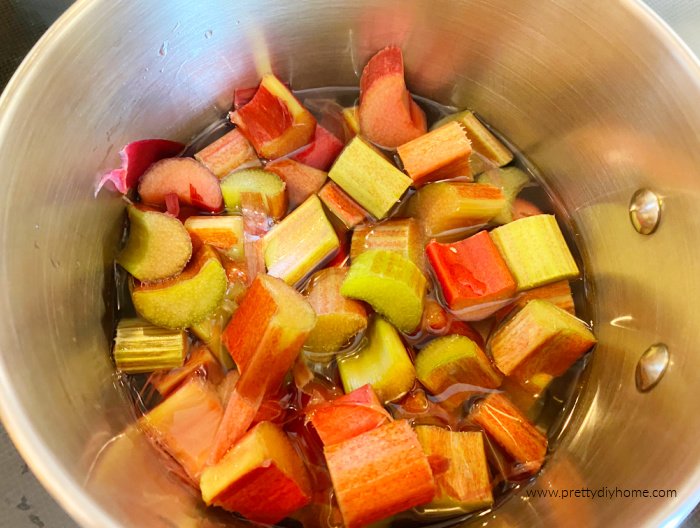 Place the chopped rhubarb in a large saucepan.
3. Add the water and bring to a boil. Reduce heat to a slow simmer and cook the rhubarb for about 20 minutes. As it cooks foam may rise to the surface, if this happens simply skim it off using a spoon.
After 20 minutes or so, the rhubarb becomes mushy will have lost most of it's colour. The colour will now be in the water/juice creating a pretty pink/red colour.
4. Remove the rhubarb from the heat and strain through a fine mesh strainer or cheesecloth into a second saucepan.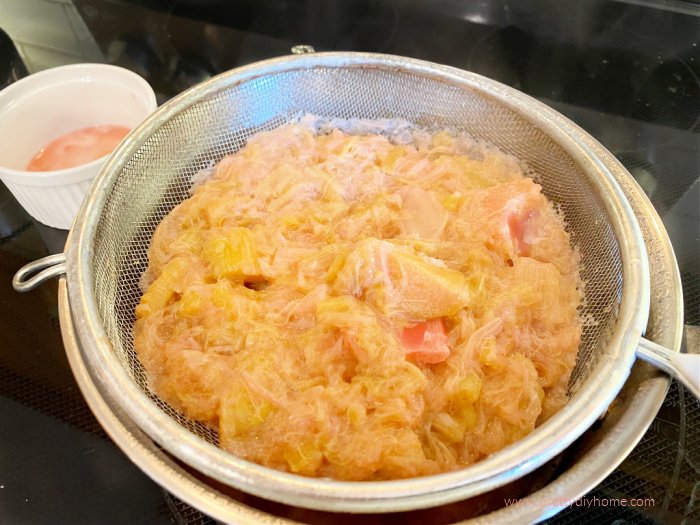 Set the cook rhubarb pulp aside and continue the recipe using just the juice.
Note: If you want to use the rhubarb pulp you can add sugar to it and then serve on ice cream or yogurt the same day. Its no longer the pretty pink color but it does taste really good. These days, I have a rhubarb plant with loads of rhubarb in the garden so once the liquid has been strained I simply discard the rhubarb.
5. Add 2 cups of sugar to the rhubarb juice. Bring back to a boil, stirring frequently to dissolve the sugar into the syrup. Let the syrup simmer for 5 minutes until the sugar is completely dissolved. Continue to skimming off any foam that rises to the surface.
To make the rhubarb simple syrup thick enough for pancakes etc, continue to let your syrup simmer over medium heat until its the desired thickness. Be careful not to have your heat too high as you don't want your syrup to scorch.
Once thickened to your liking, remove from the heat and allow to cool completely. Pour into a glass container, seal and refrigerate. The syrup should last for several weeks.
If your wanting to make the rhubarb simple syrup for beverages, here is a great recipe I found for Rhubarb Lemon Fizz from VIndulge. I like that she makes it both as a cocktail and as a mocktail.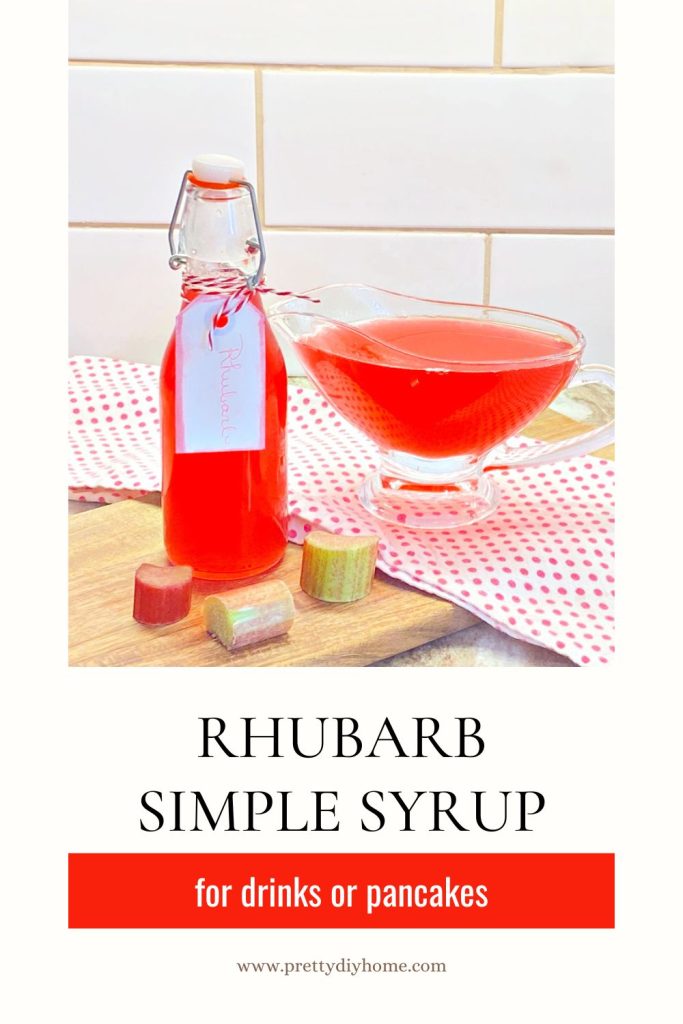 As I have rhubarb in my garden I consider making rhubarb simple syrup as a preserve. On Pinterest I have a board dedicated to canning and preserving. This board has recipes for jam, syrups, pickles and other canning recipes.
Other Rhubarb Recipes
Once my rhubarb plant starts to grow it gives such a bounty of rhubarb stalks. Our family loves rhubarb, rhubarb crisp being one of their very favorite desserts. I have several other rhubarb recipes you may enjoy, especially if you have to use up your own rhubarb harvest.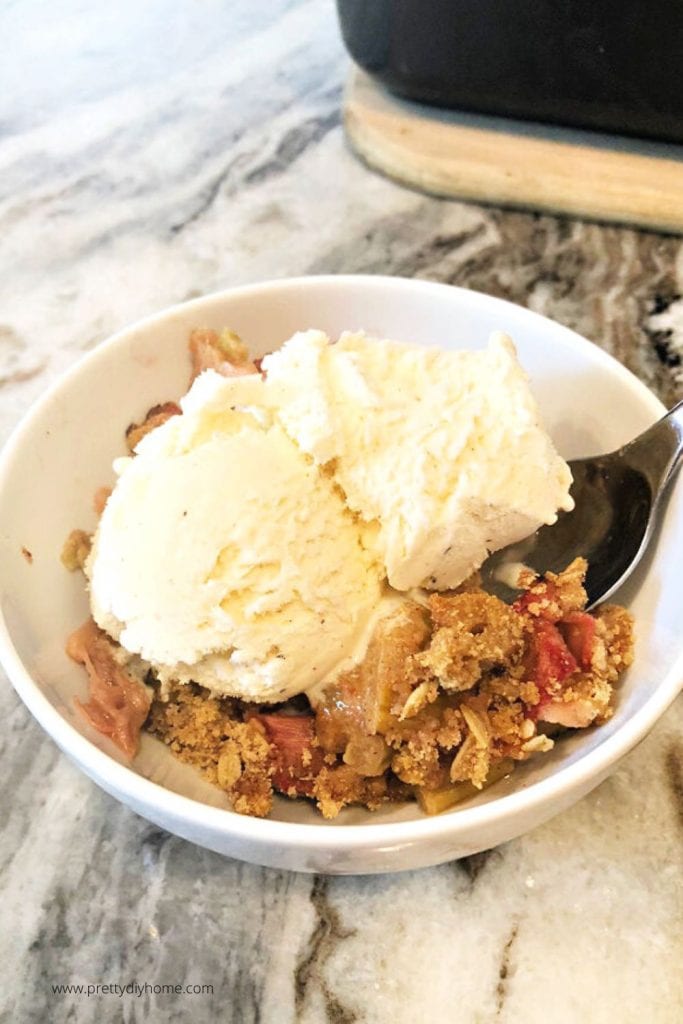 Rhubarb Crisp Recipe
A family favorite rhubarb crisp recipe that's quick and easy to make. Served alone, with ice cream or yogurt its tart, sweet, and full of yummy rhubarb flavour.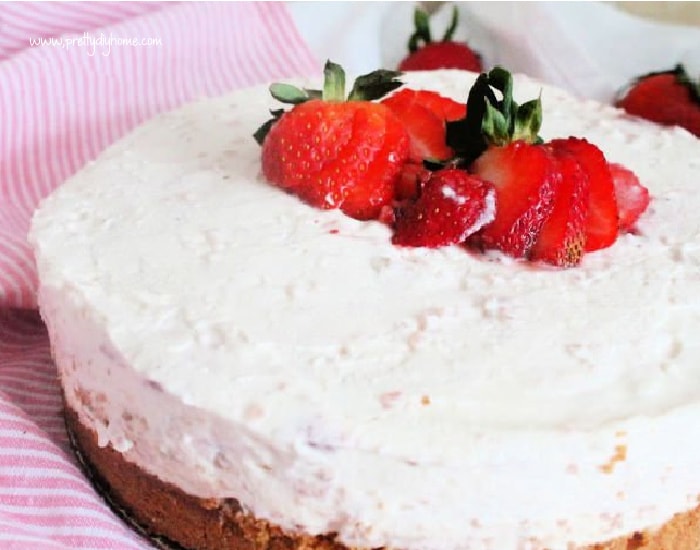 Rhubarb Strawberry Cheesecake
Rhubarb adds a unique flavour to regular strawberry cheesecake. This rhubarb strawberry cheesecake recipe is easy to make and a delicious way to serve rhubarb.
Rhubarb Muffins with Sour Cream & Streusel
This rhubarb muffin recipe is one of the favorites on the blog. This makes the tastiest moistest muffins ever. I have had this recipe for many years and these muffins always disappear.