Dollar Tree Ghosts and Book Page Banner for Halloween
This spooky halloween banner is made using dollar tree wood ghosts and book pages. I think the tattered and aged look of old book pages is perfect for Halloween. This spooky Halloween book page craft is also very easy on the budget, which is always my number one criteria for Halloween decor.
The spooky ghost Halloween banner is easy to put together, its does take a few steps but I think the final result is spooktacular, and just as nice as the ones you see in the expensive Halloween stores. I love that its spooky fun instead of spooky scary.
Spooky Halloween Banner Supplies
Heres the supplies you need to get started. Some are optional and of course you should substitute for any supplies you already have on hand. For example any white paint will do. I painted a couple of white beads black to have enough black beads. If you don't have wood filler use speckling or wood glue and sawdust to fill the little holes. You can rip a black rag for ribbons and ….. you get the idea.
6 dollar store wood ghosts (1 pkg)
White paint (I used leftover latex house paint)
Small dollar store brush
Iron on interfacing (Optional)
Paper hole punch
Paper letters or dollar store letters
Thin black ribbon
Black ink pad (optional)
Wood filler (optional)
Sandpaper -120 grit (optional)
Scissors, glue, hot glue,
Thin wire
Twine
7 med black beads and 14 small white beads
How to Make a Spooky Halloween Craft Banner
This Halloween craft is very easy to do, but has several separate steps that come together at the end. To make it understandable I am writing the how to step by step and then include a video that does the craft in its entirety. Because its a halloween lets get spooky now.
Preparing the Dollar Tree Wood Ghosts
Each dollar tree wood ghost has a hole in the top, its your choice to fill it or not. I filled mine with some leftover wall spackle and then lightly sanded it with 120 grit paper.
Once dry and sanded paint the front of each little wood ghost with one or two coats of white paint. Acryllic paint is fine, or leftover house paint.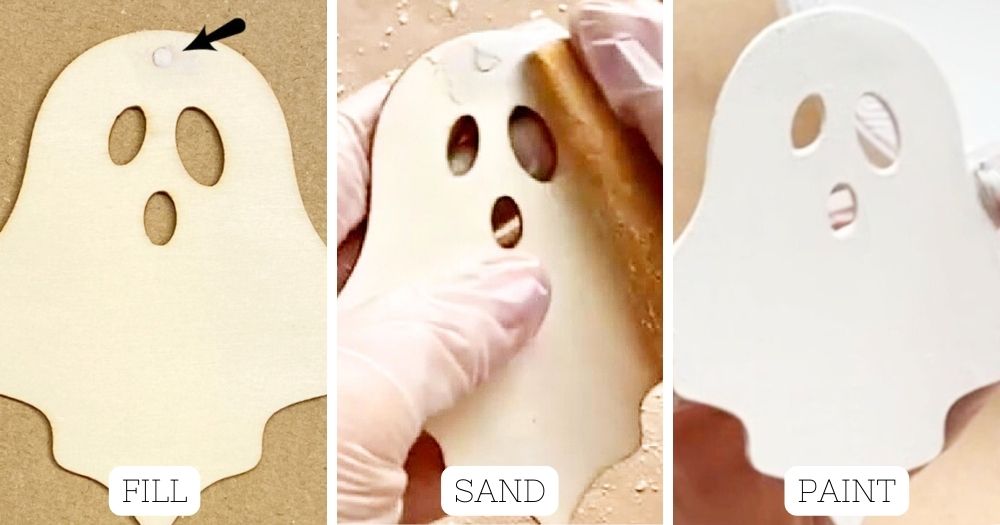 Let dry.
While the little ghosts are drying we can do the book page pennants.
Add Interfacing to Book Pages
Rip out 7 book pages, one for each letter.
I used real book pages and then made them stiff using interacing. Alternatively you can print out a book page printable onto cream card stock and use that instead. Here is a link a dictionary page from the Graphics Fairy if you prefer to print out book pages.
Cover your ironing board with parchment paper to protect it from the glue, then lay down the interfacing glue side upwards, cover with the full sized book page and then parchment paper. Dry iron. Repeat for all book pages. Let cool. (If you have a cricut press use it instead, but I don't have one so I protected my household iron instead.)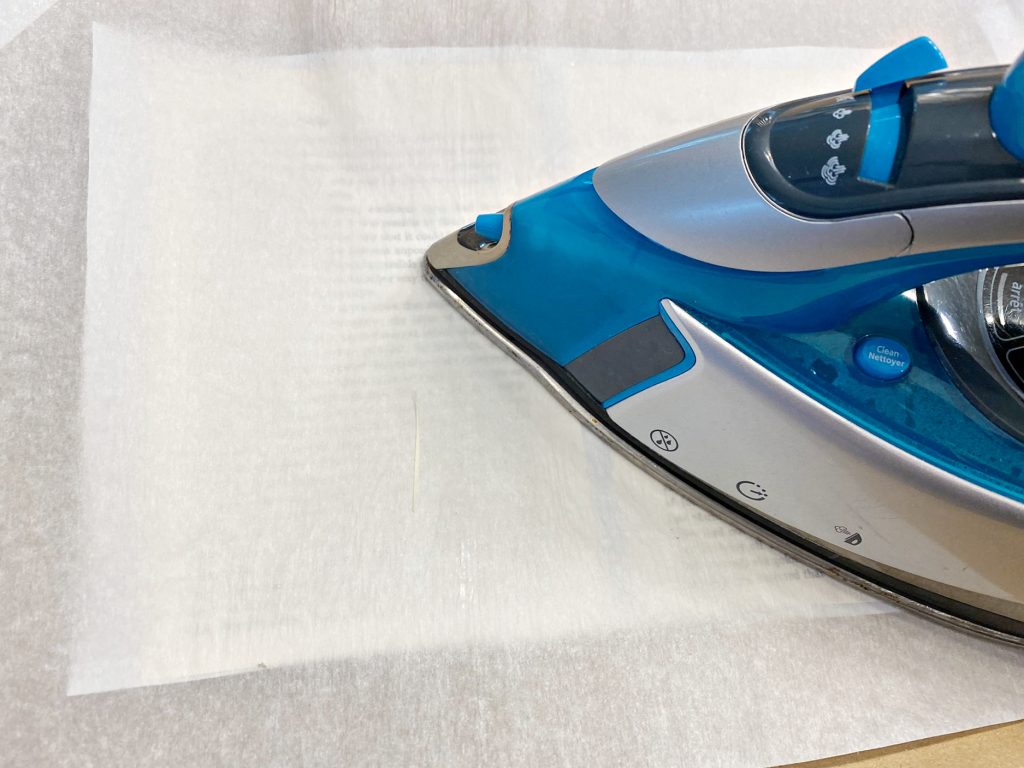 Make a Book Page Pennant Template
Next, we want to cut out each book page into a pennant shape all the same size. The easiest way is to create a template out of a plain book bake (no interfacing) and then use it to make the template.
Fold your book page in half lining up the letter margins, trim along the edge to create a smooth cut edge on both sides of the pennant. My pennant ended up being 4.5 inches wide. Then cut the bottom to 7 inches.
To get the fishtail bottom. Still folded cut an angle from the bottom corner to the fold. Unfold and your template is done.
Use the book page template as a guide for cutting out all the other interface back book pages. Begin by making sure your interface lined book page is facing right side up. Cover with the template, then cut the interfaced book page to match. Then hole punch the corners. Repeat for the remaining 5 book pages.
The next picture of the finished spooky Halloween banner shows you the final shape.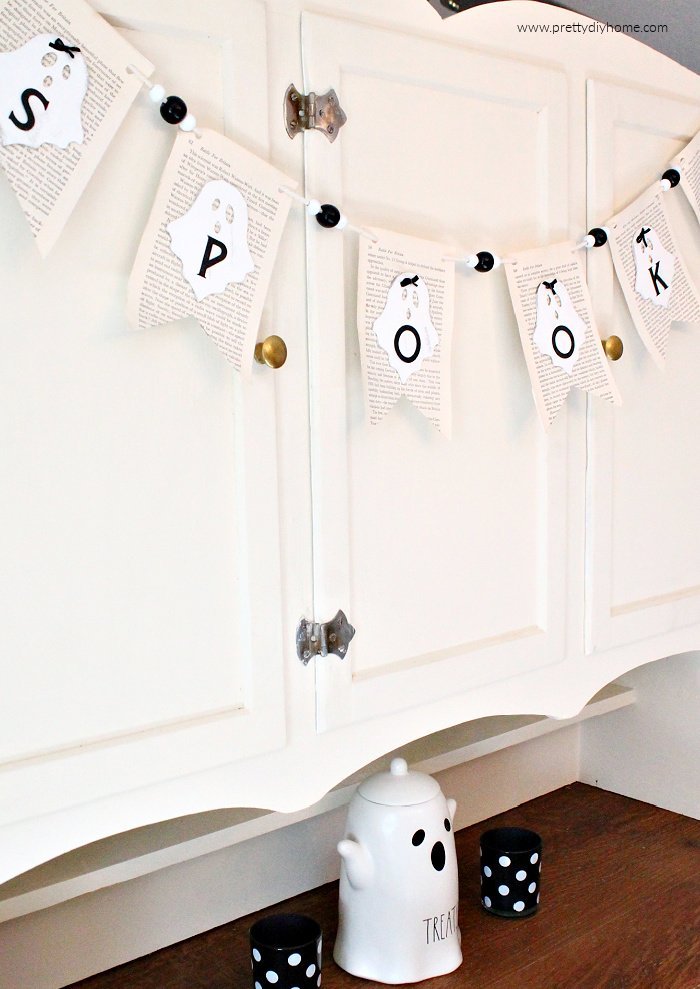 Making Mini Bows
Its optional but to cover the little spots we filled in earlier I suggest creating six little fork bows in whatever thin coloured ribbon you like. If you haven't made a small fork ribbon before I have it in the project video for you.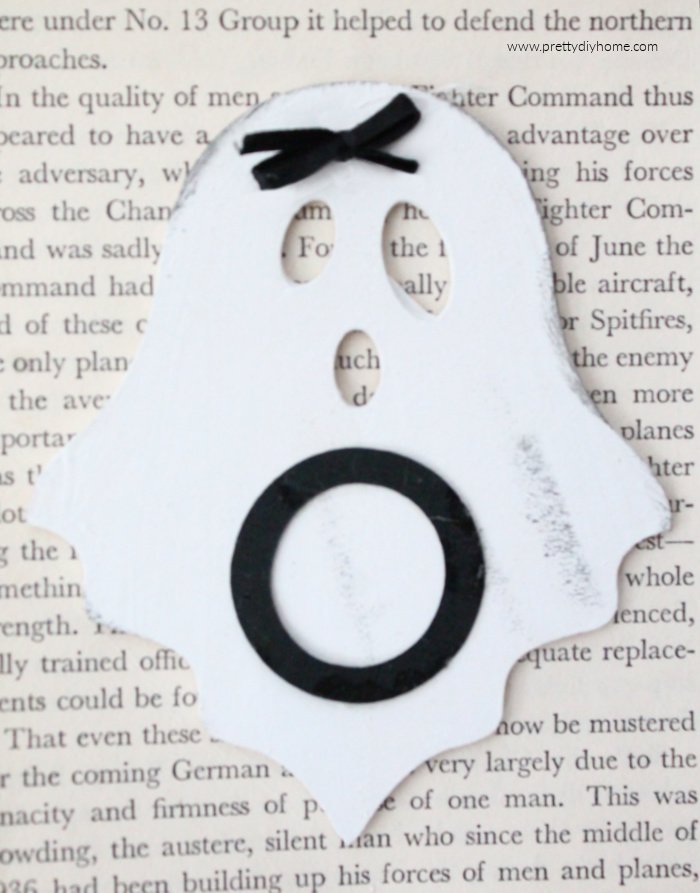 Aging the Ghosts
Because of the book pages I used some black ink and a dollar store foam brush to very lightly shade and each ghost around the edges. I wanted them to look a little bit sooty and dirty. If you don't have any ink you can use light grey paint to add some smudging affect.
Adding Spooky Letters
Grab the letters to write out Spooky. You can use a cricut and card stock, or purchase letters from the dollar tree. Or you can trace the letters directly onto the wood ghost using carbon paper. Or, if more gifted then myself just write the letters on the front. I used a cricut to cut out my letters in black cardstock and then glued each letter to the front of the ghost. I centered each letter by eye, but placed a finished ghost next to it as a guide for the other ghosts. Let dry.
Attaching the Ghosts to the Pennants
To attach the ghosts to the pennants I used hot glue, and cenetered each ghost by eye using the lettering of the book pages as my guide.
Putting the Spooky Halloween Banner Together
Now we have the ghosts finished as well as the pennants. All thats left is the final assembly.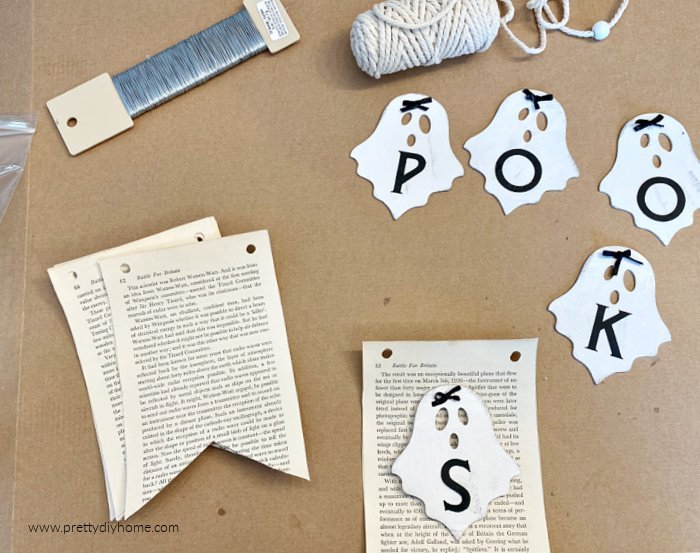 Pull out your twine. Make a wire threader by twisting a small piece of wire around the end of the twine twist tightly and trim.
The the wire and twine through the first pattern of beads, white, black, white. Then thread on the ghost banner with the letter Y. To do each book page I prefer to start by pushing the wire/twine from the front, pull it along the back, and then feed it up to the front again. This keeps the cord at the back of each banner. Repeat with the other beads and pennants until you reach the letter S banner. You will likely need to adjust your banner placements as you work the other pennants on.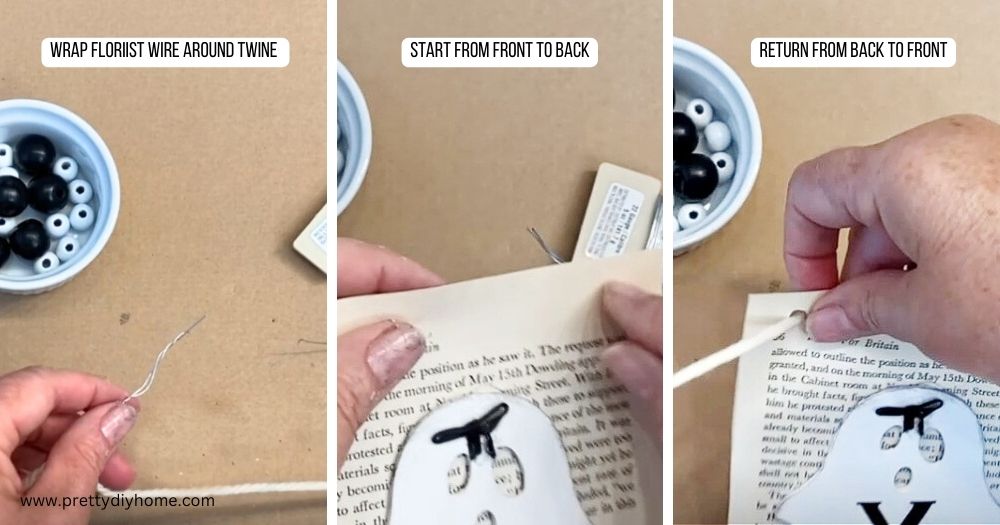 Finally add the last beads, do your final adjustments and tie a knot in the end. Once the first end is secured and knotted go to the other end, cut the twine and tie the final knot.
Spooky Halloween Banner Video
If your needing more instruction or just curious to watch me make the Spooky Halloween Banner. I have created a video tutorial for you.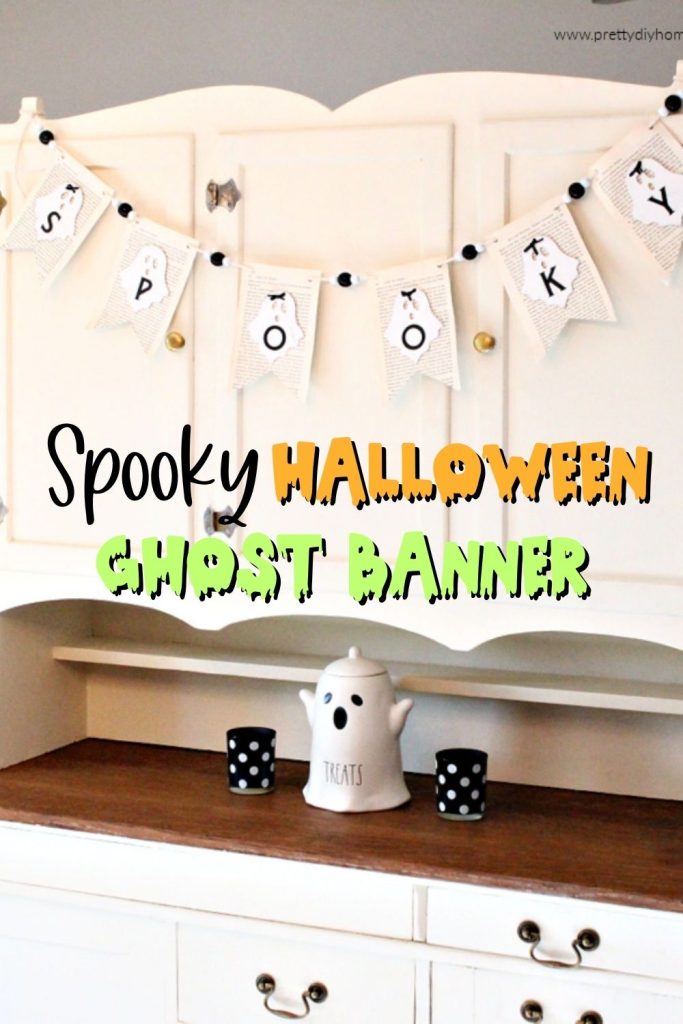 Other Halloween Crafts to Try
The thing I appreciate the most about Halloween crafting is its less rigid in quality. You can make crafts that are more fun, than they are elegant. They are just so fun to do. Happy Halloween crafting.
Halloween Witch Using Book Pages
If you loving the idea of using book pages for Halloween decor I created a Halloween Witch for othe mantel, as well as a large book page bow.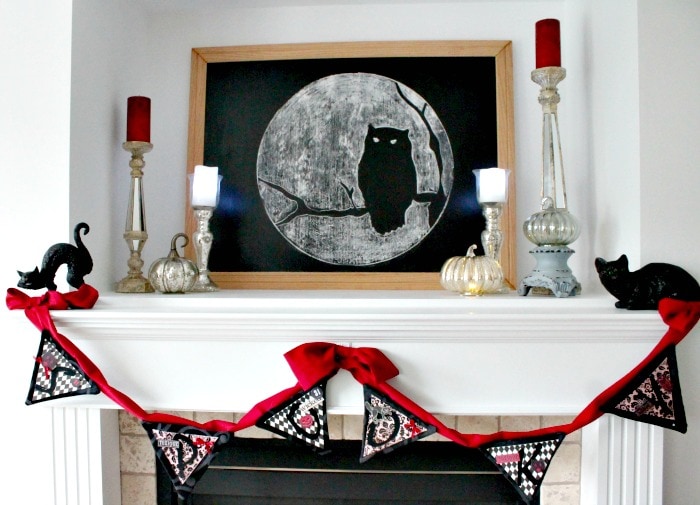 Easy Halloween Chalk Art
This Halloween chalk art really is easy to do with the free owl printable and white chalk. That is all you need.