30 Mummy for Halloween Ideas
Halloween Mummy Costumes, Treats, Crafts and Decoration Ideas
Mummy for Halloween ideas are a fang-tastically easy Halloween character to create in a variety of ways. Like his distance cousin the ghost, the mummy is easy to make using an old sheet, or white icing, or cheesecloth. The Halloween mummy is one of those classic Halloween monsters that this Mom always appreciated as its a theme you can whip together quickly and often with what you have on hand. Besides all that I really enjoy the classic Halloween monsters and the Mummy is definitely a much loved classic.
I have gathered 30+ different ideas for Halloween Mummies. Whether you want a last minute Halloween Mummy costume, a delicious Halloween Mummy recipe or a creative DIY Halloween mummy decor project. Your certain to find a fantastic mummy for Halloween idea.
6 Halloween Mummy Costumes
The thing to remember when creating a mummy costume is not to turn yourself into an actual mummy in one solid costume. Eons ago I helped someone who made that mistake at a party and needed my help to use the washroom. Lets just say its not the best situation. Here are some Mummy costume ideas to get your Halloween costume needs all wrapped up.
I saw loads of mummy costume images and sales, but managed to locate 6 really great mummy costume diys with how tos.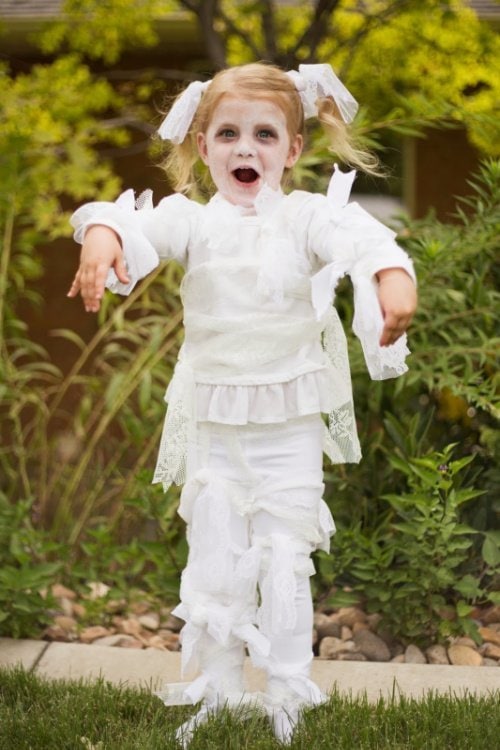 Little Girl Lace Mummy Costume
White lace, white socks and white leggings are the basis of this sweet Little Girl Lace Mummy Costume. I think DIY Divas did a fantastic job of making a sweet little mummy.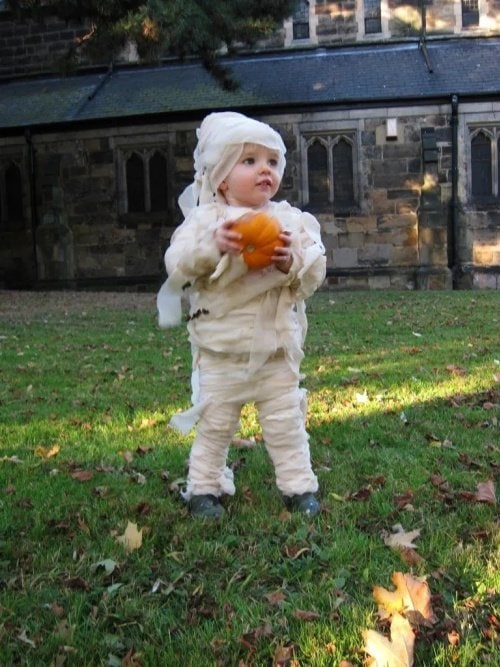 Baby Toddler Mummy Costume
A handmade costume using bandages. How adorable is this little mummy trick and treater in his Mummy Costume from Super Lucky.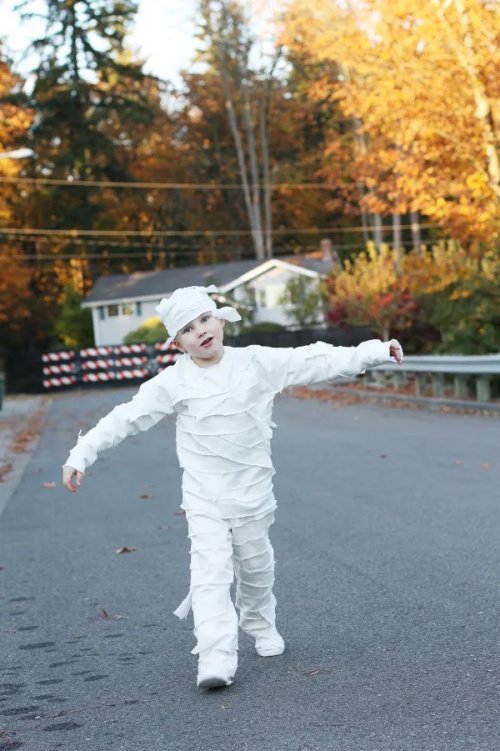 DIY Mummy Costume for Kids
Another variation of a simple mummy costume for kids. This one is for a little boy and comes from Sew Much Ado.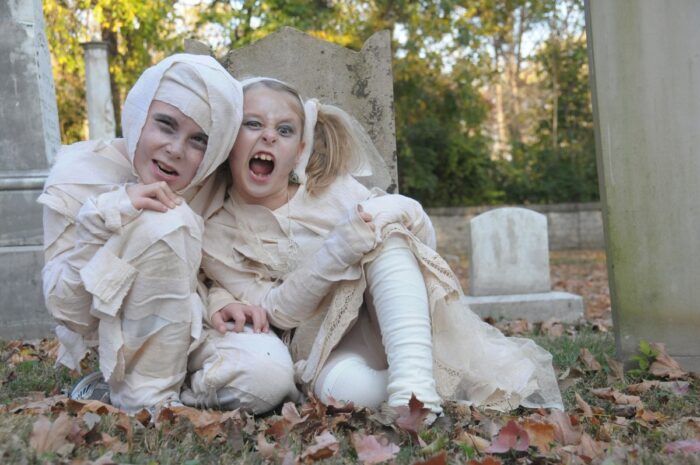 How to Make a Kids Mummy Costume
You can tell the children in this post enjoy their Mummy costumes and were having so much fun. The Mummy Costume tutorial from Polka Dot Chair has instructions for both costumes.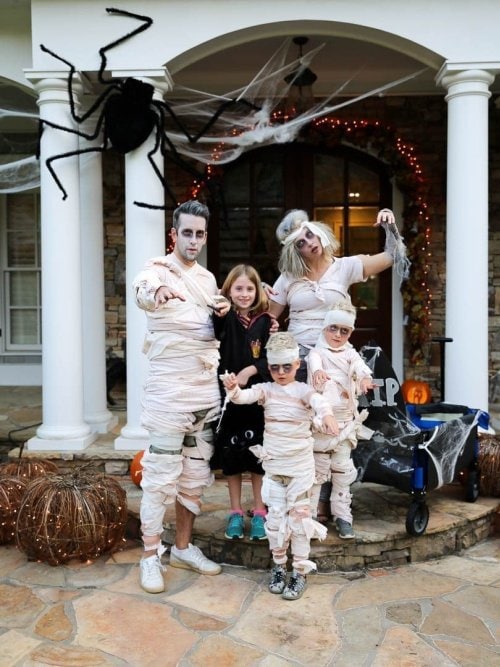 Easy Costume for a Family of Five
This family is having so much fun and look spooktacular. You would never think this Easy Family Costume from Blue Gray Gal would be a last minute idea.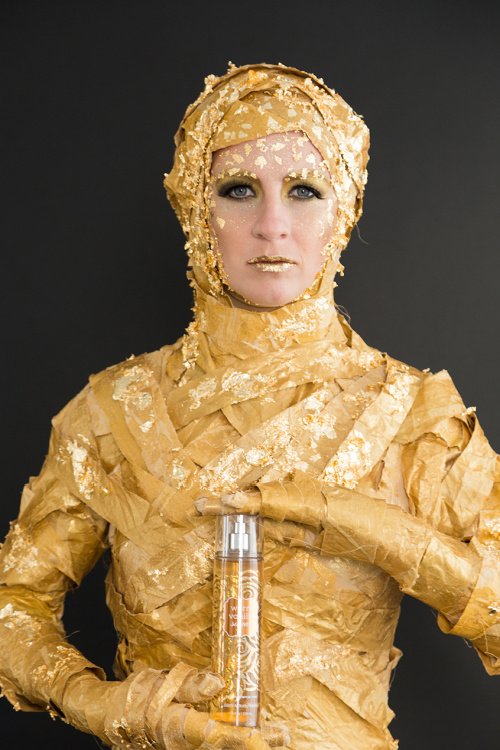 Beautiful Guilded Mummy Costume
This guilded mummy costume from The House that Lars Built is not only different and spectacular, there is a how to tutorial so you can make your own.
17 Mummy for Halloween Recipes
Here is a series of ghoulishly good mummy for Halloween recipes. There are sweet treats like Halloween Mummy cookies, a mummy cake, and simple mummy Halloween super ideas like mummy hot dogs and this first recipe for a mummy cheeseball.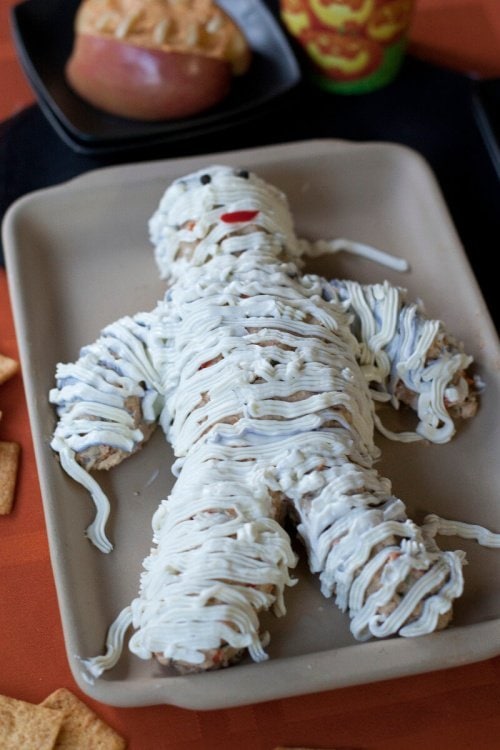 Mummy Cheeseball Recipe for Halloween
This easy to make Halloween Cheese Mummy, is such a fun appetizer for Halloween and I appreciate the it isn't a dessert. The Halloween recipe comes from Eat Richly.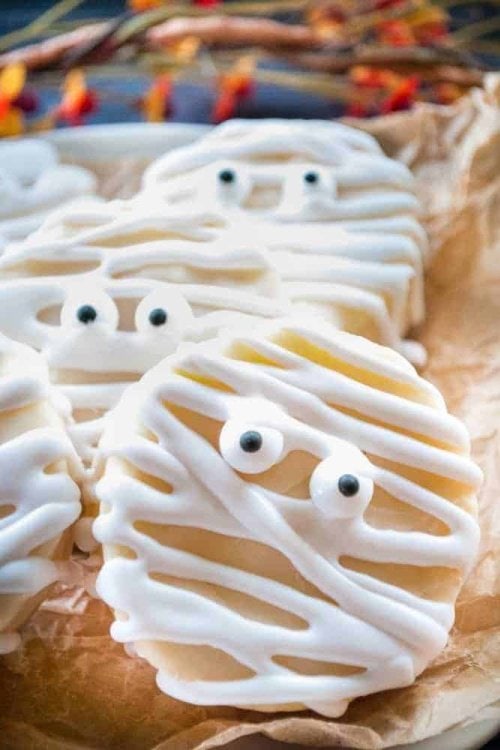 3 Ingredient No Bake Mummy Treat
Fun and easy, the perfect combination for busy Moms. These No Bake Mummy Treats from Everyday Family Cooking.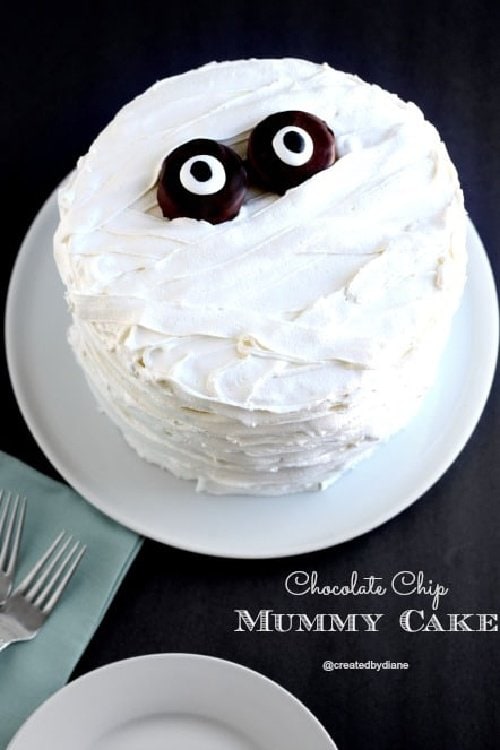 Chocolate Chip Mummy Cake
This post for Chocolate Chip Mummy Cake is from scratch with lots of beautiful layers. Created by Diane designed this beatiful cake. I think you could use it for any type of Halloween celebration, its fancy enough to be a Halloween themed birthday cake. Mummmmmm good!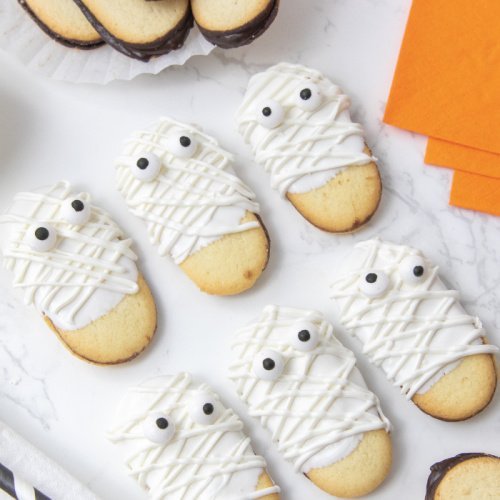 Spooktacular Mummy Cookies
How does 10 minutes and 4 ingredients sound for these adorable Milano cookie based Mummy Halloween Cookies from Passion for Savings?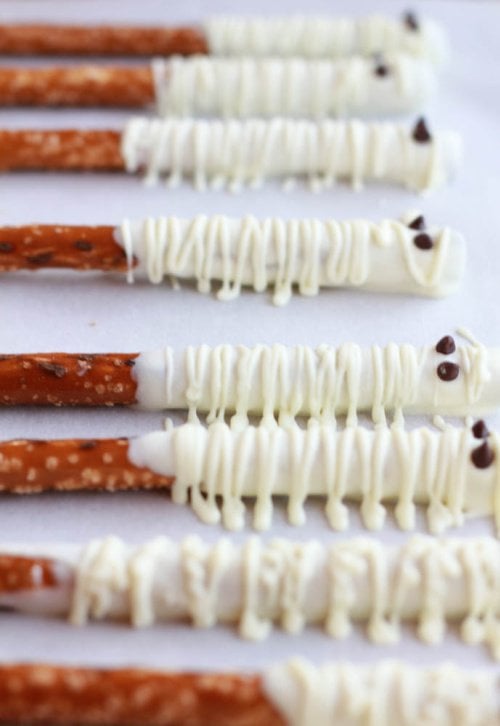 Halloween Mummy Treats
Made with salty pretzels and delish white chocolate these Halloween Mummy Treats will be appreciated by all ages.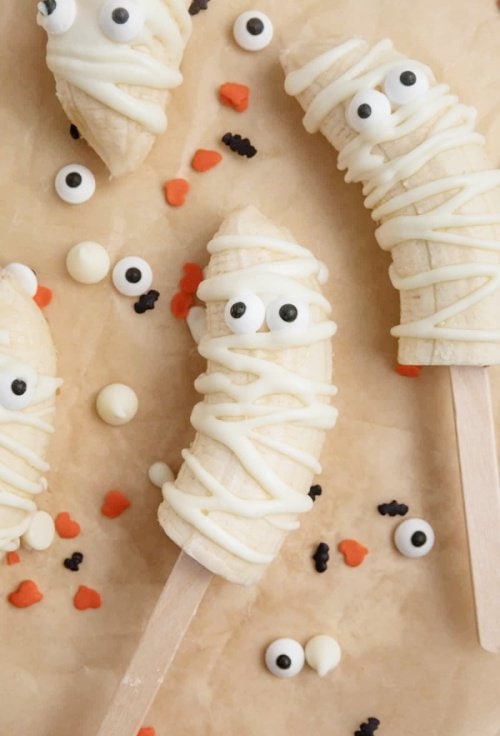 Halloween Banana Mummy Pops
Bananas on popsicle stick with sweet chocolate drizzle and fun candy eyes. A very simple but adorable Mummy banana treat recipe from Lemon and Zest.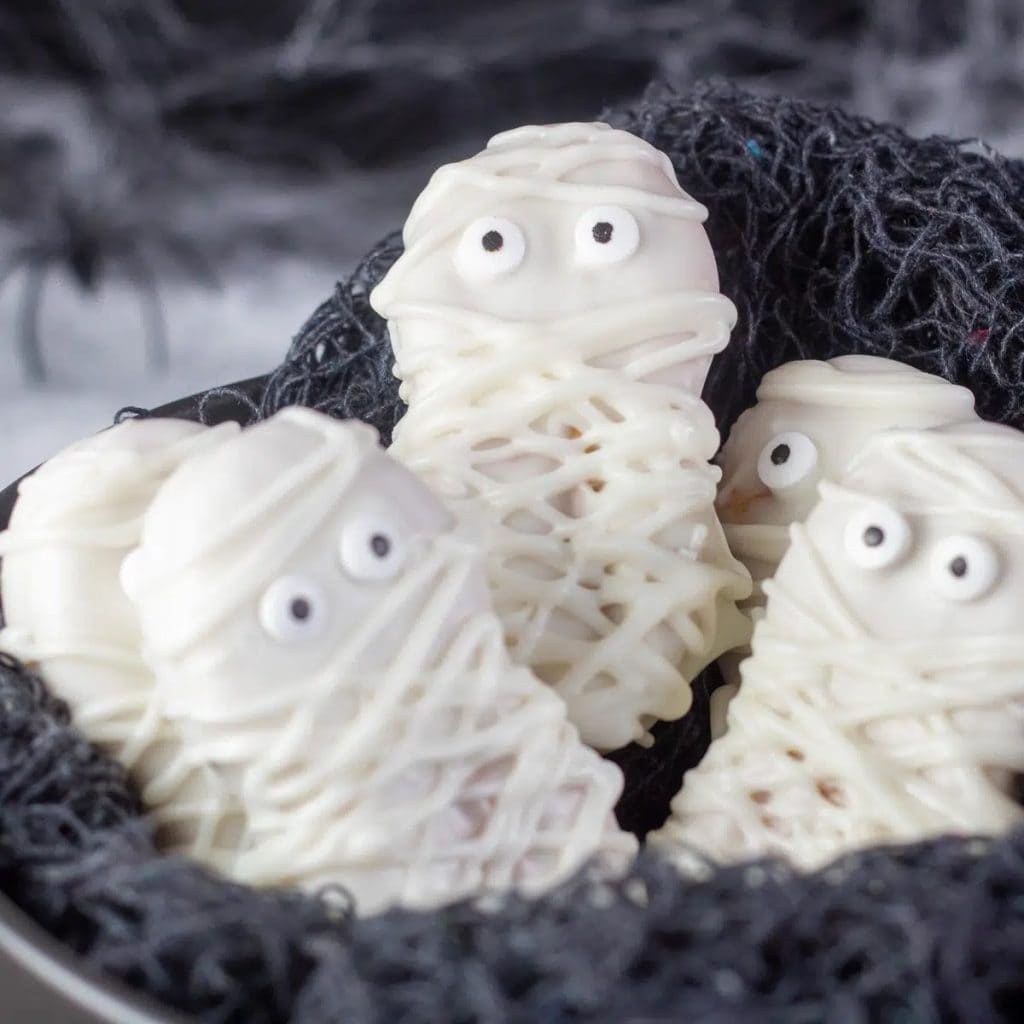 Nutter Butter Mummies
Made with nutter peanut butter cookies and almond candy these fun Nutter Butter Mummies from Bake it with Love are another easy to do Halloween treat idea.
Mummy Cake Pops
Get the kids involved in making these Mummy Cake Pops from Desserts on a Dime. They will love swirling the chocolate on these little Halloween mummies.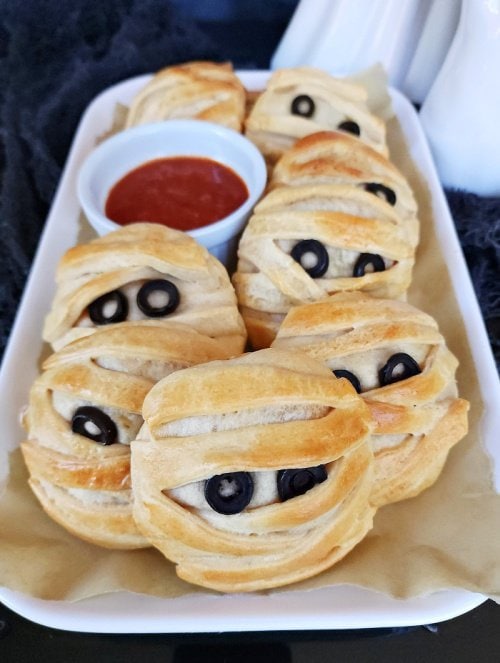 Mummy Pizza Pops
I love the round shape of these little pizza pops, with the olive eyes peaking out from their wraps. This is a great recipe for Halloween supper and they don't just have to be served to children. My Hubs would devour this recipe from My Pinterventures.
Juice Box Mummies
A really terror-ific idea for kids Halloween parties. These juice box mummies from Mas and Pas will be much appreciated as a Halloween treat drink idea kids can handle on their own.
Pizza Bites – An Easy Kids Halloween Snack
This easy recipe from Printable Crush keeps the little ones entertained while still being easy for busy Moms to make.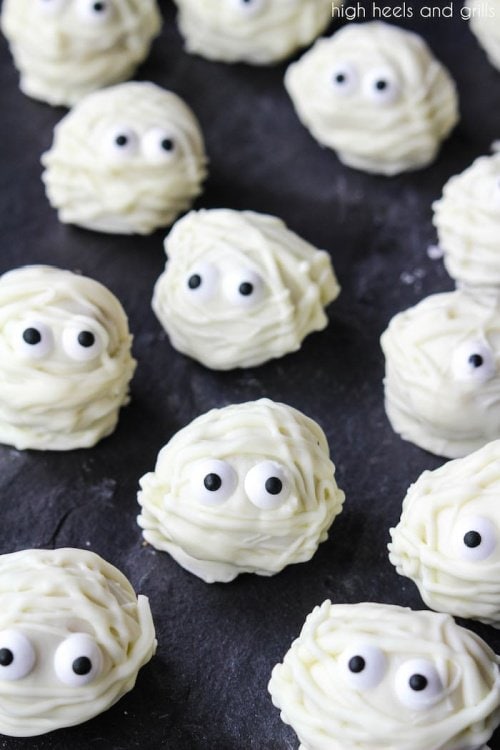 Easy Mummy Treat Donut Holes
Another Halloween sweet treat idea for Mummies, but this time they are made using donut holes. Yummy Easy Halloween Treat Donuts Holes from High Heels and Grills .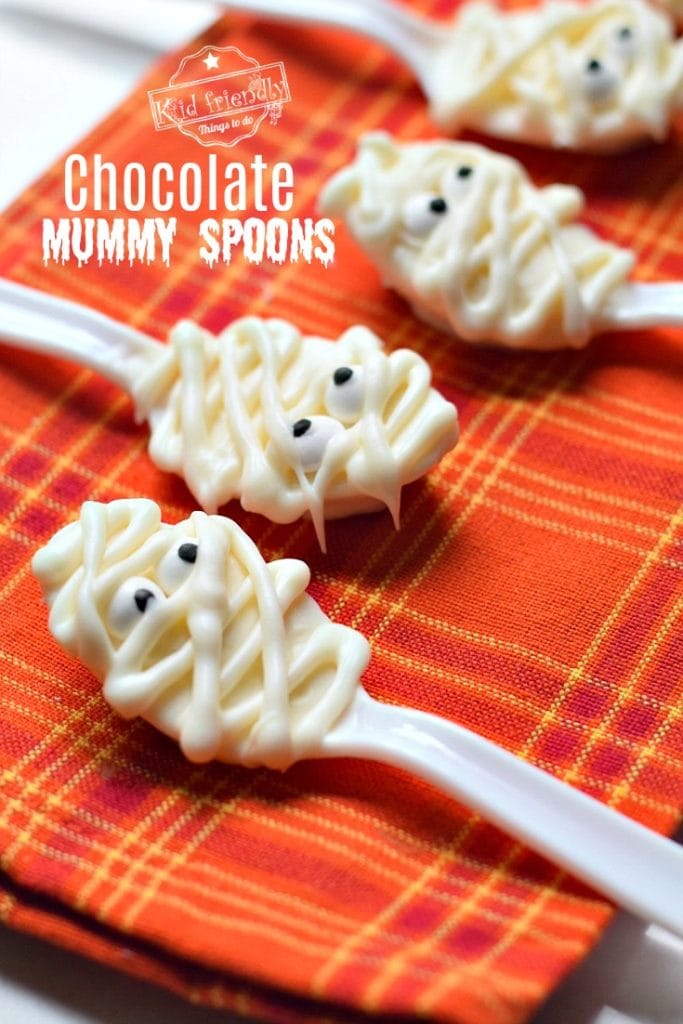 Chocolate Covered Mummy Spoons
Every Halloween coffee bar needs a set of these chocolate covered mummy spoons from Kids Friendly Things To Do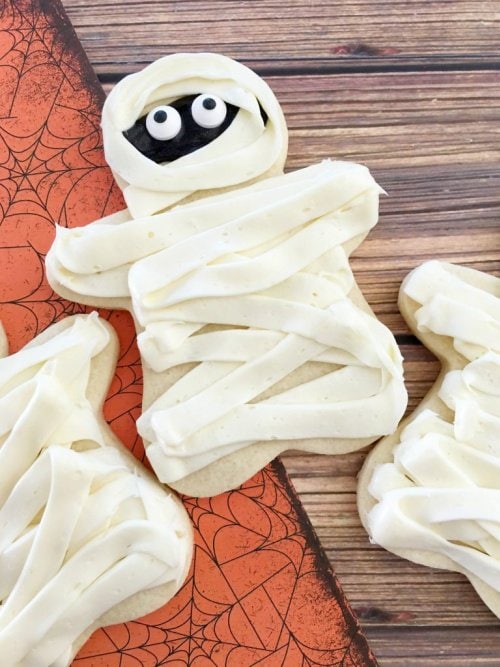 Mummy Cookies
These from scratch homemade mummy cookies have pumpkin flavoring in the dough. A spooky Mummy Cookie recipe from Not Quite Susie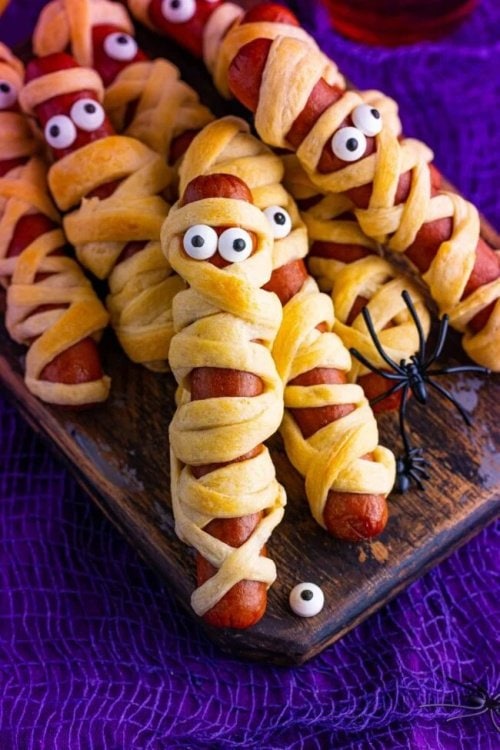 Mummy Dogs
Hot dogs wrapped in crescent rolls are the basis for these adorable little Mummy Dogs from Play Party Plan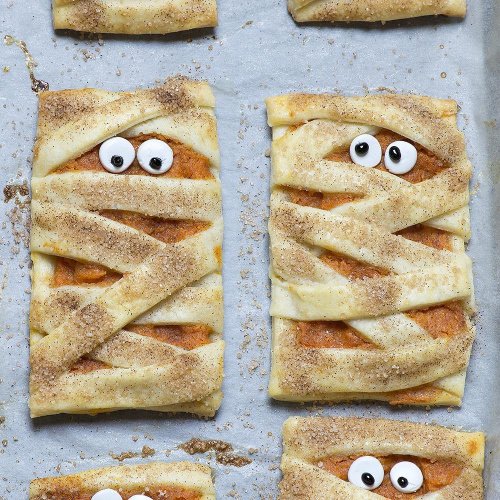 Mummy Pumpkin Cookies
A homemade cookie dough is wrapped around a sweet pumpkin filling for this Mummy Pumpkin Cookie recipe OMG Chocolate Desserts from . These little mummies are so cute, I laughed when I first saw them.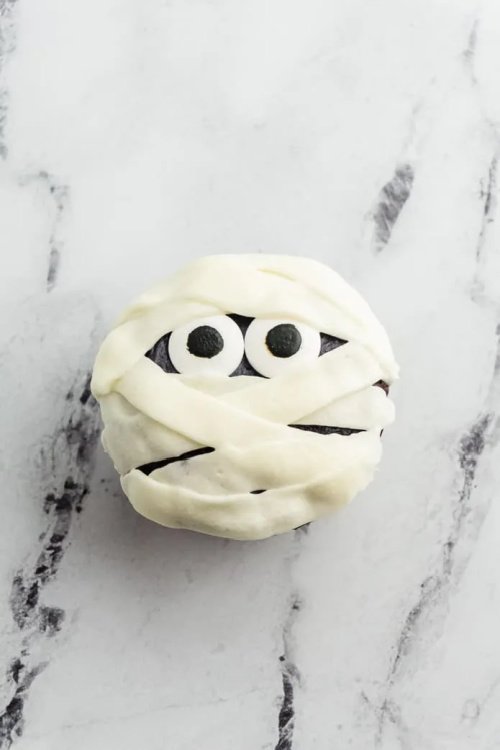 Easy Mummy Halloween Cupcakes
A very simple and super cute way to decorate Mummy cupcakes for Halloween. These Halloween Mummy cupcakes begin as a chocolate cupcake then the white icing is piped on. Such an easy way to decorate cupcakes for Halloween.
10 Marvelous Halloween Mummy Craft Ideas
DIY Halloween Mummy Front Door
This smiling Halloween mummy is easy enough to create at the last minute. You likely have everything you need already on hand. I think this particular Mummy door from Thrifty Decor Chick is more adorable than scary.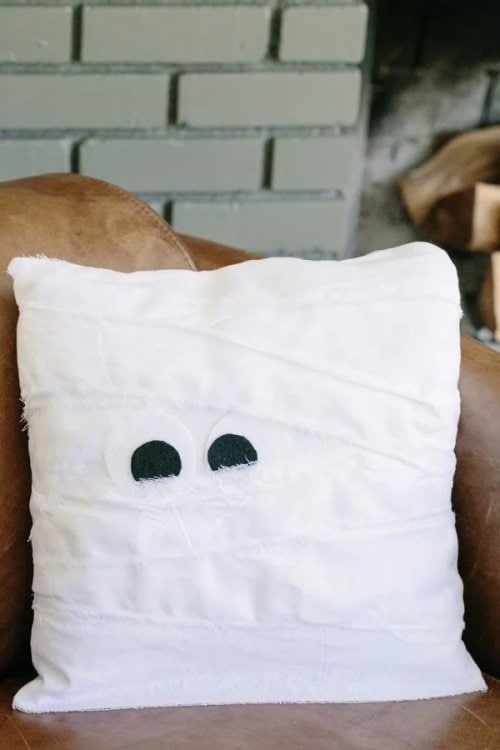 No Sew Mummy Pillow
This no sew mummy pillow from Sugar and Charm is just the right amount of Halloween spooky for the livingroom, or a little ones bedroom. Its surprisingly easy to make.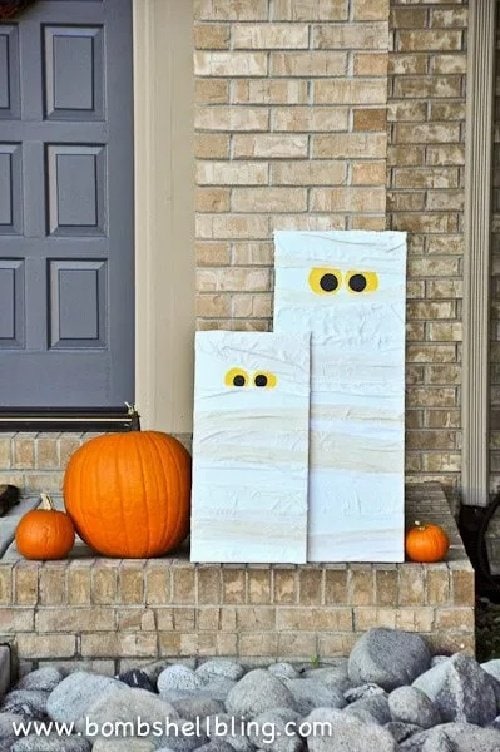 Fun Front Porch Mummies
Decorating the porch for little trick or treaters is a great way to get involved in Halloween. These simple front porch mummies from Bomb Shell Bling are cute and so one of a kind fun.
Creepy Cute Dollar Tree Mummy Craft
Creepy cutd is the perfect way to describe this Dollar Tree Mummy craft from Manda Panda Projects. The little bow on the front is adorable don't you think?
Dollar Tree Mummy Wreath
Halloween and Dollar Tree go so well together for simple crafts like this Mummy Wreath. Michelle's Party Planet shows us how to make our own.
Easy Mummy Candle Craft
Make these mummy candle holders from My turn for Us for an easy Halloween mummy craft.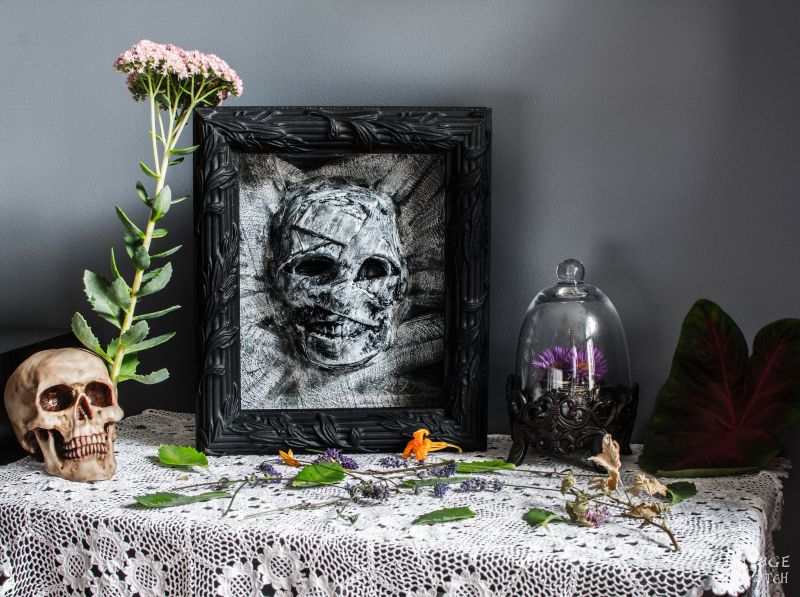 Dollar Store Halloween Mummy Decor
This Halloween Mummy doesn't look likes it from the dollar store. The Navage Patch shares a great tutorial on how to make one.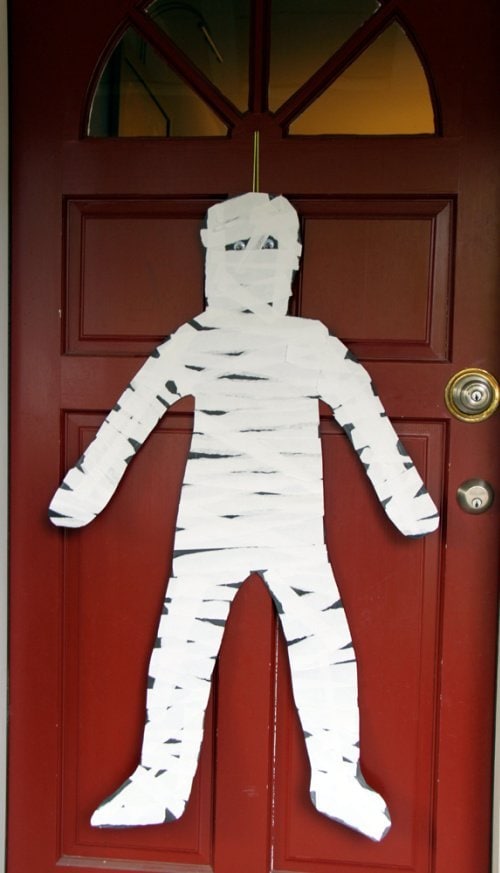 Kids Craft Life Size Mummy Door Decoration
Carla from Small and Friendly makes this Life Size Mummy Decoration with her son. I love how she hung it on her front door.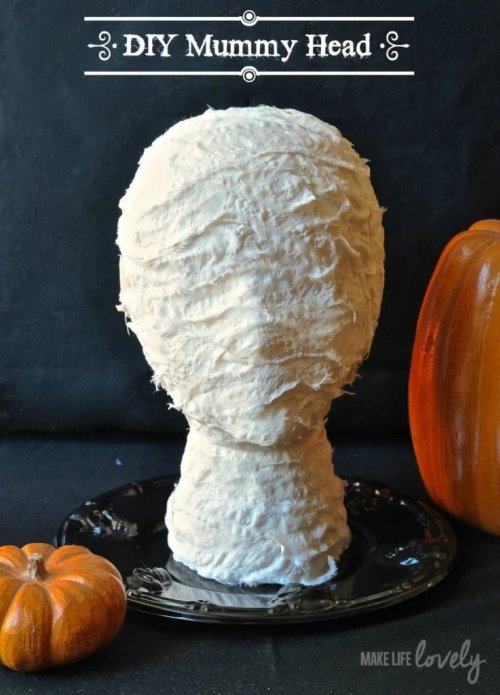 DIY Mummy Head
This DIY Mummy head for Halloween is beyond creepy. Imagine having one sitting on your foyer table. Make Life Lovely shows how to make one ourselves.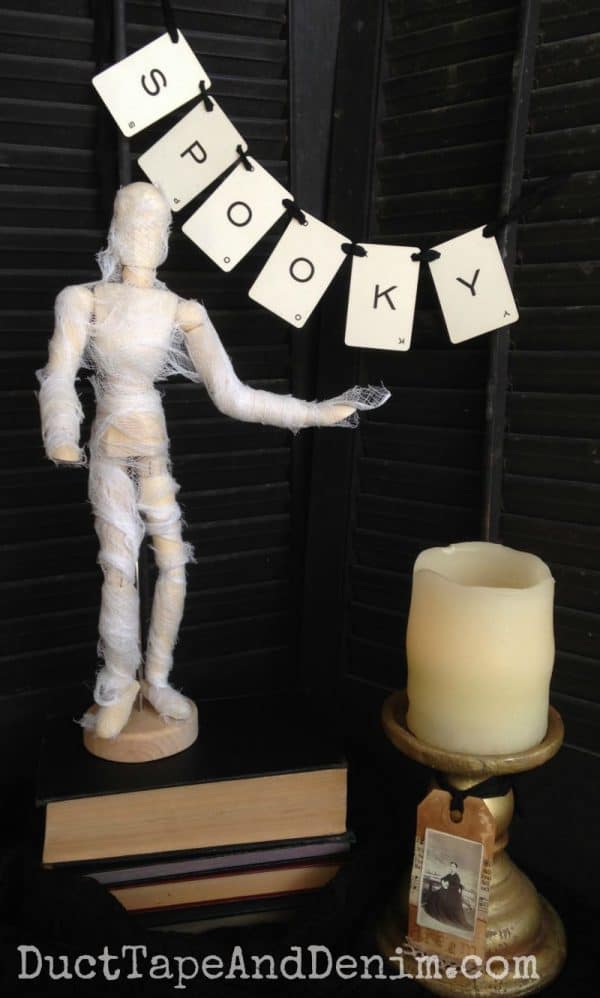 Halloween Mummy Model
This miniature Halloween Mummy from Duct Tape and Denim is just brilliant. I have seen so many of these little artist models for really great prices and never would have though of this. What a fab idea.
Want to try and make a mummy themed costume, recipe or decoration? Pin this post to have it when you want it.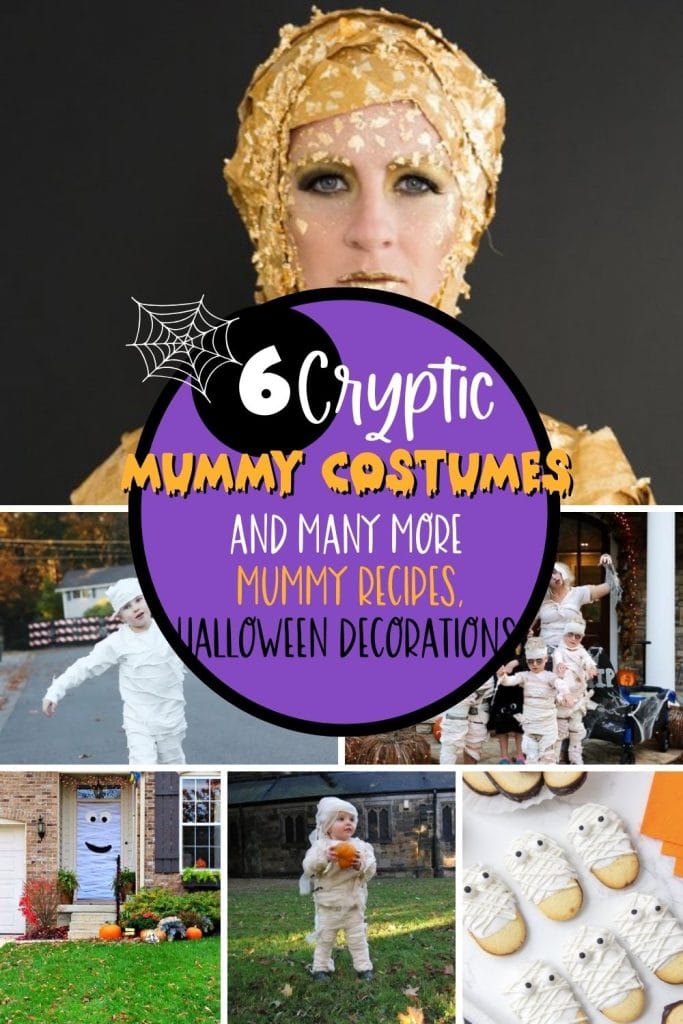 Other Classic Halloween Character Collections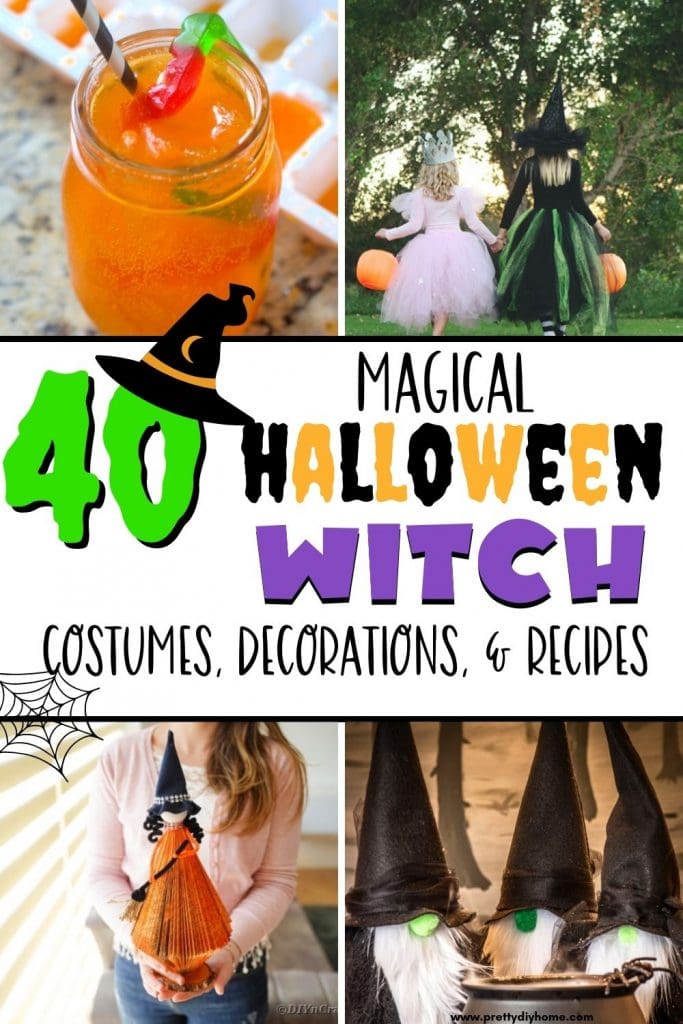 45 Halloween Witch Ideas
The Halloween witch theme is one of my personal favorites. Every year I think about doing a witch theme and then have to remember the kids saw it last year. This Halloween Witch Ideas post shows you why a witch theme can be so wickedly fun.
Spooky Ghosts Ideas for Halloween
It wouldn't be a collection of various classic Halloween characters without ghosts. There are so many spooky and not so spooky ghosts for Halloween. This spooky Halloween ghosts post has 33 different ideas for costumes, diy projects and yummy ghostly treats.