Staircase Makeover DIY or Contractor
This post about a new staircase makeover is bittersweet. I really loved this house and these railings, and saved for two years to get them. Then decided it was best to leave this loved home for a smaller town, less debt and much bigger yard. Its a year since I first started writing this post, and I still miss these amazing stairs. Oh well life goes on. Here is what we learned when getting a staircase makeover, and what parts we did ourselves.
Deciding to DIY a Staircase Makeover or get a Contractor?
Whenever doing a renovation to our home I always stop and think about the resale value, especially with a large remodel. Starting with whether or not to DIY it or not. There are all sorts of diyer projects we can do that will improve our home values, like fixing the trim, putting in a new front door, paint etc., but doing a craftsmen grade staircase? Not only is this skill set very precise turns out we couldn't get anything near what I wanted through the hardware stores. Our wood is solid maple, the handrails are 4 inches, and the posts 6 inches, and the spindles are gun metal.
How to make it more affordable? The lower cost is why I DIY so much, if I could hire someone to do the work I would love to. We decided we would try and save on the cost with the demolition, and started saving.
Over the next year I fixed up my table and chairs and coffee tables to keep them for a few more years, and then invested in having the staircase installed by craftsmen who specialize in doing staircases. Save where you can, so you have the coin to invest where you need to. You have to wait longer to get something new, but when its done we have to had no credit debt to pay off.
Getting an Estimate
Whenever getting an estimate for contractors make sure to read the online reviews. Narrow it down to five contractors and ask for bids.
Before asking for estimates make sure to have a general idea of what you want. Wood? Metal? High end or low cost? Head to Pinterest for a ball park idea and then allow the contractor to help you make the final decisions.
My general wants were.
Maybe white, definitely wood bannisters with metal posts, and if at all within the budget large craftsmen style posts. As I am 60 I asked for a modern style well aware that I may not know exactly what a modern wood bannister should look like. We were not particular on the time frame, the sooner the better, but it wasn't a deal breaker for us.
When getting the estimates I asked for a bid based on medium to high end materials. (and decided we would add $1000 for custom work to our own personal budget, and not tell the contractor).
The first contractor I spoke about wood finish, large posts, and metal spindles. I specifically asked for an estimate that used average to high end materials, especially large posts, and metal spindles so we had an idea of cost to make the choice with. The first contractor send the lowest estimate, and all the materials were the cheapest available. I knew immediately this was not our contractor as he wasn't communicating with me.
The second contractor asked for pictures of our home, then sent us pictures of examples of other jobs he had done, asked us to pick one similar to what we wanted to give him an idea for estimating purposes. We were able to pick one and by the next day we had an estimate.
The third estimate came from a highly reviewed contractor and from the website for whatever judgmental reason he was my favorite. He was very difficult to get ahold of, he responded a day later for every phone call, and did not call back when he said he would. I got a feeling that if he was too rushed to estimate, he may be too rushed to deal with all our design questions.
The fourth estimate was too slow arriving. We waited a week and then it didn't include the staining, we had to find a stainer. Or stain it ourselves, over carpet! We chose the second contractor.
Staircase Design Choices
Our contractor came to our home, he had a portfolio of pictures and examples, we showed him our existing cabinets and asked if he could match them. He guided us through various examples, and as my very fancy end posts were custom we agreed $1000 for the posts as part of the estimate and if it was too much I would make a second choice later on. Thankfully I didn't have to. My also talked to him about a modern feel, even with the craftsmen posts and the stained wood.
Newell posts, the bigger and fancier the more they cost. The type of wood you choose is very important, for durability, and looks. I also wanted the largest diameter posts available, it was a personal choice.
Handrails also come in different materials. wood or metal, sizes, styles and costs. Our contractor helped me decide which ones looked best with my must have posts. He gave me two choices, being Leanna I fell in love and we ended up with the most expensive once.
Spindles probably have the most variety, wood or metal, plain, or embellished in various colours. Wood is less expensive that metal. and hubs was surprised I wanted metal. The embellished ones cost more, so we included some plain ones, it saved cost, and I thought it made the wood the focal point while making it more modern.
Staining and Finishing the Staircase
Here is the most important thing I learnt through the whole estimate process. Make sure whoever installs your stairway is also responsible for staining and final finishing. Lots of building contractors refuse to also stain as its a risk for them. Imagine spending $5K getting a stairway bannister installed, then having a bad staining job. You end up with an ugly bannister, and the builder has already been signed off. What a nightmare that would be.
Getting Started on the Staircase Makeover
We gave our contractor 50% upfront to pay for the supplies. He also came with some supply examples and once again checked our design choices. I decided on different spindles and it took four days for them to come in. Once the supplies were all in the contractor called and booked a start day, and we got very very busy.
Stair Railing Demolition
Don't get carried away and think you can save tonnes of money doing the "fun" demolition yourself. We actually did arrange to do our own demolition, but it was precise, and not like the TV shows tell you. Not at all. We also made arrangements for our contractor to come back and confirm everything was good before beginning work. You can cost yourself much more than the saving if your contractor has to come and fix your demolition. He said he would gladly give away the demolition part, as he is busy and thats the worst portion of the work.
Its Really Really hard work, and took the two of us two 12 hour days, 100% effort to carefully dismantle our stairway piece by piece. We saved $1000 doing it this way, which paid for the fancy custom craftsmen posts.
If you can afford it, get them to do it. Bleck it was horrible, messy, dusty and never ending, but it did mean I could get the custom posts I dreamed of.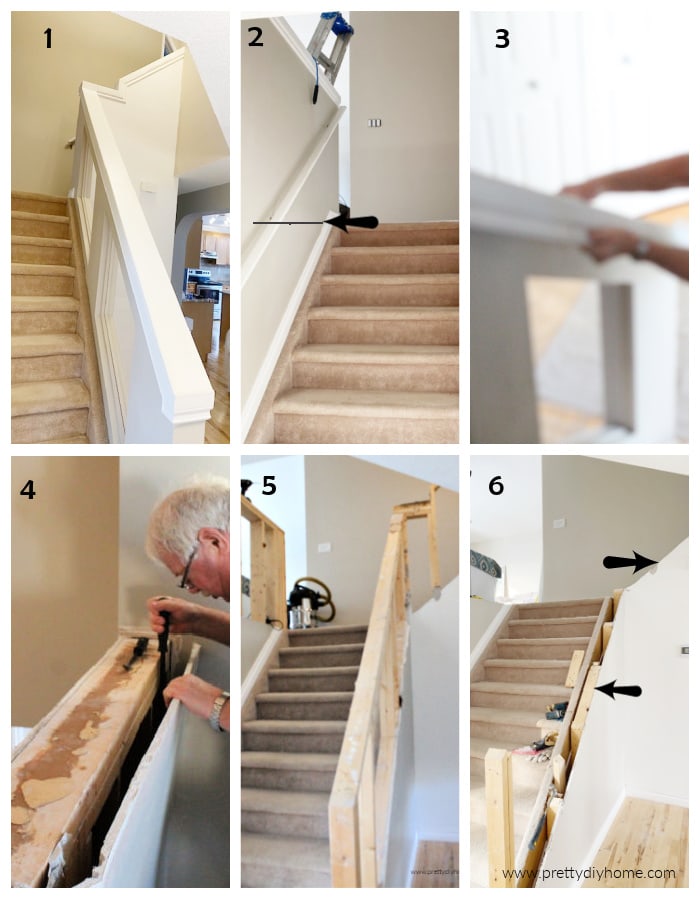 1. The before picture, shows the peek a boo holes in the original stairway to give the stairs some flair and it did give more light to the room than a solid wall would have.
2. The arrow points out the line that needs to be demolished straight across the gyproc.
3. Hubs is carefully removing the original bannisters getting our first peak inside the wall construction.
4. Cutting and then removing the floor trim and gyproc. The bottom of this divider needed to be cut to match the top of the stairs. As did the attachment to the walls as we needed to be precise it was all done by hand with a gyproc saw.
5. All the gyproc removed. Notice the top stair by the vacuum. It was made up of all kinds of 2 by 4 lengths and scraps, all nailed in each direction, both ways! There were six layers of 2 by 4's, it took me six hours to take that out with a pry bar and I removed 50 plus spikes lol. Do you hear me patting myself on the back?
6. The arrows point out where the two by fours still inside the lower walls were cut level and at the same angle as the stair trusses. They have to match the height of the wall stringer exactly, so they provide support and don't interfere with the new stairs. Once we got to this point the contractor come and check on our progress. After checking we went ahead and cut and removed the last tall 2 by 4s you see at the end.
Getting the Staircase Built
Johnny from J5 Millwork Rails and Stairs (not an affiliate) did our construction. As I said before he was fabulous about explaining the process, and we were thrilled with his work. The mess was greatly reduced once the contractors came as cleanliness was their job. We basically stayed out of his way and let him get to work.
It took three days to get the stairs done. With the cost of a the staircase we couldn't afford a motel, and had to be home so it was important we got alone so well with both the builder and the finisher. The process is very intrigueing and intricate, I loved watching but forced myself to keep the questions to a minimum. He did stay and visit and let me ask a zillion things once he was done each day. Its hard as I was very excited about it.
Give the Staircase Demolition Enough Time
Herman is still fixing plaster while Johnny worked as well. It took longer to dry than we thought, and Johnny had to accomodate our timing error.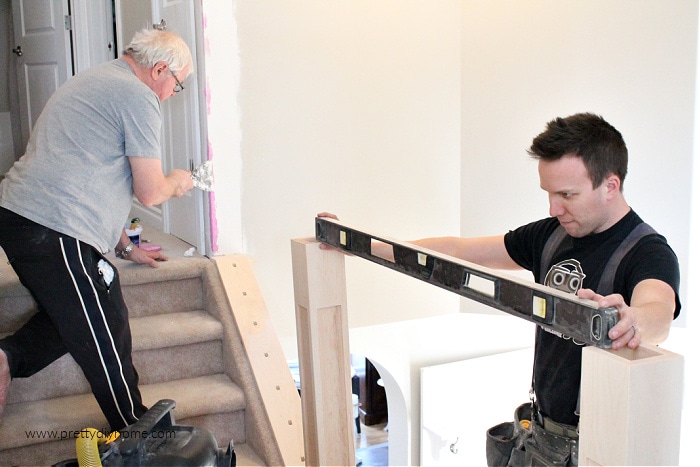 I didn't remove the bubble wrap because of my hands off policy, turned out they needed to stay on for the stainer. Here is the stair case at the end of the first long day. He worked so hard.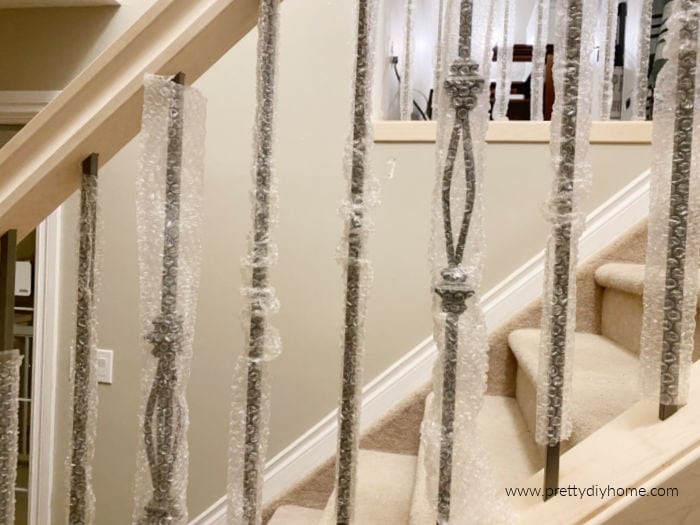 On the second day of construction, the builder finished the custom millwork on the posts, it took him the day and oh my it was worth every dime. He started with plain four inch posts and when he was done I have gorgeous craftsmen six inch posts and caps. You will see what I am talking about in the final pictures. He also sanded every little piece and cut.
Again I will remind you of the importance of having the builder and the stainer be the same company. At this stage our stairs bannisters and rails are built to perfection, but a bad stain would require a replacement. If something had went wrong with the staining, we'd still be on the hook for the perfectly awesome construction. With our contractor he chose the stainer and guaranteed the work as part of his cost, and took responsibility for the entire job. He carried the risk not us. For the same reason I don't recommend staining the stairs yourself either.
Staining the New Staircase
All the cupboards in this house are a light oak and I wanted the bannister and rails to match. As you can imagine that isn't a typical colour choice. But the stainer came in and mixed stains showing me test pieces until I was happy with the colour match.
The first day the stainer took all day to tape off our walls, carpets, floors, stair hardware, new rails and so forth.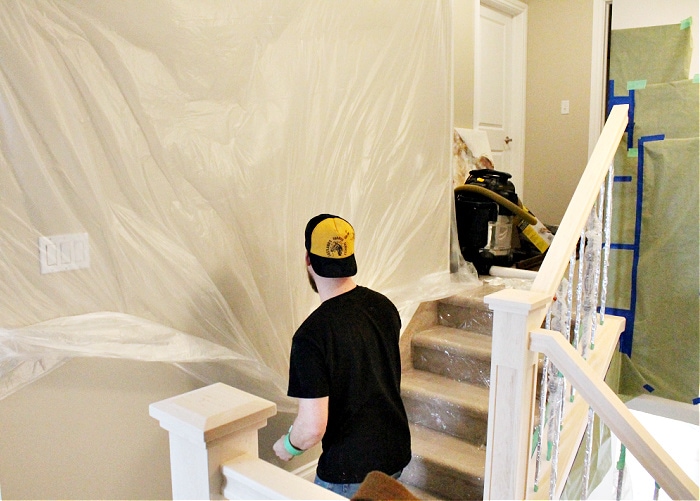 Like the builder we just let him do his work and stayed out of his way. There was literally plastic on every surface anywhere near the stairway.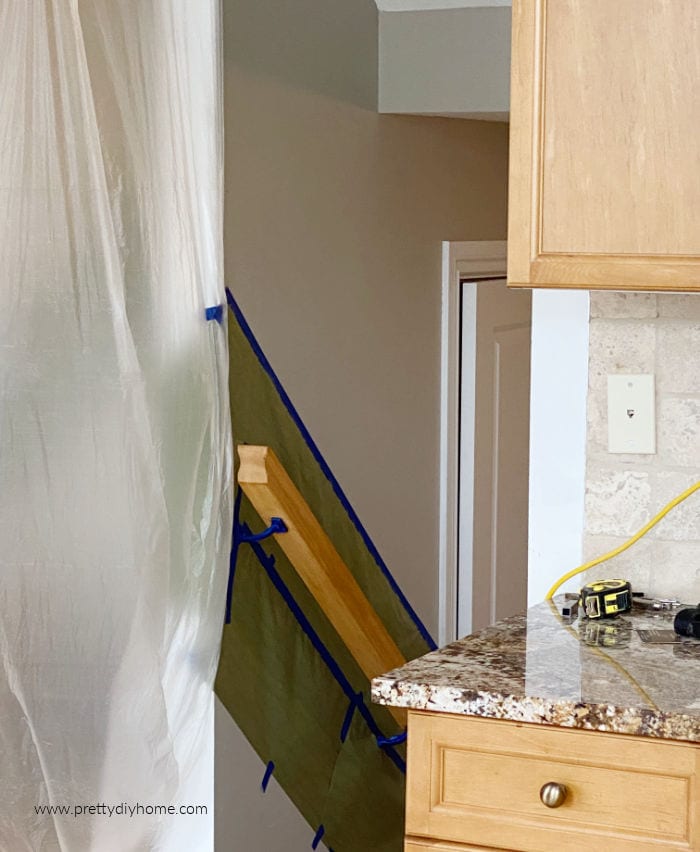 After he had everything and I do mean every thing taped and protected he left to return the next day.
The next morning he mixed the stain, double checked it again, and then sprayed it on. This part of the process went fast, he let it all dry, cleaned up all that taping, did some final touch ups with the tiniest brush and was done in about five hours.
The smell was not that strong, the new stains they use aren't harsh smelling.
The Staircase Makeover After
It took about a month from the time we decided to do the stairs until they were finished. The demolition was 2 very long days, I would suggest giving it three or four, to give the silly drywall enough time to dry. Construction took two complete days, he was there 8 hours one day and 12 the second day.
The staining took a day and a half. We left the stain two days before vacuuming and two weeks before we steam cleaned the carpets.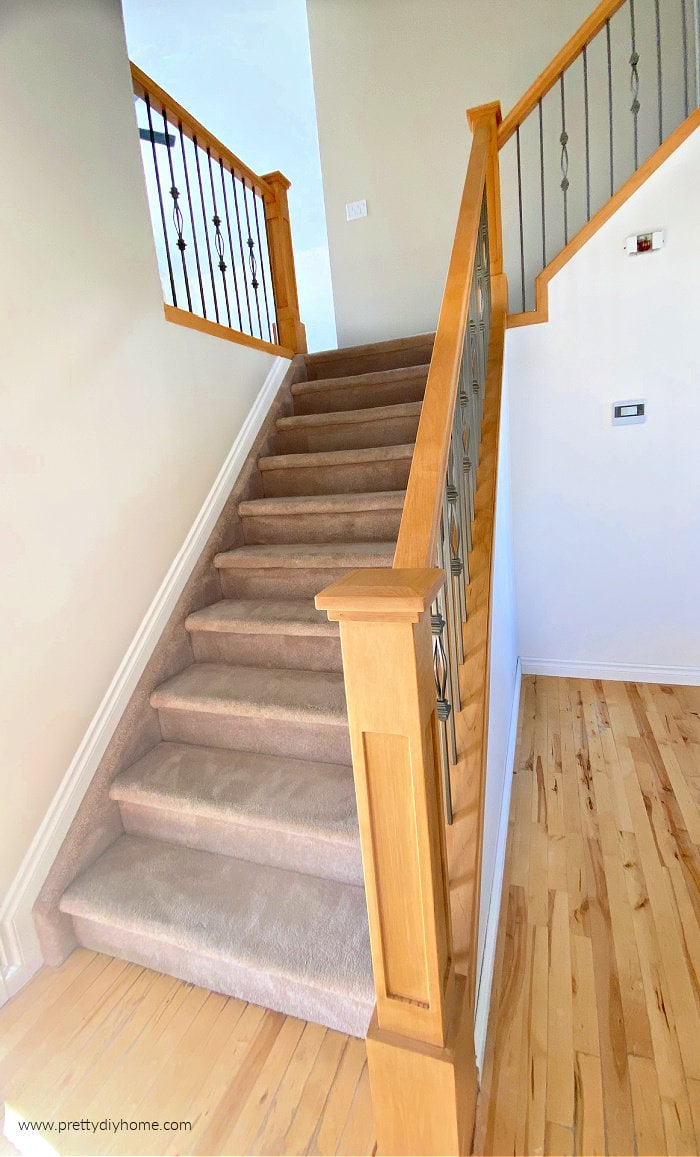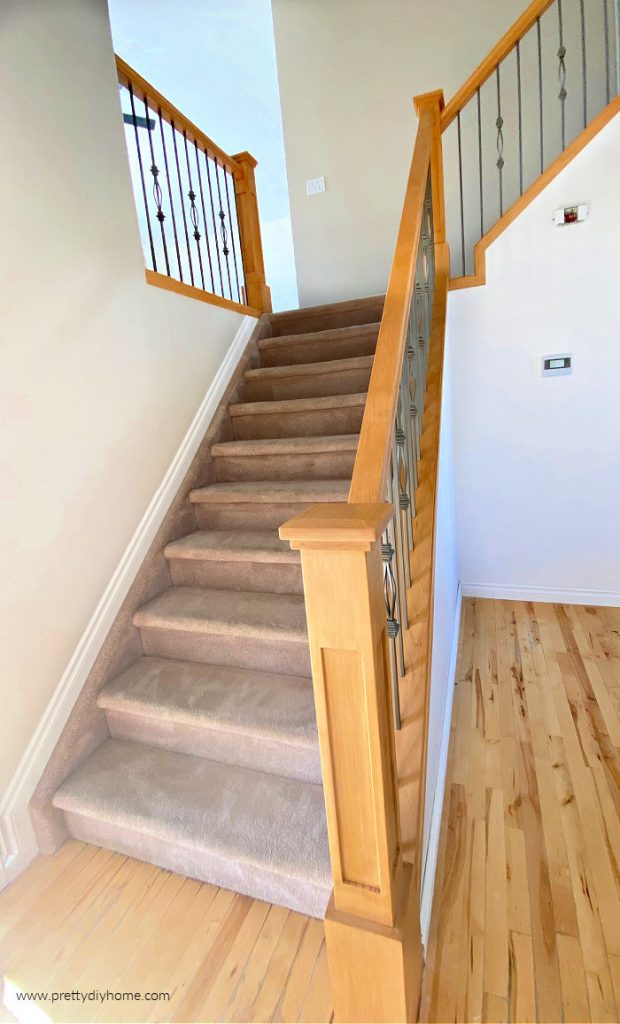 We were so happy with how the stairs opened up our front entrance, the sun from the upper family room shone through now. Light and airy is always an improvement I think.
Thinking about a new staircase? Pin this post for a guide.

Other Home Renovation Before and Afters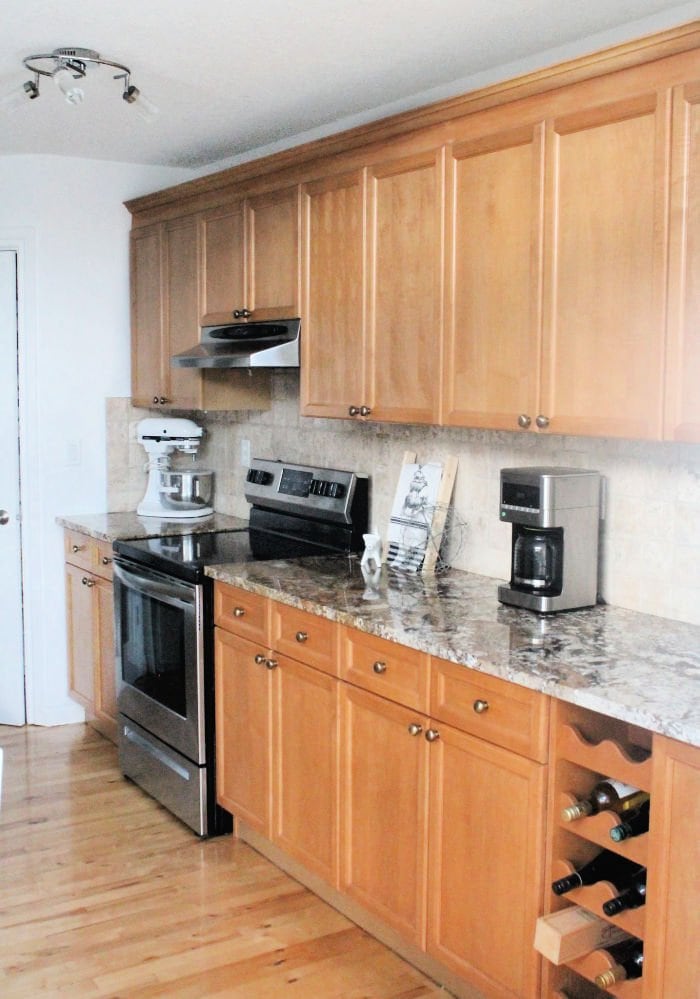 I sure do miss our old home, it truly was a labour of love. We will be sharing some new updates we have been working on to make our existing house a home as well.
Hugs and thanks for reading. Leanna