Tiered Tray Ideas for Spring Decor
Tiered Trays for Spring
Tiered trays are amazing, I have a three or four, okay five and I enjoy using every one of them. Whether you purchase one or make your own, if you haven't gotten one yet I highly recommend investing in one. In today's post, I am sharing several DIY tutorials for Spring themed tiered trays. Spring trays are so fun to put together, a perfect way to add a pop of interest, and my favorite use is to organize. In an average size home like mine, space is at a premium so I tend to have dual purpose trays, pretty and extra storage.
Tiered trays are perfect for any seasonal decor, but as we are in the worst part of Winter, I am hunkered indoors and planning for Spring. Its the perfect time to start sorting through cabinets and storage areas for pieces you already have to add some colour to your home.
Easter Egg Hunt Tiered Tray
This is so easy to complete, I just grabbed some moss, teacups, little decor items and made an Easter egg hunt out of it.
s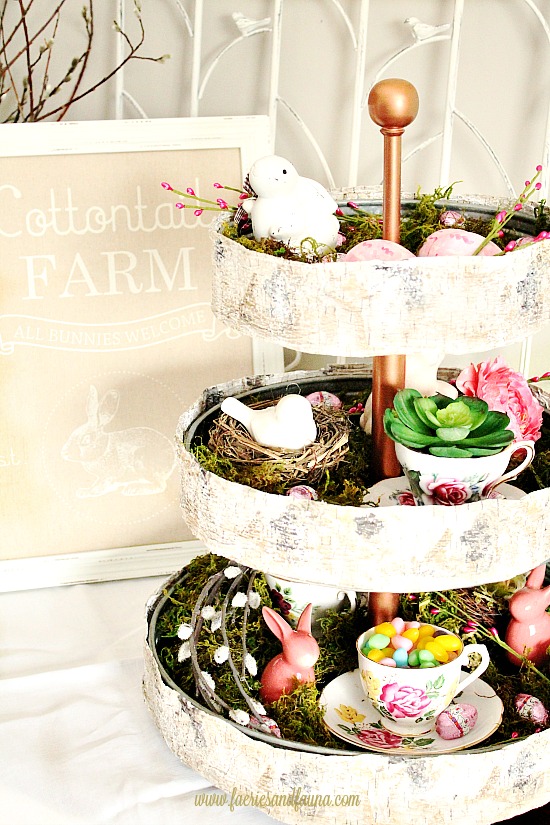 Easter Egg Hunt Tray by Pretty DIY Home
Spring Decor Tray
You can use tiered trays to display your crafts, small chalkboard signs, or tiny printables in frames. This tray features some really pretty and fun cabbages made from coffee filters.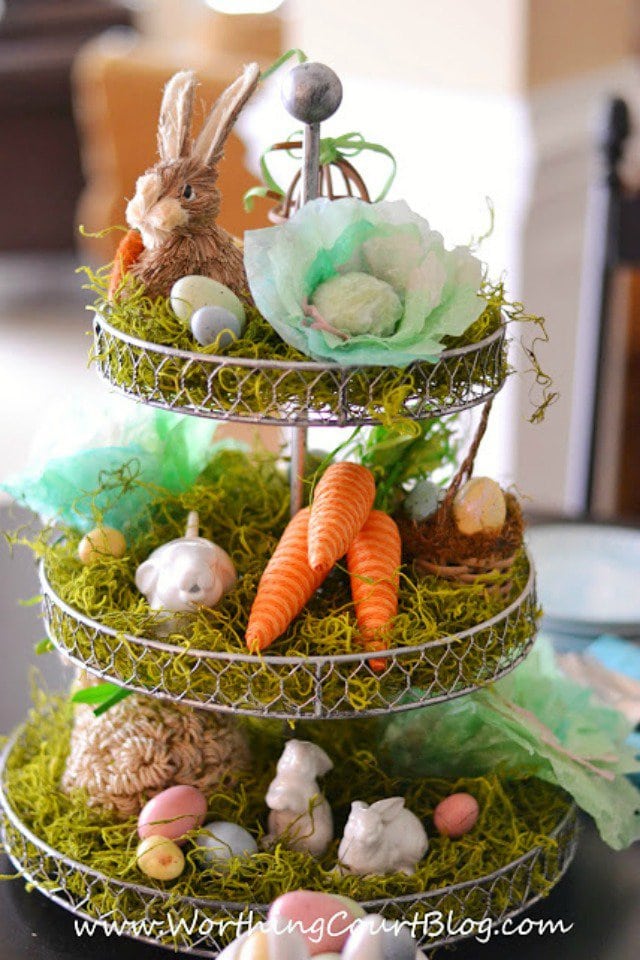 Spring Tray with Coffee Filter Cabbages from Worthington Court
Trays for a Pop of Colour
How about adding a specific trendy pop of colour to your Spring home decor? This is a beautiful example and you could DIY many of these items with some dollar store craft supplies and pretty paint.
I love the way she put this tray together with the soft turquoise theme and what's more Springtime then birdhouses.
h
Pretty Turquoise Themed Tray from Delightfully Noted Blog
Tiered Trays for Organizing
If your wanting to add a pop of Spring colour to your decor without it being purely decorative, here is a tray I recently created for my kitchen. My teapot was getting used enough in this cold weather that I wanted it on the counter. The tray uses no more counter space than the tea set did on its own, and it prompts everyone to put it back where it belongs.
l
In the middle of writing this post, I was describing how you could create a simple cereal breakfast bar tray. Such a super easy way to set the table. I thought it was better to share a picture so I left my laptop and ten minutes later I had this tray put together.
To be perfect it would look nicer with turquoise mugs, but I think it looks pretty with what I had on hand and its a perfect example of how versatile these trays are.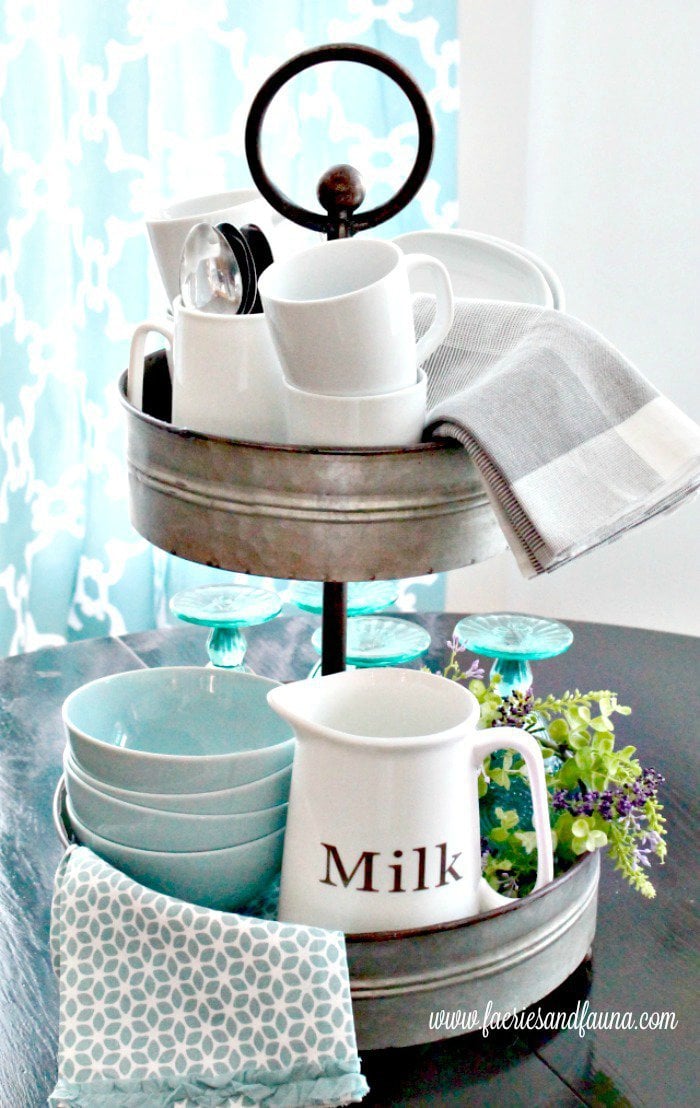 The tray has bowls, knives, plates, coffee mugs, pretty glasses, napkin and the milk pitcher. A box of cereal, a loaf of bread, and the toaster and your all set.
Here is another pretty way to leave your everyday kitchen necessities on the counter. Begin with salt and pepper shakers, mugs, a pretty bunny, then finish your tray with some Spring florals or linens.
c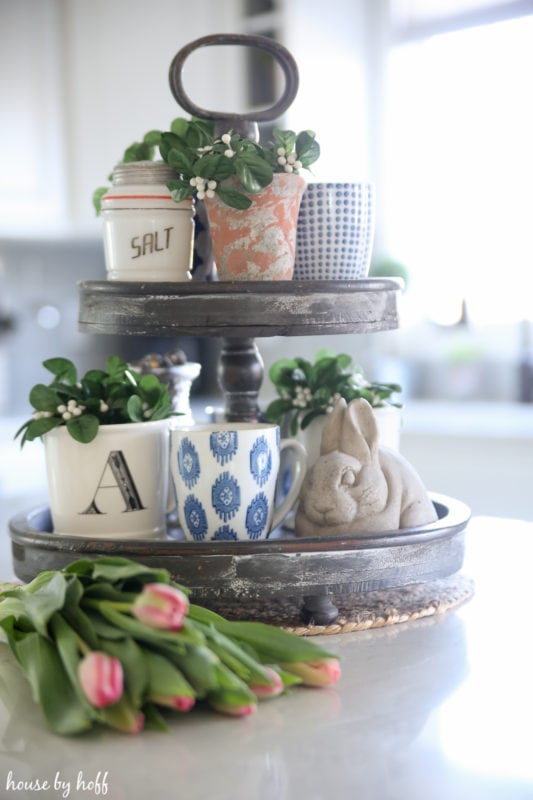 How to Style a Tiered Tray by House by Houff
I am currently putting together two different DIY tray makeovers for the bathroom. One tray is almost done except pretty labels and I need to find a bit that cuts glass to complete the second tray. If you haven't purchased a tiered tray yet, I really encourage you to take a look through Pinterest. There are so many DIY tutorials on how to make your own tiered trays.
I promise if you get one you will love it. Diamonds are still a girl's best friend, but wow these trays are wonderful.
>