We are Blessed DIY Wood Pumpkins
DIY Wood Pumpkins from Scrapwood
You often see this type of DIY wood pumpkins on Pinterest, but I have never made them and I had one half of a 4 by 4 in the scrap wood pile. The choices I thought of were wooden pumpkins, Frankenstein or ghosts and since Fall is just beginning these We are Blessed wood pumpkins seemed like the best choice.
a
Painted Wood Pumpkin Supplies
4 by 4 lumber
White paint & primer
Stick
Gold Sharpie pen
Gold spray paint (or other metallic paint)Glue gun & glue
Floral supplies
Cutting the Wood
The wood pumpkins are very simple to create. Starting with a 4 by 4 piece of lumber cut it into 10″, 8″, 5″ pieces to stagger them for a grouping. A chop saw works well, just be careful using it.
As the stick is so much shorter and way too dangerous to do on the chop saw, cut the sticks into three 4″ pieces using a small handsaw. Much safer that way.
Painting and Assembly
Paint with a primer and then two coats of white chalk paint.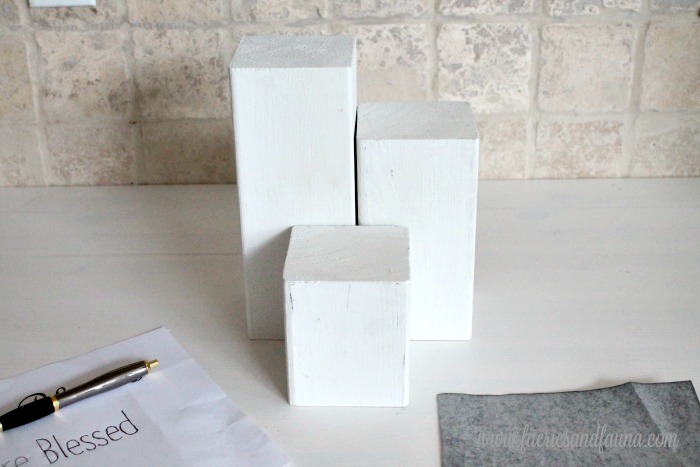 Print out the We are Blessed printable.
Draw a line along the bottom, and across the top of the letters. This will help with the placement of the word "are". Cut along the lines.
Place a piece of carbon paper on the painted pumpkin, for the two tallest pumpkins place the printable We and are, 1 1/2″ from the top. Trace the letters with a pen. Repeat for the second pumpkin and the word "are".
For the smallest pumpkin measure 3/4 " from the top and line up the word "blessing". Transfer the lettering using the carbon paper.
Using a gold Sharpie pen repaint the carbon letters with the paint. Let dry. There may be some extra carbon on your pumpkin from transferring, remove it using an eraser.
Paint the stems gold using spray paint or any metallic gold you have on hand. Let dry.
Glue the sticks to the top of each pumpkin to make stems.
Decorating your Wood Pumpkins
As the We are Blessed wording is the focus for these pumpkins I kept the floral arrangements to a minimum. Wrap each of the pumpkins with grey moss, then add some leaves to one side, and flowers on the other.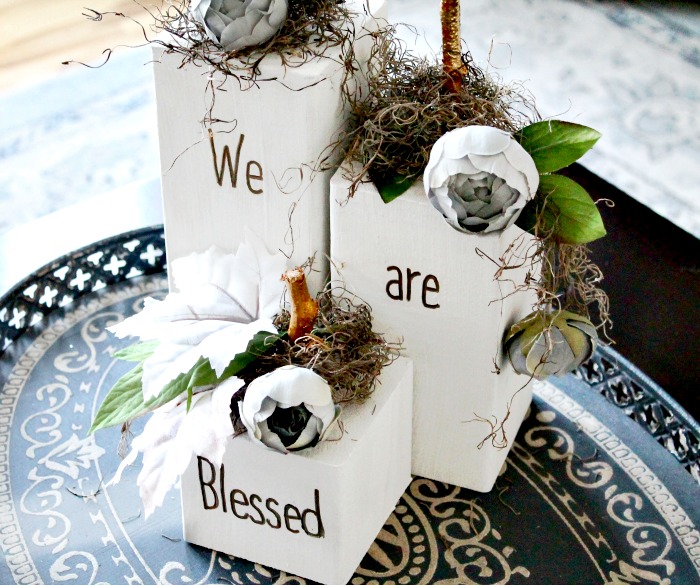 These are sitting on my family room coffee table with a pretty tray. I did not add anything else so that they are a focal point. The moss was purchased this year as was the one sprig of flowers in grey. The arrangement cost me $10 to make, as I already had the wood. and paint. Let me know if you have any questions. I always love hearing from you.
Related Posts
Its no secret that I not only love neutral Fall decor, I really love working with scrap wood. Scrap wood projects are almost free to make AND because of that I find the, stress free. I actually "play" when I am doing scrap wood projects, allowing my creativity to take over. If I don't paint something pretty, it cost me pennies, worst case scenario I toss it. But I often come up with something I truly love.
Like these Pallet Wood Pumpkins for a Fall Front Porch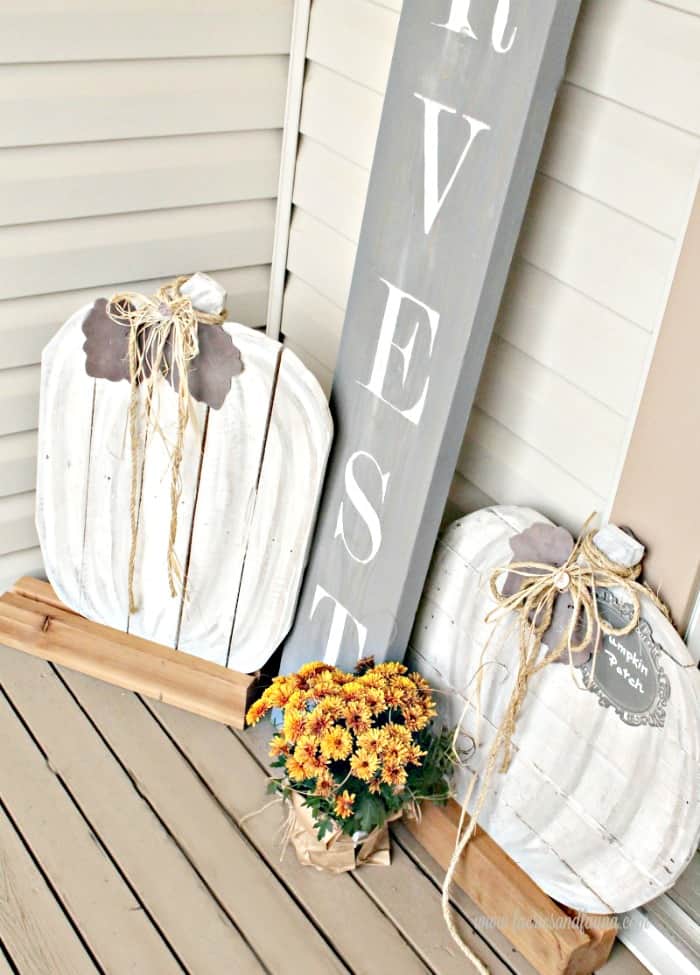 Or this Movable Fall Table Lazy Susan Centerpiece for my always in use kitchen table.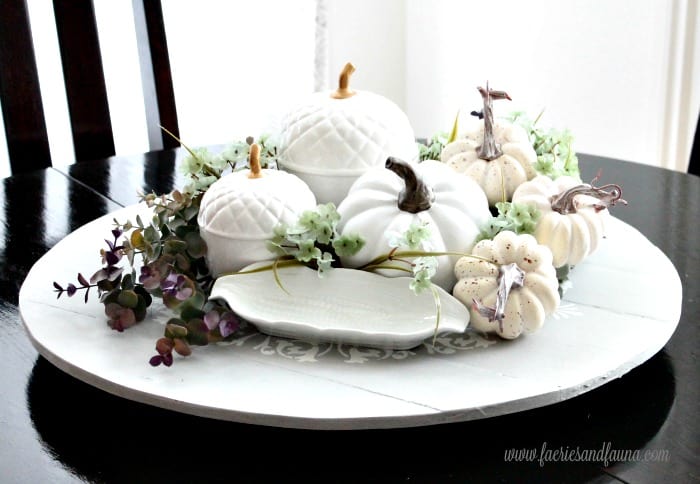 If your really short on scrap wood or time, how about trying making some DIY Shelf Sitter Block Signs for a Coffee Station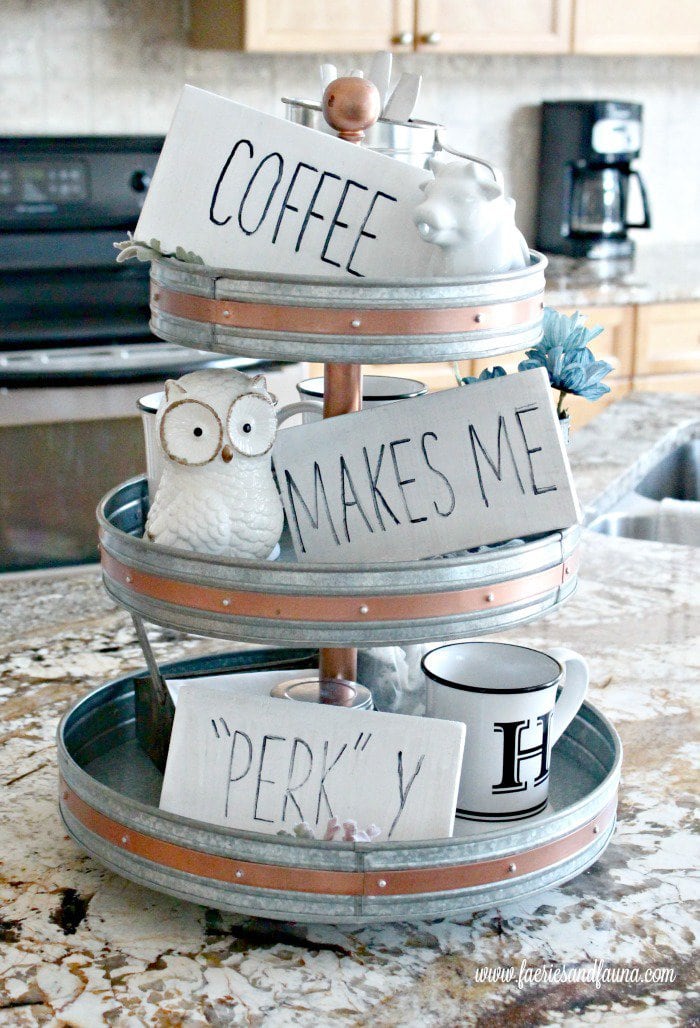 Another year I made these easily Updatable Fall or Halloween Signs, using buffalo check fabric and then adding free printable wording over top. The post also shows the Halloween versions.