12 Days of Christmas – Coffee and Cocoa Bar
Day Six – Cocoa Bar
This should have been a fun and easy post to put together for the 12 Days Hop, but for whatever reason, I had the hardest time putting it together.  I think my biggest challenge was trying to make it fit in with the other white decor without purchasing all new items for it.  In the end, my cocoa bar isn't as white as I wished,  but its fun and I like that you can serve yourself coffee on the left end or hot chocolate on the right.
Coffee and Cocoa Bar
Hot Chocolate Bars are so popular right now.  I like them because they are so versatile and you can make them as elaborate or simple as you like.  Our family drinks by far more coffee than hot chocolate, so I added coffee to the mix.  You could add cider or tea to the bar as well.
The Cocoa or Coffee Bar is divided into three sections, coffee, extras, and hot chocolate.
For the coffee section in addition to the coffee, I suggest some liqueurs or flavoured coffee syrups and your nicest mugs.
The carafe is new and handy as you can store and serve coffee while making a second pot.   I bought a matching carafe for the hot milk.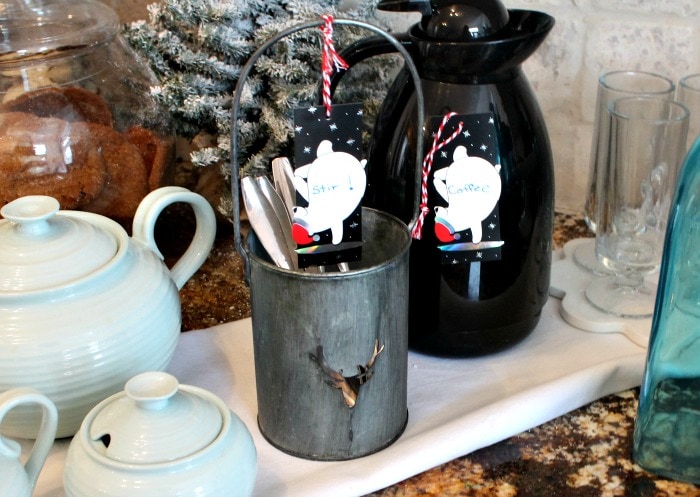 The decorations are really simple.  I added some white folded towels to group the display,  some fun polar bear labels for flare and fun, and little trees that help hide the ugly electrical plugins on the cupboard backsplash.
The Hot Chocolate Section
The hot chocolate section has a carafe of hot milk, three flavours of hot chocolate including regular, spoons and mugs.   Alternatively, you could make a pot of hot chocolate and serve it in the carafe.
g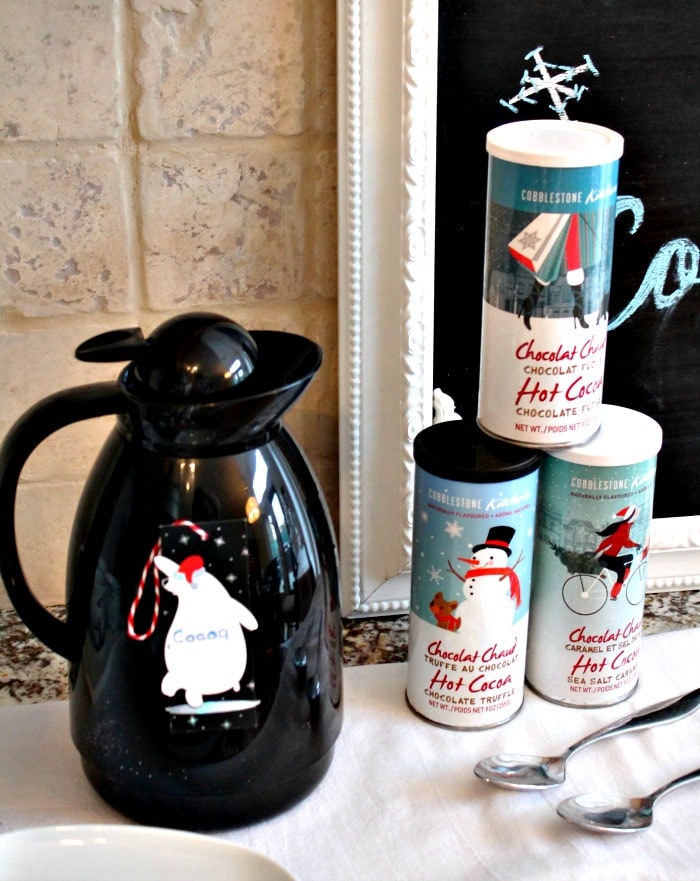 d
As the cocoa bar is on the cupboard counters I used a blackboard instead of a banner to decorate it.  It snuggles in nicely on the very end of the cupboard where it doesn't interfere with the cupboard doors if I happen to need something.
l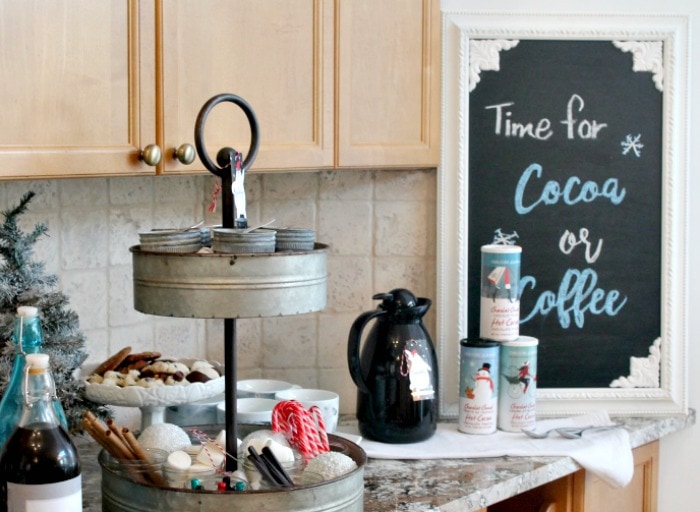 So that chocolate lovers and coffee lovers can use the bar at the same time.  I place the extras in the middle of the bar and the beverages on opposite ends.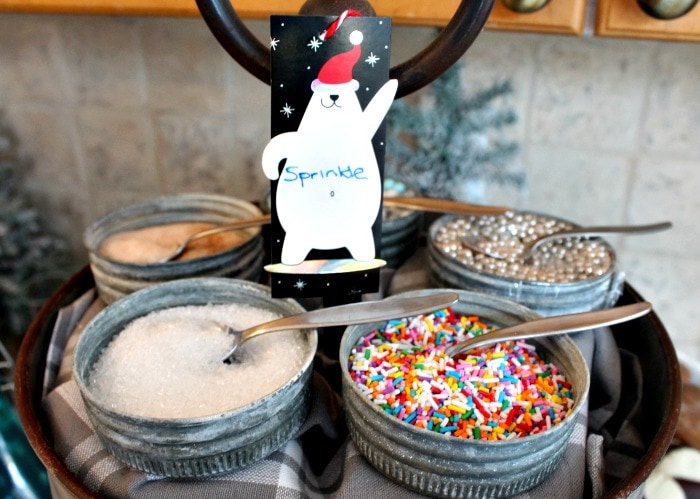 I used the lids from several antique mason jars that I have and lined them with plastic wrap before filling them with various sprinkles including cinnamon sugar.   The antique rings matched the tone of the galvanized tiered tray.   Otherwise, you could offer chocolate chips, butterscotch chips, toffee chips, peanut butter chips,  as toppings.
h

On the bottom tray, I added things to stir or dunk in your drink.  Chocolate covered liqueur bottles, marshmallows, solid chocolate spoons, chocolate straw cookies, and peppermint flavoured candy canes.   Glittery snowballs were tucked in between to fill in the tray.
Other suggestions are chocolate or caramel syrups,  with the flavoured hot chocolate and liqueur choices I left them out.
Finally, I added an assortment of cookies, including shortbread and gingersnap cookies.  Biscotti would also be wonderful with the cocoa bar.
k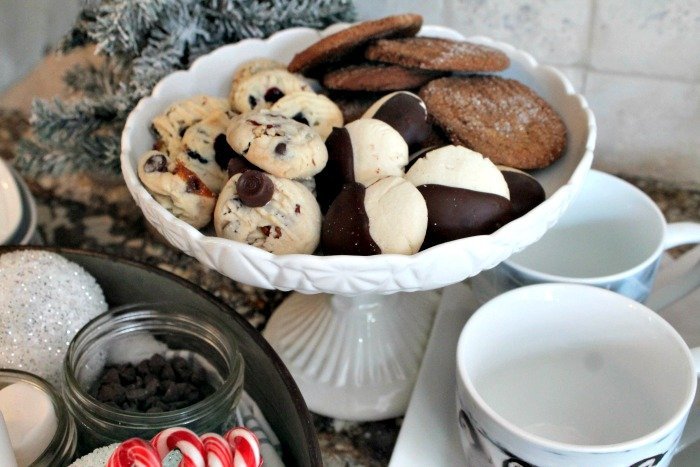 Frozen Whipped Cream
I made frozen whipped cream toppings for the hot cocoa bar and forgot them in the freezer.   To make them whip 1 cup of whipped cream with 1/2 cup icing sugar and a bit of vanilla.  Pipe on to parchment paper, in small and large sizes and freeze.
You can't tell by the picture but I topped half of them with coarse sugar.  To serve,  place the whipping cream into a small bowl.  Place the bowl in a bowl of ice.  Let people take the frozen whipping cream and place on their cocoa before adding sprinkles etc.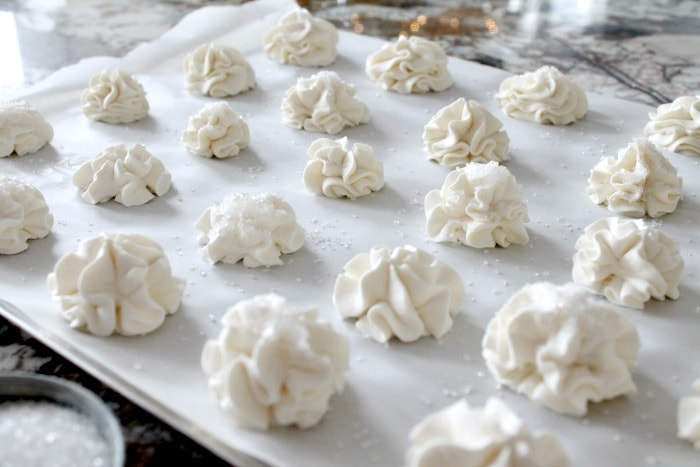 f
Check out the other Hot Chocolate Bars so much inspiration and different designs.   I can see why hot chocolate bars are so trendy.  Enjoy!