A Pantry Makeover with an Updated Shelving Idea
DIY Baking Pantry Makeover with Updated Shelving
Welcome to this month's Farmhouse Hens collaboration on shelves.  Once a month I collaborate with some of my favorite bloggers to post on various DIY themed projects, make sure to check out the other Farmhouse Hen's posts at the end of my pantry shelves posting.
I have been actively decluttering and rearranging our various storage areas.  Our home has all kinds of storage, and unfortunately, we use all of it.  We keep way too much stuff, it's all sorted and put away in a closet.  This particular closet was where I stored all our small rarely used appliances so pretty much all our forgotten stuff.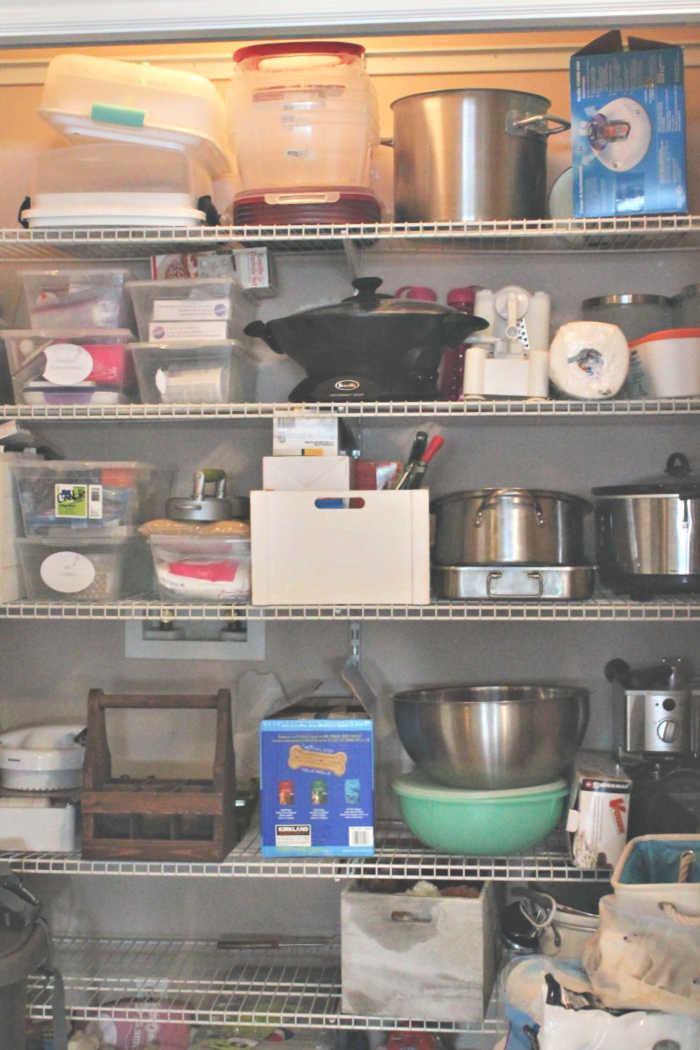 We added a small laundry to the basement and then converted this laundry closet to a large pantry just off our kitchen.  We left the laundry fixtures in the back of the closet so it can be converted back if new owners ever wanted to use it for laundry.  The closet had all kinds of dents and holes that we patched before adding the wire shelving.  It was then time to move in and we "temporarily" placed the large pantry items into the closet.
Updating our Pantry
The first step is to get rid of everything that I don't use, or can live without.  Then I took the existing shelf frame apart.  The shelves were cleaned in the tub with Dawn, vinegar and a scrub brush.
Then pantry was washed, holes filled and sanded, primed and then finally painted with "Bright White" paint from Benjamin Moore.  With the pantry finally cleaned it was time to start working on the shelves.
Updating Wire Shelves
All the shelving in our newer home is white wire shelving, and I prefer it.   Wire shelving doesn't gather dust like wood shelving does, and it's much lighter and easier for me to adjust by myself.  I did want to pretty the shelving up a bit, I considered painting the shelves in a bright yellow but then chose to fancy them up with some moulding.
Supplies for Updating Wire Shelving
Moulding for the front of your shelves.
Small piping brackets, 4 brackets for each shelf.
2 half-inch screws for each piping bracket. The shortest screws you can find.
Wire Shelf Update Tutorial
If you had to remove your shelving frame like I did, place it back into your pantry.
Measure the height of the wire front on your wire shelves, then purchase plain flat moulding at least half an inch wider and long enough to cover the length of your existing shelving.
Measure the length of your existing wire shelves and cut your moulding to match so that the entire front of the wire is covered.
Line up the ends of your moulding to the ends of your wire shelving.
Making sure you use very small screws, attach one end of the brackets to the back side of the molding.   Being very careful not to screw through the front of the moulding.
For our six-foot shelves, I put on four brackets, one towards each end and two on each side of the center.  (Don't get too hung up on this, just make sure you have enough brackets and that the pipe bracket placement doesn't conflict with where the frame brackets are.)  For example, I avoided placing my piping brackets in the middle or the ends of my shelves.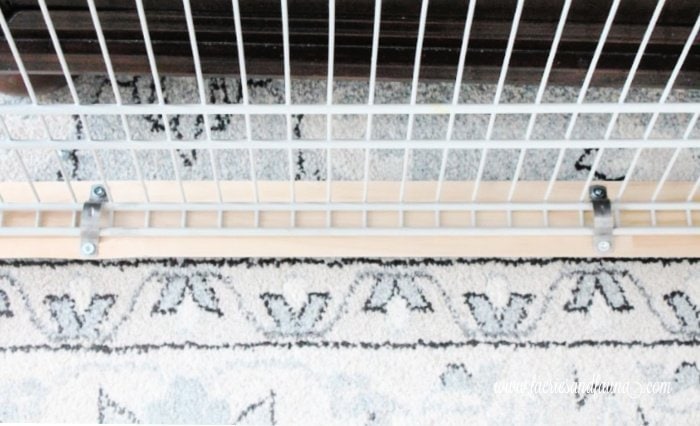 Place the shelf bracket arms on to the wire shelving so that they line up with the shelving brackets on the wall.
Clip the moulding onto the front of the brackets.
Make sure you use very small screws, mine are 1/2 inch.  Screw in the second screw on each piping bracket, again being very careful not to screw through the front of the molding.
Depending on the type of wire shelving you have, you may need to stretch the piping brackets.  The piping brackets are a soft metal so they were easy to flatten and adjust.  Just press down on the top until it fits over the wiring.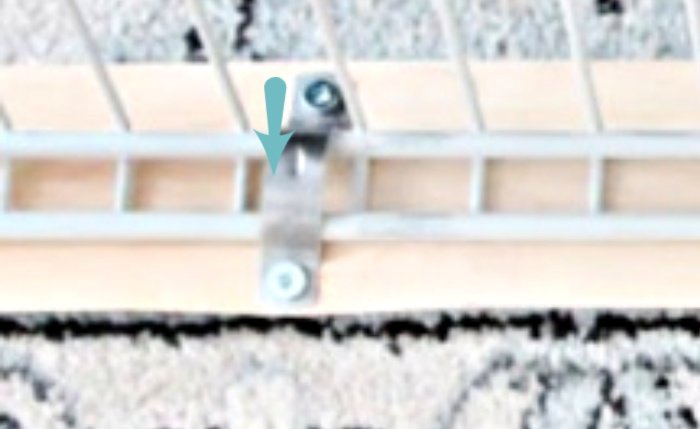 If your screw happens to pop through the front of the moulding, back it off a little bit so in no longer protrudes and fill in the hole with a little filler.  When dry give it a light sanding.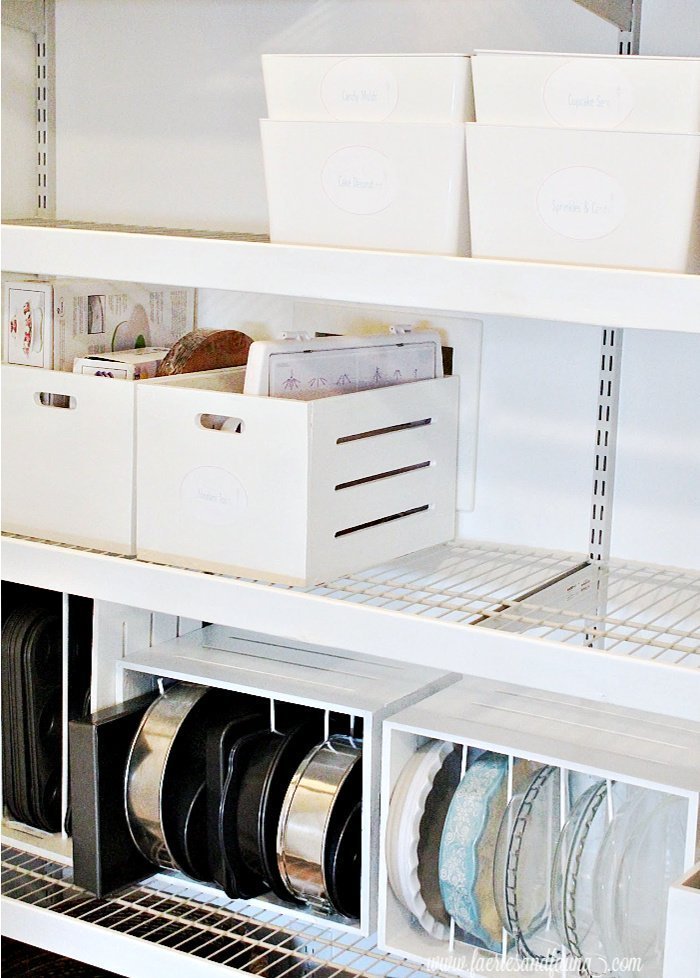 Once you have the moulding attached, hang your shelves.  Be patient, hanging wire shelving by yourself is a lesson in patience.  Take deep breaths and just fiddle with the shelf brackets until the shelves are hung.
Paint the front of the moulding.
This storage closet is being converted into a large baking pantry.  I gathered my various baking utensils, and tools, like baking pans, large bread bowls, cupcake carriers, cookie cutters and so forth and placed all of these back onto the shelves.  I will share how I organized the shelves later this week.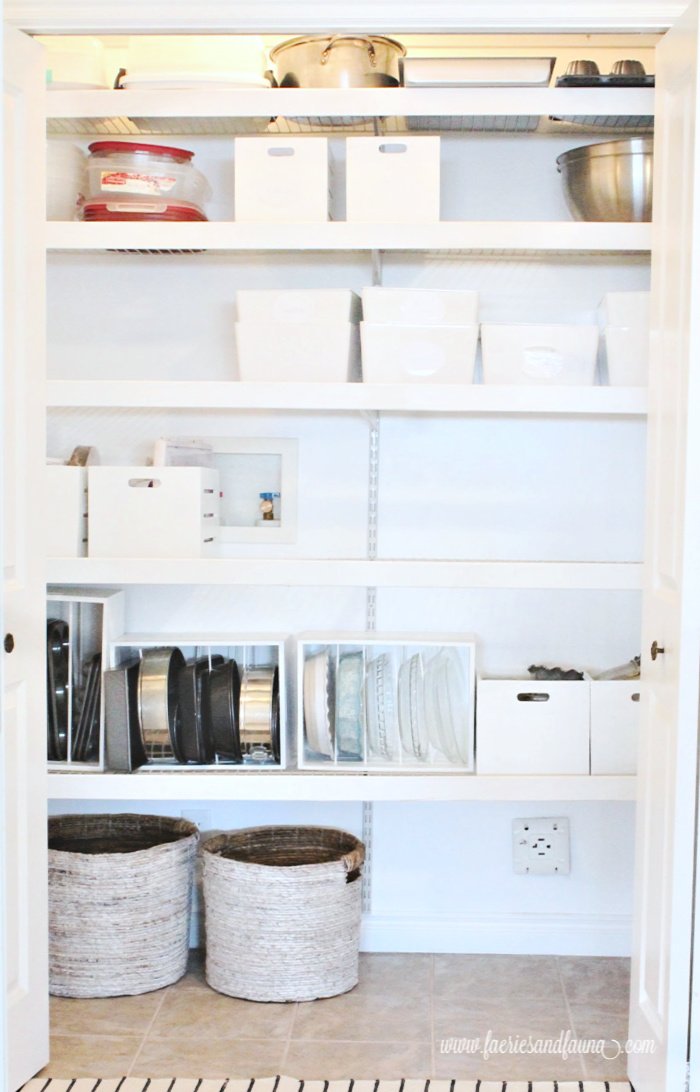 To be pretty it needs some coloured bowls or something. I will leave the pantry as is until I clean out some more of the other storage areas. Including our kitchen food pantry.  For right now those empty shelves look beautiful to me.
I hope I gave you a new idea for your wire shelving. I am looking forward to reading all my Farmhouse Hens shelving posts and I hope you enjoy them as well.
---
---

Leanna at FaeriesandFauna! Blog / Facebook / Instagram / Pinterest / Twitter
---

Tarah at Grandma's House DIY! Blog / Facebook / Instagram / Pinterest / Twitter
---

Chas at Chas' Crazy Creations! Blog / Facebook / Pinterest
---
Michelle at Our Crafty Mom! Blog / Facebook / Instagram / Pinterest / Twitter
---

Sam at Raggedy Bits! Blog / Facebook / Instagram / Pinterest / Twitter
---