How to Organize Paint and Paint Storage Tips
I think its safe to say the majority of home owners have some amount of paint supplies and leftover paint stored away somewhere in there home. If your a regular DIYer like we are I am bet you have quite the hoard of bits and dabs of paint supplies laying around. So today I am going to talk about how to organize paint, paint storage tips, and give you some printable paint labels to get you organized really quickly.
Improper Labeling Nightmare
Paint cans come with the name of the paint colour, the sheen, a little dab of the paint colour on top, and the original can to store it in. What more do you need? Well I found out the hard way.
Like many homes, ours has lots of bright white trim that is continually getting scuffed and marked up. When we first moved in I spent way too many nights painting all of it. At Christmas, I decided to do some touch up filling in any knicks and paint over any smudges etc. A quick little touch up.
In our leftover paint stash, I found almost half a gallon of white paint named Calm and happily went to work. Unfortunately, I had forgotten Calm was not the trim colour. When it dried I had dabs of a slight grey colour in little spots all over the trim. I ended up having to leave it like that through Christmas, and then sand the trim and repaint it all. Never ever will I do that again!
Paint Storage Ideas
Paint wasn't something I paid much attention to, no fancy brush holders or elastic bands to remove the excess paint. Not this girl. Whenever I work on a project I am very good about prepping the project, sanding, filling holes etc, but by the time I get to the painting part I am too anxious to see the final result. Here is the ugly truth of my bad habits. It was definitely time to get it together.
The Best Ways to Store Paint
When storing paint there are a few things to consider. Where's the best place to store paint. How long can you store paint? What temperature can you store it at?
The best place to store paint is in a cool and dry location, where it won't ever freeze. If you live in a warm climate you can store it in a cabinet in the garage. If your garage freezes like ours does it has be stored in a basement or cupboard indoors. Make sure to keep your paint away from any heat sources, I would avoid the furnace room. If you have kids keep it up high or in a cabinet behind a locked doors.
The best temperature for storing paint is between 50 F (10 C) and 75 F (24 C).
You can store unopened cans of latex paint for up to ten years, Oil based up to 15 years. Opened paint can last almost as long. Always test old paint before using it, stir is to see is the colour disperses again. If the leftover paint smells bad its been contaminated with some sort of bacteria so get rid of it. It would likely still smell off once painted onto you project. I read that washing the fowl smelling dry paint with bleach may help. Personally, if the paint smells, I would toss it.
You can store leftover paint in the original can if you have been careful with the lid, and it still seals. Carefully pry open the lid to prevent bending it. Ask you paint provider for a free opener.
When closing your paint can do so carefully with light even taps. Don't beat the lid of the can with a hammer as this can dint the lid.
Keep the paint can rim clean. Transfer your paint from the can to another container before using it, then clean the rings off with a rag or a clean brush. This will prevent the paint from crusting and ruining the seal ridges on the paint can. The Dollar Store has some great hand held paint containers.
The best container to store paint is a clear glass jar with an air tight lid. You can see the paint for easy selection, then use the label to make sure you have the right paint. Its a fantastic way to reuse old jars, like pickle jars, or spaghetti jars.
Keep a set of printed paint labels and a pen in your paint stash.
Store leftover paint in a jar with a good sealed lid and a label.
Organizing Paint with Labels
Paint can labels do not need to be anything fancy, you can scribble on a full can with a Sharpie if you like, but here are some labels you can download to use on your paint cans, or jars of leftover paint.
The paint labels include lines for Room, Date, Brand, Colour, and Type. The Room line is for whatever project the paint was used on. Type is to define the gloss and if it's interior or exterior paint. There are some differences in Canadian and American spelling so I have included two different label sheets for you.
Paint Labels with Canadian Spelling
Paint Labels with American Spelling
I suggest printing out some labels and having them in your paint storage. Use them right away while your still painting. That way you don't need to rely on memory a couple days later.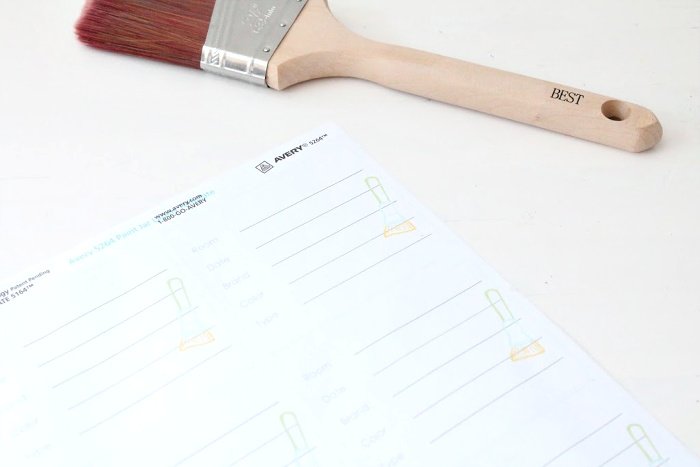 The labels are made to print out on Avery 5264 labels so that the label template fits perfectly. Just print the paint labels and your set. if you don't want to buy Avery labels print them out on plain paper and tape them to the can with clear packing tape.
Keeping little bits of leftover paint for touching up nicks and scratches is very handy and paint stores well if done correctly with paint labels. Its especially handy when you like light coloured neutral paints that look similar.
Small Amounts of Leftover Paint Storage
Deciding on what paint to keep or how much is worth keeping is a personal decision. We keep most of our paint, I use it for signs, crafts, furniture updates, and of course room updates. Instead of storing paint in a gallon size can when there is only a cup or two of paint left, pour the paint into a clean food jar before labeling it. The jar doesn't need to be pretty, just clean. Spaghetti sauce jars, old jam jars, pickle jars, or even baby food jars will work as long as you can twist the lid to get an airtight seal.
Because of the labels if I have any paint leftover from a project, I will know what it's for and it won't use up a huge amount of storage space. And because the bits are in see through jars its easier to select a paint for a small project from what I have on hand.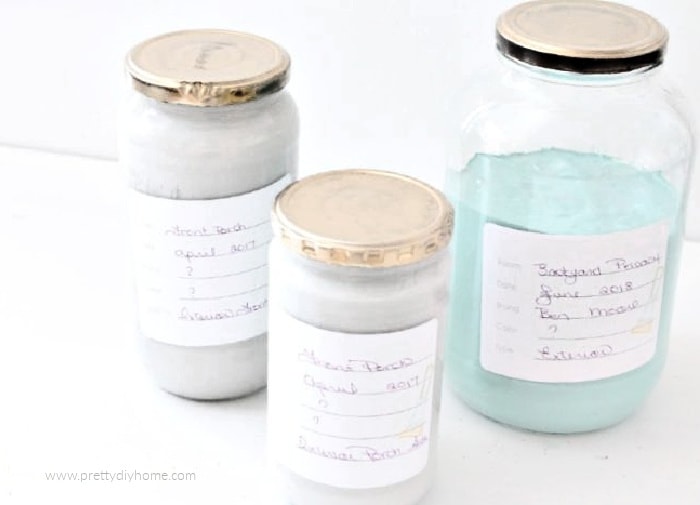 Organizing Paint
The Paint Cupboard Before
If you live in a cold climate like Edmonton, we can't store our paint in the garage. It will all freeze. We keep all our paint in a cupboard in the basement. hidden behind door. Typically I try and share pretty pictures please don't judge me, my paint stash is definitely not pretty.
If your lucky and live in a warmer climate, where the garage stays between 50F to 75F degrees, a high shelf or closed cabinet in the garage would be ideal. With kids, I suggest a locked door.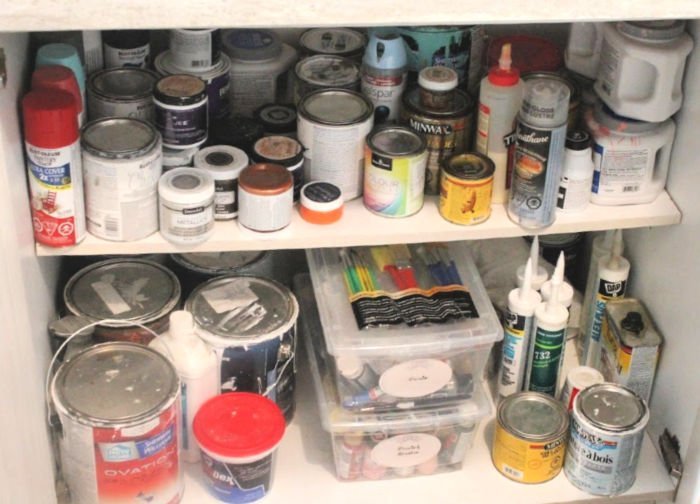 As my paint supplies are in a cupboard with closed doors. I used up various wood boxes and dollar store containers to sort the supplies by type including chalk paints, spray paints, caulking supplies, as well as my artists spray gun and acrylic paints from my craft room. I have a large clear plastic dollar store bin for all my different paint brushes, paint can roller and tapes. The larger rollers, paint trays, caulking gun and tarps can safely be kept together on a shelf in the garage as freezing temperature won't affect them.
Next, I went through the paint and labeled what I could, and recycled the dried up paint cans at the city paint recycling. If you have larger amounts of paint Habitat for Humanity is a great charity to donate your unwanted paint supplies to. Empty paint cans should be taking to your cities paint recycling depot.
There are still a couple of partial gallons of paint leftover, but I just labeled them for now and will transfer them to jars as soon as I have an empty jar for them.
Organized Paint Cupboard After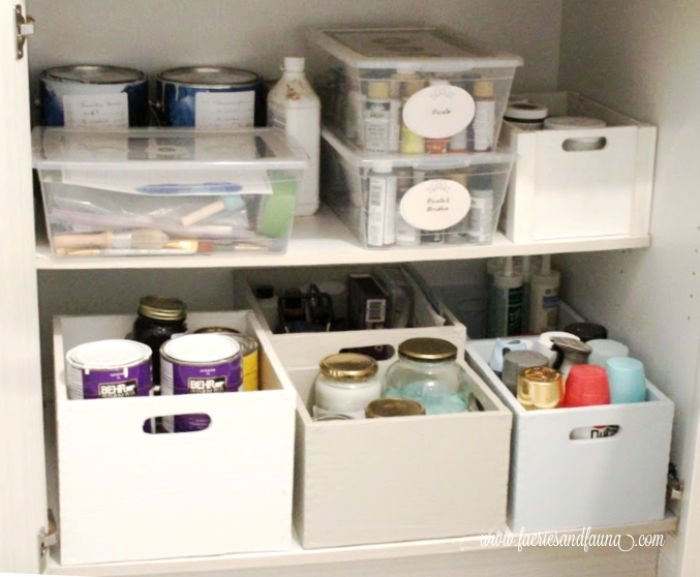 Now that I have organized my paint stash, its much easier to locate specific painting supplies, as well as take a quick inventory of what I have on hand before I purchase supplies I don't need. Organizing my paints only took a couple of hours, even with transferring the paint and applying those snazzy paint labels. I think the boxes are the best method for sorting the paints out, in a quick glance you can see what you have, and see where anything new should go.
Pin this post to keep it!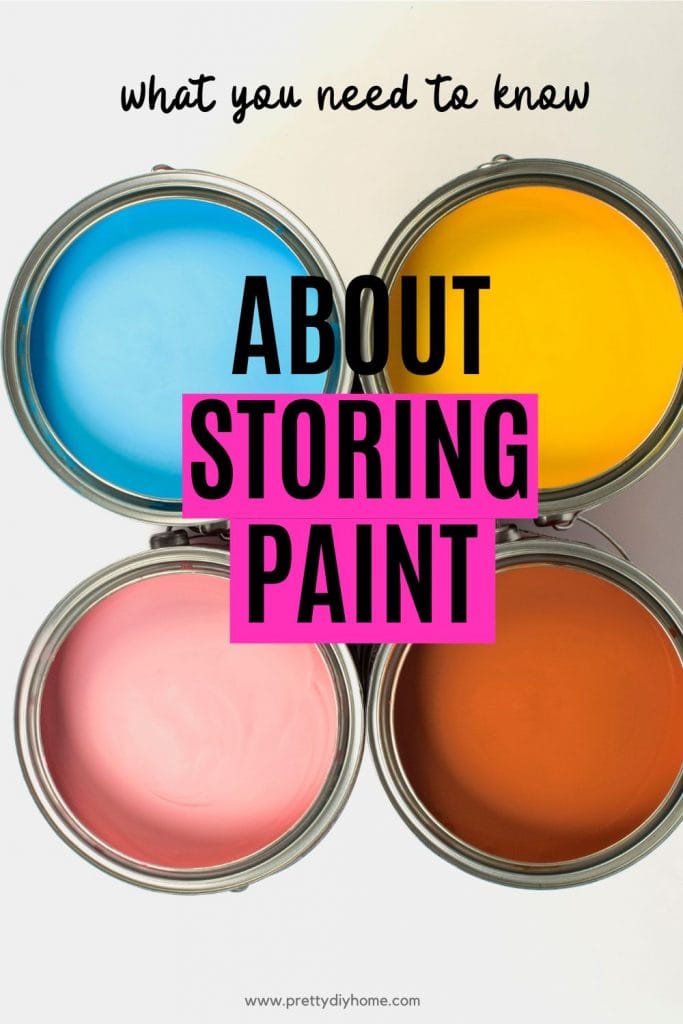 Some other Organization Ideas for You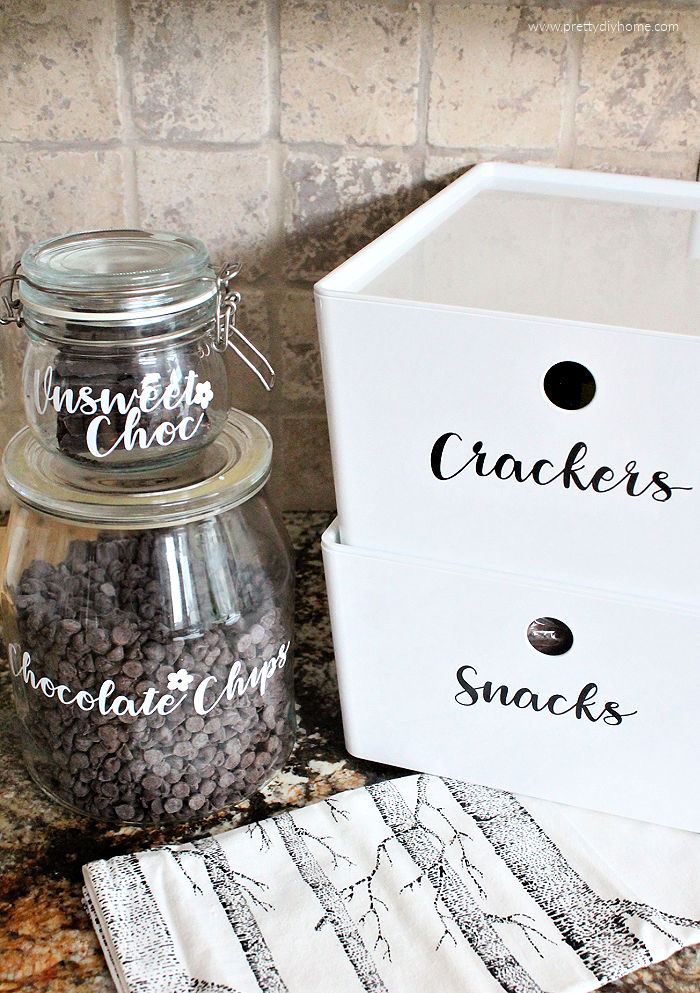 DIY Pantry Labels
Using IKEA jars, vinyl and a cutting machine I organized our baking pantry. Never run out in the middle of baking something, because you thought you had something you were out of.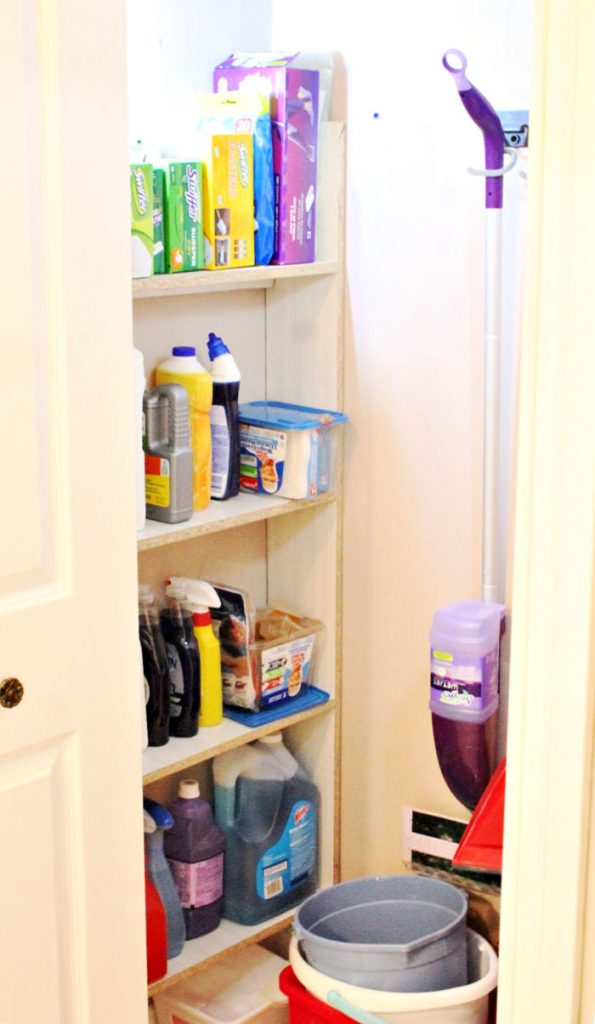 Organizing a Cleaning Closet
Organizing ALL your cleaning products in one area so you can find it when you need it. No running from cupboard to closet to find who put what cleaner where. Sound good? Let me show you how I fixed that problem.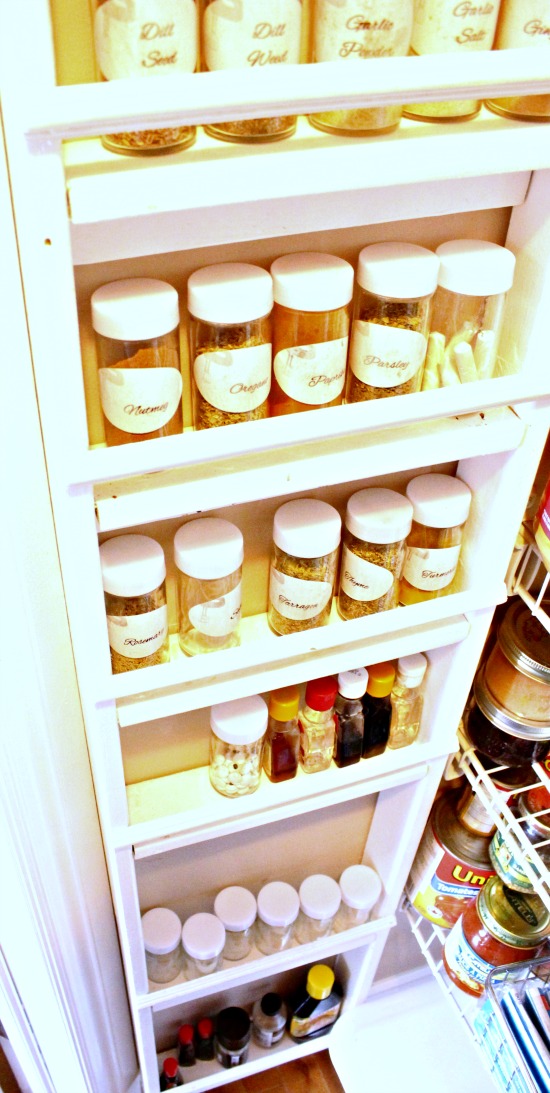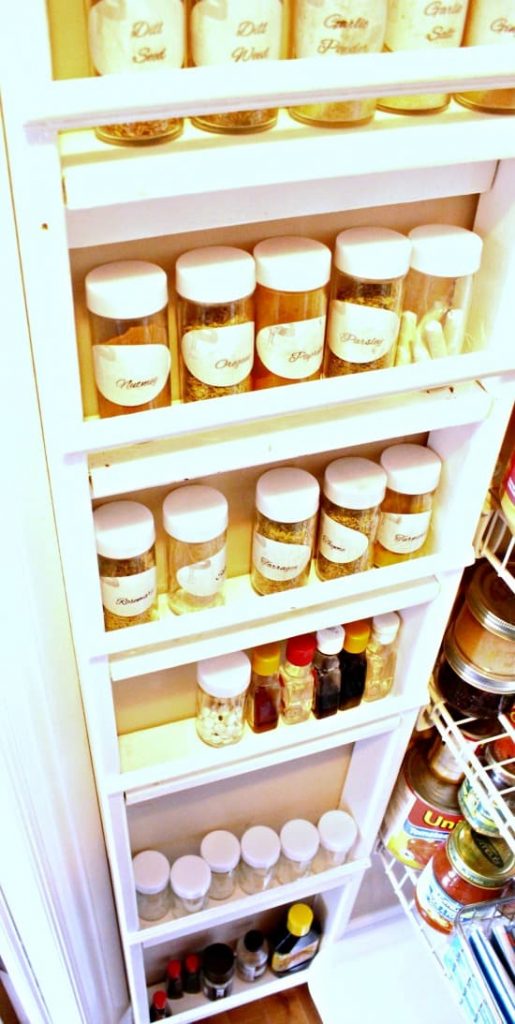 Spice Organization
Take some dollar store jars, label them, and create a large spice rack in your pantry. So easy to build a floor to ceiling spice rack, with custom dimensions to fit behind a door or in a small area.