How to Organize and Store Paint with Free Printable Paint Labels
Storing Paint with Labels
These paint labels are my solution to a mistake and once I found a solution I decided to organize my paint supplies so I don't repeat it.
Like many homes, ours has lots of bright white trim that gets scuffed and marked up all the time. At Christmas, I decided to do some touch up filling in any knicks and paint over any smudges etc.
In our leftover paint stash, I found white paint named Calm and happily went to work. Unfortunately, I forgot that I had used two other shades of white paint, and the "Calm" paint colour
didn't match perfectly. After the paint dried to my dismay I had lots of slightly grey patches all over my white trim. I can't remember the white paint I did use on the trim, so I now need to repaint everything.
Never again, from now on I am going to label any leftover paint so that I know exactly what project it was used for, and exactly what paint it is.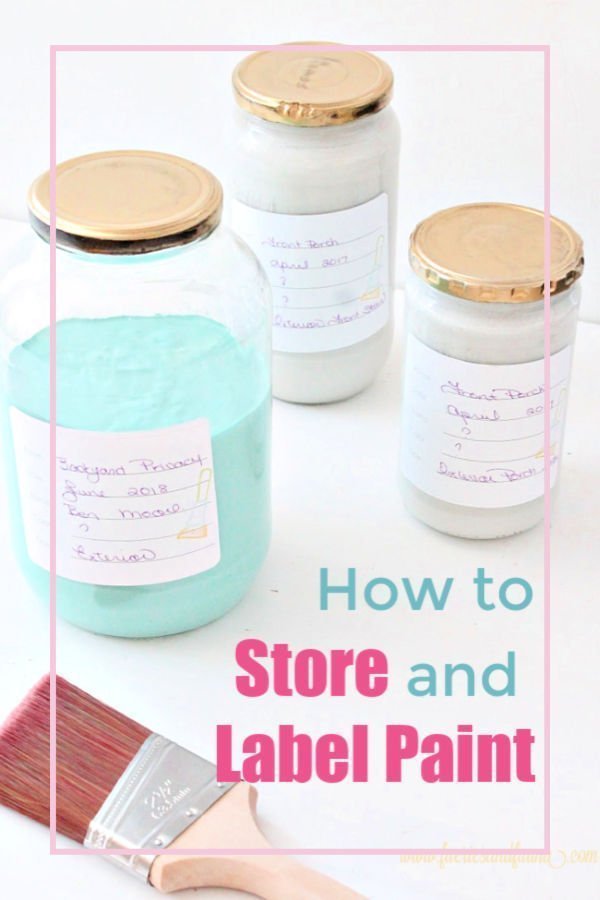 Paint Labels
The labels include lines for Room, Date, Brand, Colour, and Type. I will use the Room line for specific projects, and type is for gloss and if it's interior or exterior paint. There are some differences in Canadian and American spelling so I have included two different labels for you.
Paint Labels with Canadian Spelling
Paint Labels with American Spelling
Keeping little bits of leftover paint for touching up nicks and scratches is very handy and paint stores well if done correctly with paint labels.
The best way to use these labels is to fill them in and apply to your paint can while you are painting. That way you don't need to rely on memory for anything.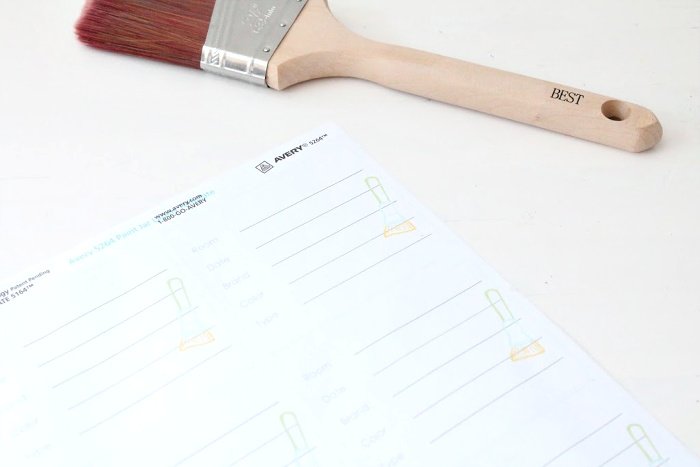 I have designed the labels for you. You will need to purchase Avery 5264 labels so that the template fits perfectly. Just print the paint labels and your set.
Hints for Storing Paint
Paint isn't something I pay much attention to. Whenever I work on a project I am very good about prepping the project, sanding, filling holes etc, but I am too anxious to get started resulting in dented cans lids, and very dirty can lids which are both bad for storing paint properly. Here are some tips that I myself am determined to start following.
Here is what you don't want to do. I had to toss out several containers of paint.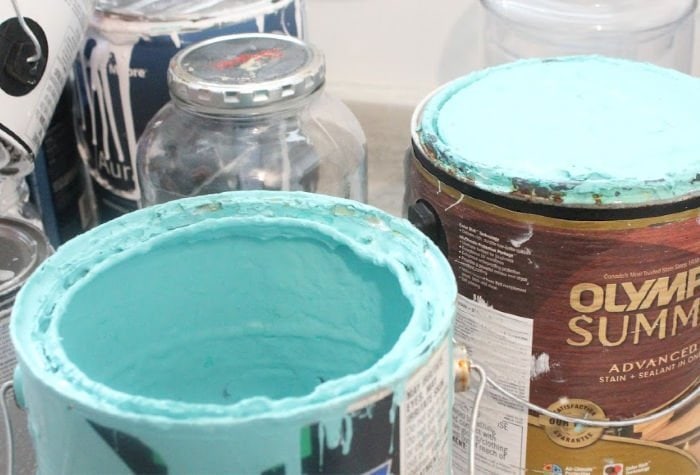 Keep your paint in a cool area, and away from children or heat sources.
Don't beat the lid of the can with a hammer. This tends to dint the lid and makes it hard to close.
Carefully pry open the lid to prevent bending it.
Transfer your paint to another container before using it, then cling the rings off with a rag or a clean brush. This will prevent the paint from crusting and ruining the seal ridges on the paint can.
When closing you paint can do so carefully with light even taps. You want to make sure your paint can is airtight. Paint has to be stored in an airtight container to prevent it from drying out.
Keep a set of printed paint labels and a pen in your paint stash
Keeping Leftover Paint
Instead of storing gallons of paint with only a cup or two of paint left, pour the paint into a clean food jar before labeling it. The jar doesn't need to be pretty, just clean. Spaghetti sauce jars, old jam jars, pickle jars, or even baby food jars will work as long as you can twist the lid to get an airtight seal.
Going forward if I have any paint leftover from a project, I will know what it's for and it won't use up a huge amount of storage space.
Organizing Paint
As Edmonton is super cold and our garage isn't heated I store all the paint in our basement. Typically I try and share pretty pictures please don't judge me, my paint stash is definitely not pretty.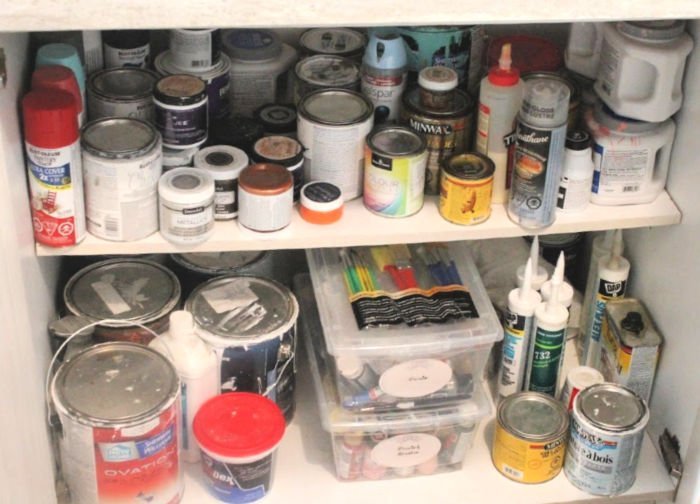 Because its organizing season I decided to place our stash of paint supplies in one area.
As my paint supplies are hidden I used up various wood boxes and dollar store containers to sort the supplies by type including chalk paints, spray paints, caulking supplies, as well as my artists spray gun and acrylic paints from my craft room.
Next, I went through the paint and labeled what I could, and recycled the dried up paint cans.
There are still a couple of partial gallons of paint leftover, but I just labeled them for now and will transfer them jars as soon as I have an empty jar for them.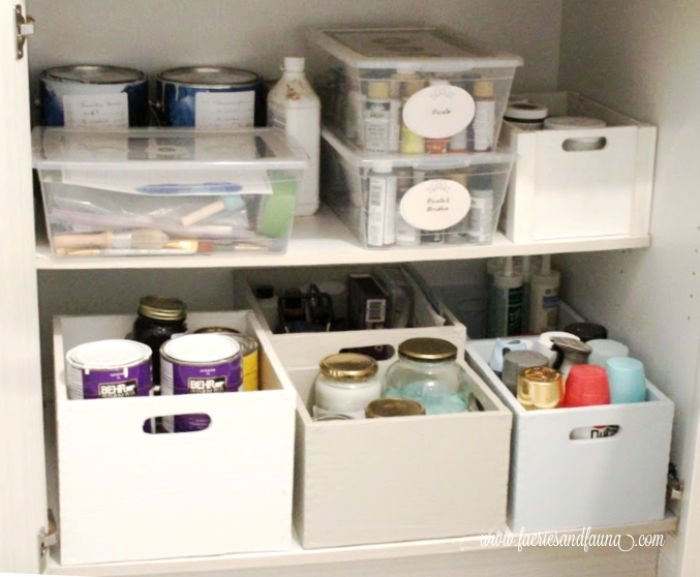 Now that I have organized my paint stash, its much easier to locate specific supplies, as well as take a quick inventory of what I have on hand before purchasing something I don't need.