DIY Colourful Spring Wreath with Fairy Garden
A Spring Wreath Fairy Garden Craft
This colourful Spring wreath craft helps brighten up the last weeks of Winter. Lately, I have been doing nothing but cleaning out storage spaces so its time to make something really cheerful in pretty Spring colours. Creating this Spring wreath is exactly what my mood needed. Fairies help to make our gardens grow, so I thought a simple fairy garden is a perfect theme for a DIY Spring wreath.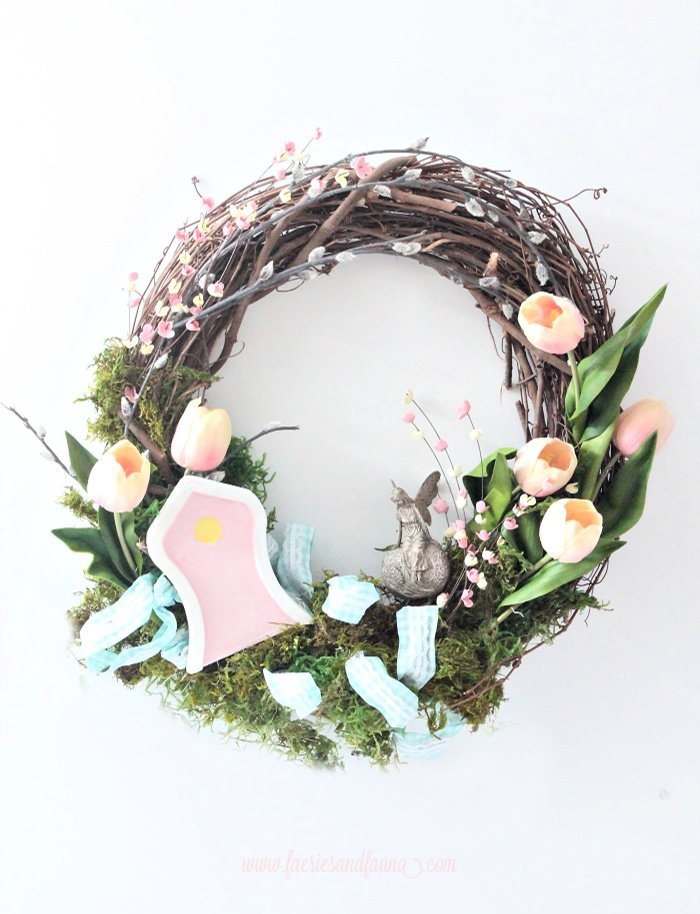 This Spring wreath craft can be put together in about half an hour. You will need the following items:
A grapevine wreath
Spring florals, I used faux pussy willows and tulips.
Gingham wired ribbon in a pastel colour
A fairy figurine (mine is from my outdoor fairy garden)
A fairy door
Floral pins, and a glue gun
The fairy door is an old one I made before I started blogging, but Michaels has all kinds of fairy doors available if you don't already have one.
How to Make a Spring Wreath with Fairy Garden
A grapevine form is perfect for this type of wreath, it's made using natural elements and you can just weave the various florals between the grapevines.
Lay your wreath flat and start adding loops of ribbon. Just twist them along the side of your wreath with one loop going up and one down.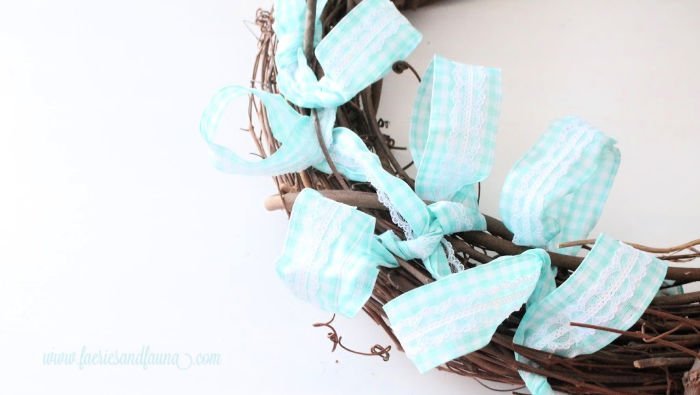 Add green moss all along the bottom of your wreath. Stuff the green moss between the vines, and add some floral pins if needed. I placed a few pins along the bottom outside of my wreath to keep the moss from hanging down too much. You can add hot glue if you want, but I skipped that I reuse my grapevine form.
Add your long Spring branches and faux tulips, by stuffing them into the grapevines and adding floral pins to hold them in place. Make sure you have some on each side of the wreath.
Attach floral pins to the back of the fairy door and the bottom of your fairy using hot glue.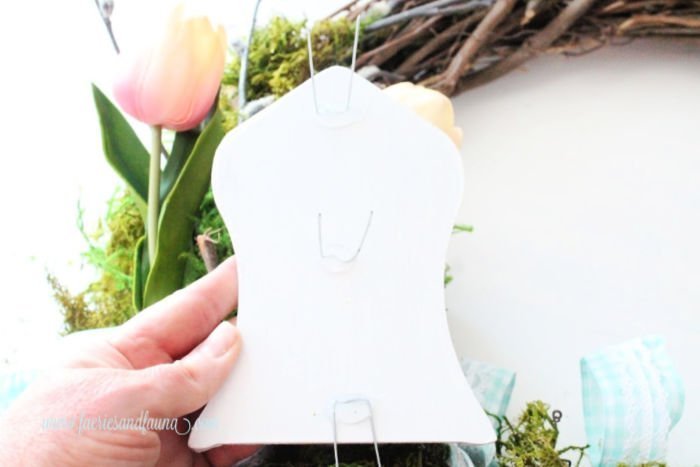 To secure the fairy door and fairy, push them into the wreath form. Push the fairy door and the fairy into the wreath. To hold them securely close the back of the pins around a grapevine. I found it was easier to do it with needle nose pliers. Add more moss to cover the pins if needed.
Finish the wreath with any other flowers you may want to add. I snuck in some little pink flowers around the fairy so she looked more enclosed and hidden.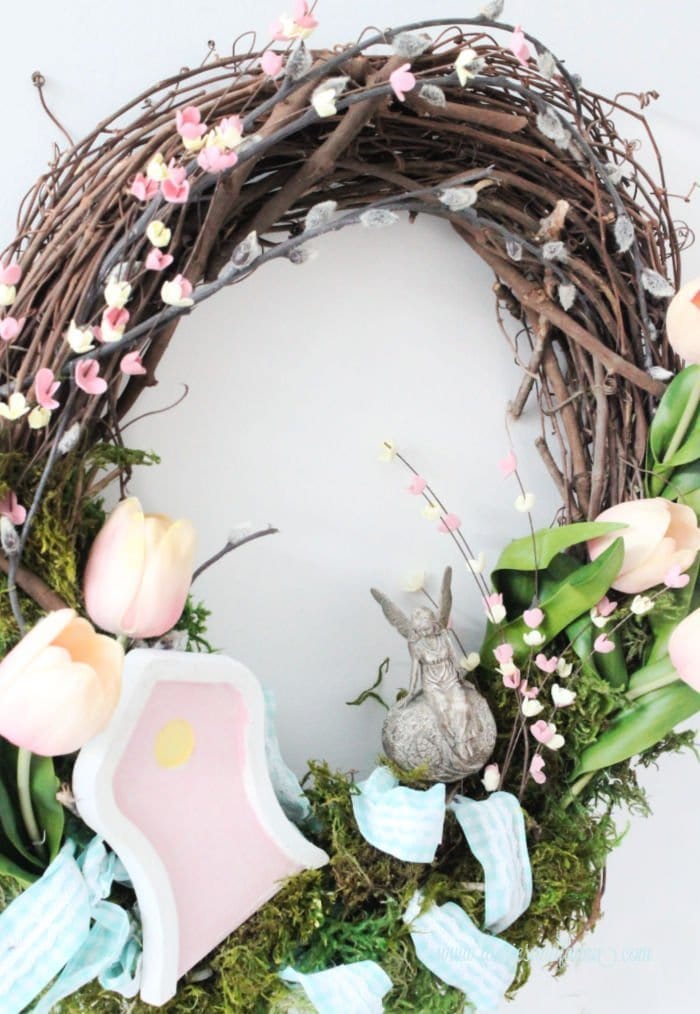 Related Posts
You may enjoy some of these other Fairy Themed posts, please let me know if you do.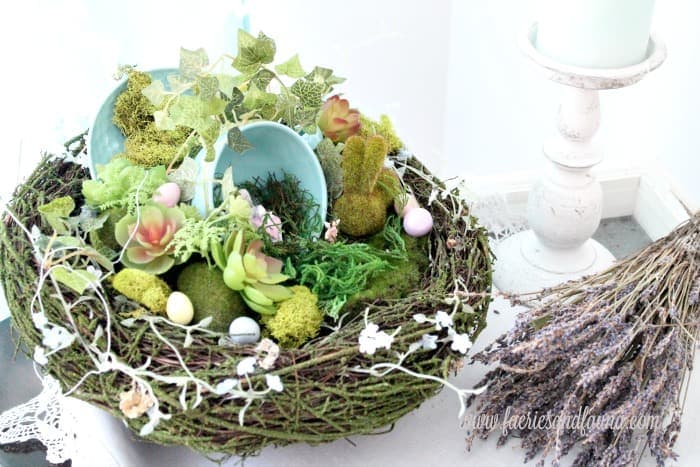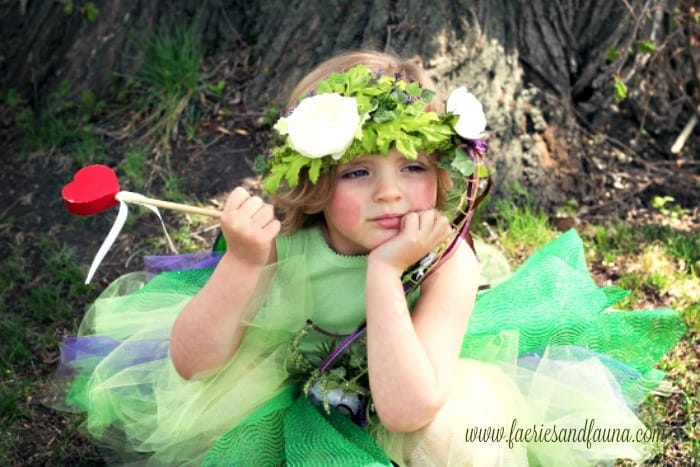 A Forest Fairy Crown Craft for Children
After six months of snow, I am just so happy to be creating in soft Spring colours. This time of year I love all things green. Enjoy your week.