A Practical DIY Christmas Centerpiece for Small Kitchens
This DIY Christmas Centerpiece is created to be practical. Most of the year I don't miss not having a separate dining room, but at Christmas I certainly do. On top of that, I get really frazzled when trying to do anything on cluttered countertops. Its even worse in a small kitchen with guests and entertaining. This practical DIY Christmas Centerpiece is my solution and it works really well. I recommend trying it.
How To Put Together this DIY Christmas Centerpiece on a Budget
This DIY Christmas centerpiece is based on the most basic items you will need for a table setting. To make one you need a large tray, a large tiered tray is the best. Other than the tray you gather whatever table setting items you have, and some ribbon, greenery, pine cones, arrange them together. If you have a large tray already I bet you can do this with things you already have. If you don't have a large tray yet, they really are amazing for organizing and decorating. I absolutely love mine.
Supplies for your Christmas Centerpiece
Start by gathering cutlery, plates, napkins, salt and pepper shakers, cream and sugar set, even cups and glasses if you have room.
Go through your items and pick the ones that match the best. For example, I have red plates, so I used white napkins. These plates are a couple of years old from Home Sense.
Shop your Christmas box for any greenery, small ornaments, pine cones, beads, mini lights, garland etc. that would match your colour theme.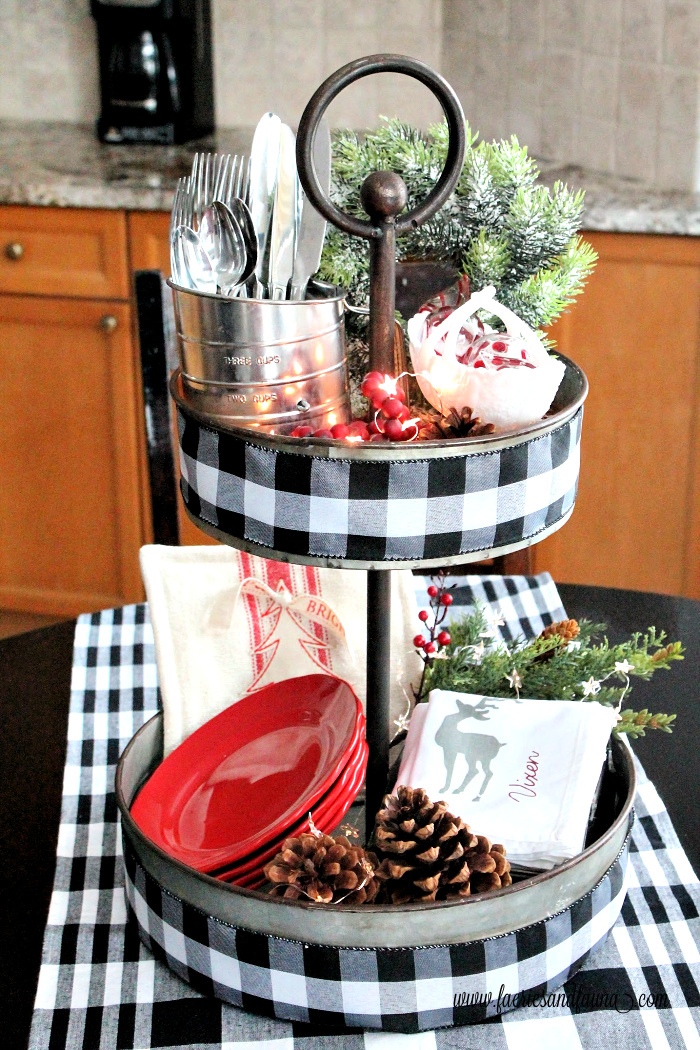 Adding Items to your Tiered Tray Christmas Centerpiece
As my theme is buffalo check I grabbed some black and white wire ribbon I got miles of at Michaels, and then shopped my cupboard for anything red, white, or green or galvanized to add to the Buffalo check centerpiece. The top tier cutler is organized using an antique flour sifter, and a small milk glass dish, but enamelware, mason jars , or small vase will work as well.
The little candy salt and pepper shakers are the one new thing in this arrangement as I only owned the large pepper mill set. I fell in love with this cute candy shaped shakers, so fun.
Put the items you need for a table setting into their containers and then place in the tray.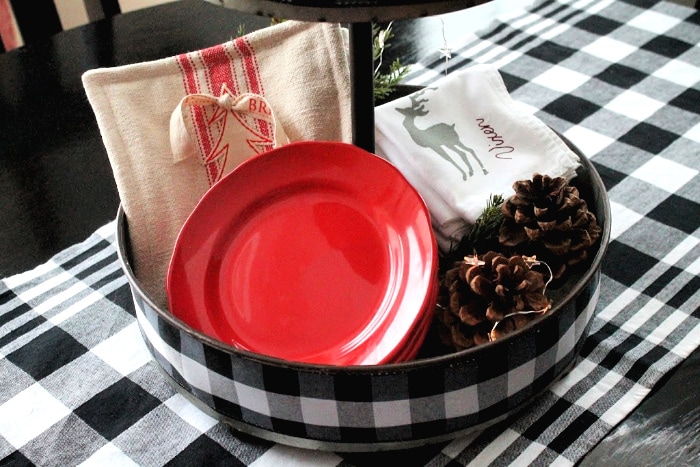 Once placed in the tray, add any additional decor you have, like this greenery, star lights and cinnamon scented pinecones. Other suggestions are candles, unbreakable ornaments, salt dough ornaments, candy canes, a pretty Christmas tin of candy. Just make sure to start with the table setting necessities you want first.
The back of the tray has a small wreath and the front is filled with red beads to hide the battery pack for the mini lights.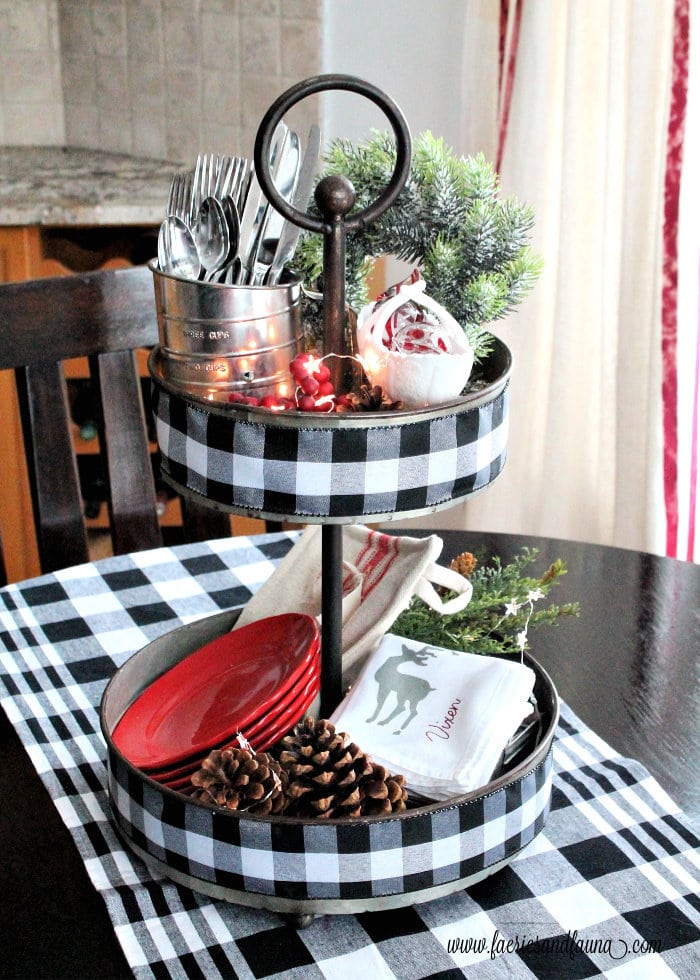 The tray is just enough decor to say our table has a centerpiece, and because it holds everyday items it saves me time as Hubs and I can just grab our place setting for snacks, so handy, especially when it's just the two of us.
This centerpiece keeps the table somewhat set up, provides Christmas decor, and is really great for the Christmas budget.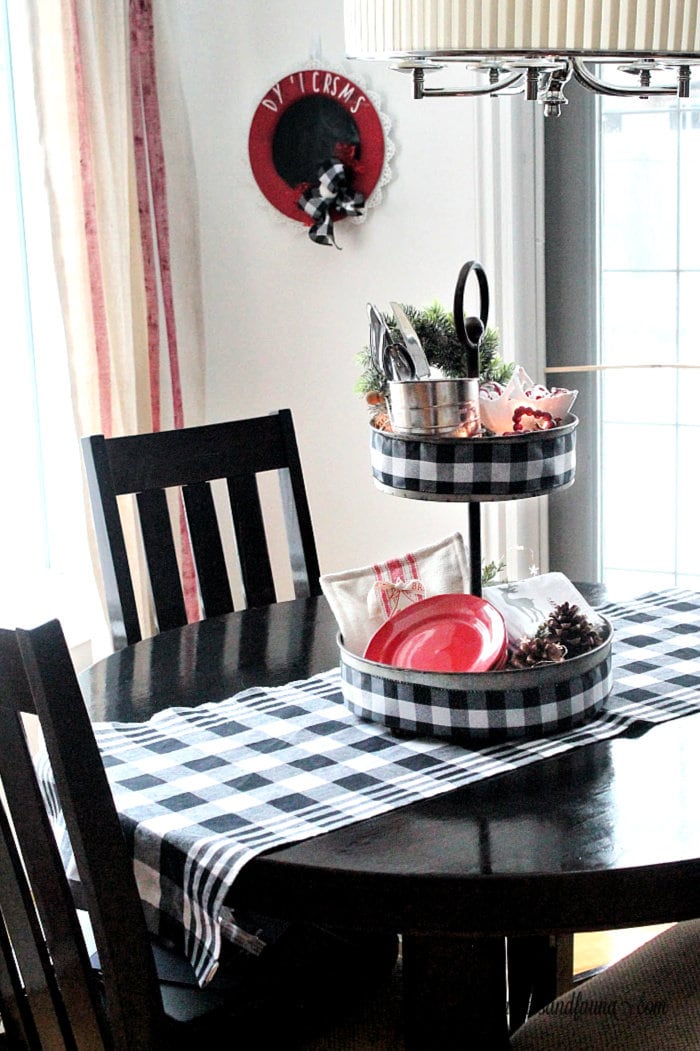 Welcome to Day 7 of the Fourth Annual 12 Days of Christmas Series!
Check out the ideas for DIY centerpieces from the other 12 Days of Christmas bloggers
We have teamed up with 50 plus bloggers to bring you a oodles of DIY Ideas and Recipes to make your holiday season merrier. There are 12 different posts in the series and we have spread them out over a four week period with three posts per week. Now is the time to subscribe!
On the first Day, we designed Wreaths
On the Second Day, we made DIY Christmas Gifts
On the Third Day, we created Christmas Countdown Calendars
On the Fourth Day, we put together Christmas Crafts for Kids
On the Fifth Day, cooked Party Food
On the Sixth Day, we did craft DIY Christmas Ornaments
It's Day 7 and we are sharing Holiday Decor Ideas!
Scroll down for many more Holiday Decor Ideas to create a festive atmosphere in your home!
Like it! Please Pin it for Later!
---