Bleaching Drop Cloth without a Top Loading Washer
Preparing Drop Cloths for Home Decor
This is my first time working with a drop cloth material, talk about being behind the trend curve. Do you know why it took me so long? I needed to find a way to prepare the drop cloth without using a top loading washer. I didn't want to damage my asthmatic lungs with bleach fumes, so the bathtub was out of the question and I didn't want to pour strong bleach water out in the yard either. Sometimes the simplest solutions take my mind a while to stumble across. Finally, I thought of using one of the dozen Rubbermaid totes I have hidden in the basement from moving, and drug one out for bleaching drop cloths in.
How to Bleach Drop Cloths
You will need:
A 68L Rubbermaid Roughneck tote with lid
1/2 large bottle of bleach
Wooden spoon, or stick for stirring
Place a 68 L Rubbermaid tote inside a bathtub, preferably in a bathroom that you can keep closed, I used our master bathroom. Using the bathtub makes it easier to remove the bleach water, no lugging heavy totes around or buckets of strong bleach water. Either scenario was an accident just waiting for Leanna.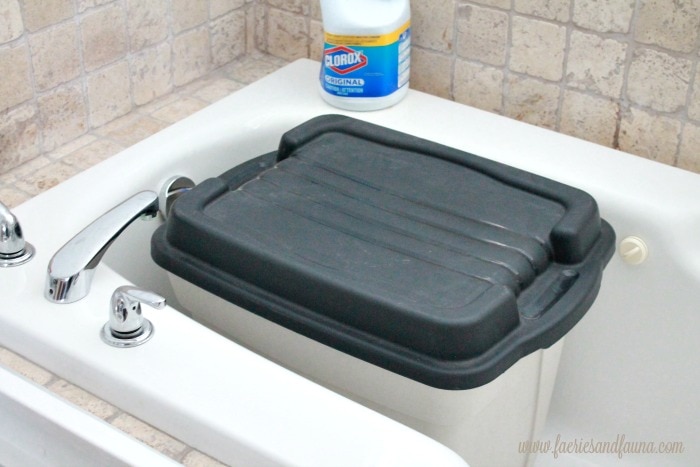 Fill your Rubbermaid container with water and half a large jug of bleach. (gross eh, I know). Swish the water around with a wooden spoon to mix the bleach in, before adding your drop cloths. Push the drop clothes down making sure they are well submerged. Place the lid on the tote and close the bathroom door.
Hubs coworker lost his house because of their bathroom fan, so we don't leave our fan's turned on for long periods of time, and never leave them on unattended.
Instead of the fan, I used the bathroom door, the lid on the bin, and then stuffed a towel underneath the bathroom door to control the fumes and keep them out of the bedroom.
For this fancy picture, I vacuumed, its hard to make it look anything but exactly what it is.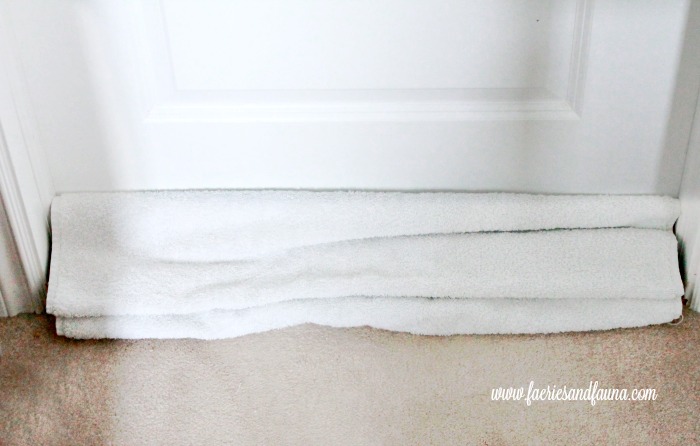 During the daytime, I turned the fan on before entering the bathroom, but at night I turned it off and had no issues with fumes. I went in a couple of times and moved the dropcloths around a bit, making sure they were still submerged.
After 36 hours I dumped the bleach water out into the tub, gave the tub a really good rinse. Put the drop cloths back in the tote and carried it down to our front loading washer with the lid on. No mess, none.
Run your washer on a normal wash load, to remove the bleach residue. You may need to run the dropcloths through the washer twice. I had to wash mine twice in order to get rid of the bleach smell. Dry as usual.
Grainsack Material
At an estate sale about a month ago, I found this old authentic grain sack. Living in Alberta you would think they are everywhere but they seem rare so I love this one. It also provided me with a reference for using a drop cloth to replace grain sack material.
The one with the stripes is the real grain sack, the other shows you how the drop cloth turned out. The drop cloth is a bit more cream and not quite as heavy as the real cloth.
I tried this method for bleaching drop cloths on three different drop cloth sheets, one from Lowes and two from Home Depot. They are turned out in well. The cloth is not white, but more of a soft cream colour, the texture is soft and pliable and not rough on the skin.
Now that I have the drop clothes ready I have one project finished, and a couple more ideas I need to get busy on.
Please comment if I solved the problem for you. Or if you have another solution for preparing drop cloths. As always I love hearing from you.
Here are some projects I made using the bleached drop cloth.
Layered European Size Cushions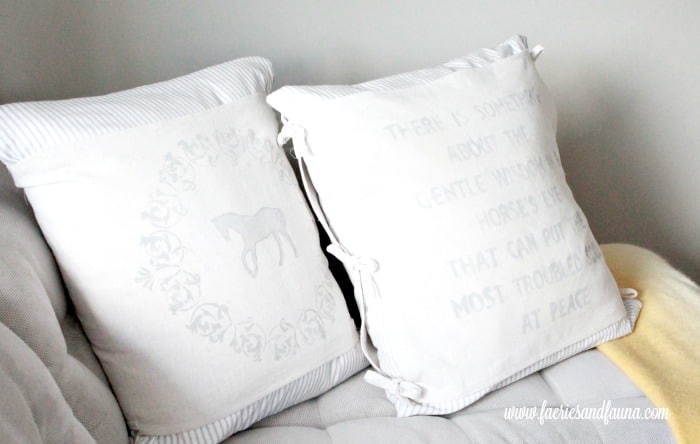 Bleached Drop Cloth Cushion Covers
Drop Cloth Teddy Bear Pajama Bag
Drop cloth is so versatile. In this project, I dressed it up into a little bear.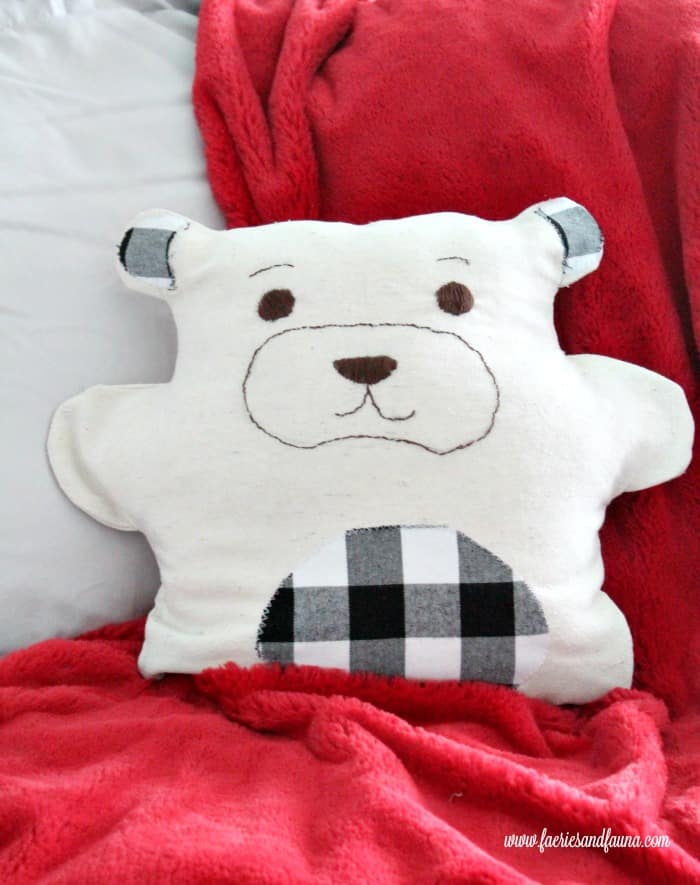 Drop Cloth Teddy Bear Pajama Bag
Drop Cloth Basket Liners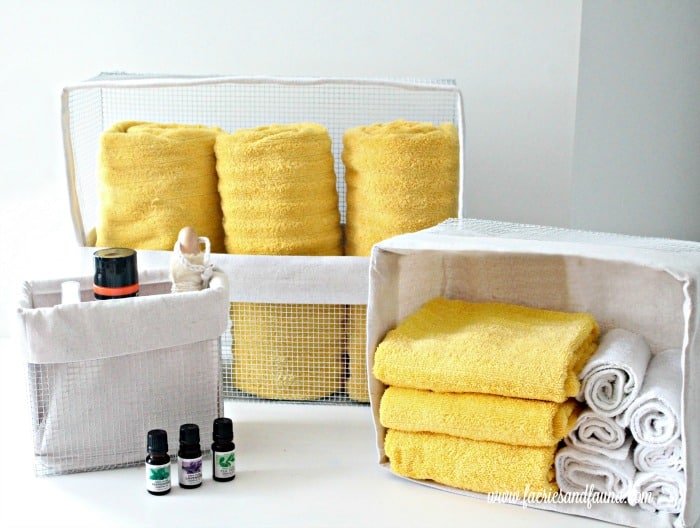 This is the last link I will share in this post, but I also have also made Halloween table runners, Christmas stockings, Christmas ornaments and even covered a farmhouse bench with it.