Sparkling Blueberry Lemonade Recipe
A Delicious Blueberry Lemonade Recipe
A delicious refreshing blueberry lemonade recipe that you can enjoy even on low calorie diets. Refreshing, fruity and chilled, you can enjoy it as a mocktail, or add a splash of rum or gin for an adult lemonade cocktail recipe. Either way its a really delicious way to celebrate Summer.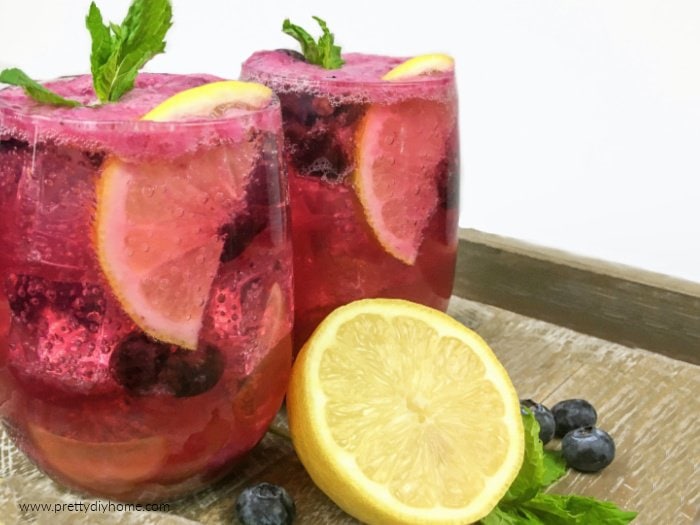 The underlying secret to this recipe is a little touch of real maple syrup. Although there is something iconic about the combination of blueberry and lemon flavours, the maple syrup adds a hint of flavour that you just can't quite put your finger on. The maple adds a hint of rich maple deliciousness, without overpowering the other flavors. Begin by using 1 tbsp of maple syrup to test the recipe, once you've tried it then increase the maple syrup to two tablespoons.
Blueberry Lemonade Mocktail Ingredients
1 cup fresh or frozen blueberries
3 tbsp fresh mint, crushed
1-2 tbsp real maple syrup
3 tbsp granulated sugar (or stevia)
3 cups. water, divided
½ cup fresh squeezed lemon juice
1 cup club soda (diet club soda)
Optional Garnishes
Mint sprigs
Fresh blueberries
Lemon wedges
Blueberry Mint Lemonade Mojitos add 1 oz rum (or gin) per glass.
Blueberry Lemonade Instructions
Prepare the Simple Syrup
Crush the mint with a muddler (or the end of a wooden spoon).
In a small saucepan over medium heat combine the blueberries, fresh crushed mint, maple syrup, granulated sugar, and one quarter cup water, place over medium heat.
Simmer, stirring often until the sugar dissolves and the mixture starts to thicken about 4-5 minutes. While the mixture is simmering gently press the blueberries with a wooden spoon to help release the blueberry juice. Stir occasionally to prevent sticking.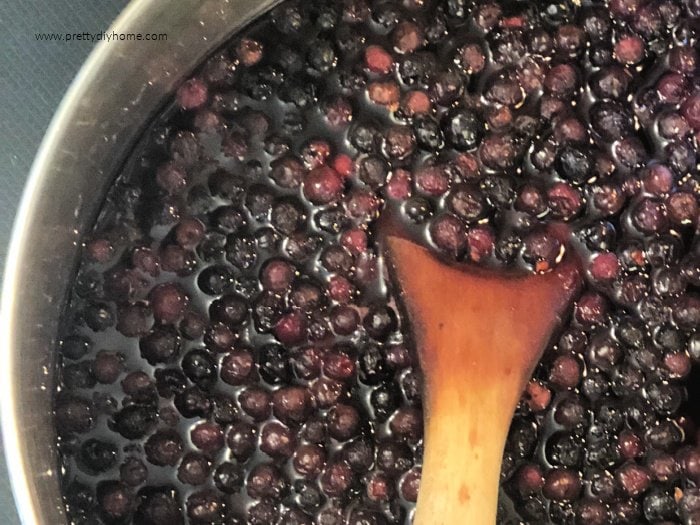 Once the mixture starts to thicken remove from heat and pour through a fine mesh strainer to remove the mint leaves, seeds etc. Reserve the remaining blueberry simple syrup and set aside.
Prepare the Lemonade
In a large clear glass pitcher add fresh squeezed lemon juice and the remaining water. Then add your homemade blueberry maple simple syrup and mix to combine.
To Serve as a Blueberry Lemon Mocktails
Fill 4 tall glasses with ice cubes. Then add the blueberry lemonade until each glass is 2/3rds full. Top of off each glass with club soda for thirst quencing effervescents. Garnish with sprigs of fresh mint, fresh blueberries, and/or lemon wedges.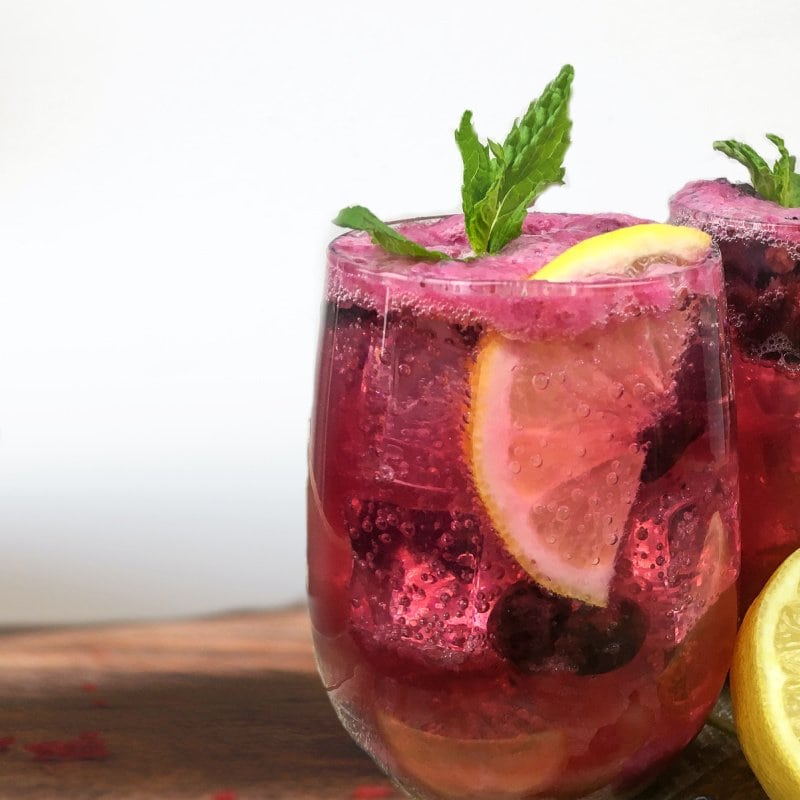 To Serve as Lemonade Blueberry Cocktail
Do the same as with the lemonade blueberry mocktails. Fill 4 tall glasses with ice cubes. Then add the blueberry lemonade until each glass is 2/3rds full. Add an ounce of white rum, stir and top off each glass with club soda. Garnish with sprigs of fresh mint, blueberries, and/or lemon wedges.
Save this recipe for those gorgeous warm days of Summer!

On Pinterest I have Drinks and Beverages Board several recipes for different homemade drinks, both mocktails and spiked cocktails. I hope you check it out.
Its a little more work to create your own summer beverages than it is to open a can of diet soda. I am pretty certain that the homemade drinks are less expensive and they certainly are healthier. Blueberries are loaded with vitamin C, K, fiber iron and manganese. If your anything like me I am working towards drinking more water, and less pop. Unfortunately I am NOT a water drinker, but fruity homemade drinks are my attempt to drink less canned pop.
If I feel like having the spiked version of blueberry lemonade of course health concerns aren't the priority, but we all deserve a bit of occasional deliciousness.
Other Drink and Beverage Recipes to Try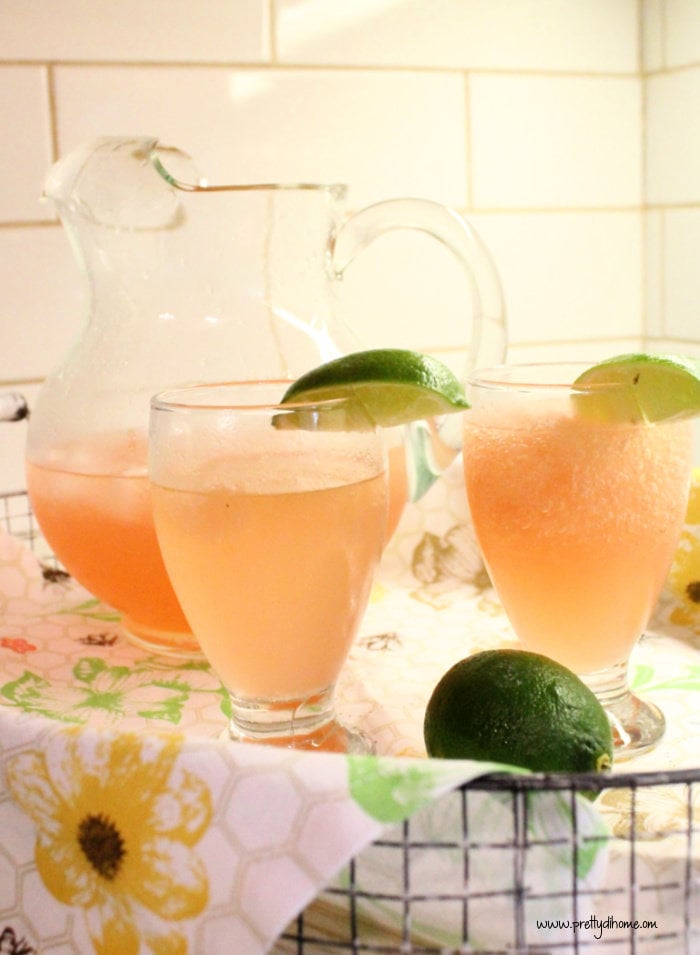 Grapefruit Vodka Slush Recipe
A large recipe for grapefruit vodka slush that you make ahead and place in the freezer. To serve you add 7 up for an amazingly refreshing summertime treat.