Vodka Slush Recipe with Grapefruit
This Vodka Slush Recipe combines vodka (or gin) with grapefruit juice, Cointreau and 7 up. Its the perfect summer treat, full of citrus flavour and truly icy cold. Summer is worth celebrating every day, I love being outdoors, enjoying the sunshine, and relaxing as much as possible. This frozen vodka slush recipe with grapefruit juice is one of my favorite summertime treats.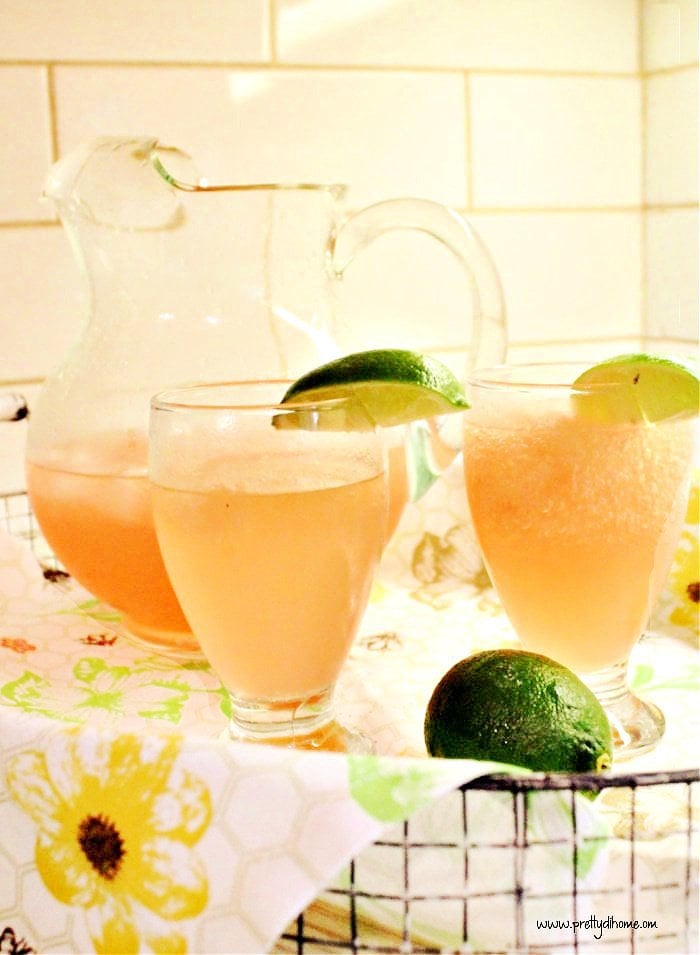 Vodka slushies are so good for summer, and this makeahead vodka slush recipe makes an ice cream bucket full of slush that keeps for months in the freezer. You can serve it to a crowd or just use it a bit at a time whenever you want something a bit special.
Ingredients for the Vodka Grapefruit Slush Recipe
8 cups grapefruit juice
1/4 cup lime juice
26 oz bottle Vodka (or gin)
4 oz Cointreau
4 cans of 7 up
7-up ( to serve)
I was not able to find yellow grapefruit juice for this post so I used pink grapefruit juice instead. You can also substitute for frozen concentrated juice or frozen lemonade as well, its all good.
For the pop (soda) I used 7-up but Sprite works as well, and you can use the low sugar pop to fill up the glasses although I wouldn't use them in the slush base.
How to Make Vodka Slush
This vodka slush recipe is made in an ice cream pail. An ice cream pale is the perfect size to hold all the ingredients and the lid keeps it from spilling in the freezer.. If you don't have an one gallon ice cream pail use a large plastic container as long as it has a lid. To make the vodka grapefruit slush, pour the grapefruit juice, lime juice, vodka (gin), 2 cans of 7 up and Cointreau into the ice cream bucket. Stir to mix, then freeze for at least eight hours, or overnight.
Vodka slush freezes well and you can keep it in the freezer for up to 3 months.
Serving The Grapefruit Vodka Slush
You can make this punch and serve individual cocktails throughout the summer, or us it as a recipe for a crowd and mix in a pitcher.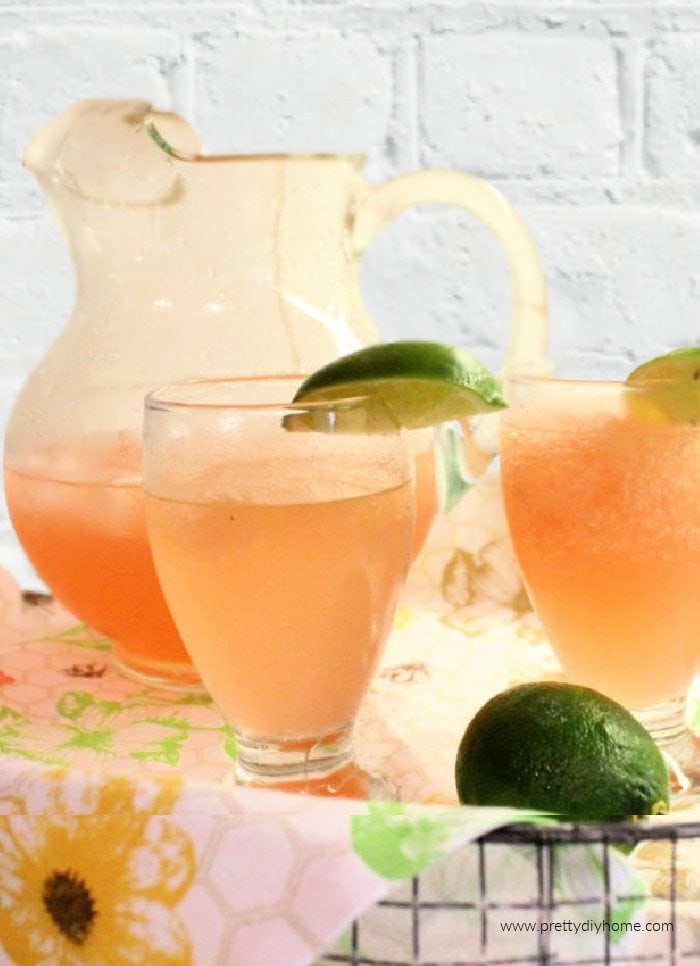 This grapefruit slush is so good, I love it anytime of year, but its especially great during the summer. Its light and fresh and so icy cool and refreshing. When mixing the slush you can control the strength of the alcohol consumption by the amount of 7 up you add.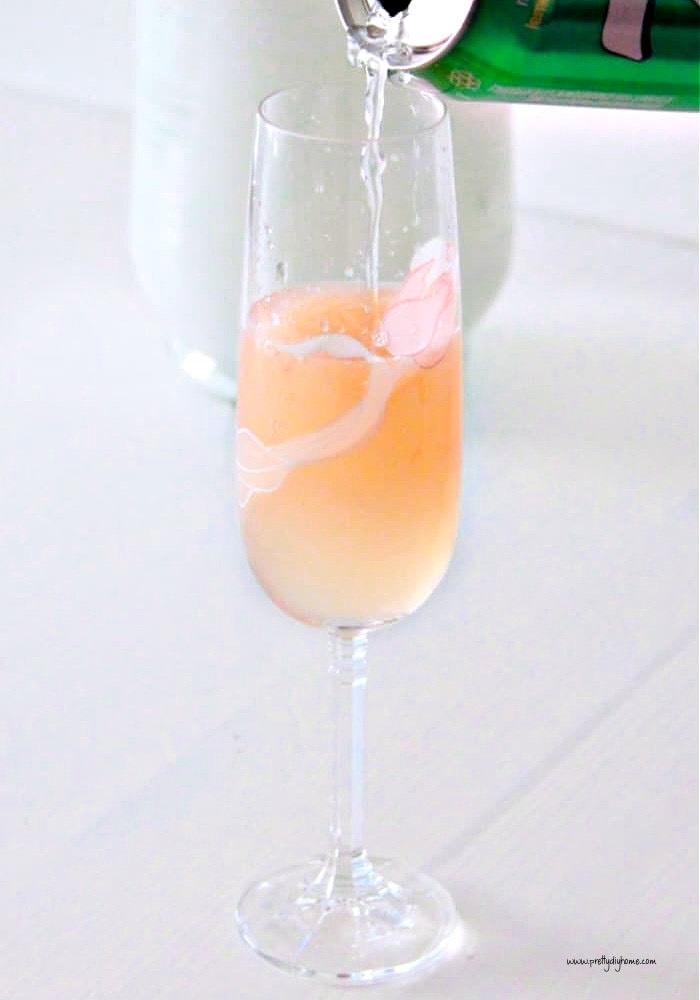 Serving Vodka Grapefruit Slush
Vodka Slush Cocktail
You can mix the slush into a vodka slush one glass at a time. To serve, scoop about 1/2 cup (large ice cream scoop)of slush into a pretty glass and top it up with 7-up. Of course the more 7-up you use the milder the drink is, I typically mix mine 1 large scoop of vodka slush and then fill with 7 -up. Hub's prefers his with two scoops of slush.
When making the slush you can't substitute the 7 up for diet 7 up as the recipe requires the sugar to keep it from freezing solid. When serving feel free to top it up with diet 7 up, or try tonic water.
Vodka Slush Pitcher
To make a pitcher full I use 6 scoops of vodka slush and then top it with four cans of vodka. As I expect the pitcher to be sitting out I add about a cup of ice cubes to keep it freezing cold.
Because of all the citrus juices this Vodka Slush isn't as sweet as lots of the other slushy drinks with alcohol are, and because it's so cold it's really refreshing. I am sure you're going to love it.
Please comment and let me know if you're going to try it, or if you have ever had anything similar.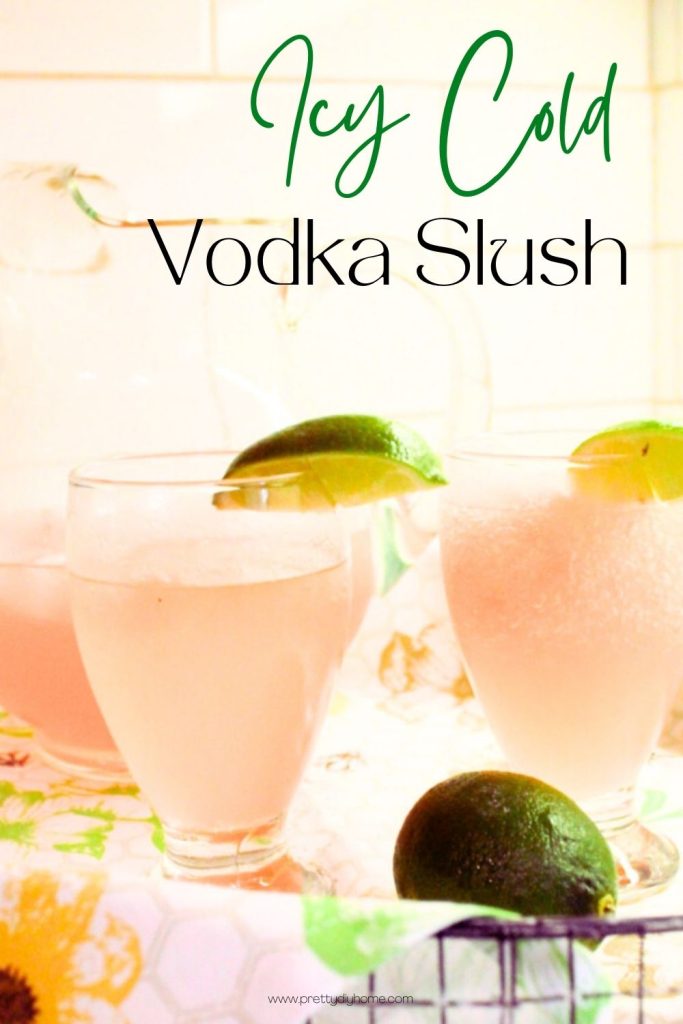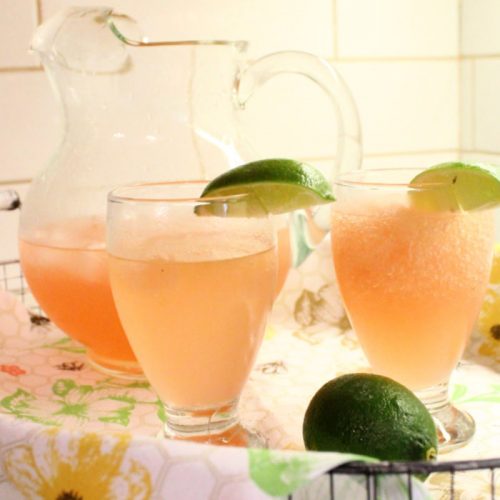 Vodka Slush Recipe
A delicious and make ahead vodka slush recipe for summer. This vodka slush recipe makes a one gallon ice cream bucket of slush that keeps in the freezer until needed. Using grapefruit juice makes this vodka slush less sweet than other slushie recipes.
Print Recipe
Ingredients
8

cups

grapefruit juice

¼

cup

lime juice

26

oz

vodka (gin)

I love mine with gin.

4

oz

Cointreau

`4

cans

7 Up

1

fresh lime

for garnish
Instructions
Place all ingredients except the fresh lime into a one gallon ice cream pail, or a large plastic bowl with lid. Mix well. Place in the freezer for at least 8 hours or overnight.

Once frozen, scoop 1/2 cup of the vodka slush mixture into a glass, and top with 7 Up to taste.
Other Cold Drinks to Try
Whether your wanting to enjoy a cocktail or mocktail instead of colas etc. I have created a few recipes for both cocktail and mocktails. Here are some other ones to try.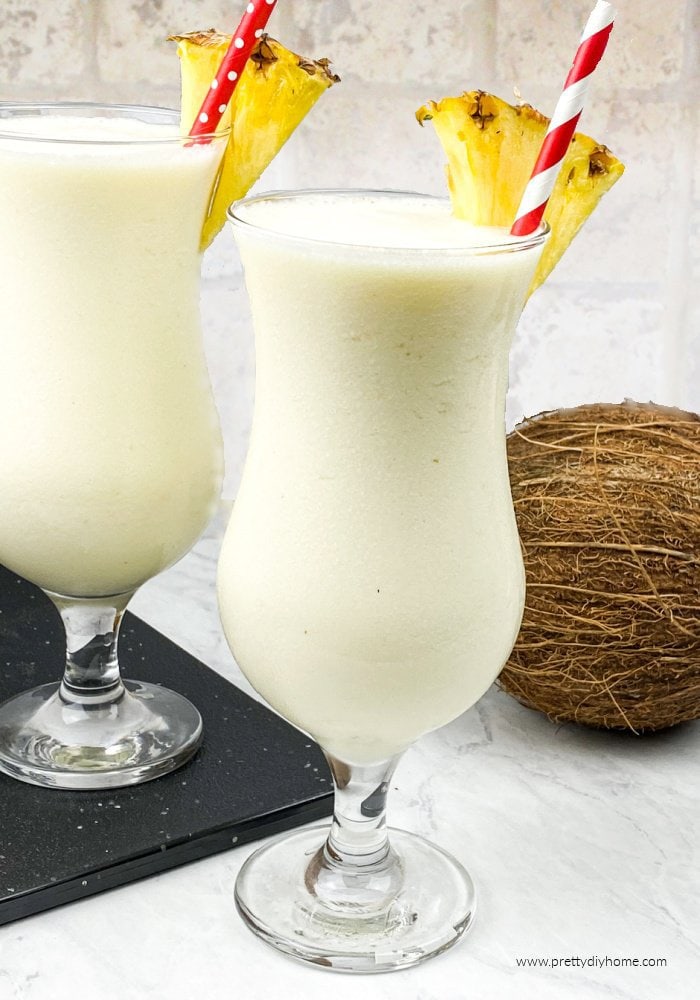 Pina Colada Cocktail or Mocktail Recipe
This recipe for pina colada is a lighter than the purchased variety. You can also make it as a mocktail so anyone can enjoy this fruity coconut favorite.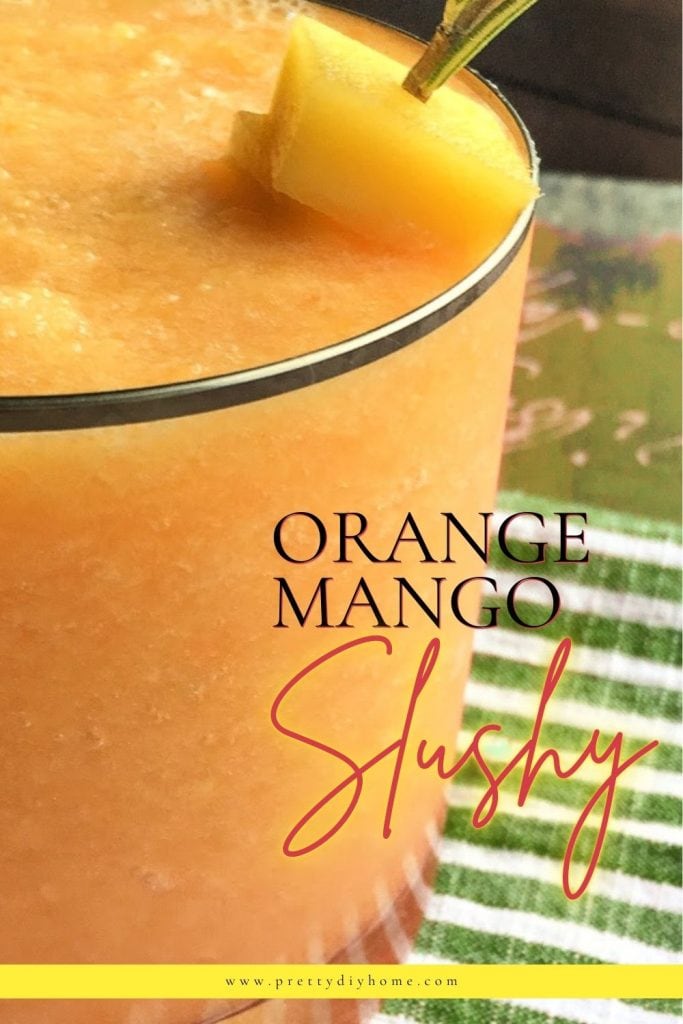 Orange Mango Slush or Margarita Recipe
This slush recipe features mango juice with lime and orange. Its a light refreshing slush that's sweeter than this vodka slush with grapefruit.