All Is Calm and Bright Christmas Home Tour
It's A Wonderful House Christmas Hop
Hello, again friends. I'm honored you've dropped by as I join some of my favorite bloggers in the It's A Wonderful House Christmas Hop. This Christmas home tour is being hosted by the very talented Olivia at Reinvented Collection. I am certain that regardless of your home style, rustic, French, farmhouse or traditional there will be something to inspire you.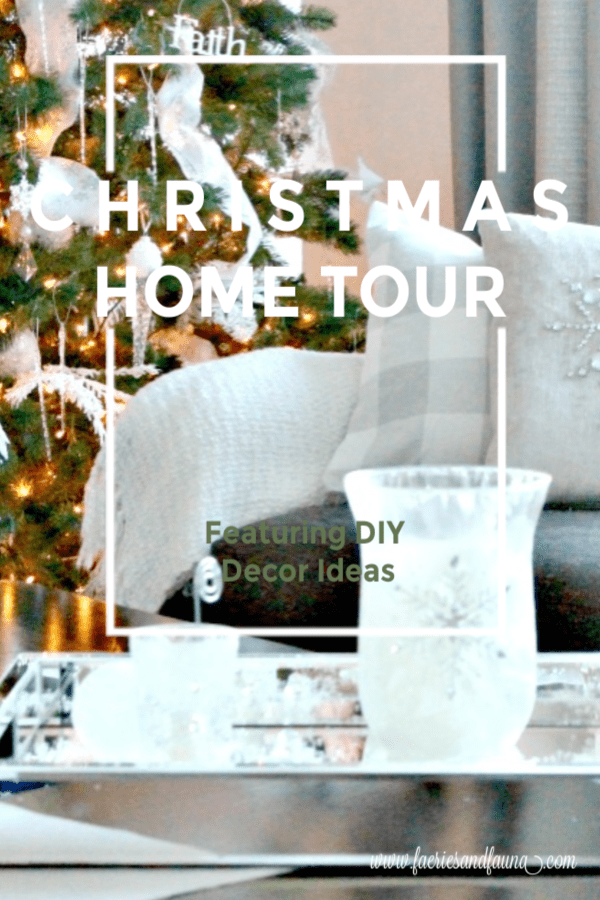 Please grab a coffee, or a glass of wine and enjoy the tour. I hope your enjoyed Virginia's tour at Sweet Pea. Today is Day Two of our Blog Hop, please check out the links at the bottom of my post and check back tomorrow for the next portion of the tour.
Our home is a modest two-story that we love. My home decor always relies on lots of refurbishing and DIY projects. I will point them out as we go along.
All is Calm and Bright Christmas Home Tour
Please come on in. This is obviously our front foyer and the first area that welcomes guest in. I am so glad you're here.
Last year I used a projector some charcoal and a Christmas card to create the deer artwork. As I was shy to share it downstairs last year, my son added some beautiful trees and background to it and I am reusing it this year in the front foyer.
g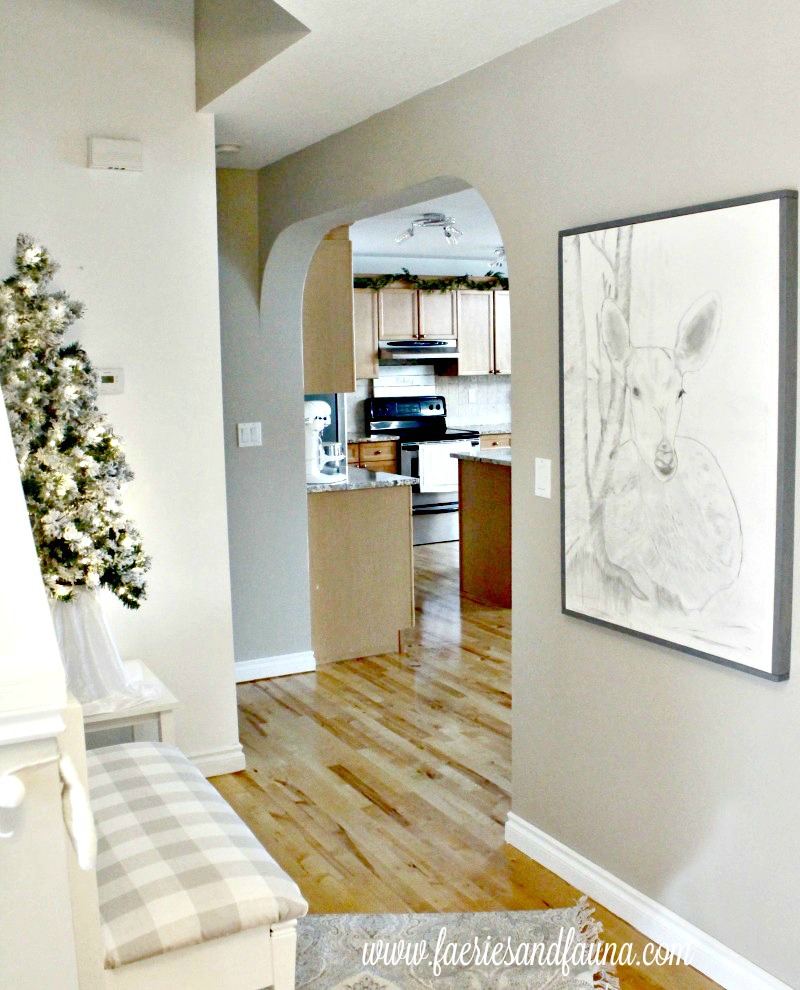 f
Christmas home tours are very exciting to take part in, but the month leading up to the Christmas tour is very stressful for me. Once Christmas arrives I want our home to be restful, pretty, calm and bright. So for this year, I chose calm and bright as my theme. I hope you enjoy the white and natural decor as much as I do.
h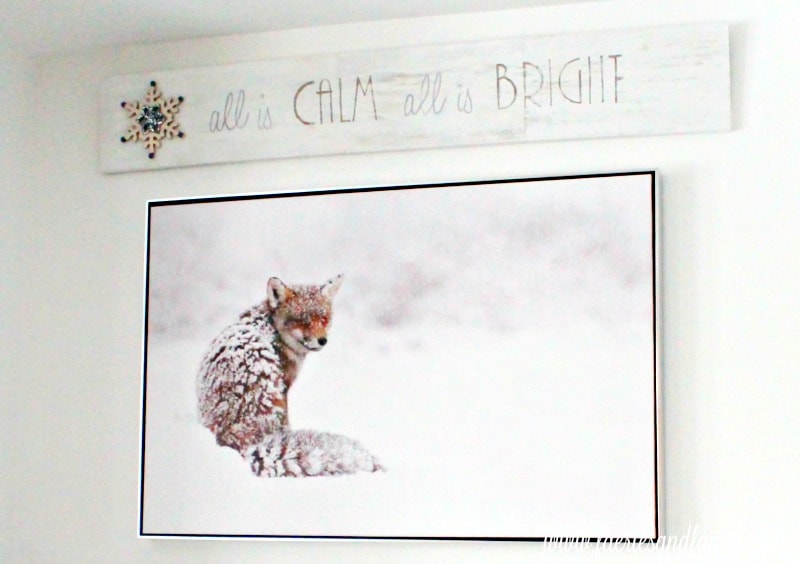 I adore the quiet winter moment captured of this fox in the snow, The serenity of this art moved me so I placed it above our main fireplace. He is inexpensive art from Bouclair. The little All is a Calm sign is a DIY addition to make the fox large enough for over the mantel.
My Christmas decor does set a mood of calm when you enter our home, I worked hard to try and capture that feeling in the blog photographs and I hope you can feel it.
f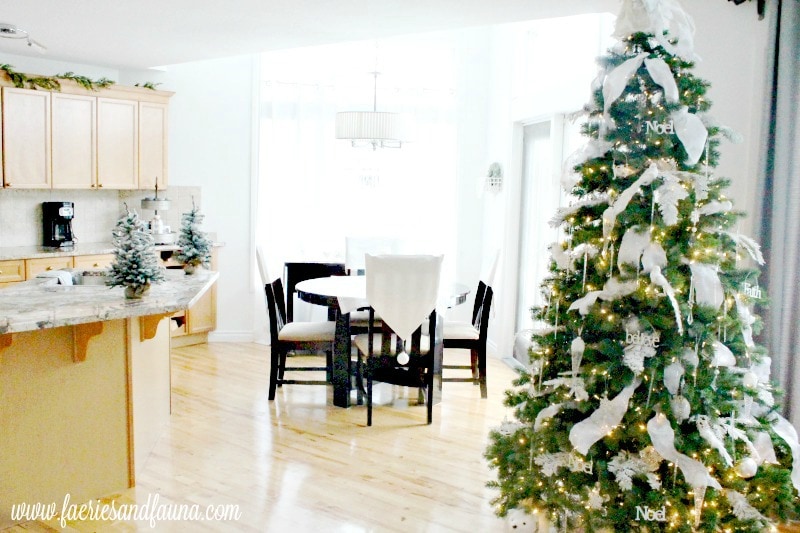 g
Our main floor has a kitchen, dining room and living room all open concept. It has large windows all along the back wall, which make the room as bright as possible.
To me, the calm decor is whites, with a little sparkle, natural elements and hints of decor. Nothing really elaborate or heavy. Already our days are too short and often very dull, the bright whites really help to add joy to the room. I made the white chair covers and the white tree decorations have been slowly collected over decades.
m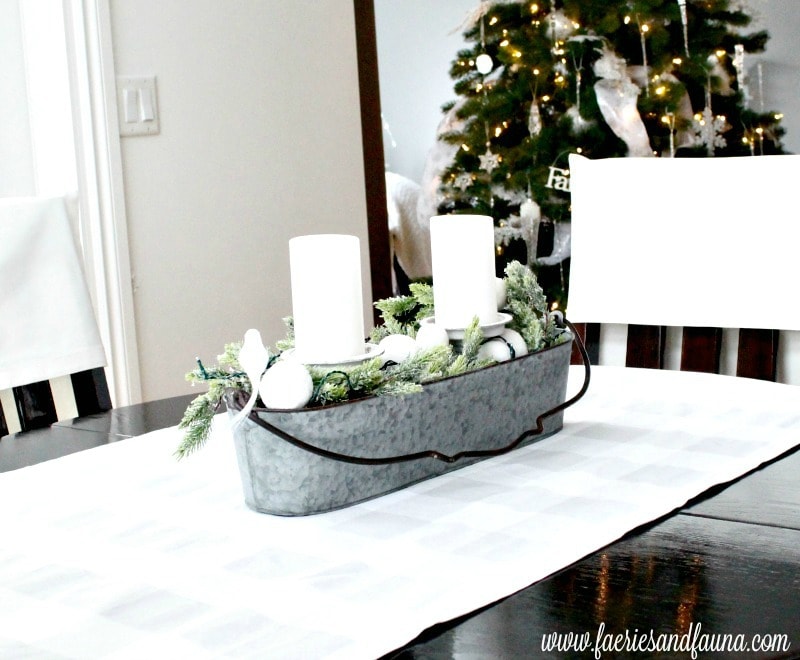 o
Our home does not have a separate formal dining room so whatever centerpiece I place on it has to be easily movable. The runner is from leftover cushion fabric, I stole a bird ornament from the tree, added greenery and felt snow to a plain galvanized container.
d
This is the start of Grandma Lea's Christmas candy buffet. So far I have scotch mints, white pretzels and yogurt covered raisins courtesy of Grandpa. I will be adding some homemade white chocolates and my mother's secret recipe homemade marshmallows.
Some of you may remember this little basket, I simply replaced the cookbooks with a pretty little wreath for the holidays.
k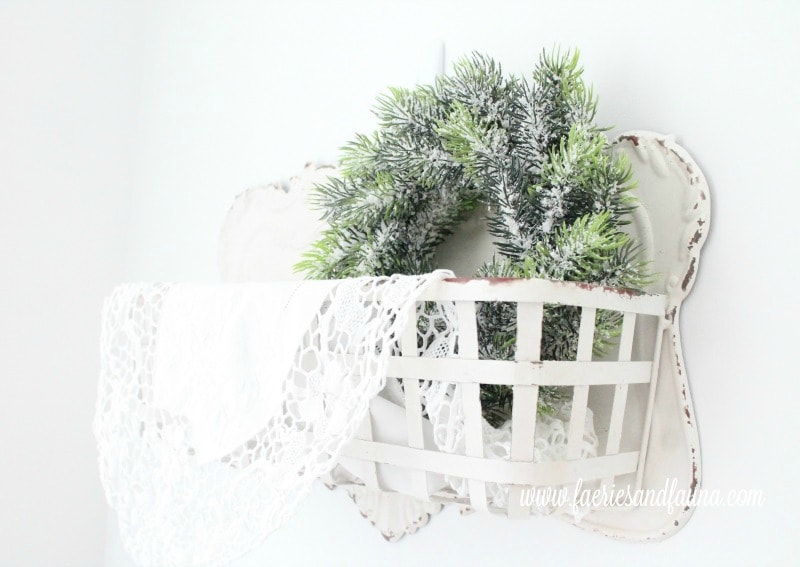 h
The countertops and tables can be easily cleared off for use. The little trees, trays, and centerpieces are movable so I can utilize the space as I need it. A couple of trees a pretty tea towel and some greenery on top of the cupboards is all the decorating I did for the kitchen, but it still makes it blend in with the rest of the areas on the main floor.
g
g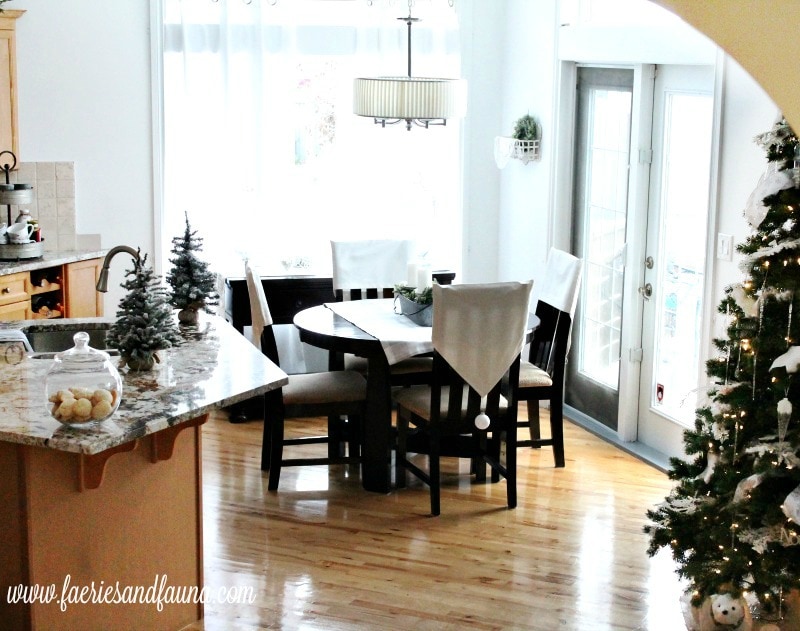 Typically I place the tree in the corner of a room but this year I chose to make the trees stand out more and placed them in the center of the room. They are more of a focal point this way and I love that I can see it from all sides. I will caution you though that the tree uses more decorations when setting out this way.
d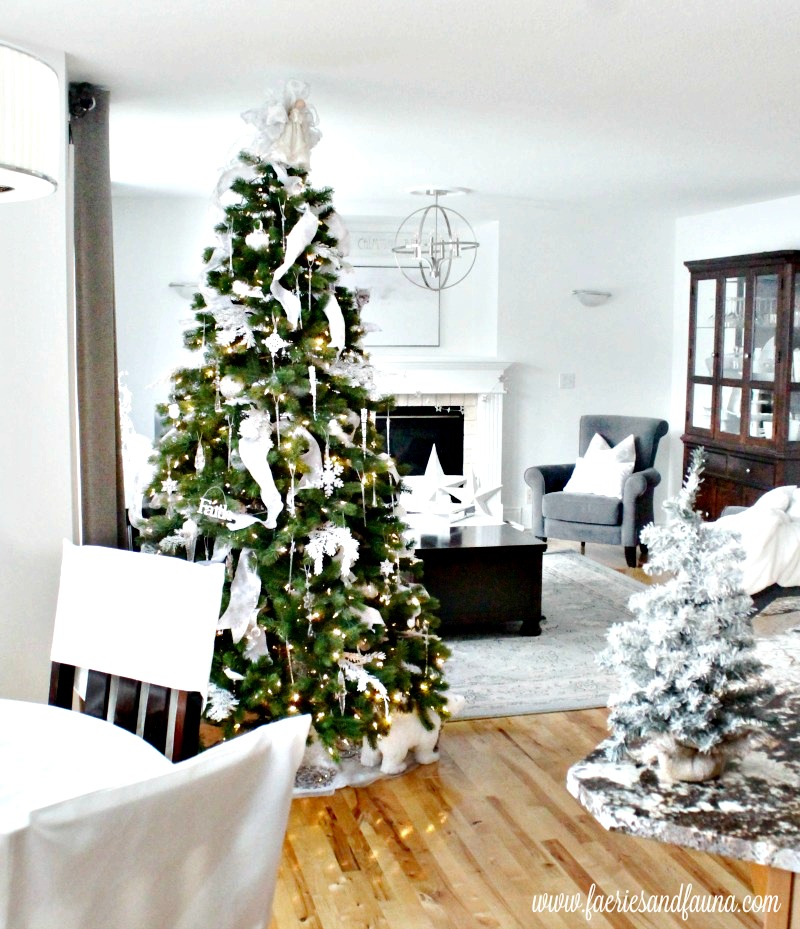 h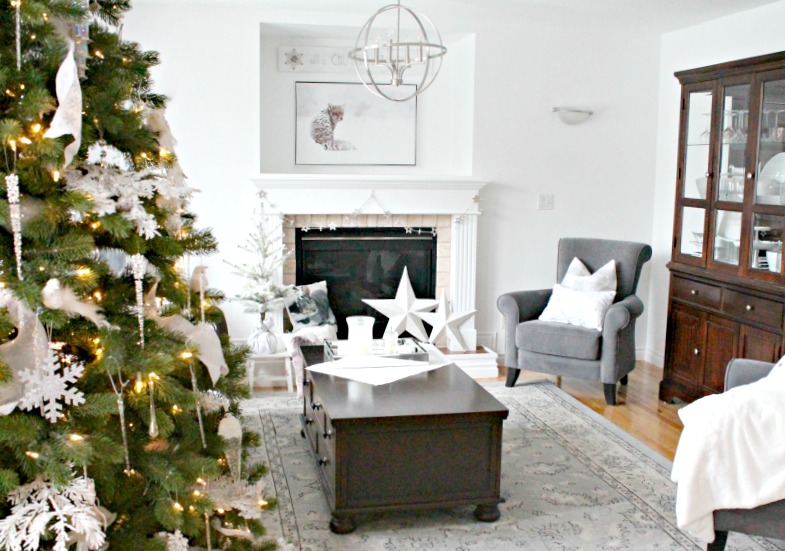 k
Instead of using traditional religious-themed ornaments, this year I used the birds and icicles these little birds carry the theme for me. Although I really prefer the flocked tree its not in the budget, every year I add a few more of the DIY flocked branches in white instead.
j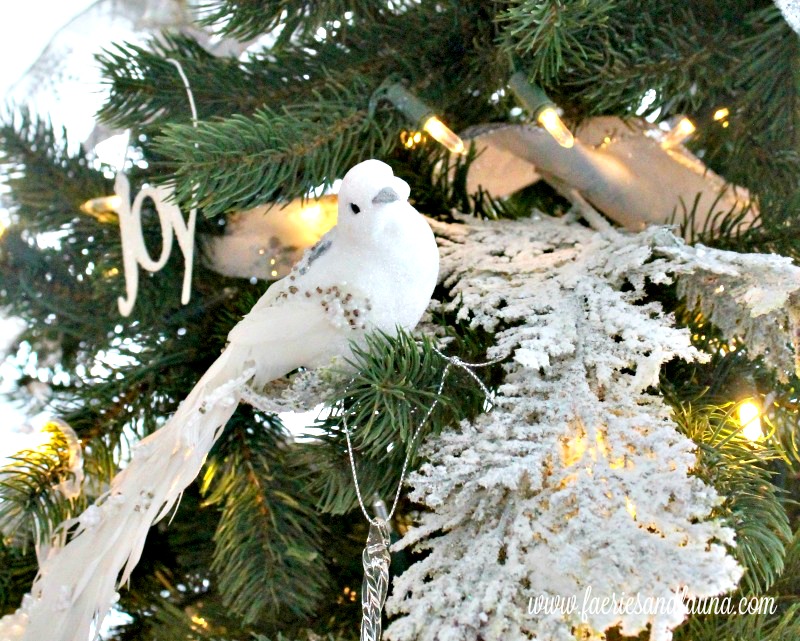 g
The coffee table has a small vintage runner I inherited, it is real linen and has tatting lace. I considered purchasing a faux sheepskin from Ikea instead. I may still go purchase one, but I like that its an heirloom.
g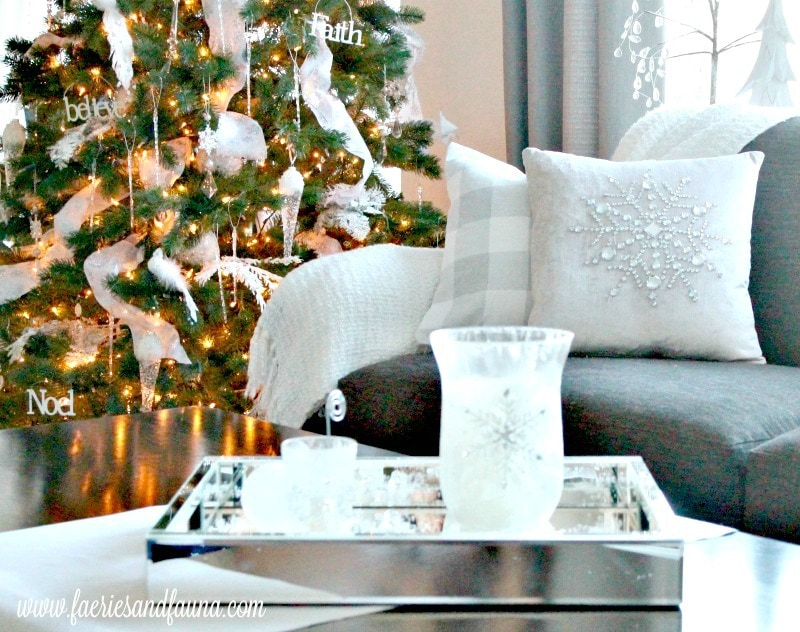 j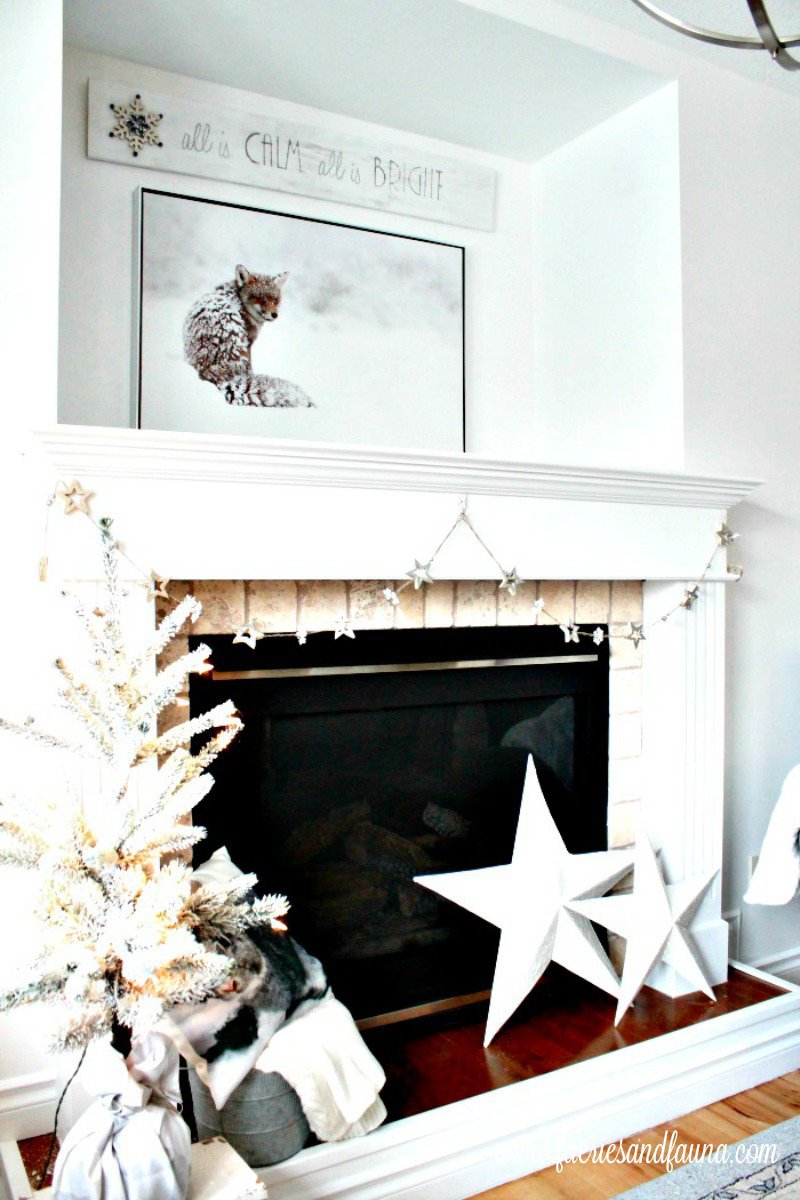 f
Our home has two living areas, the family room off the kitchen and a large bonus room on the second floor for Hubs man cave.
I HAD a large mirror tucked in behind the tree to reflect the light and sparkles, unfortunately, I knocked it down and smashed it as I was plugging the tree in this morning. It really did make a nice difference, oh well. The little mitten banner on the staircase is a dollar store craft.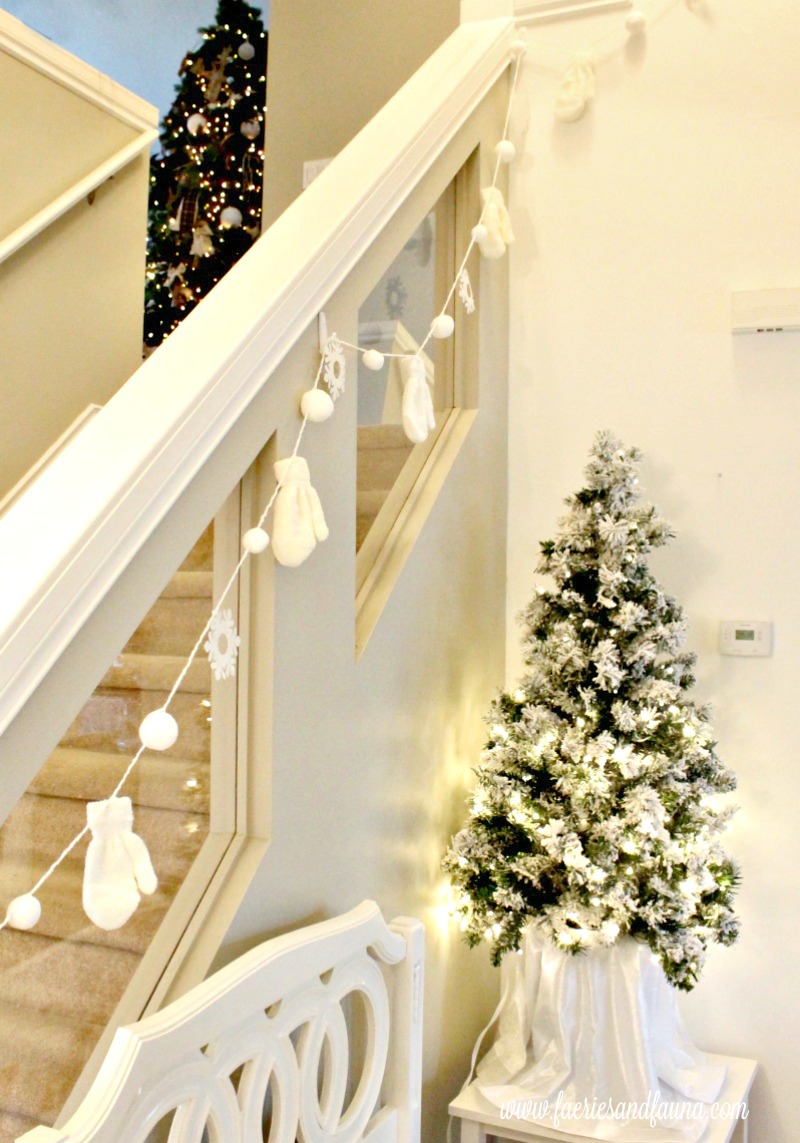 The upstairs room is much larger than the family room, so we gather there to open gifts. The grandchildren are in the Santa stage so I added Santa to the decor. The room also has a very large feature window that is relatively impossible to photograph. I like to place decor in this window up high as it is out of the way and really pretty at night with the sparkling lights.
f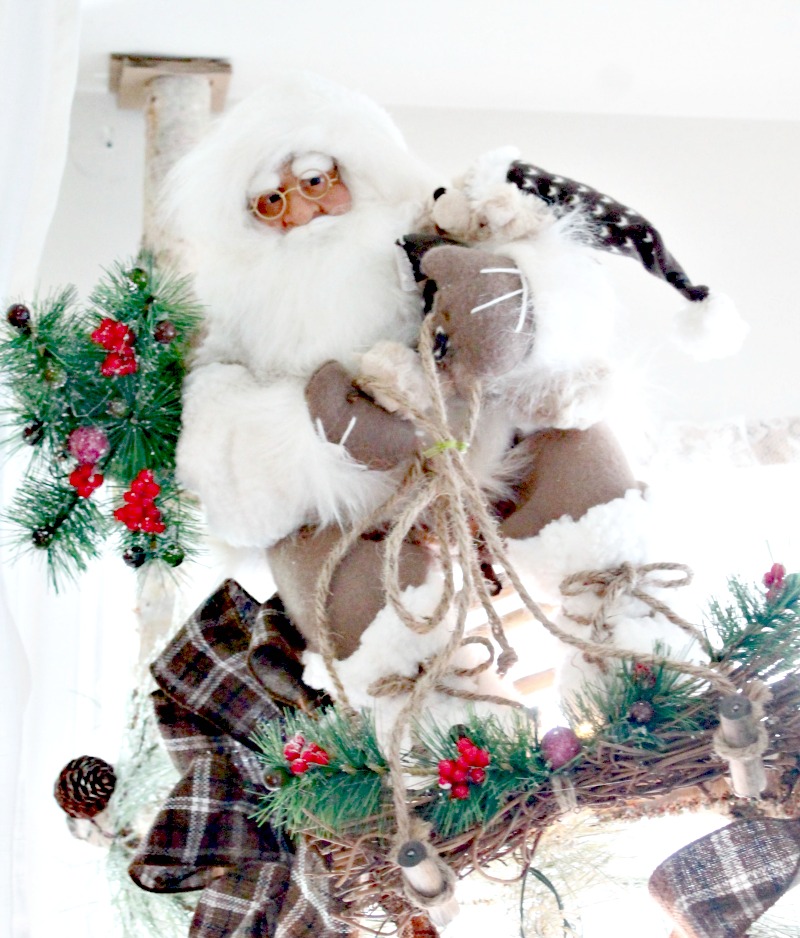 The decor on the second floor has the same natural colours as the main floor but as you will see is much more rustic. Like the fox picture over the mantel, I chose this deer ornament as I love the moment captured in it. It sits on the upstairs coffee table.
Pin me for Later!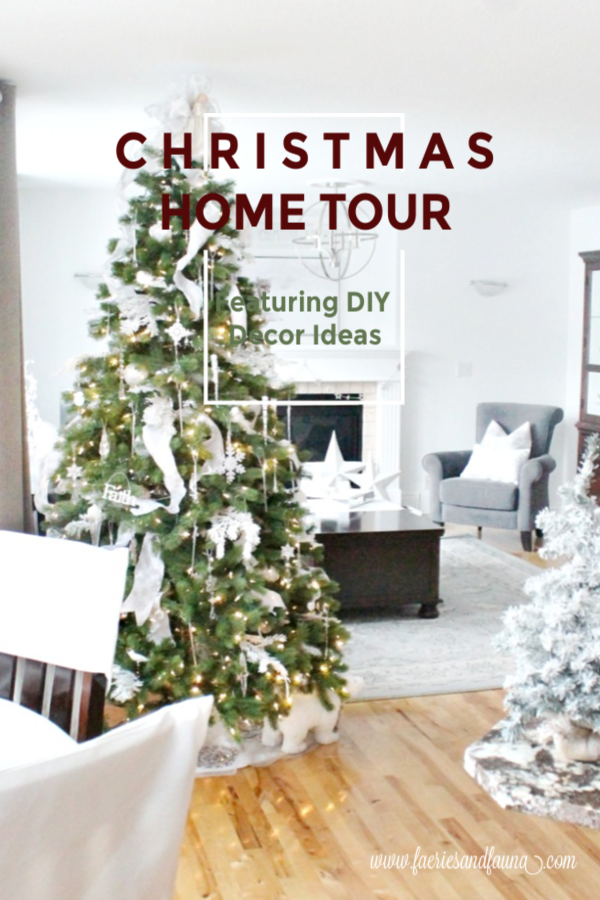 f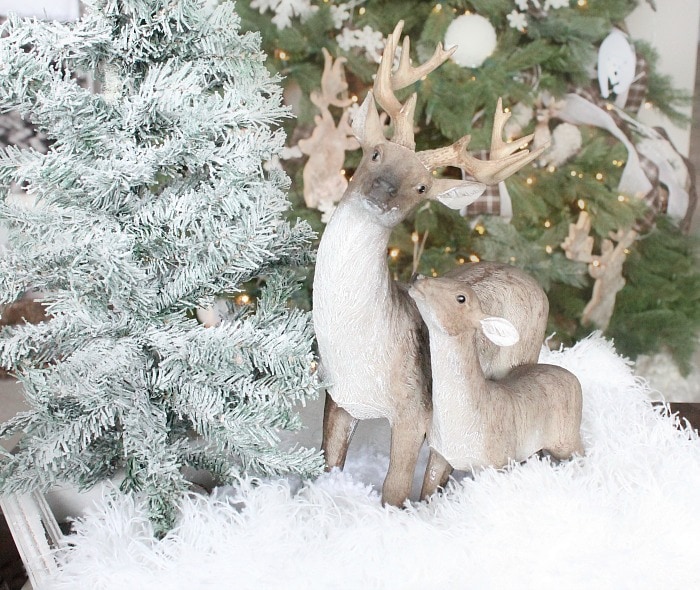 As time rolls along blogs change, some leave the web, others change their name. Unfortunately too many of the gorgeous hops had broken links so I had to remove them. Sad because they were lovely.