Charming and Chic DIY Outdoor Tables
Spring will eventually arrive in Alberta and when it does were going to be busy building a fence for our dog, but I need a gorgeous DIY outdoor table for the deck. We downsized our previous outdoor set to Hubs son, and you can't enjoy the outdoors without furniture, so somehow a gorgeous table has to happen as well.
For now I am oohing and aahing over some gorgeous plans I found on Pinterest.
This Sawhorse Table from Shanty 2 Chic is sturdy enough for outdoors, and beautiful enough to be in the dining room. It comes with complete how to and plans.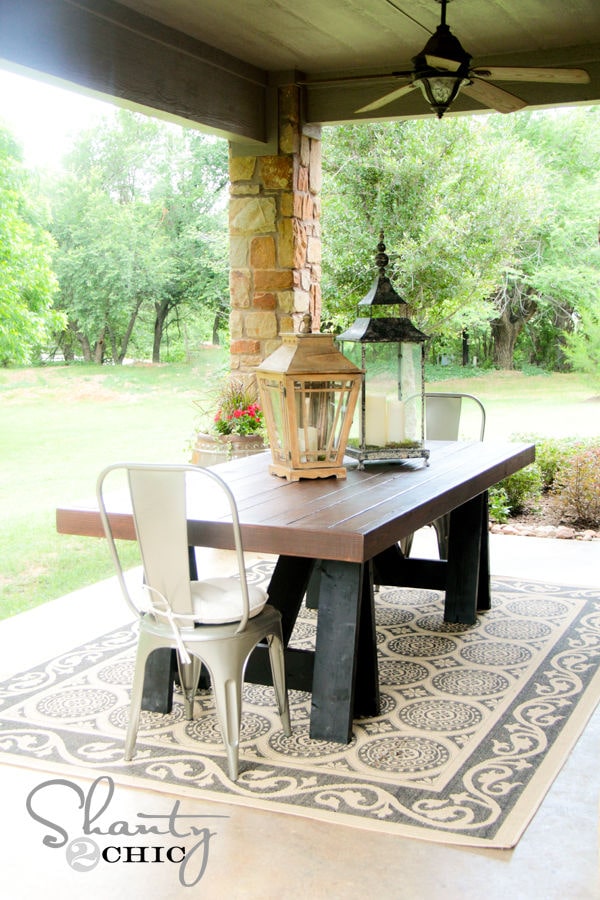 This DIY outdoor table is so sturdy and strong, I love the two tone colours.
This DIY Concrete Outdoor Table from Life is a Party features a modern concrete top. Concrete would be so durable for outdoor use. I think its a fabulous idea. This table just makes me daydream of an invite, what a cozy patio. Your going to love the step by step instructions.
This pretty DIY Tile Tabletop from Seekling Lavender land uses the base from their old set. Its then updated with a wood top featuring gorgeous swanky Merola tiles. What a great upcycle project, and the tiles would be very durable for outdoor use.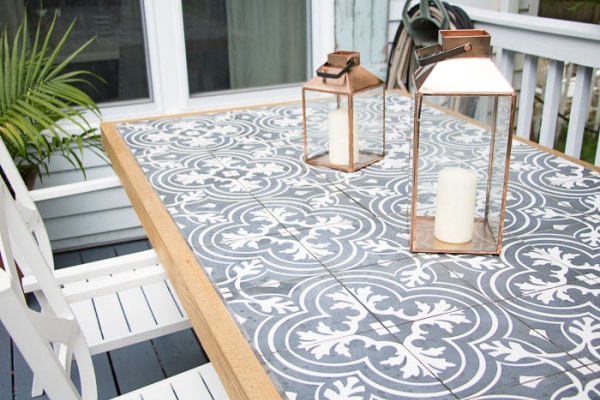 I am in awe of all these gorgeous tables, and the backyard settings. All these beautiful green lawns and large trees are mesmerizing. Nothing more beautiful in my opinion.
The Effie Row blog is very proud of this West Elm Inspired DIY Patio Table, and I would be as well. They did such a gorgeous job on their DIY outdoor table, and the sleek modern lines suit any decor style.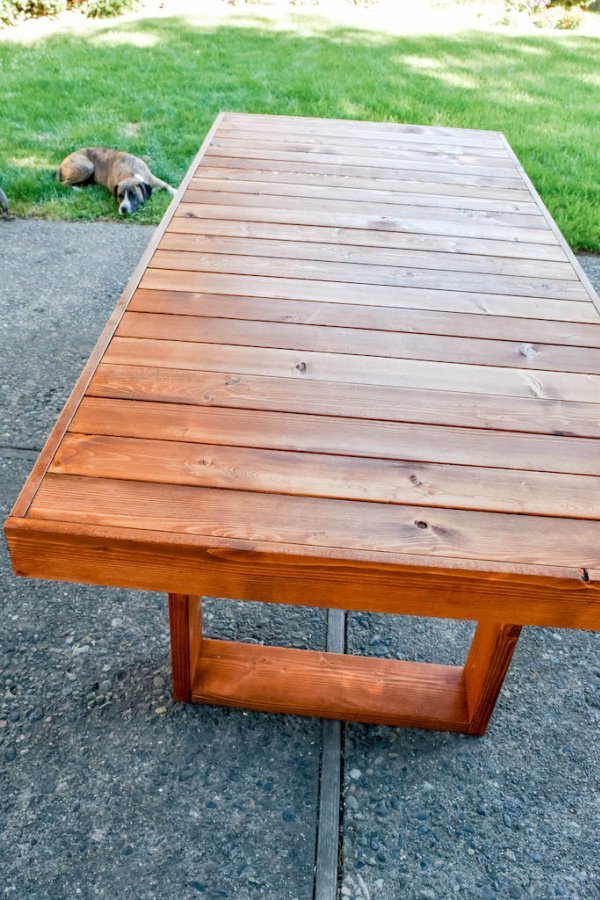 I love the looks of this table And the budget. Arin Solange at Home made this Easy DIY Outdoor Table with a $45 budget. The tutorial for the table is included And there is a link to the gorgeous matching bench. I think this DIY outdoor table would make a wonderful gift as well.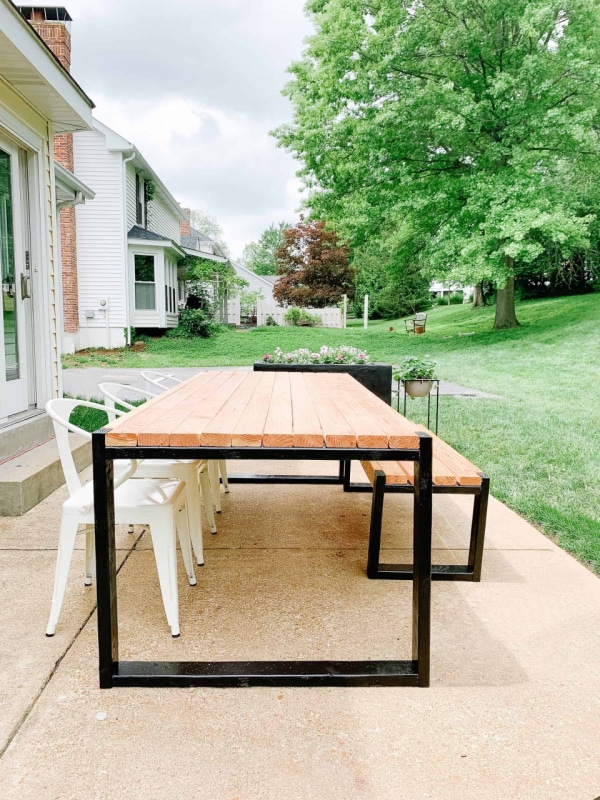 This very unique, stable and square table is from Ana White. No DIY furniture roundup would be complete without one of her DIY projects. I really enjoy the shape of this table and the attached benches. If your deck is smaller or square shaped, I think this is the perfect solution. You can find the tutorial and plans here. Square Picnic Table by Ana White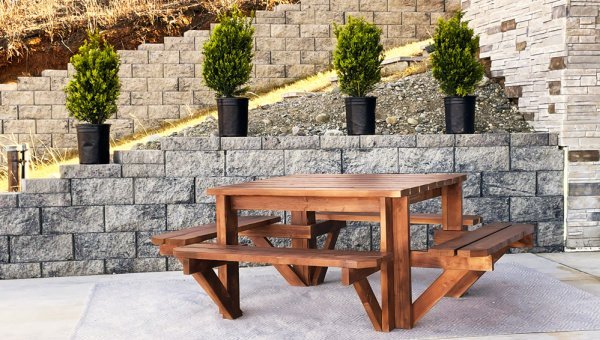 This Chunky X Farmhouse trestle table from Pretty Handy Girl is a farmhouse lovers dream. I have a weakness with the natural wood, paired with soft green in the background. It just looks so cozy and nice for any season.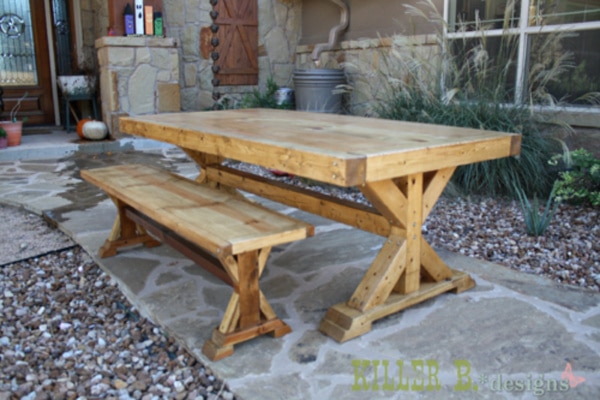 If you want a really fancy dining table for outdoor this DIY Farmhouse Table from the Navage Patch is for you. Its obviously a little bit more work, but the table top is just incredible. There are very specific step by step instructions including how to weatherproof the table. With patience and effort I think its totally dooable. I cannot imagine what this table would cost to buy, yowsa its nice.
This DIY Outdoor Farmhouse Table from Katie Lamb has such clean and classic lines. My favorite part is the beautiful finish. What's yours?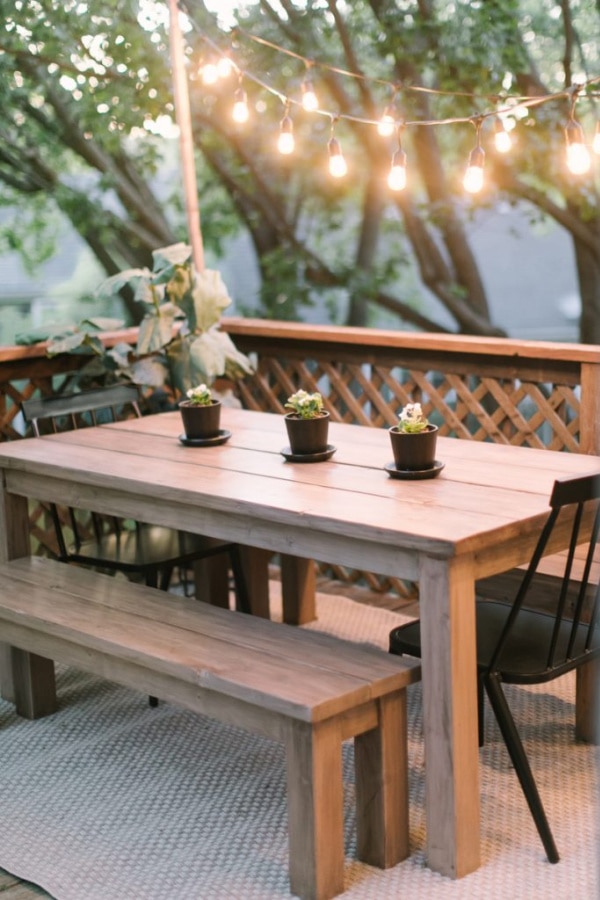 This DIY outdoor table is so fun. colourful and unique. I Should Be Mopping the Floor creates the Old Door Table, with an old door, and piping. The indentions in the door work well with the table settings, no glass cover needed.
Another budget saving DIY Outdoor Farm Table. This table from Unexpected Elegance has a rustic white paint (my personal fav), Its large, sturdy, and once again easy on the budget.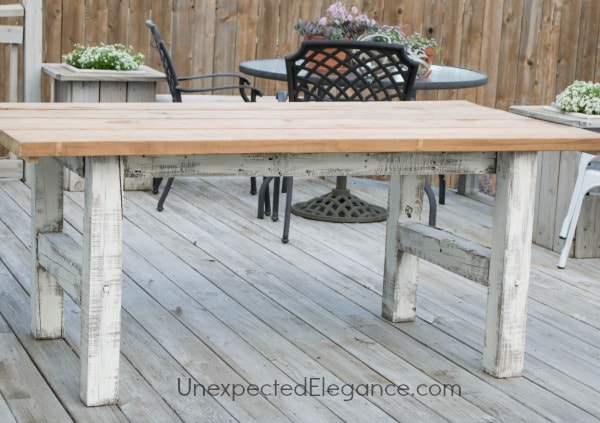 This Ana White Truss Beam Table is built by This Rustic Soul. Starting with Ana White's table plan Stephanie shows what to look for when purchasing the wood, and sanding advice. Another gorgeous table for outdoor, that is beautiful enough to be inside.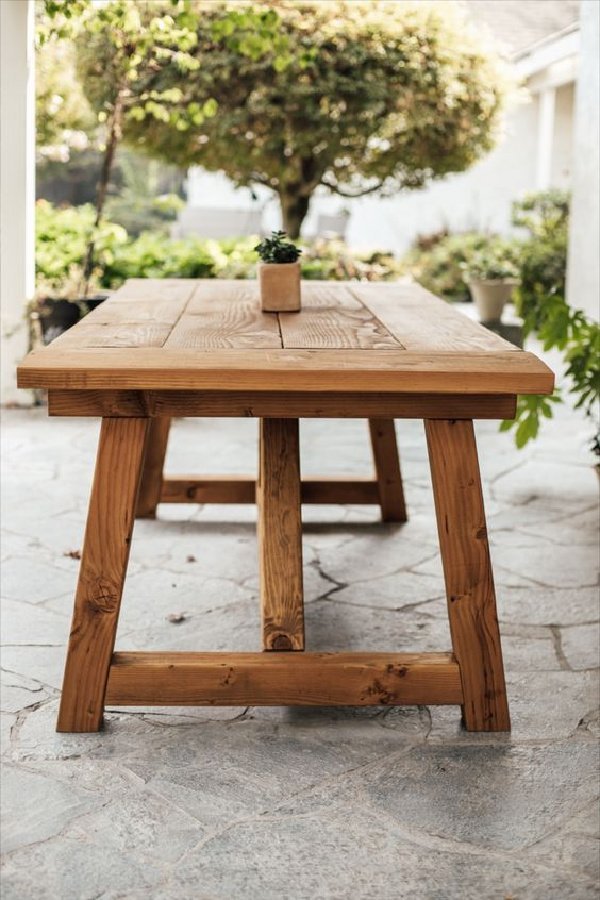 Check out the impressive table legs on this H Leg Dining Table from the Rogue Engineer. The structure is so impressive, and he provides material lists, drawings, and tutorial for how to make one yourself.
Take a peek at the farmhouse finish on this DIY Outdoor Farm Table from Unexpected Elegance. It's easy to build, inexpensive and pretty and did I mention the white farmhouse finish!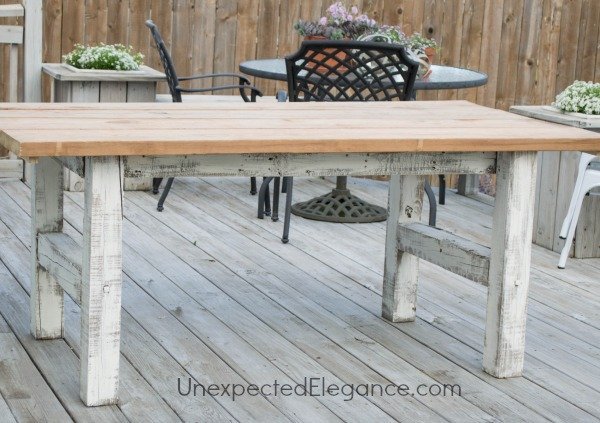 This entire setting is so nice with the lights above and the patterned rug floor from Simply Beautiful by Angela. Even so, the DIY Outdoor Table remains the focal point. Black legs and a dark stained stop really show off this table. I love every choice they made. He shares the step by step tutorial for how to build the table yourself.
Remodelaholic shares this Table with Built in Drink Coolers project. I know this will be Hubs favorite design, you can use it for beverages, or imagine it with popsicles, or even ice cream cones at a birthday party. So many fun times could be had around this outdoor table.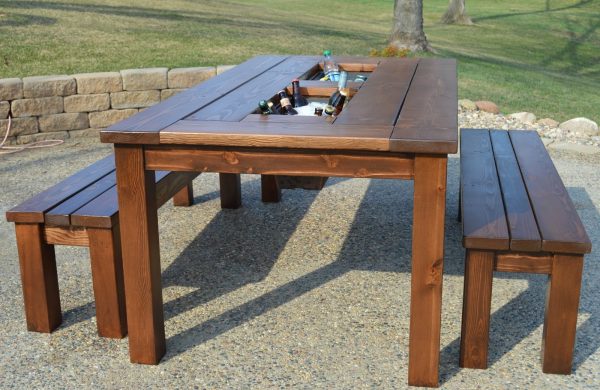 DIY Picnic Tables for Children
Much too long ago my boys had a child's picnic table given to them. They used it for years and it was nothing short of fantastic for playtime, and it was small so it could be used indoor as well. If you have never owned a child's picnic table I recommend them. If your new to building it could be a great way to start.
The shape of this table is perfect, I love how balanced this little Modern Kids Picnic Table would be. No tipping to worry about.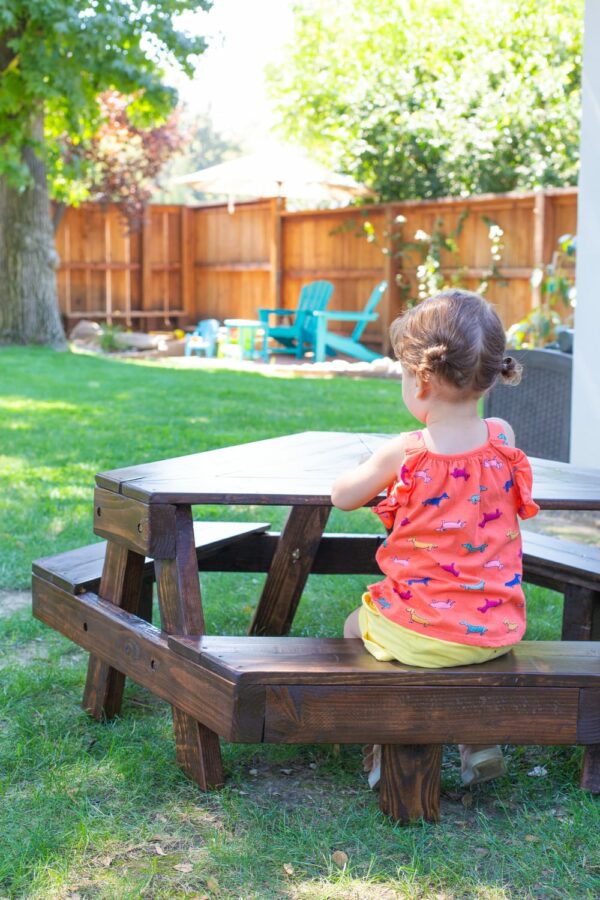 This fun and playful Sandbox Picnic Table for Kids comes with free plans. So many nice things to say about this table, the cheerful colours and of course that it turns into a sandbox. If Only April did a fantastic job designing and sharing her design with us.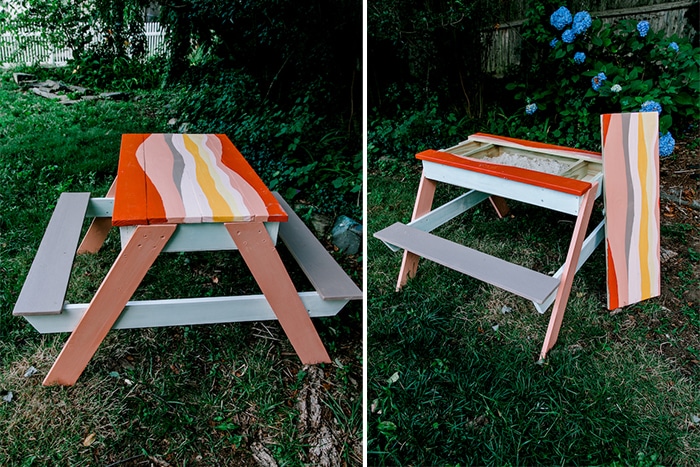 This Chalkboard Picnic Table by Thinking with My Heart is made adult sized but I think its fantastic for children. The tutorial is for painting only. Place this table in the shade and pass the kids each a box of coloured chalk. Once the kids are done wash it and it looks fantastic in the dark matte black. So nice.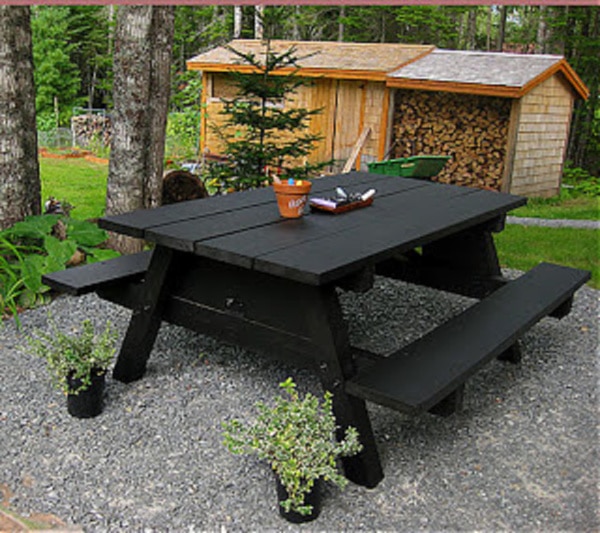 This Nautical Picnic Table for Bigger Kids from Houseful of Homemade is so fun. It reminds me of child adventure playgrounds. I can see kids playing pirate already.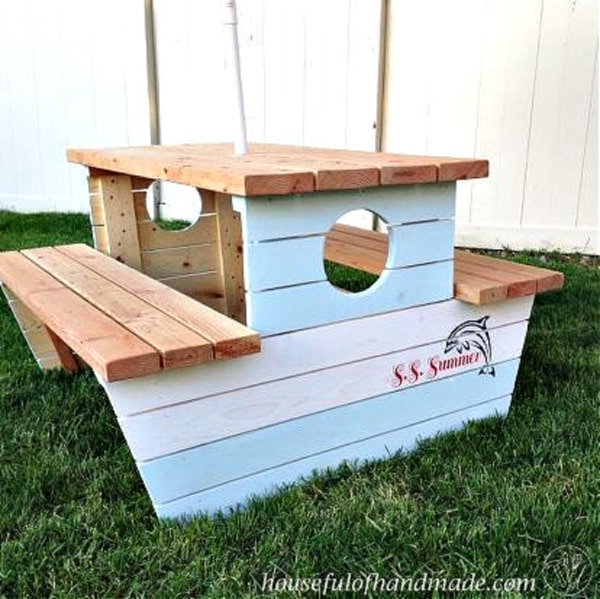 This long and Low Boho Picnic Table by Connie and Luna is so unique. I saw several other posts about how to decorate and set up this Boho table, but this post from Connie and Luna actually shows us how to build one. Grab some cushions and your set.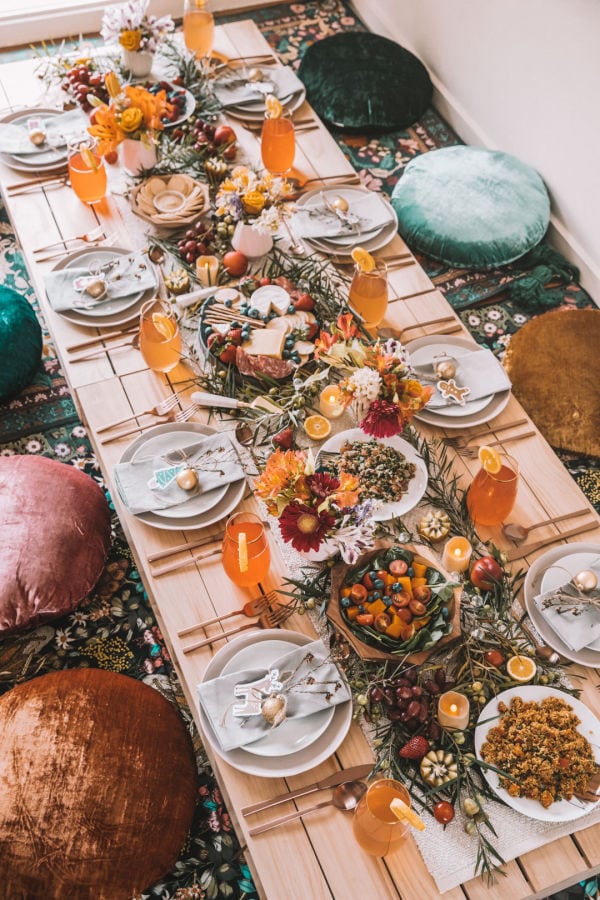 How to Build a Squirrel Picnic Table from Run for Cookies. I laughed when I saw this little squirrel feeder and knew right away I had to include it. Our new home is gloriously surrounded by trees and I have spotted squirrels. I love this little scrap wood project, and hope you do as well.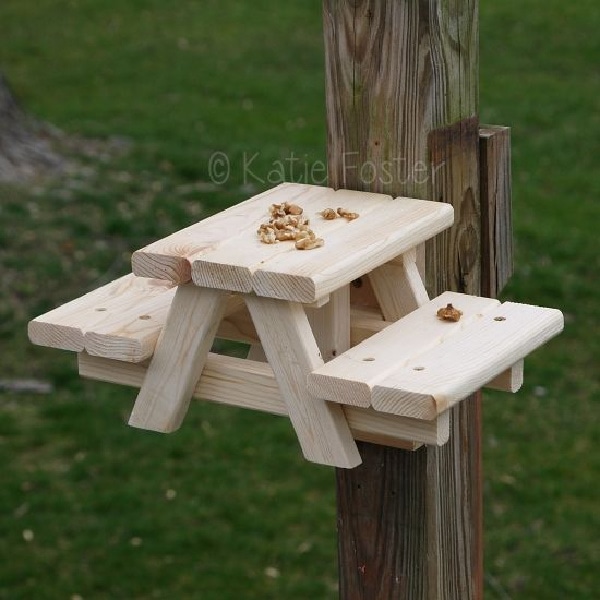 If your like me and not quite sure what table you want to create, pin it for inspiration.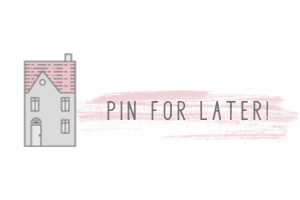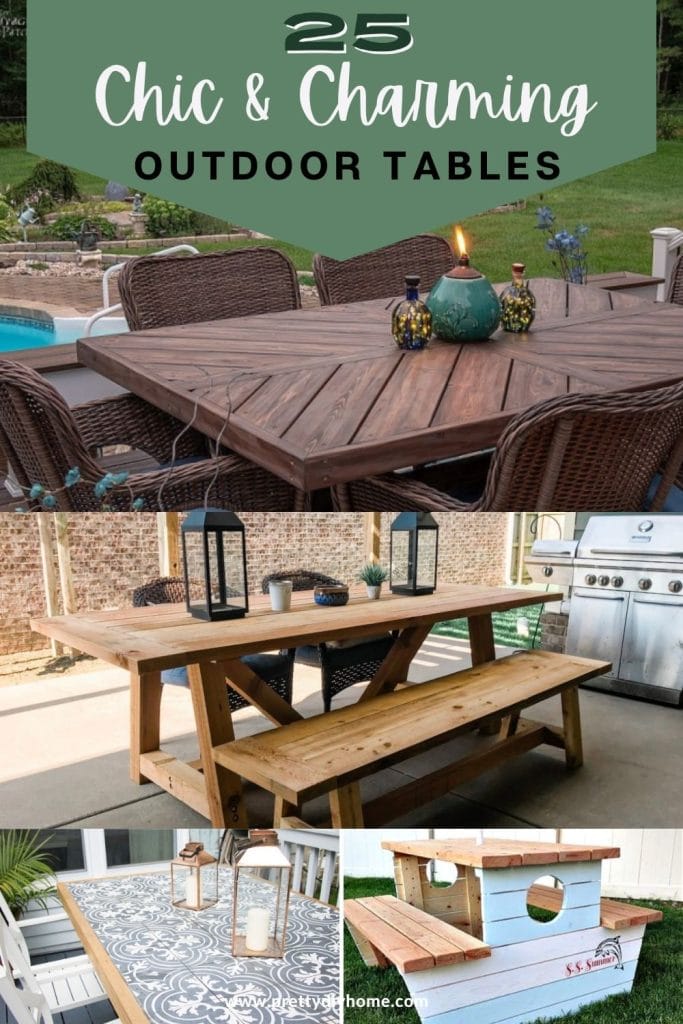 Other DIY Outdoor Projects
I have made my own DIY outdoor table thankfully, but I lost the tutorial images (long techie story), I have created a small easy to make table and refurbished an outdoor table I thought you may enjoy checking out.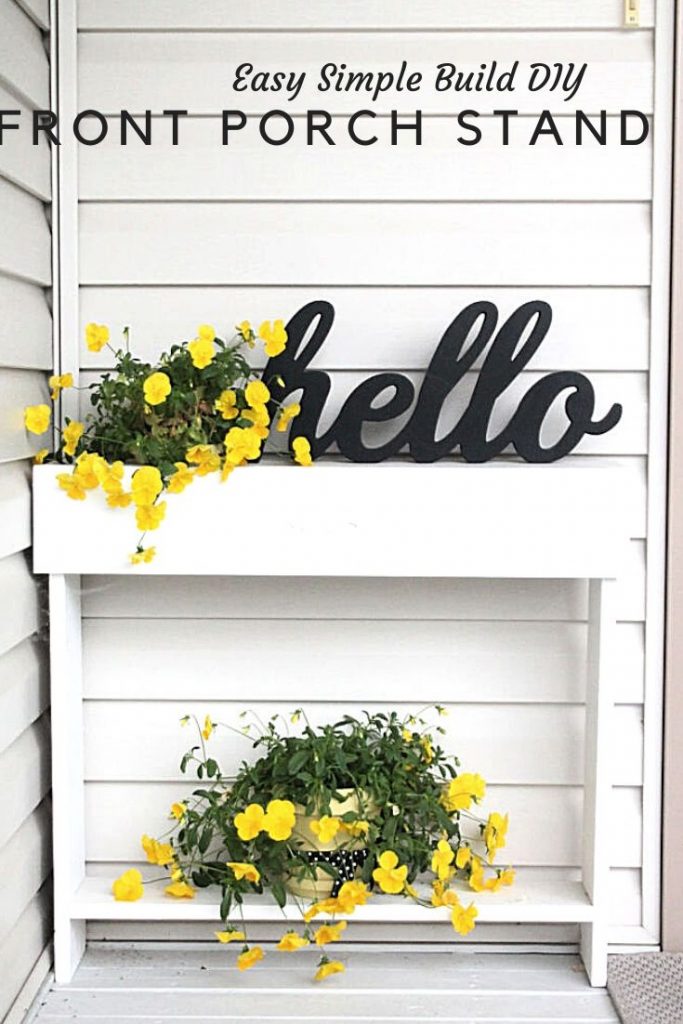 Small DIY Table for Patio or Porch
This is a very simple to make DIY outdoor table I made myself. An easy build perfect for beginners. It's been very handy for our front porch and has done double duty as a herb garden holder as well.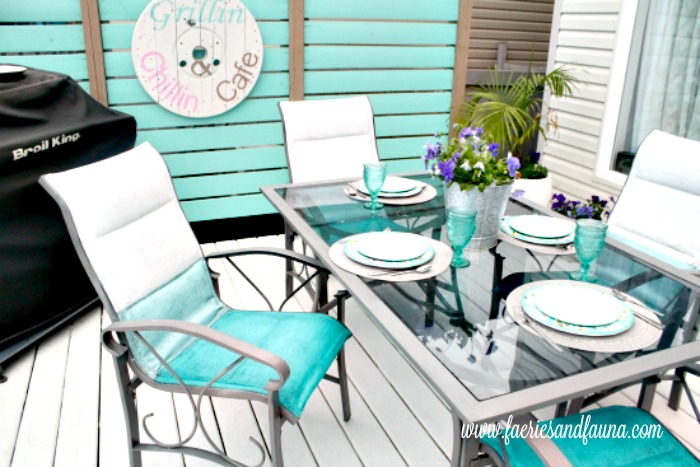 Ombre Patio Chair Chalk Paint Makeover
A very old dining table and chairs got a modern update DIY Table Makeover using chalk paint. Refinishing this table gave us three more years of service. It was well worth the time.