Christmas Candles in Windows Decor
Three Christmas Candle Decoration Ideas for the Windows
Let me share a couple of simple minimalist ideas for Christmas candles in windows. Candles always add a feeling of quiet, calm, serenity and warmth to a room and simple elements allow the candle itself to shine. A lit candle in a dark room touches ever little bit of the room a little bit differently, just like the light of Christ does. Candles at Christmas can be a gentle reminder of what the season is truly about.
Every year I place candles in most rooms of our house but this year I created several simplistic candle arrangements for our Christmas decor. Most of mine will be used in the windows and lit during the holidays but they are wonderful anywhere you choose to place yours.
None of these simple candle holders cost me more then $3 to make each. I love how they turned out with their minimalist style with the simple white and green colours.
The History of Christmas Candles in Windows
Candles in windows are a sign of welcome to others. 100 years ago homes in Alberta houses were often very far apart and the majority of people were on foot or horseback. Candles were placed in the windows for a sign of welcome to visitors. Originally the practice began in Ireland as the candle in the window with a unlocked door was a sign to Catholic priests that it was safe to have mass in their home.
For whatever reason I think candles add a quiet calm to decor and shine pretty light into a room. Who doesn't feel the romance of candlelight.
Christmas Decor with Candles
I have created three unique Christmas decor with candle crafts to place in different rooms. Each one is a little different, but they are all very affordable and really easy to do. I have titled each one by the room I am placing them in, but they will work in any window in your home you like. If you have children at home I suggest using battery operated lights. We are empty nesters so I was able to use the flame candles instead.
Please let me know if the comments which is your favorite.
Adding Scent to Your Christmas Candles
If your wanting to add scent to your Christmas decor with candles, you can purchase more expensive scented candles of course. But how about using real sprigs of greenery, bay leaves, cinnamon sticks as embellishments. Or add some cloves inside the jar. I made mine using faux greenery, but adding scent or live greenery is something to consider as well.
Living Room Christmas Candles in Window
This living room candle arrangement is made using IKEA jars and eucalyptus from my Christmas mantel. I placed one in the large front window to shine out on the neighbourhood and another one in the window the looks out on our entry way.
Materials for Making the Christmas Candles for the Living Room
My goal here as always was to make my craft as cheaply as possible. Use whatever supplies you already have on had, can recycle or buy cheaply.
A glass jars ( I used IKEA)
Dollar Store Stub Candles (or you can use battery operated candles) that fit inside the jar
Decorative twine or ribbon
Small greenery embellishment
Hot glue and scissors
tea towel to hold jar in place
How to Make Christmas Window Candles for the Living room
Wash your clear glass jar. Double check your candle fits inside the jar. (my second candle did not, it was a tiny bit larger somehow. I used a pair of scissors to scrap off some of the candle wax). Place your candle inside the jar.
Cut a small piece of greenery, place it on the jar where you want it. Wrap the jar with twine several times to hold the greenery in place. Attach the greenery and the twine together with a small dab of hot glue. I have a step by step video tutorial at the end of the post if you want more specific instructions.
Make a pretty bow.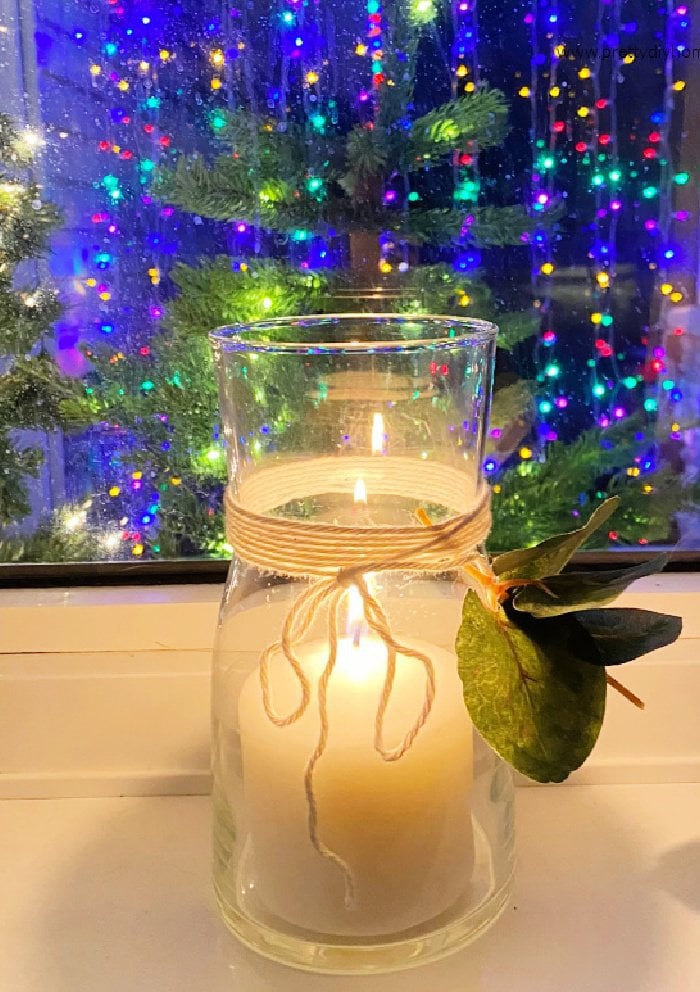 How to Make Christmas Candles in Windows for the Bathroom
I made two of the same Christmas window candles for the bathroom, but since our bathroom window is small I placed one candle in the window, and a second one as part of an Christmas decor arrangement on the counter.
Materials for Making the Christmas Candles for the Bathroom
Small jars where the opening is smaller than the stub candles.
Scented dollar tree candle (or battery operated)
Small embellishments for inside jar (I used pine cone and dollar tree greenery)
Twine
Hot glue and scissors
Teal towel to hold jar in place
Begin by washing and drying your jar.
Remove labels from candle.
Place small embellishments inside jar so it looks pretty.
Wrap the twine around the bottom one inch of the candle. Attach with hot glue, and snip the end short.
Tie a twine ribbon around the jar.
I have a step by step video tutorial at the end of the post if you want more specific instructions.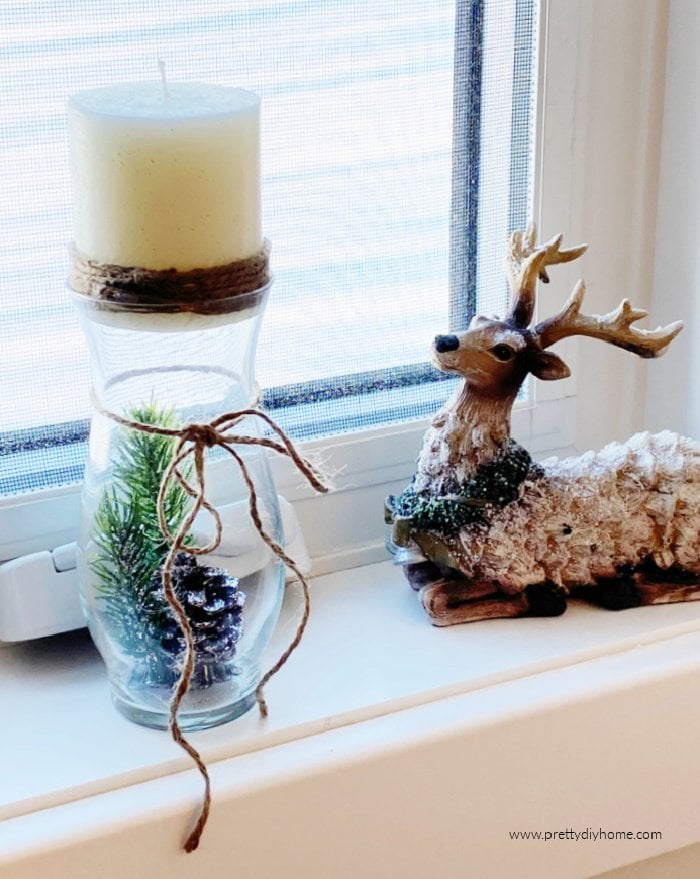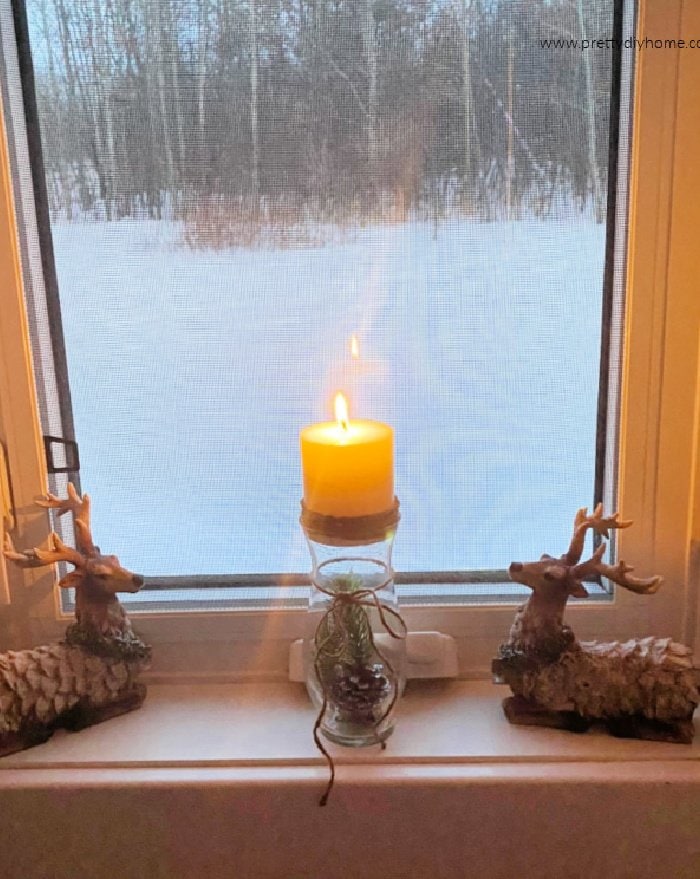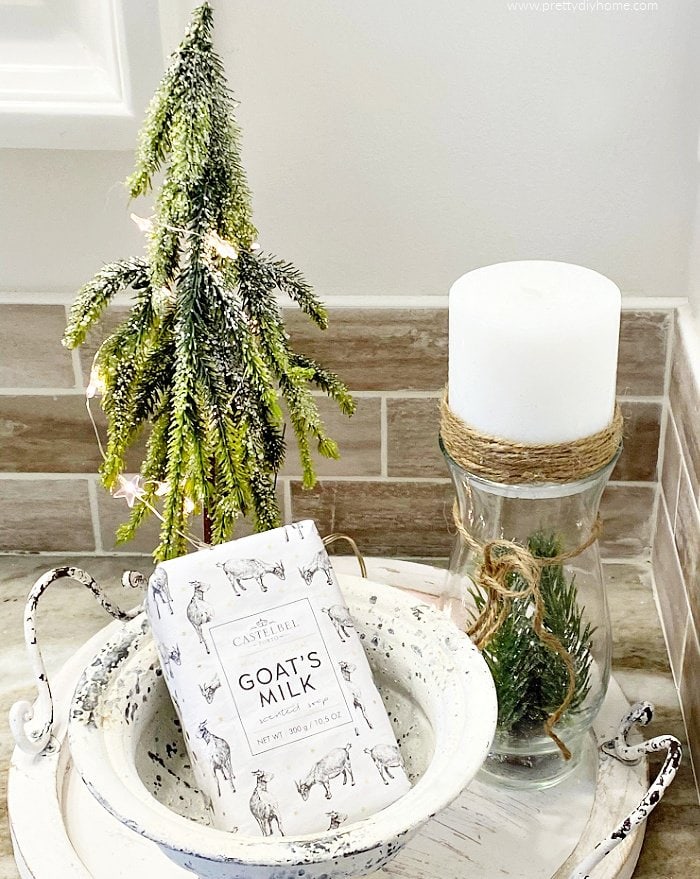 How to Make Christmas Candles in the Windows for the Kitchen
My Christmas window candles for the kitchen are made using small vintage glass milk jars, and scented green taper candles. I had to work around the larger openings of the milk jars. If you can find a different bottle with a smaller neck you may be able to skip the first part of the tutorial. If you have something already on hand I think the elastic idea would work for you as well.
Materials for Christmas Candles in Windows for the Kitchen
You will need two jars with narrow tops (I used milk jars)
A large bundles of dollar tree elastics
Bakers twine
Florist wire
Dollar Tree taper candles (real or battery operated)
Dollar tree faux snow
pretty Christmas greenery
Scissors, hot glue
Begin by washing the jars and setting side.
Take the tapered candles and wrap them in elastic bands until you candle base fits tightly into the top of your jar.
Once the base is large enough wrap the elastics in bakers twine. Hot glue in place to hold.
Make sure they fit into the top of the candle and set aside while you fill and decorate the jar.
Fill the jar with white faux snow.
Cut the greenery and wrap together with the florists wire. So I didn't need to apply glue to my vintage milk bottles I then attached the greenery to the glass jars using florists wire.
Once the greenery is attached cover it by wrapping with the bakery twine.
Finally place the candle inside your jar holder and your done.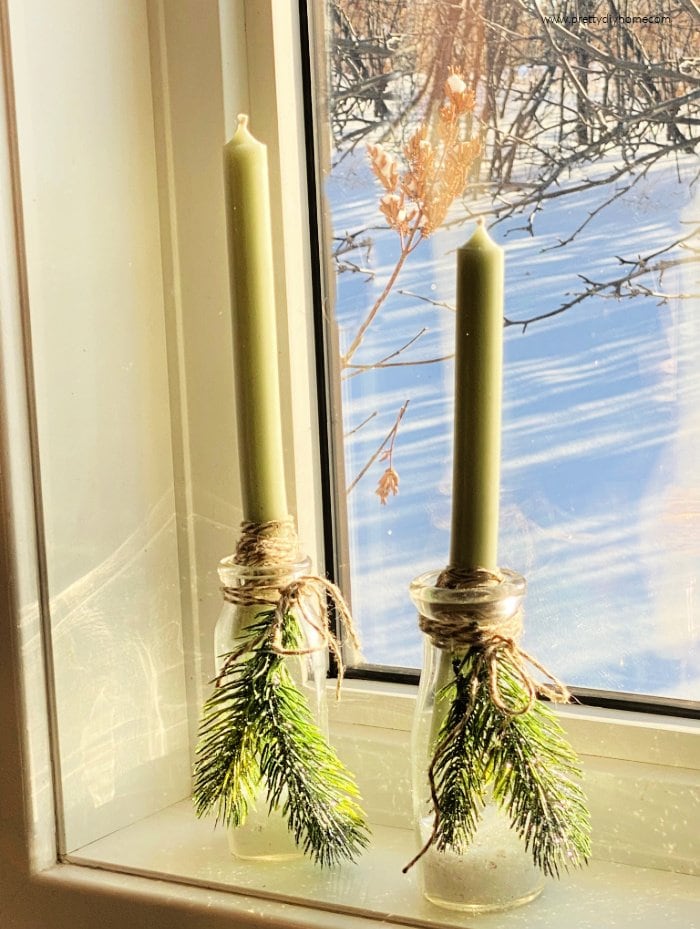 Christmas Decor with Candles Video Tutorial
I made a step by step video for all the different Christmas Candles in Windows.
Other Christmas Candle Ideas