Neutral Christmas Table Centerpiece
Simple DIY Christmas Centerpiece on a Budget
Do you ever find the simplest of things bring you the most joy? That is what this Christmas table centerpiece did for me. If your like me and don't have a stand alone dining room it can be really hard to come up with a Christmas table centerpiece on a budget. And, if your home is open concept a nice Christmas table centerpiece is an important part of Christmas decorating. his year I am really happy with this small neutral DIY Christmas centerpiece I made for our kitchen table.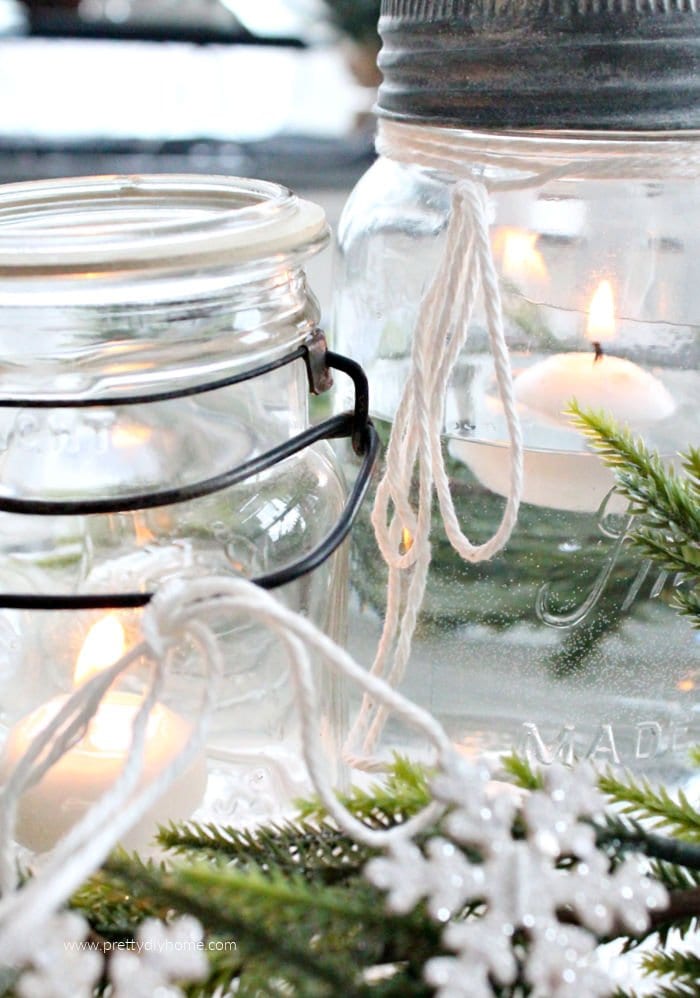 How to Make a Sinple Christmas Table Centerpiece
This simple Christmas centerpiece is so easy to make it and turned out so sparkly and pretty I couldn't believe it. Making a Christmas centerpiece on a budget is usually about using something you have on hand, or can find at the dollarstore. Pretty is great, but this time of year pretty for as cheap as possible is even better.
To decorate the Christmas table cheaply start shopping at home, or outdoors if your able to. For the base of this centerpiece I found a galvanized tray and a white plate charger I had in storage. Other ideas would be a small wood box, or three pieces of pallet wood placed together, a round platter, a wood round, or a cutting board. Just use something that is solid and you can move easily when it meal time.
Next use a simple garland of greenery and wrapped it around the plate charger. A plain greenery wreath would be easier, or little bunches of greenery, fresh holly, or dollar store red berries.
Next we will fill and decorate the two jars. I have vintage mason jars in my stash from years of garage sales. You could use dollar store vases but I think jars work better as they are kitchen themed. I really enjoy how the mason jar rings match the galvanized tray. If you don't have mason jars use any jars you can find, spaghetti sauce jars are about the same size. Otherwise thrift stores often have mountains of old jars you can get for $1. Instead of the vintage jar rings, tie on some coordinating dollar store twine or baker's twine.
Fill the larger of the jars half full of water. I chose not to add any water to the small jar. Once I placed in the dollar store floating candles place the jars into the centerpiece. Then I grabbed some small white snowflakes and scattered them on the greenery. Ten minutes later including searching for supplies, this simple DIY Christmas centerpiece was done.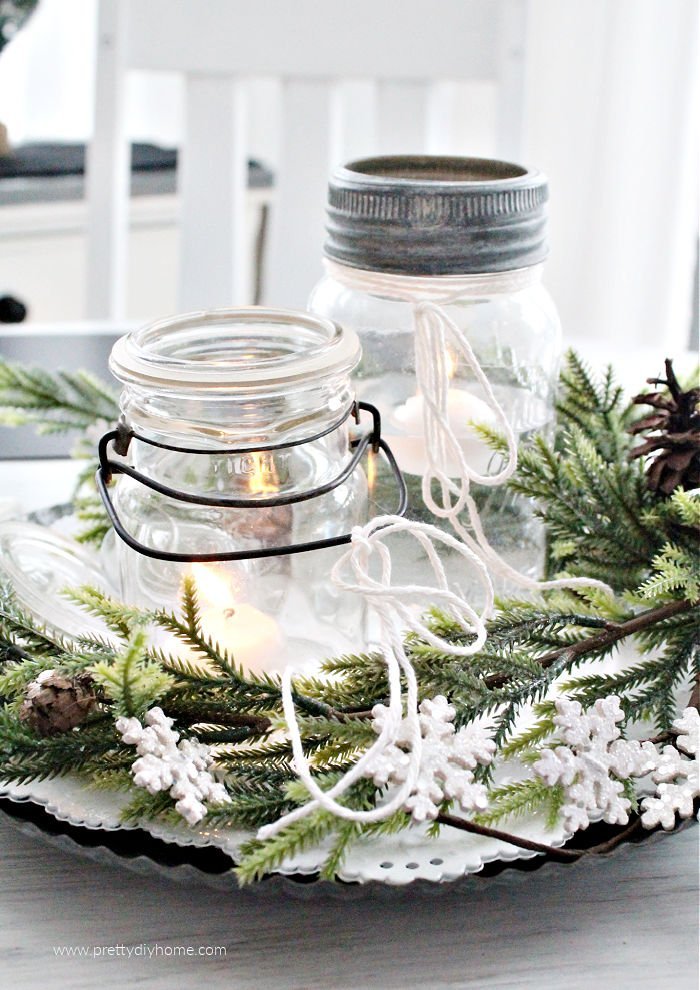 Unfortunately for me I couldn't find our long battery charged lighter, and its snowing and too cold for me to check the bbq this time of year. Instead I used a pair of tongs and prelit the candles before placing them in the jars. The lighter would have been easier but the tongs worked. I certainly wasn't about to go buy a long lighter or long matches. Hopefully you have some on hand.
This simple centerpiece is really pretty, I am a bit startled with how much I enjoy it. If you make one please let me know, I would love to hear about it.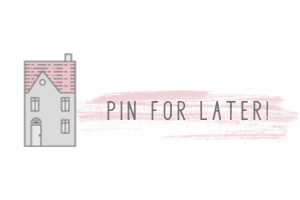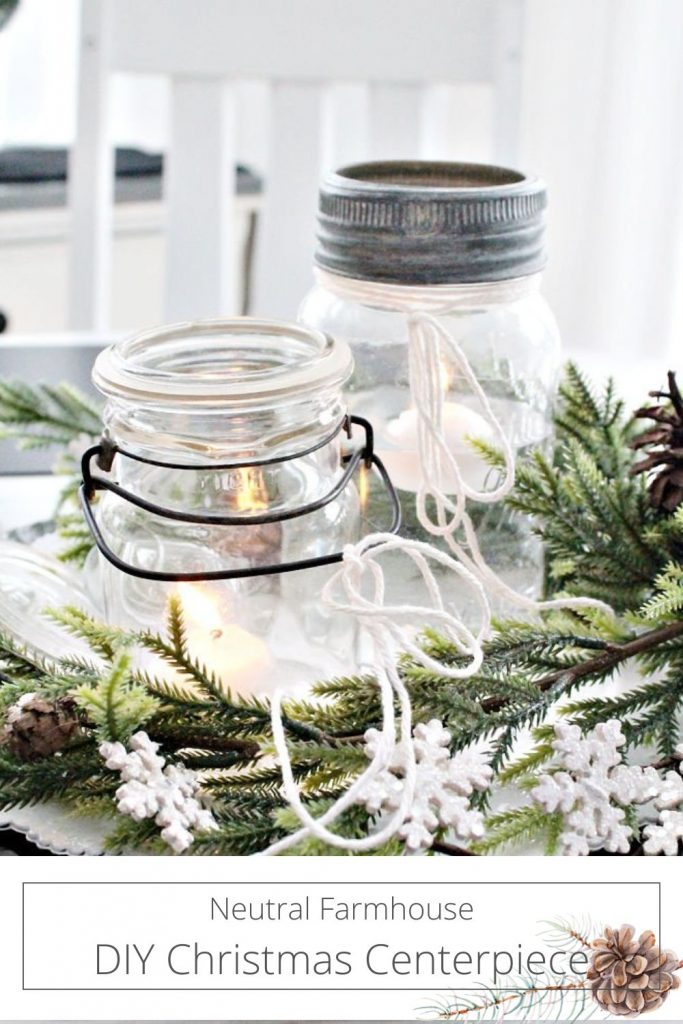 Other Christmas Centerpieces on a Budget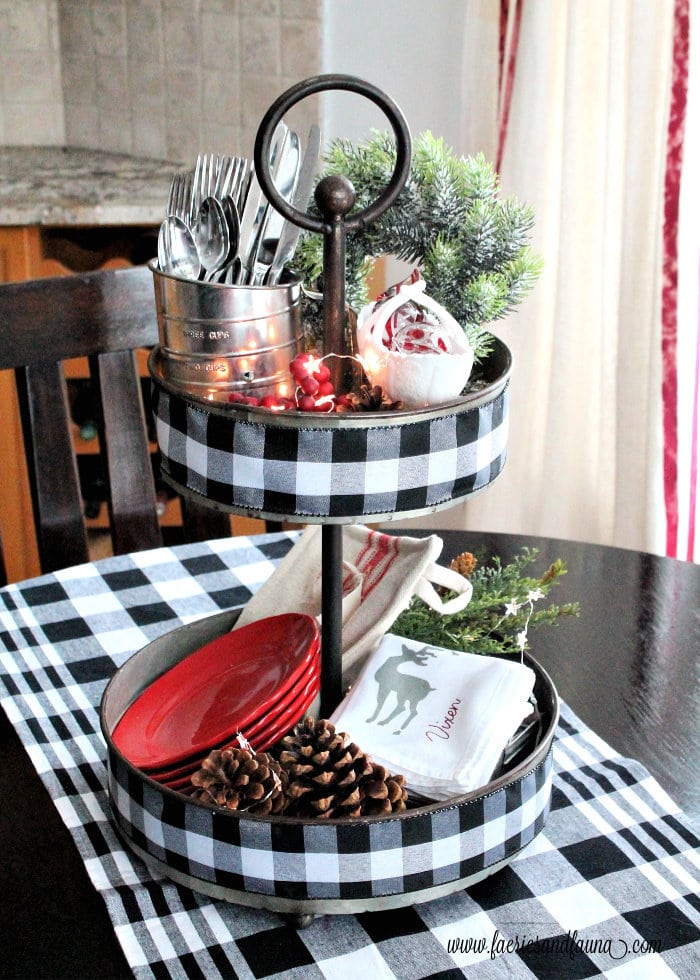 DIY Christmas Centerpiece
A very practical DIY Christmas centerpiece you can easily update to any Christmas colours you enjoy. Not only is this DIY Christmas centerpiece pretty, its so handy to have preset on the kitchen table during the holidays.