Neutral Rustic Christmas Mantel Decor
Easy Christmas Decor for Mantel
Every year I struggle to decide if I want colourful Christmas decorations, or to keep our Christmas decor neutral. Some years colourful bright Christmas decor wins out. But this year I am back to calm and bright whites, greens, natural wood tones and pops of gold sparkle. I really love the calm and simple look of this year's rustic and neutral Christmas mantel decor. It makes me daydream of large cold winter forests where I grew up in northern Canada.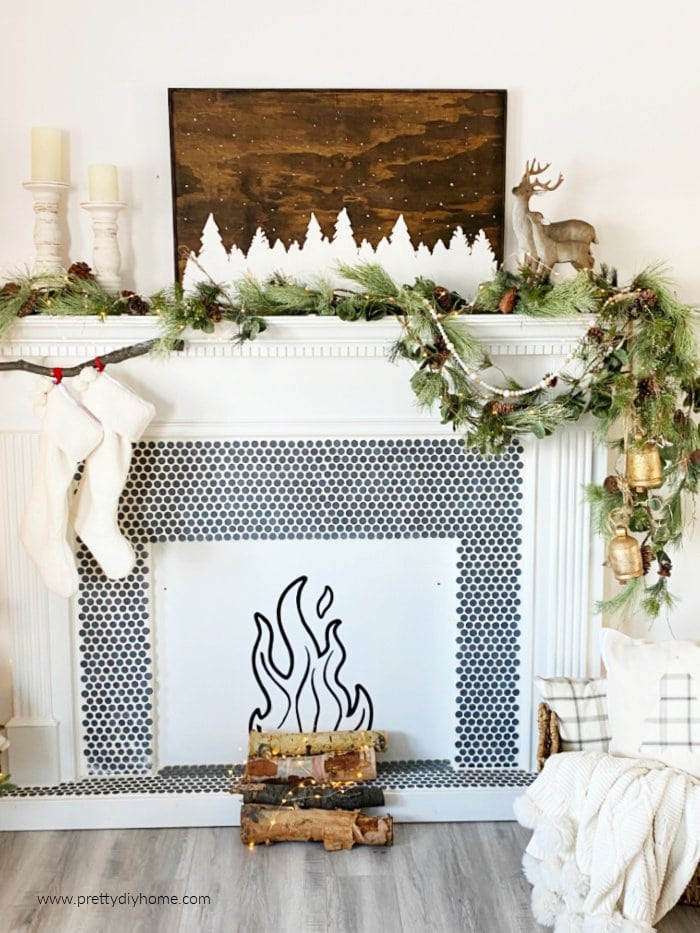 We began in the fall by building a faux fireplace mantel to add a cozy focal point to the living room. Its so amazing to have for Christmas this year. If you don't have a fireplace or faux fireplace, put up a large wall shelf and do the same thing. It always adds a cozy warm feeling to your holiday home.
We usually have a collection of flameless candles for in front of the fireplace. For Christmas I added some black diy removable vinyl flames, the small round birch logs from our wood pile, and more twinkling bright fairy lights. Its very cozy at night.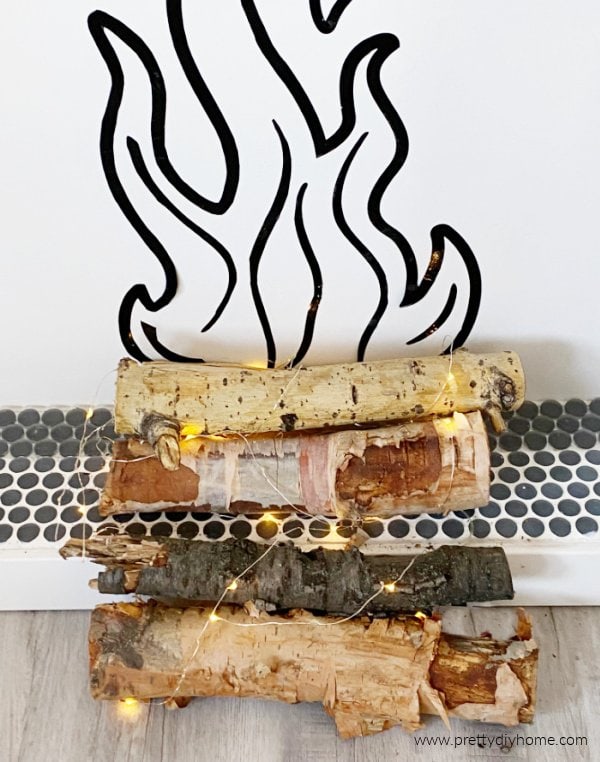 The funniest thing happened, in our old home our great pyrenees always laid in front of the hearth of our gas fireplace. We assumed he found it cooler, but nope, he lays now perches in front of the new fireplace exactly the same way. I guess even he finds the room comfier. I had to make the bundle of firewood smaller and tighten the placement onto the hearth to accommadate the loveable lug as he kept bumping and tossling the wood on the floor.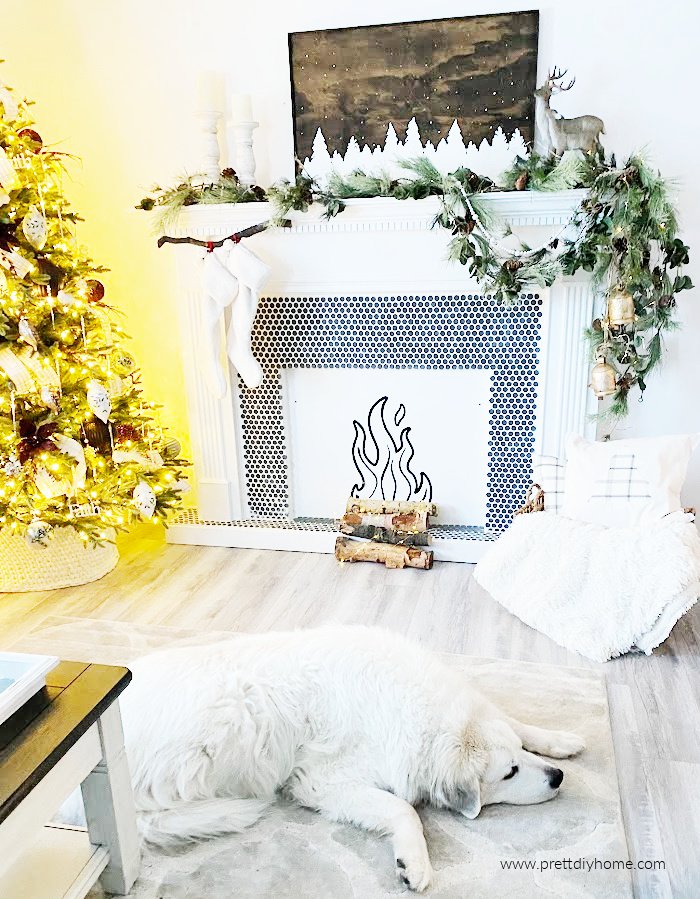 The Large Wooden Christmas Sign
I really wanted a modern rustic wood sign with a forest and no wording. The background is stained in dark walnut, and the forest is white mineral paint. It took a weekend to make including drying time, and it is exactly what I was hoping for. I really enjoy the rustic calm forest wood sign over the mantel.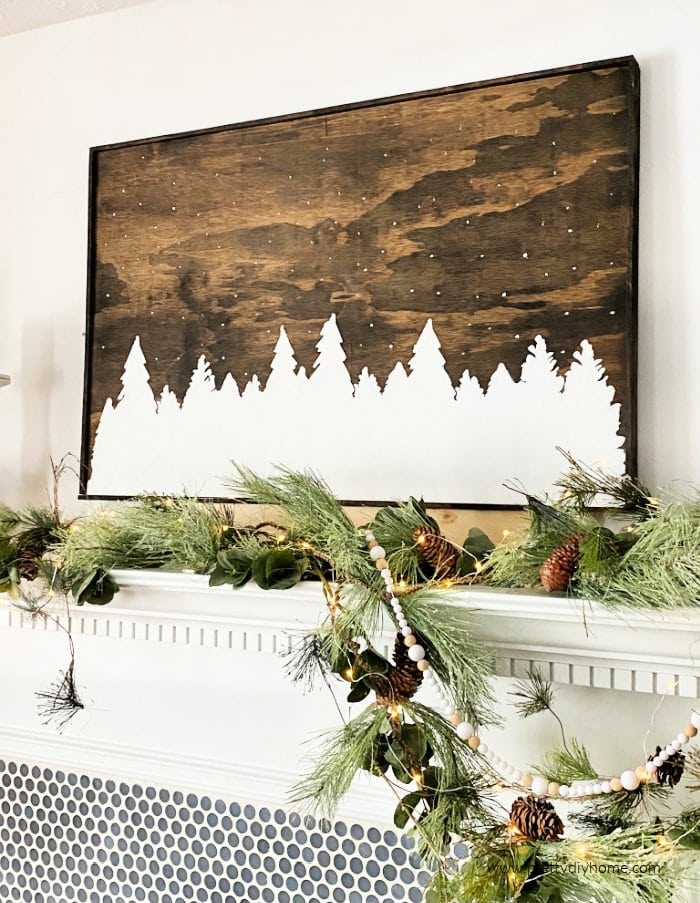 Everything else is repurposed from previous Christmas decor, including the battery operatored fairy lights, farmhouse beads, greenery, garland, candles and the reindeer.
Christmas isn't here yet, I may stumble across something I love for the hearth, but I think its fab just as it is, and I am just really thankful to have the mantel for Christmas.
The Christmas Mantle Decor Garland
The greenery boughs on the fireplace is a collection of short boughs of different types I have used on my stairways, and some Ikea eucalyptus branches that I have on hand all year. The boughs were pulled apart into two foot sections and scattered along the top of the mantel. Then one end was cascaded down the side.
To add drama I cascaded the greenery down one side of the mantel to display the golden bells. Those bells are so trendy and I treated myself and my daughter-in-law to some last year. You don't see many in Canada and I just adore them.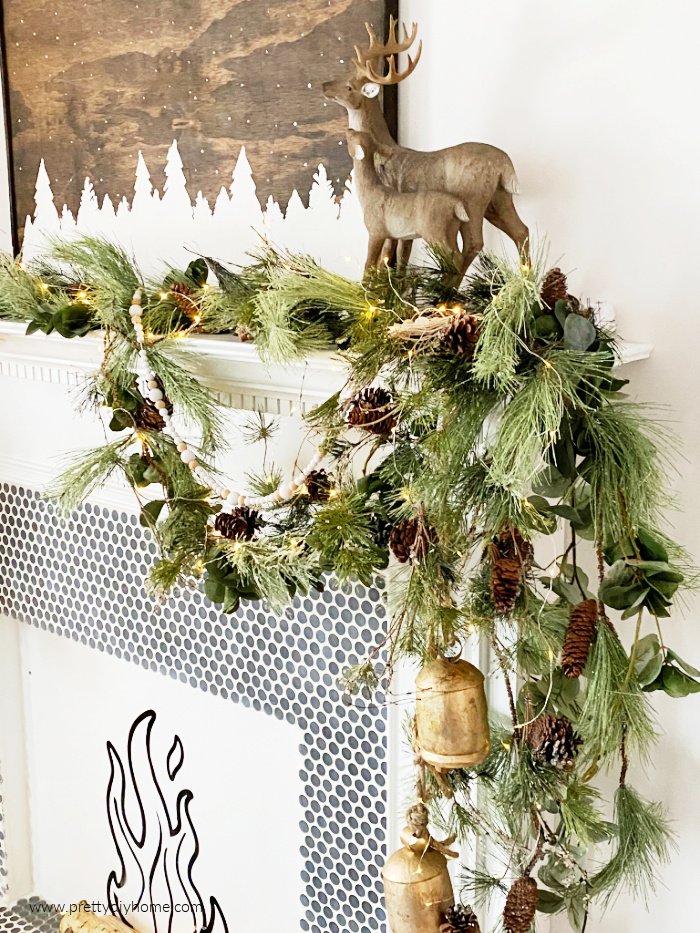 Attaching the greenery. We had a large collection of picture hanger command strips left over from moving. They are long flat strips of velcro that push together to hold pictures in to place. Its absolutely perfect for the mantel. I stuck one glued side down to mantel, added florists wire or fishing twine, then pushed the second piece on top, keeping the paper so I can reuse it. Next year I will flip the velcro holders over and reuse them.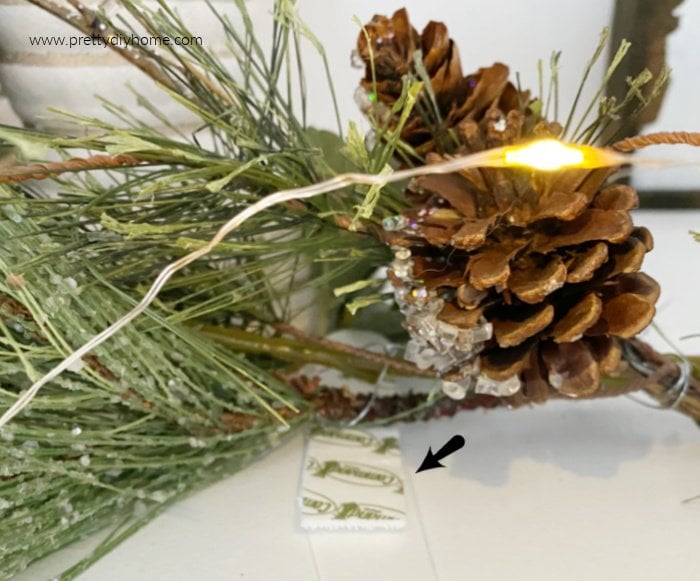 The Christmas Mantel Decor Stockings
My first plan was to sew some stockings with tans, white and gold fabric, but my to do list is so long, so when I found these sherpa fleece ones at Tim Horton's coffee of all places I excitedly swooped in and bought two. Those stockings are the only thing I purchased for the mantel this year. The as so fuzzy and cozy and soft.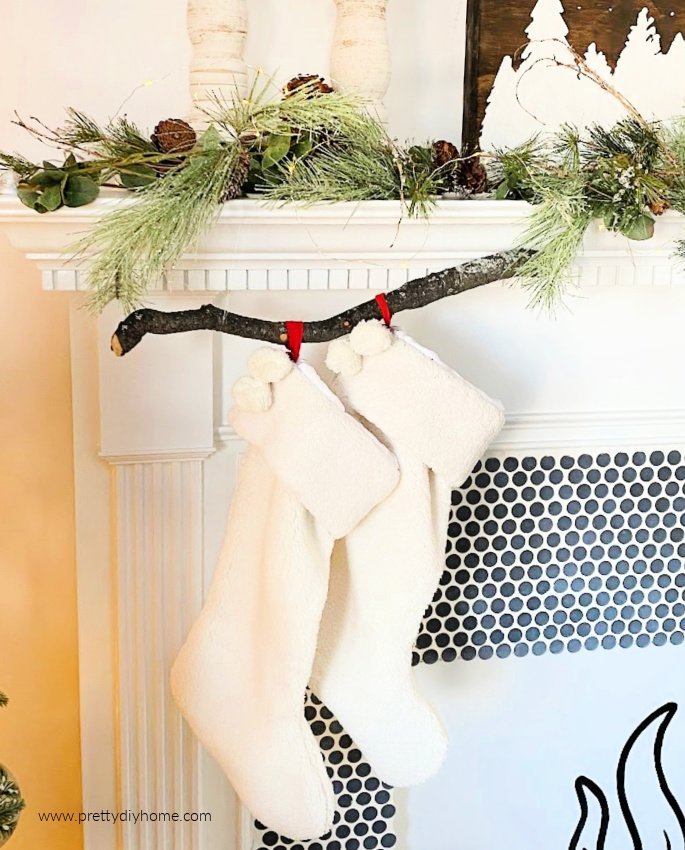 Hubs and I have done stockings for grandlittles, but this is the first year were having stockings for each other. I suspect mine will get filled with whatever goodies he can scramble from the kitchen at the last minute. It doesn't matter I wanted them to balance out the weight of the large gold bells hanging down the opposite side of the Christmas mantel.
To add length, and rustic drama to the stockings I hung them from a branch using fishing twine. Ugh those red hangers on the stockings stick out but they are staying. I will grab some white ticking tape and replace them after the holidays. I thought about painting them white, but hubs convinced me the little bit of red was just fine.
The Farmhouse Beads
I make all kinds of different farmhouse beads, in different lengths and colours. This string of beads is white and cream. I made one as a Christmas gift as well a year or so ago. If you want one here is the tutorial for DIY farmhouse beads. I considered using two sets of beads, but decided to keep it simple and decided on just one. The beads aren't attaches to anything, I just wrapped the ends of the bead string into the garland.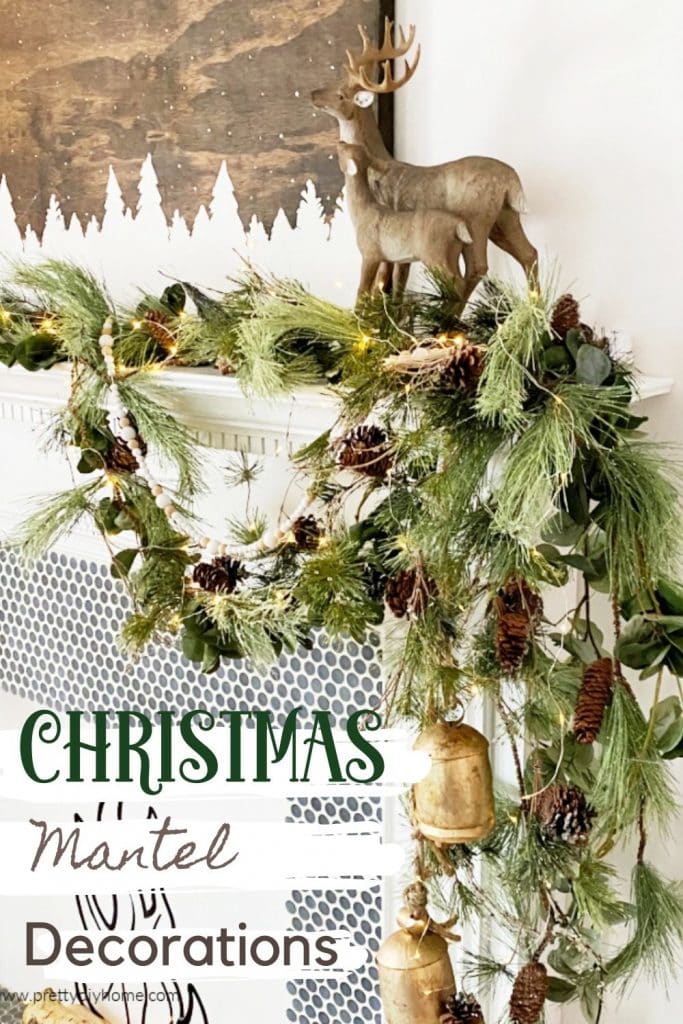 Decorating a Christmas Mantel for Less
If your a regular reader you may recognize most of the decorations on the mantel. Christmas decor can be pretty repetitive and its a good thing too. If I wasn't able to reuse items year after year I wouldn't be able to afford it. I hope I inspired you to try something new using old items in a new way. The lovely golden bells are from last year, but you could do the same thing with cascading Christmas balls.
Have fun decorating and Merry Christmas.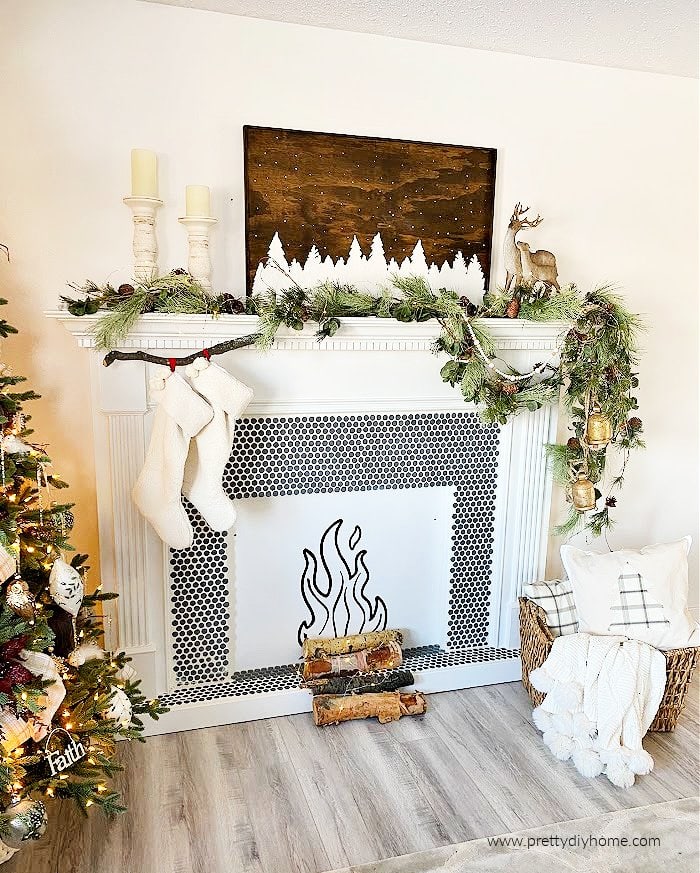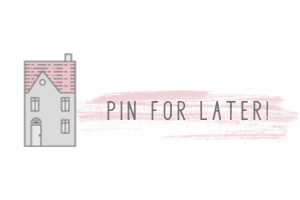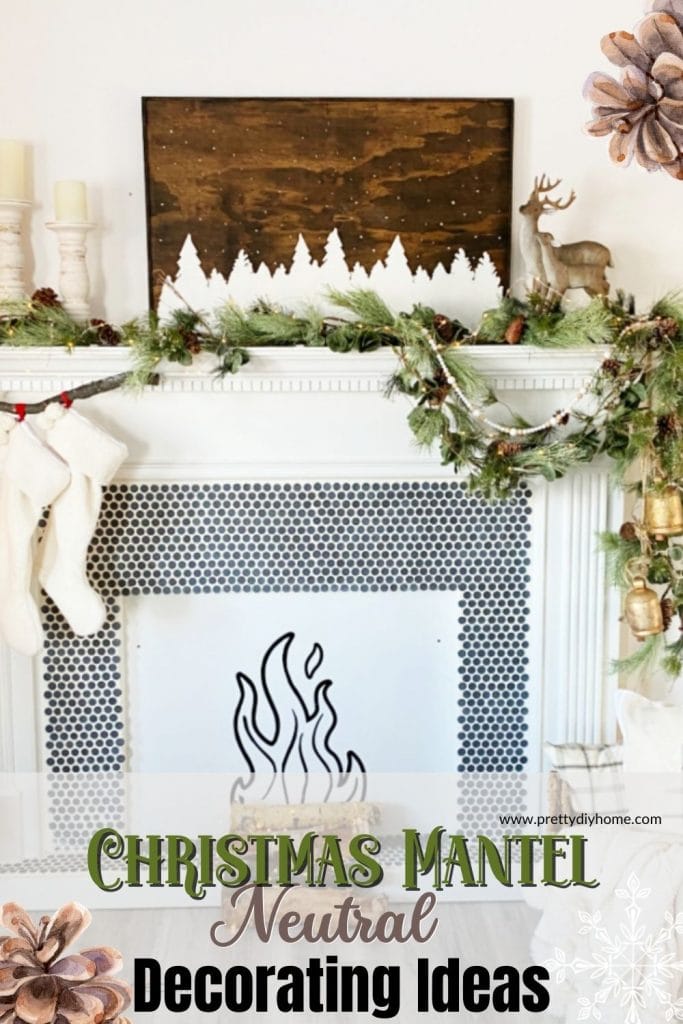 Some Other Christmas Mantel Ideas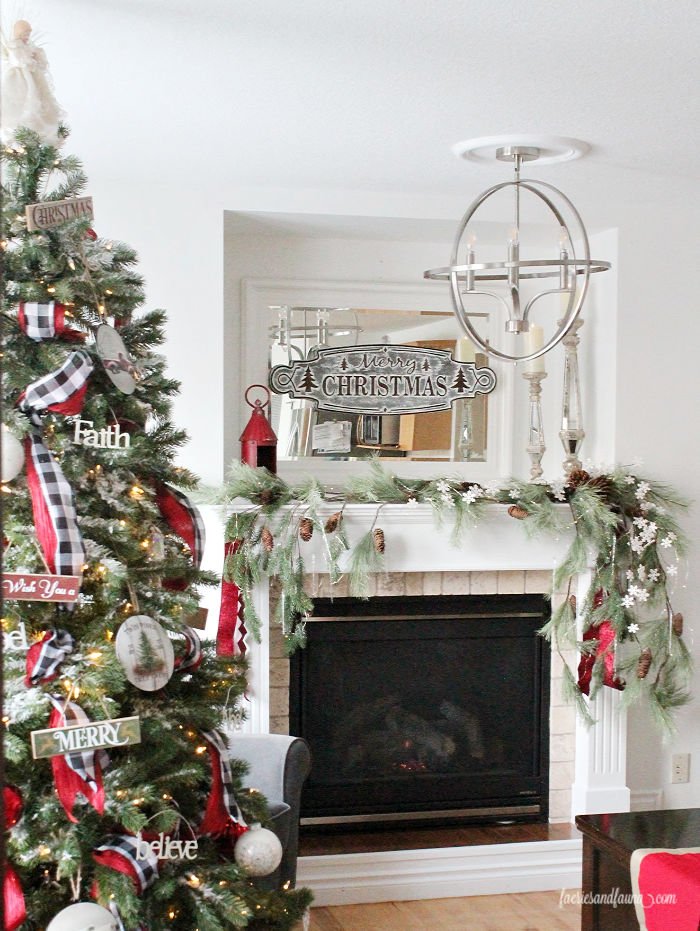 Neutral Farmhouse Christmas Mantel
A very minimalist Christmas mantel thats all about a cozy winter farm. That barn is handmade and the picture is an purchased one we added a matching natural wood frame to.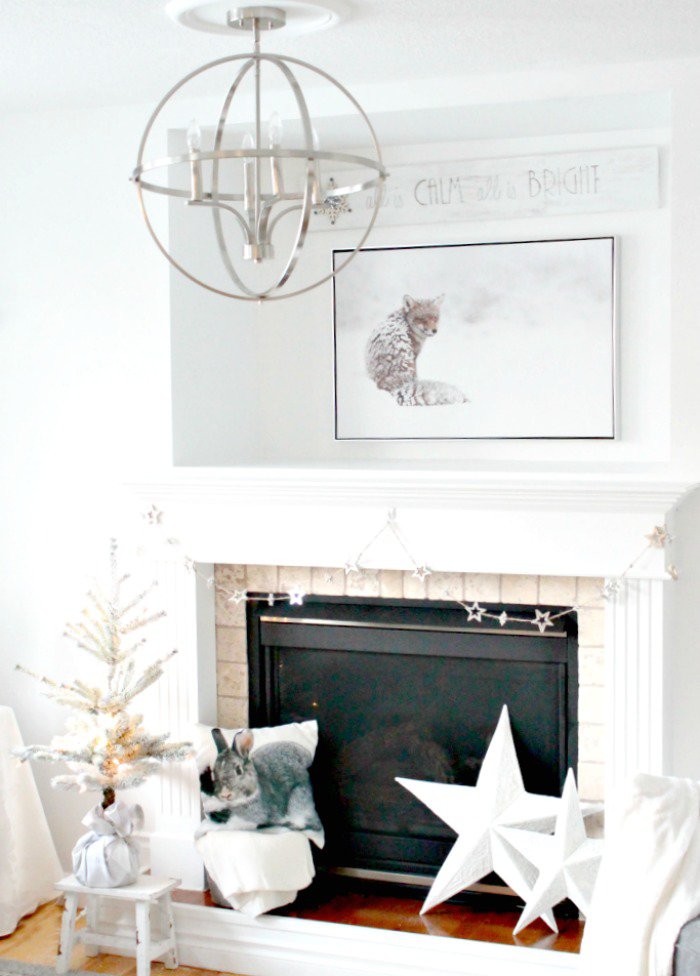 All is Calm Christmas Tour
All about bright white mantel, with a theme of winter animals. This Christmas mantel is part of a home tour.