Christmas Ornaments DIY with Paint
Christmas Ball Ornament Crafts
Making Christmas ornaments diy is a great budget stretcher and when you can make them as a a dollar tree Christmas craft its even better. Doing Christmas ornaments diy is one of my favorite holiday ideas. is one of the many fun and special parts of the holiday season. Those shiny sparkling Christmas ornaments in the gift shop stores call us to shop and enjoy the season. But another beautiful way to build some special moments is to create some Christmas ball ornament crafts
Whether your like me and just want a Christmas ornaments diy to complete this years themed Christmas tree for less, or you want a beautiful one of a kind Christmas ornament DIY you can make with your kids, easy DIY Christmas ornaments are a fun annual craft activity.
Another trend I noticed at another local gift shop was huge Christmas ball ornaments, they were five or six inches across and a solid shiny colour. Nothing fancy and $14.95 each. When I saw these giant balls at the dollar store for 4.00 each they were expensive in my opinion, but doable, so I scooped up five of them.
Last year I was at a favorite gift shop nearby and they had a tree decorated in simple white painted Christmas balls, for $5 each. They were painted in a white flat paint with no shine, some were sanded to show bits of gold underneath, others were just painted. We were still unpacking last year so I just made a mental note try a DIY version on the cheap and today is the day.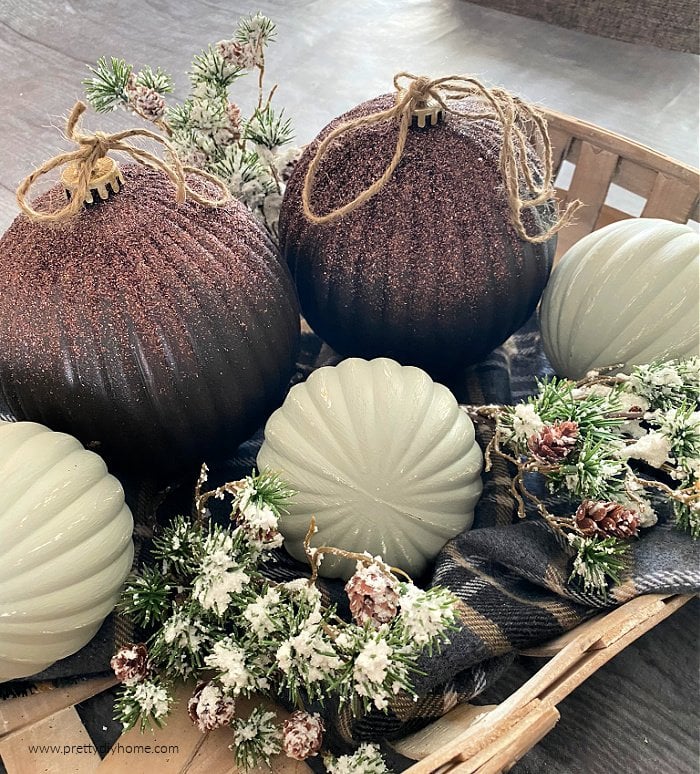 This Christmas ornament DIY is really easy to do and you can use any inexpensive, dollar store, or even old unwanted Christmas ball ornaments to create this shabby cottage or farmhouse style Christmas ornament.
Christmas Ornament DIY Supplies
Inexpensive Christmas balls
Fusion mineral paint or other matte paint in and any second colour your prefer. Green is FM Eucalyptus, White is FM Picket Fence, Brown is FM Chocolate
1 inch paint brush
120 grit sandpaper
gold spray paint (optional)
Spray on adhesive and glitter
E6000 glue or hot glue
The Christmas balls I purchased were garrish looking plastic dollar store ornaments. There were large 3 large Christmas balls in a package for $4.25, in all sorts of colours, but I chose gold that will peak through once the Christmas ornament is finished, I think silver would be nice as well. Besides the smaller tube packages of Christmas ornaments I snagged six huge ball ornament. Look for ornaments that have a pattern in the plastic, they turn are really nice when done. I bet you saw loads of these at the dollar store.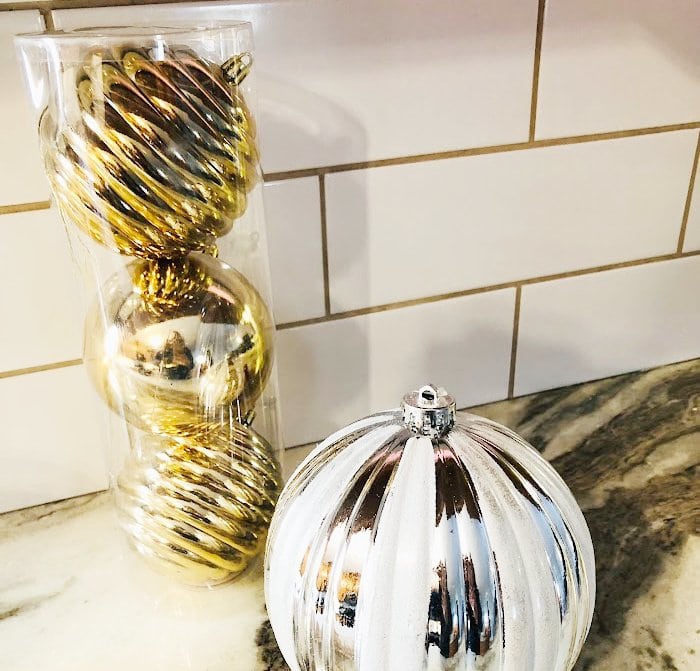 I have a collection of Fusion Mineral paints in white, creams and greens that I am obsessing about lately the colours are so beautiful. Gathering all the neutral coloured paints first, I then chose the Eucalyptus, Picket Fence and Chocolate to go with my other Christmas decor.
DIY Christmas Ornaments Tutorial
Preparing to Paint the Christmas Balls
Before you can paint the Christmas balls, you will need somewhere to place them to dry that doesn't touch any of the sides. I stole the tomato cages from Hubs garden and they worked very well. You can also stick a pencil or an old paintbrush into a box, so that the ends stick up. Just make sure the holes are far enough apart that the Christmas balls don't touch. I did mine outside in the garage after placing a tarp on the floor for spills.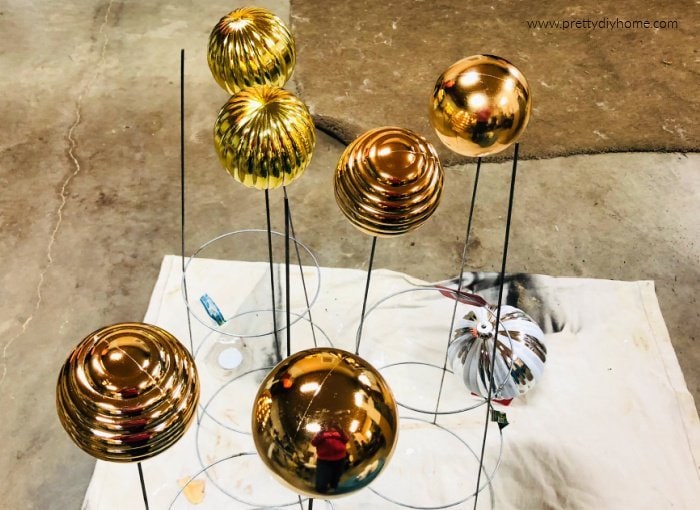 Remove the top off of the Christmas balls and set aside. The tops of my Christmas ornaments were easy to remove, the came off with a soft tug.
Christmas Ornament DIY in Eucalyptus Green
I made two different styles of this Christmas balls for our Christmas tree, I will start with the smaller eucalyptus green painted Christmas balls.
To paint each Christmas ball ornament you will need a paint brush my preferred brush is a 1 inch wide dollar store artists brush. Each soft green Christmas ornament was painted in two coats of white and then two coats of green paint. Letting the painted Christmas ornaments dry about an hour between coats.
Once the Christmas balls are painted the next step is to lightly distress them using 120 grit sandpaper. You just lightly distress them so little bits of the white paint undercoat shows through. Here is another short video (in the frame this time) that shows me distressing one of the Christmas balls.
Reattaching the Gold Tops
You don't necessarily have to spray paint the top of your ornaments but I chose to spray paint mind in gold. I simply placed all the tops in a small box and spray painted them twice drying between coats.
Once dry I added little dabs of E6000 glue to the tops and placed them back on to the Christmas balls.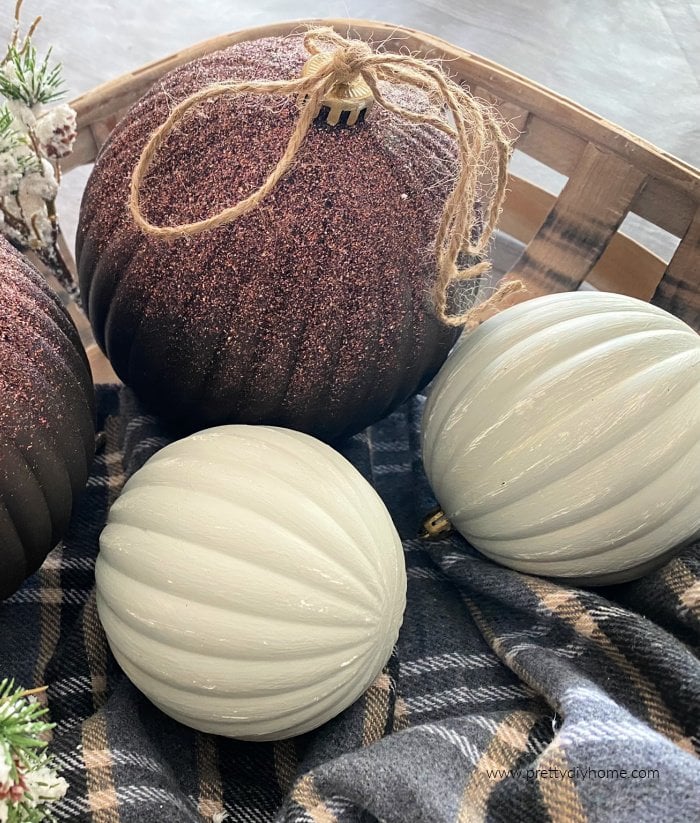 Giant Christmas Ornament DIY in Chocolate Brown with Glitter
To paint the giant Christmas ornaments you need the same set up as for making the soft green Christmas ornaments. Once you have a workspace set up remove the tops from the ornaments and set aside.
Paint the Christmas balls and let dry on a tomato cage. This video is a better view of the painting process.
Once the paint is dry on the giant ornaments they aren't distressed, we add glitter instead.
Adding the glitter to the Christmas ball ornament can be very messy so I made a work space by folding up a tarp, and covered it with a plastic bag before adding the glitter.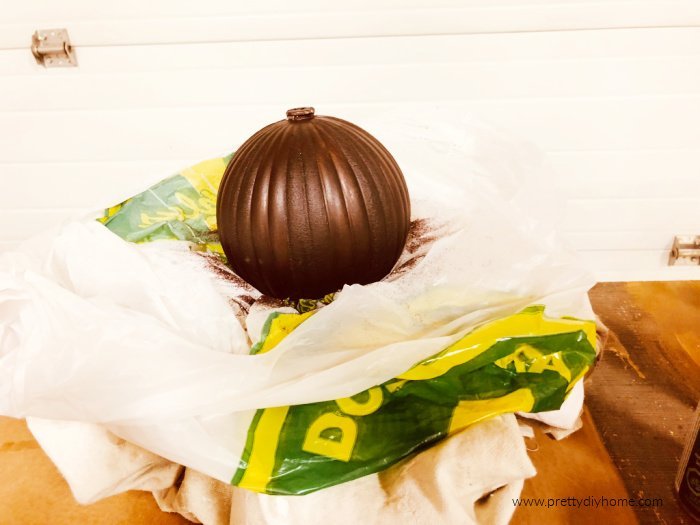 Once you have the worksplace protected from the glitter spray just the stop of the Christmas ornanament with spray on adhesive.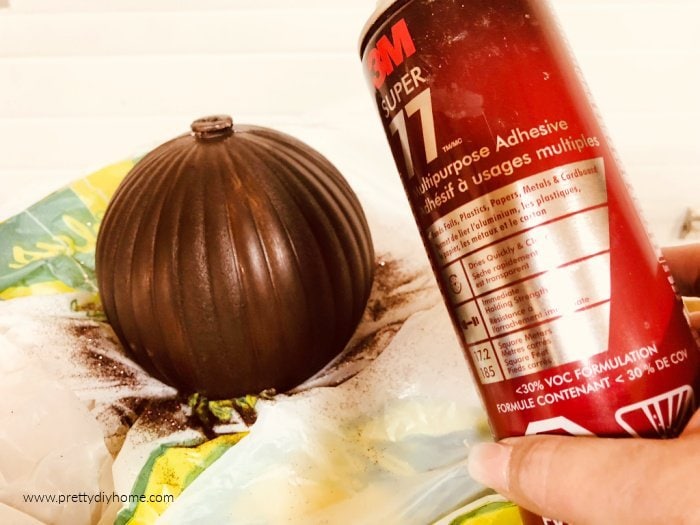 Immediately after adding the adhesive cover the top of your ornament with the dollar store glitter.
Adding the dark brown glitter to the dark brown Christmas ball gives it a little bit a sheen. Keeping the colours the same kept the ornament looking more neutral. These huge Christmas balls are going to be placed towards the inside of my Christmas tree. The little bit of sparkle on top should look amazing.
Once painted, spray paint the ornament top gold with two coats of gold spray paint. Let dry and then attach with E6000 or hot glue.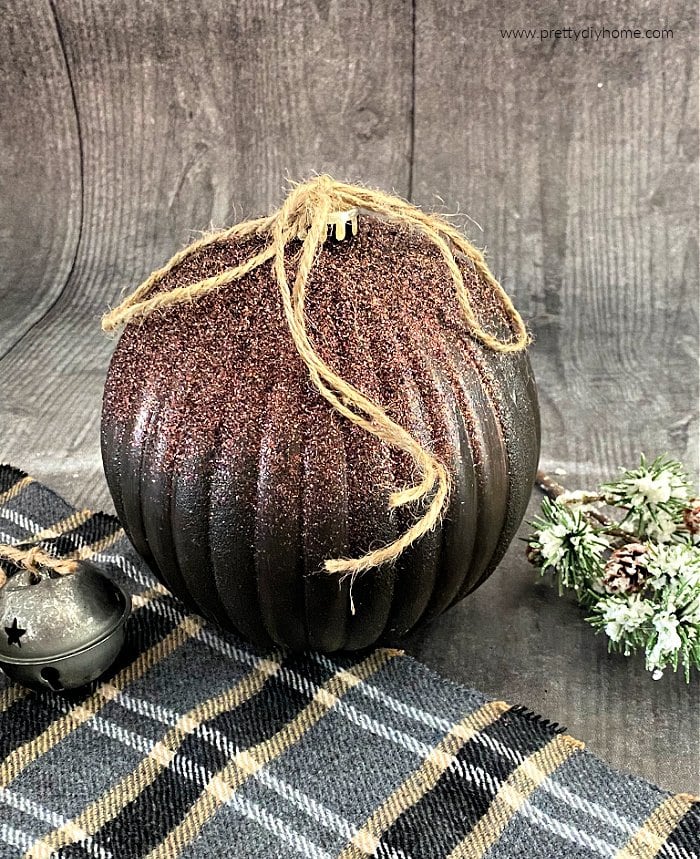 I think these chocolate brown Christmas ornaments would be beautiful tied on a tree with dark brown satin ribbon. I didn't have any so I chose some simple twine for the picture.
Don't have time today. PIN THIS IDEA so you can make it later?
Other Christmas Ornament DIYs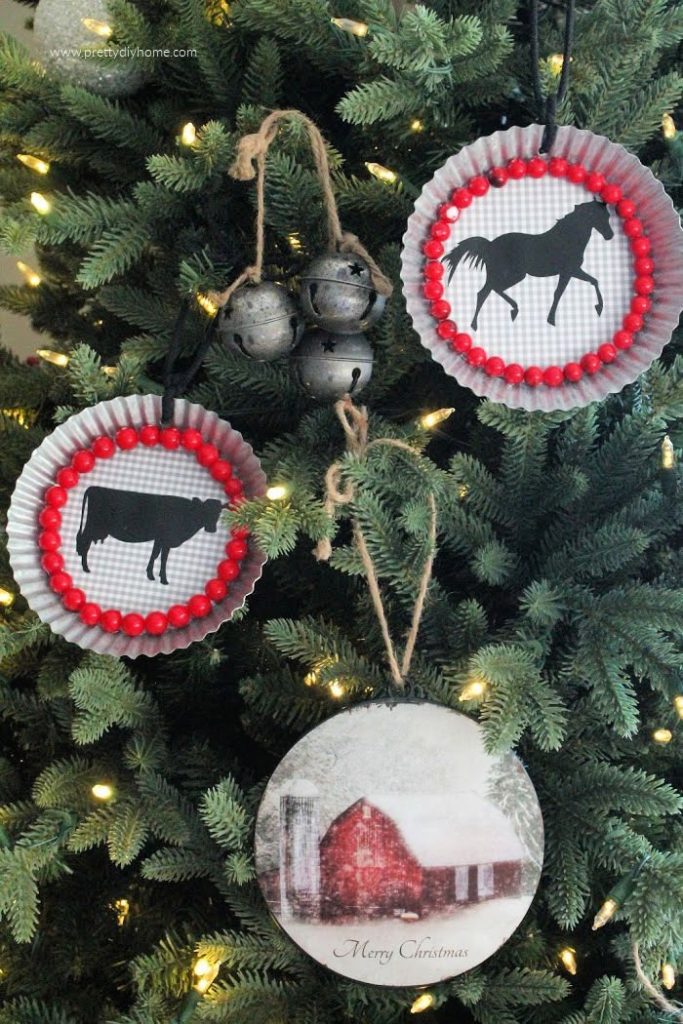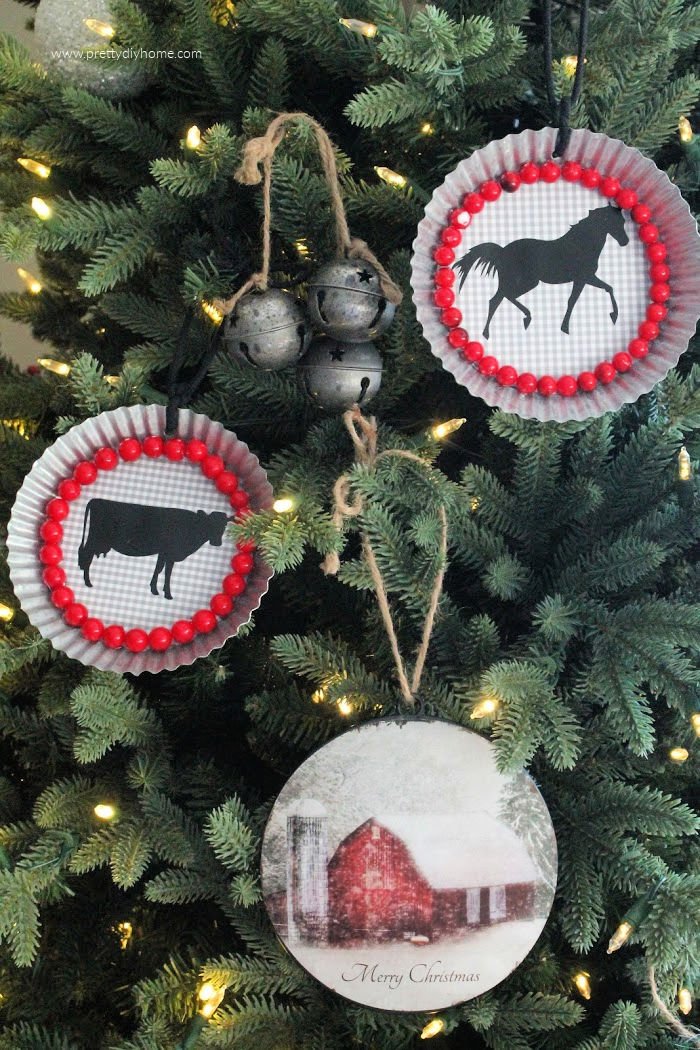 Galvanized DIY Farmhouse Christmas Ornaments
Some galvanized tart tins, red berries and free printable animals you can create these large DIY Christmas tree ornaments.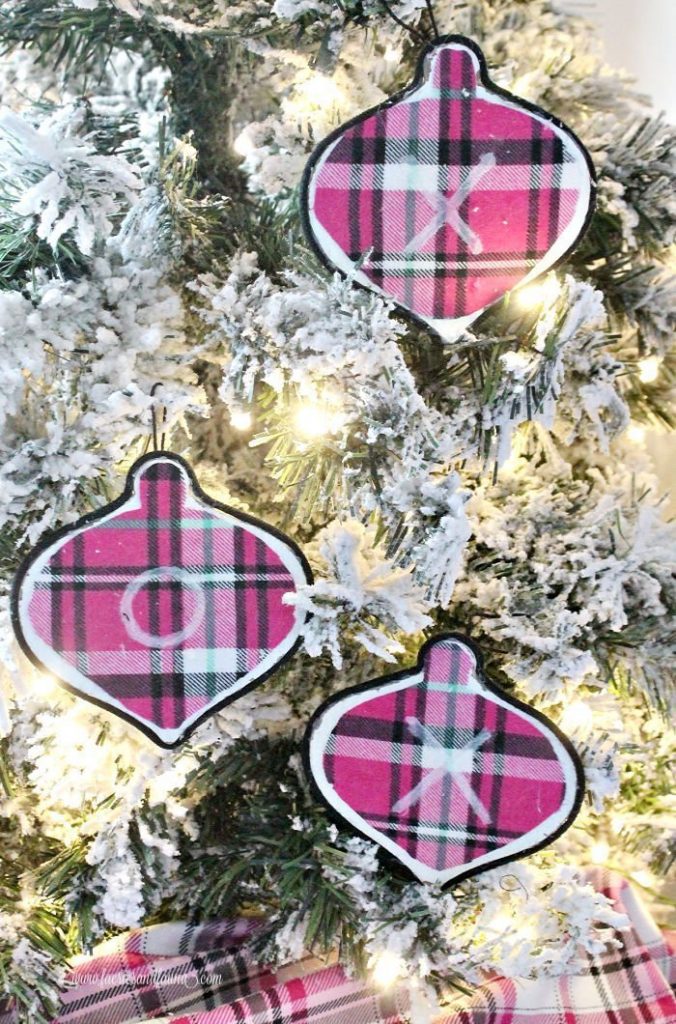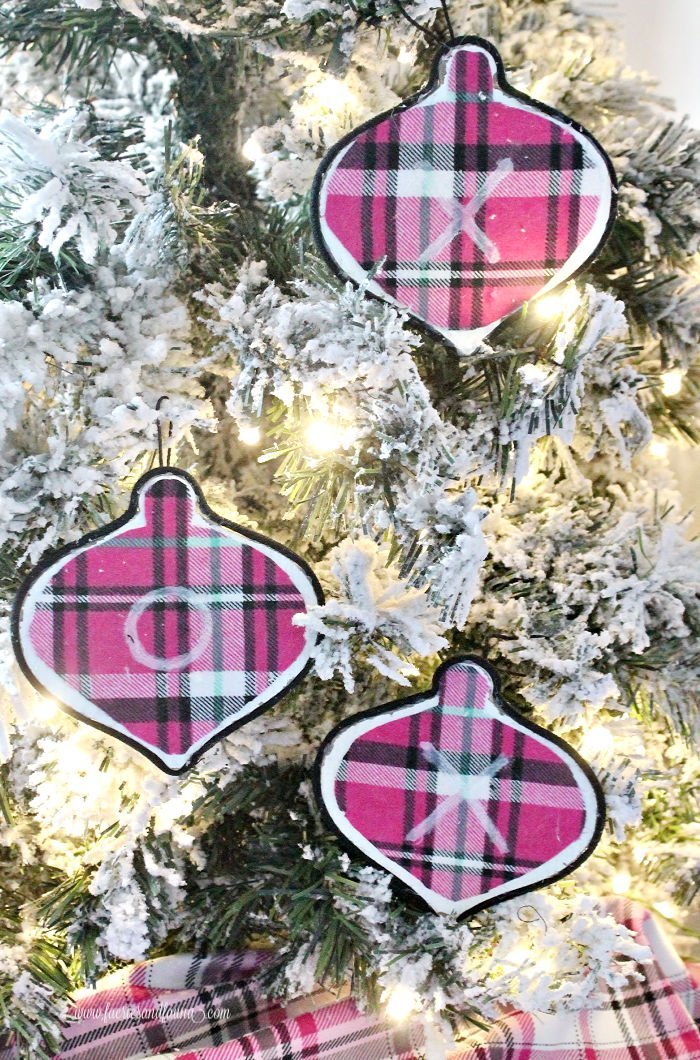 Flannel DIY Christmas Ornaments
This modern cozy looking Christmas tree ornaments are obviously for a little girl's Christmas tree. They are fun to create and easy to make kids can even help flattening the flannel and drawing the hugs and kisses on them.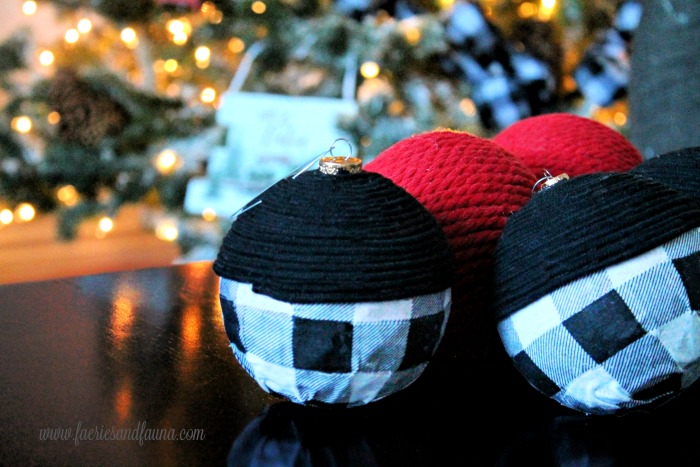 DIY Christmas Ornaments in Black and Buffalo Check
Don't want to work with paint, how about trying these easy to make wrapped Christmas Ornaments DIY done with macrame cord and fabric.