Cranberry Cosmo Vodka Cocktail
A Pretty and Festive Vodka Cocktail Recipe
This is a vodka cranberry cosmo served in a pretty martini glass. I had considered it my pomegranate martini recipe. Naye Naye, I was wrong.
Although both cocktails are served in a martini glass, cosmos are made with vodka, triple sec and lime juice. The martini consists of gin and vermouth. Cosmos were invented in the 1930s, and revived in popularity in the 1990s thanks to Sex in the City.
Anyway we name the cranberry vodka cosmo, its pretty, its delicious, and its a little bit dangerous. This cranberry vodka cosmo goes down like a very delicious juice, but it comes with a kick. You can easily overindulge, don't say I didn't warn you.
Vodka Cranberry Cosmo Recipe
Ingredients for a Vodka Cranberry Cosmo
3 oz vodka
tbsp lemon juice
3 oz 100 % real cranberry juice
1 oz fresh squeezed lime juice
1 oz orange liqueur, such as Cointreau or Triple Sec or Gran Marnier
Lime slice or cranberries for garnish
If your able to find real cranberry juice as opposed to cranberry cocktail it will improve the flavour. If you have to use cranberry cocktail your cranberry cosmo will be a little sweeter.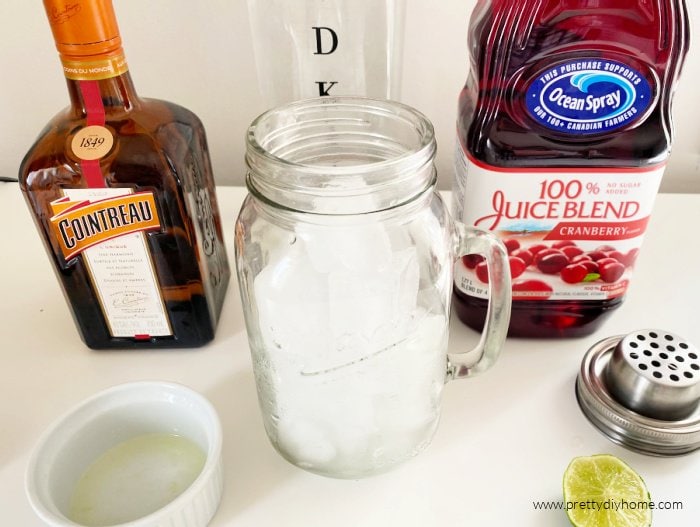 Directions for Vodka Cranberry Cosmo
Fill a martini shaker with ice cubes.
Add the 100% cranberry juice, the lime juice and the orange liqueur.
Shake vigorously for a few seconds until well chilled, then strain into a martini glass.
Garnish with a slice of lime. Or add a cocktail sword of sugared cranberries. Yum.
How to Make a Cosmo Recipe for a Crowd
To save some time while entertaining, you can make a small pitcher of the cosmo recipe ahead of time. Multiple the ingredients by the number of servings and mix the cosmos up in a pitcher. Set the pitcher into the refrigerator until guests arrive. To serve shake over the ice and serve one delicious cranberry cosmopolitan at a time.
How to Make Sugared Cranberries Garnish for Cosmo
As if the cranberry cosmo isn't beautiful enough we all feel the need to go over the top at Christmas. If you want to make some pretty cranberry skewers to decorate your beverages or desserts over the holidays its really simple to do.
You will need:
12 oz bag fresh cranberries
1/2 cup water
2 cups granulated sugar, divided.
Wash cranberries and remove any that look damaged or wrinkled.
In a small pan make the simple syrup. Heat 1/2 cup of water, sprinkle in the granulated sugar. Simmer and stir until the sugar completely dissolves.
Place the clean cranberries into the simple syrup, stir to make sure the cranberries are completely coated.
Remove the cranberries with a slotted spoon and place on parchment paper to dry. Wait for an hour to let the cranberries get sticky.
Take a small flat bowl and fill with the remaining sugar. After an hour roll the cranberries in the sugar.
Place in an air tight container in the fridge and use as needed. They should keep nicely for 3 to 5 days.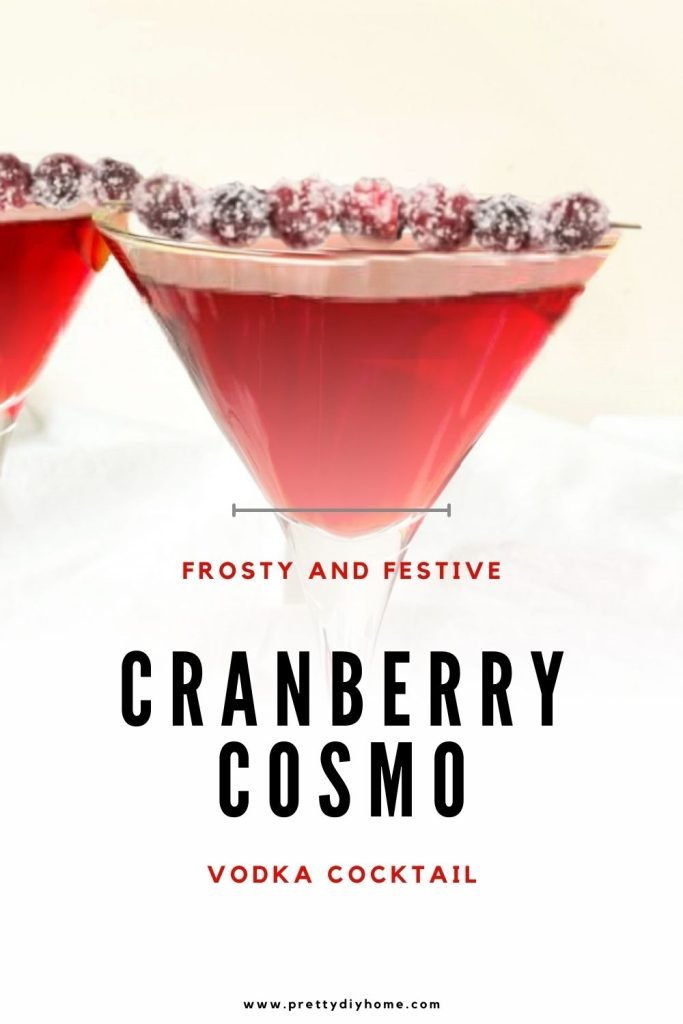 I have a Drinks and Beverage Board on Pinterest where I keep all my favorite cocktail and mocktail recipes. Right now I have a few new cocktail recipes on the board, but there are more all the time.
Other Cocktail Recipes to Try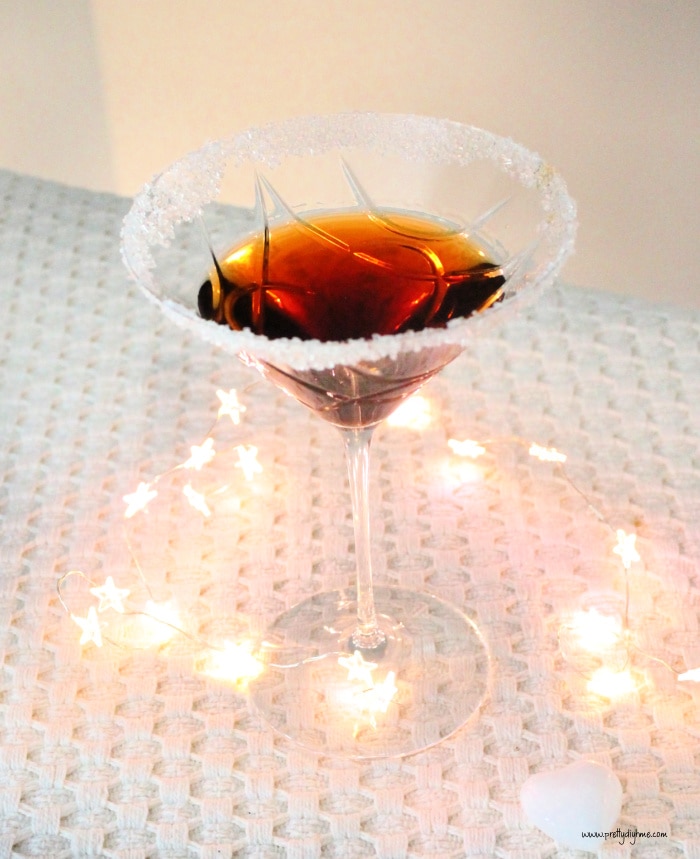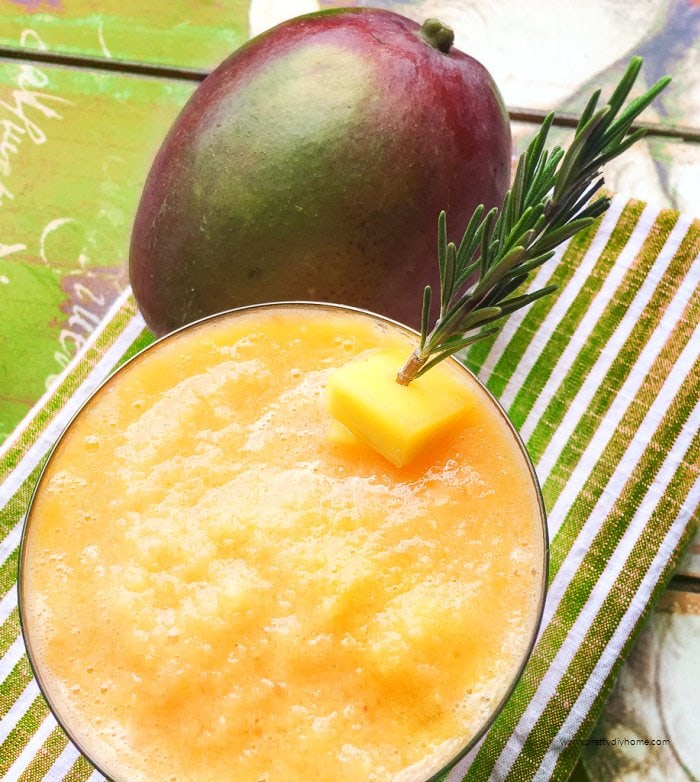 Orange Mango Slush or Margarita
This thirst quencher slush can be made with or without alcohol. Its delicious and really thirst quenching either way, as it does not have any added sugar and its made with ground ice. Yummy for hot days.