Christmas Porch at Night – 12 Days of Christmas
Usually, Hubs is the one who decorates the outside of the house for Christmas but he had two small knee surgeries and needs to chillax with his feet up. So this year I took over what is traditionally his domain. His one and an only colour choice is blue, so all our supplies are blue but and I added some white to give us more a winter snow theme. Our home builder installed some small white lights on our home so I didn't have to worry about the upper peaks.
DIY Plywood Outdoor Snowmen
When I was a little girl the best outdoor decorations were large plywood pieces people made themselves, but we were not able to have our own. We would drive around oohing and awing at the pretty yards and I treasure those memories. As a homeowner, I always have at least one DIY large plywood centerpiece on our front yard.
My idea for this year was to create a winter wonderland entrance for our granddaughters to wander through on their way to the front door. With that idea in mind, I hauled this DIY snowman I painted several years ago.
g
You can't tell by the picture but the snowman sparkles a lot because he has layers and layers of iridescent sparkles glued on him. There are two large blue floodlights shining on him to give him a sparkly cold glow.
Besides the large centerpiece I grabbed our little snowman greeter he is several years old, I found him at a craft fair.
h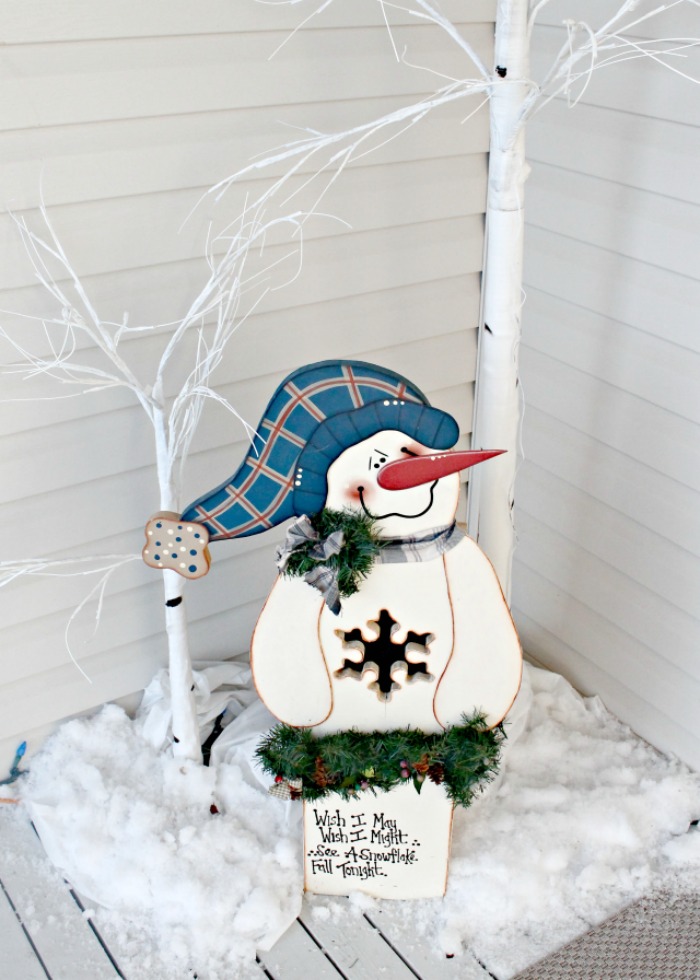 Besides the snowmen, I added four decorative prelight birch trees. Most years we already have a couple feet of snow but this year we are lucky and only have a few inches. To cover the cords of the faux trees I wrapped the bottom of the tree with old white sheets and then shoveled on a little bit of real snow.
Front Door Christmas Wreath

k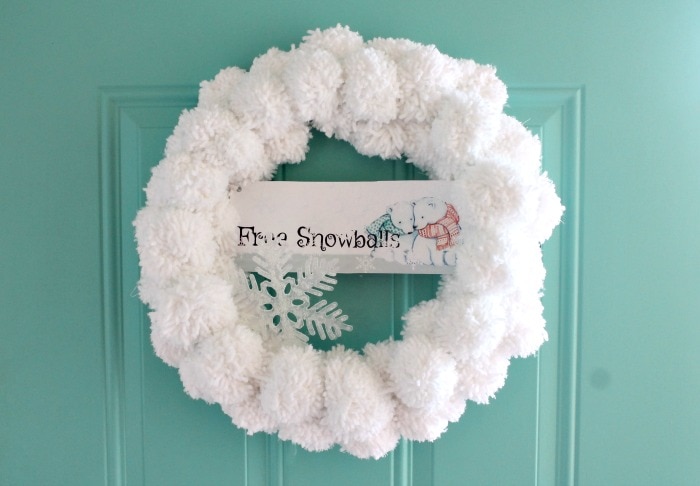 f
The front door is decorated with a DIY snowball wreath. It seems very strange to have all these snow related decorations and almost no real snow, yet.
The Christmas Porch at Night
Here is the greeter snowman at night, even his little snowflake heart is blue from the cold.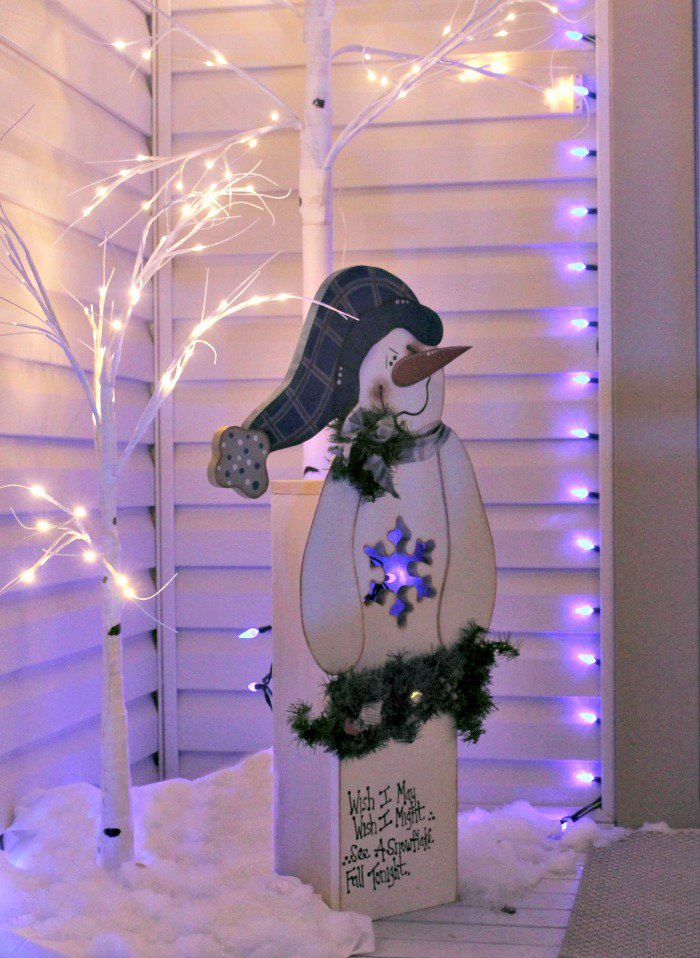 g
And the Christmas porch with the birch trees on both sides.
f
As I was doing the lights I stuffed the light into spaces in the siding and used plastic strapping to attach them to the railing. My son was a sweetheart and helped me deal with all the extension cords.
Here is the view from the front door. You can see the little blue lights on our real tree in the distance. Its beginning to look a lot like a Winter wonderland around here, all we need is a little more snow that is sure to arrive.
g
The girls haven't seen it yet, I hope they find it magical. Only two more weeks.
f
Day 11 of the 12 Days of Christmas – Christmas Porch
Wow, we are almost done the series, I hope you have enjoyed it. I really enjoyed doing this blog hop as everything in it is achievable on a regular budget. Today's topic is Christmas Porch, to take advantage of the pretty lights I am sharing pictures of our post at night.