A Christmas Tablescape for the Kitchen – Twelve Days of Christmas
Day 10 of the 12 Days of Christmas
My goodness were almost done the 12 days,  its been challenging for me to create posts based on a general theme but I am enjoying it.  Tablescapes are something I shy away so I challenged myself to do a Christmas tablescape  without purchasing anything. Nadda, not one sparkly fleck.  I am proud of how pretty it turned out.
m
My blogging friends often make wonderful tablescapes so make sure to peek in at what they have created for you. There links are located at the end of mine.
Meet Your Hosts
They have all been busy as Elves creating, decorating, cooking and crafting tons of new ideas for you to try this holiday season!
Shirley~Intelligent Domestications I Alli~An Alli Event I Michelle~Our Crafty Mom I Marie~DIY Adulation 
Erlene~My Pinterventures I Beverly~Across The Blvd. I Debra~Shoppe No. 5 I Victoria~Dazzle While Frazzled
Megan~C'mon Get Crafty I Michelle~Michelle James Designs I Amanda~Domestically Creative
Deborah~Salvage Sister & Mister I Jeanie~Create & Babble I Sherry~Olives & Okra
Jenny~Cookies Coffee & Crafts I Emily~Domestic Deadline I Bonbon~Farmhouse 40
Leanna~Of Faeries & Fauna I Pam Larmore~P.S. I Love You Crafts I Kelly~North Country Nest I
Marie~The Inspiration Vault I Gail~Purple Hues and Me I Lynne~My Family Thyme I
Karen~Dragonfly and Lily Pads I Trisha~Blowing Away Out West Lorrin~Embrace The Perfect Mess I
Terri~Christmas Tree Lane I Sam~Raggedy Bits I Cyn~Creative Cynchronicity  Valeria~Val Event Gal 
Yami~The Latina Next Door I Tania~Little Vintage Cottage
 Lauren~Wonderfully Made I Vanessa~DIY 180 I Kimberly~A Wonderful Thought I
Kim~Everyday Parties  I Dru~Polka Dot Poplars
Kitchen Tablescape  that is Icy and Bright
This tablescape won't be in a diningroom but in the alcove to our kitchen.  To be honest I put this tablescape together and then immediately had to put everything away so we could use the table.  I will create something similar when my son and his family stay over at Christmas.
n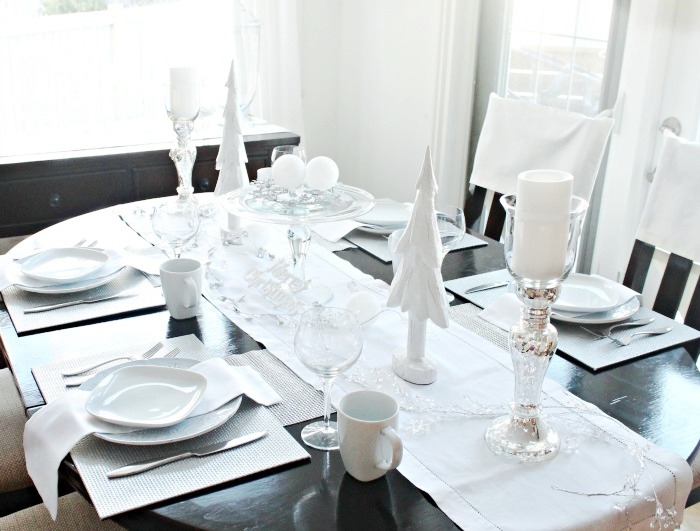 n
Nothing in my  tablescape is new,  some of you may recognize the items on my table.  I just layered them and used them in a different ways.  The new chair back  covers I made this year were very helpful in making it look more like a dining table than a kitchen set.
Starting with the two small crystal runners I placed vertically across the table. Then layered a long white runner across them.  I also had some sparkly place mats so I added them as well.
b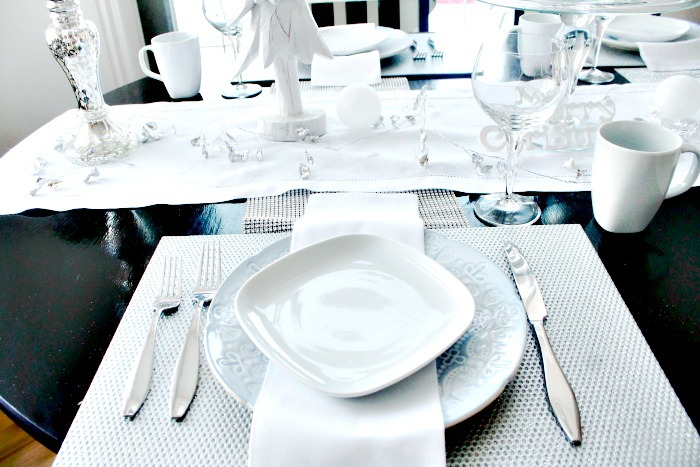 u
For the table my good china is antique and bone coloured instead of white so it wouldn't work for an icy white them I substituted it with two of my kitchen sets and then added long elegant white napkins to give them a more formal feel.
k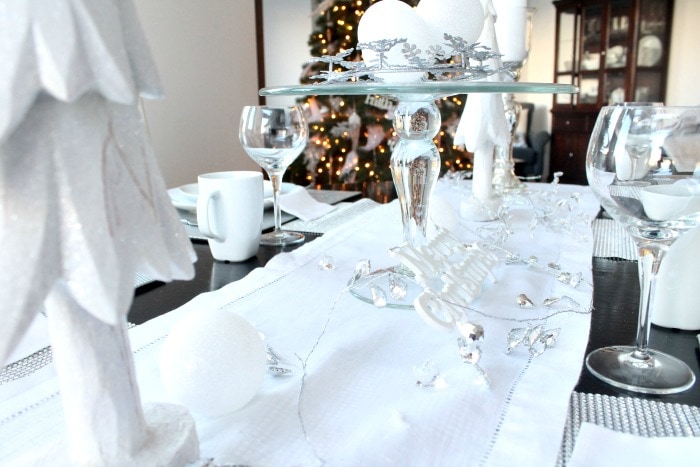 h
The two candlesticks and the two trees are several years old and a favorite of mine.  I love how they shine and twinkle.   To add a little more bling I curled some long wisps of crystal garland along the tablescape and then added some plain sparkly Christmas tree ornaments.  I considered purchasing some fresh flowers for the middle, but instead replaced it with a free centerpiece using a tall crystal cake plate.
k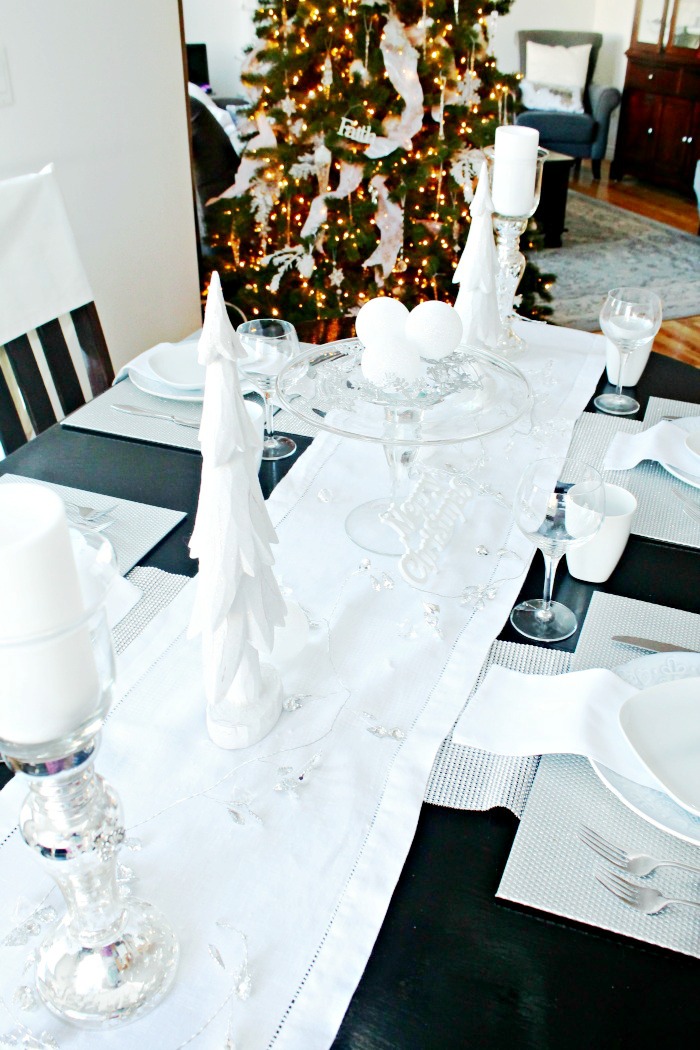 s
This little Merry Christmas sign reminds me of the one we had growing up.
d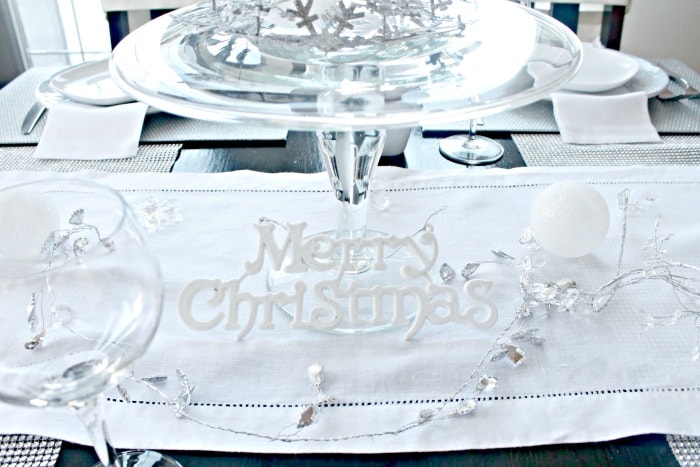 f
To make sure things were placed symmetrically  I counted the rows on the glass beaded runners and place mats and used a ruler to measure the distance between larger pieces.  I am surprised that it was actually easier than fiddling until it looked right.
f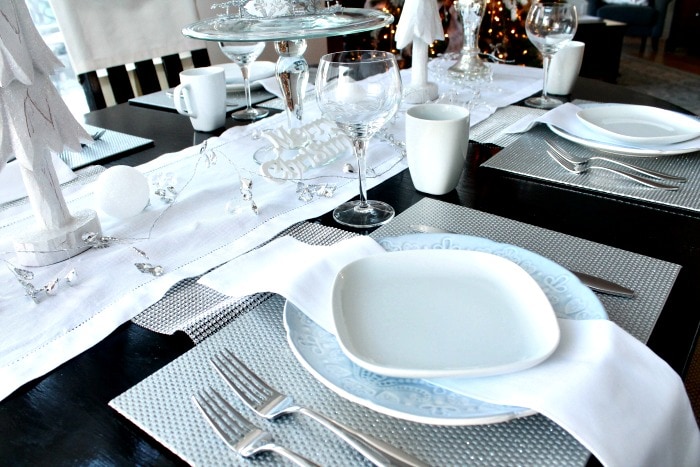 Last photo,  I thought it would be fun to get a photo while standing on a ladder.  I think its a great photo angle that shows the entire table.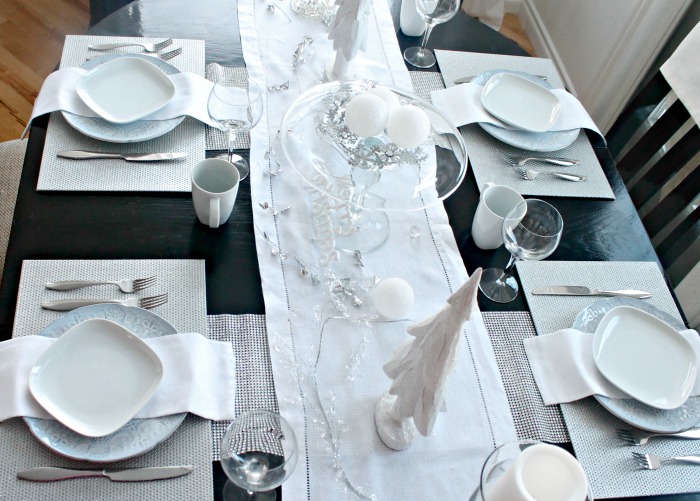 It's really starting to feel like Christmas.
g