White Shimmery Christmas Tree Decor
Choosing Our Christmas Tree
Christmas trees are the most established decor tradition that I know of. We all love them. There is nothing as festive as a fresh green Christmas tree, even before we start decorating them. Most years I decorate three trees, this one is my personal favorite and sits in the family room beside the kitchen to bring joy and sparkle to my days. Since I left home I have always had a white Christmas tree, it just looks so joyous to me.
k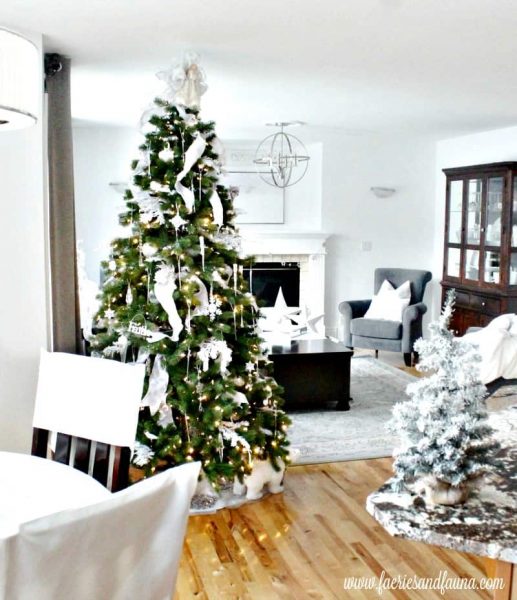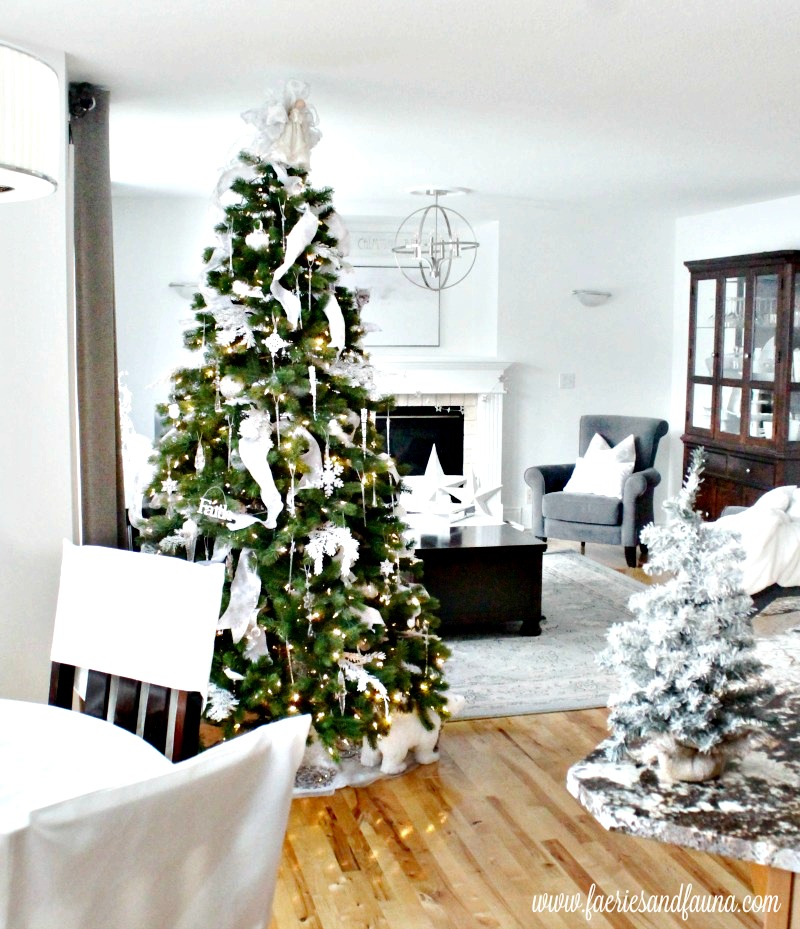 L
When planning this post I had to think about how I wanted to go about describing our tree, top to bottom, vice versa: I think I will just talk about our tree in the same order as we decorate it.
Unfortunately, our tree is artificial, I have three artificial trees and love that they last as long as I like, but they aren't nearly as nice as their living counterparts. As I start decorating very early it makes faux trees a necessity.
Adding Christmas Tree Lights
Once the tree is up we start by adding the lights. We have a pre-lit Christmas tree but always add at least 700 more. It is especially important to use lots of light on a white and iridescent tree as you need the lights to make the ornaments sparkle.
h
We weave our lights in through each branch weaving them between the smaller branches of each limb. We go through every limb and branch from top to bottom.
My son put the lights on this year (thank goodness). My family is welcome to participate but rarely do anymore. No problem I like decorating the trees, I pour a glass of wine and enjoy puttering at it.
This tree has only one type of ribbon, I cut the wired ribbon into about six-foot lengths and then roll it to make it curl before hanging it on the tree. Although not necessary it is okay to cut the wired ribbon, you can still use it next year.
When hanging ribbon always starts by anchoring your ribbon to the last little branch beside the trunk. By anchoring your ribbon deep inside the tree it will keep your ribbon from looking like its precariously floating on the outside of your tree.
Adding Large Ornaments to Tree Interior
After the ribbon, I place large Christmas ball ornaments inside my tree. This helps reflect the light out of the tree and gives my tree depth. They are subtly hidden inside the tree but they make a big difference.
d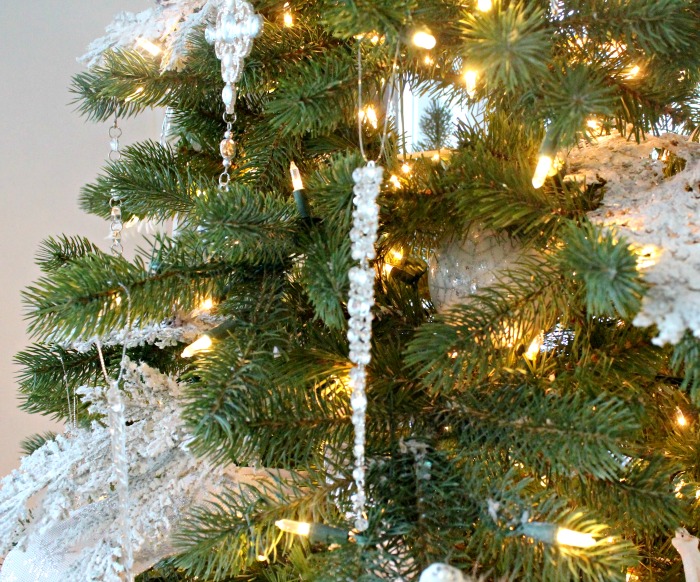 Sentimental Keepsake Ornaments
Next, I place my really sentimental ornaments. This one came from my sons when we were so poor. We use to go to Van Horlick's gift shop and browse and swoon before going for coffee and hot chocolates. The 3 boys were about 8 to 12 years old and saved up and bought this for me. It takes me back to those days whenever I look at it, which is often.
j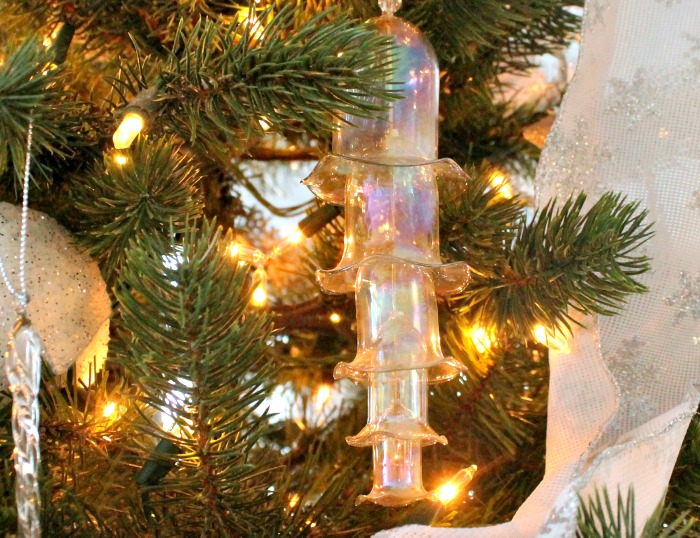 The next year I got this one. This ornament is 25 years old now and has a couple broken bells and I love it. Every time the boys see my white tree they always ask if I still hang those ornaments. Of course, I do.
l
f
Our Christmas trees always have birds on them, it does not matter the theme. Growing up my Mom had these two little birds that I thought were the most glamour things. I was allowed to clip them to the tree and our family friend Dan would hoist me up high so I could pin them up next to the star. This bird is likely 75 years old now and always sits right at the top of my tree. It's not white and I don't care. I have had this bird my whole life.
o
This treetop angel has a very personal story attached to it. She is and always will be my tree top. I have larger and prettier angels in my collection, but this little angel is always on top of my tree. With Christmas tradition is always acceptable.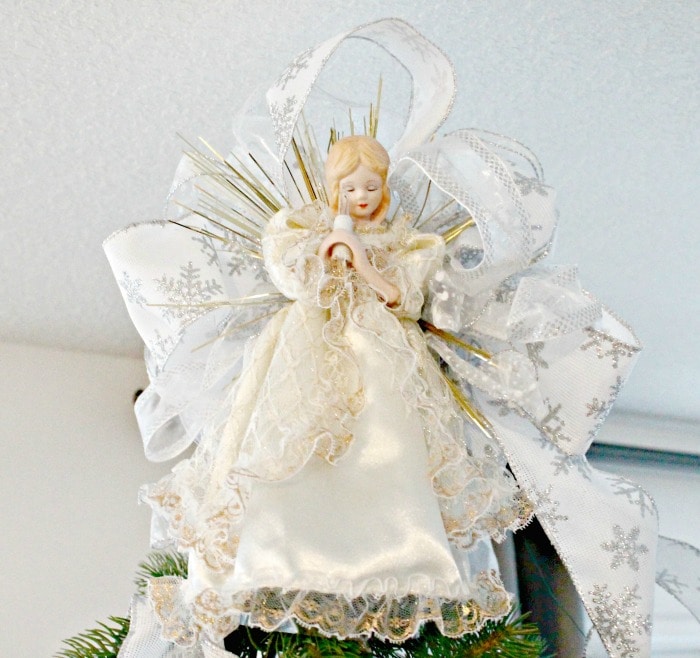 After the sentimental ornaments are hung I place all the sparkly ornaments. I am drawn to long sparkly ornaments and I especially love glass icicles. They are the only new ornament I purchased for my tree this year. I hope to add more.
o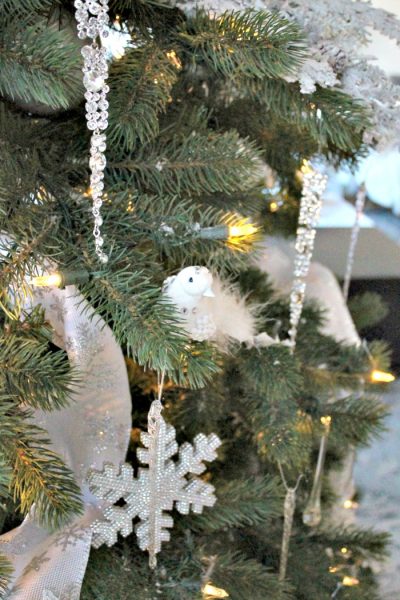 Over the years I have had all kinds of different DIY tree skirts, five years ago I saw this sparkly one in Pier One and not even looking at the price tag I bought it. It truly looked like a glistening cloud on the shelf and I just knew it was a perfect addition.
l
g
The little teddy bears sit under my tree as the gifts go under the larger tree upstairs.
Christmas Tree at Night
Like all Christmas trees, ours is prettier at night.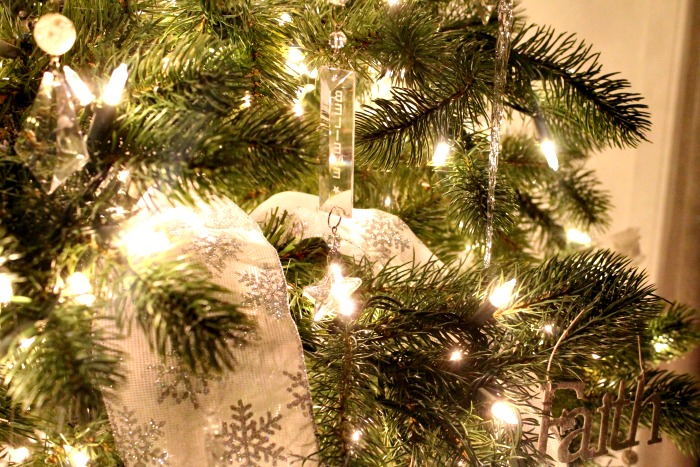 At night is when you can really see how much the little icicles add to the tree.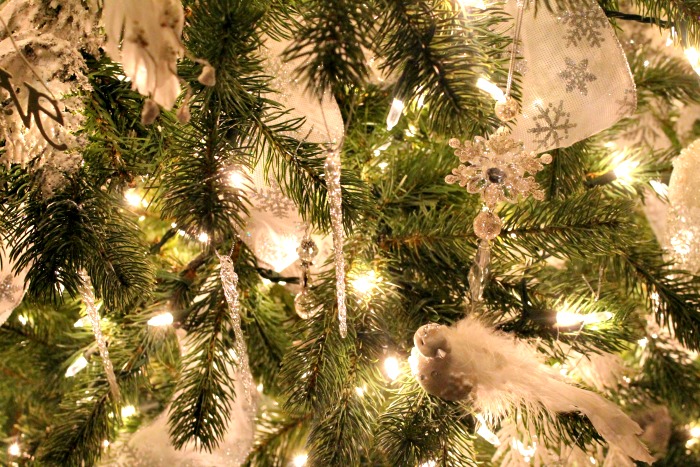 I did the best I could on this last Christmas tree picture. I hope you get some sense of the glow and glisten.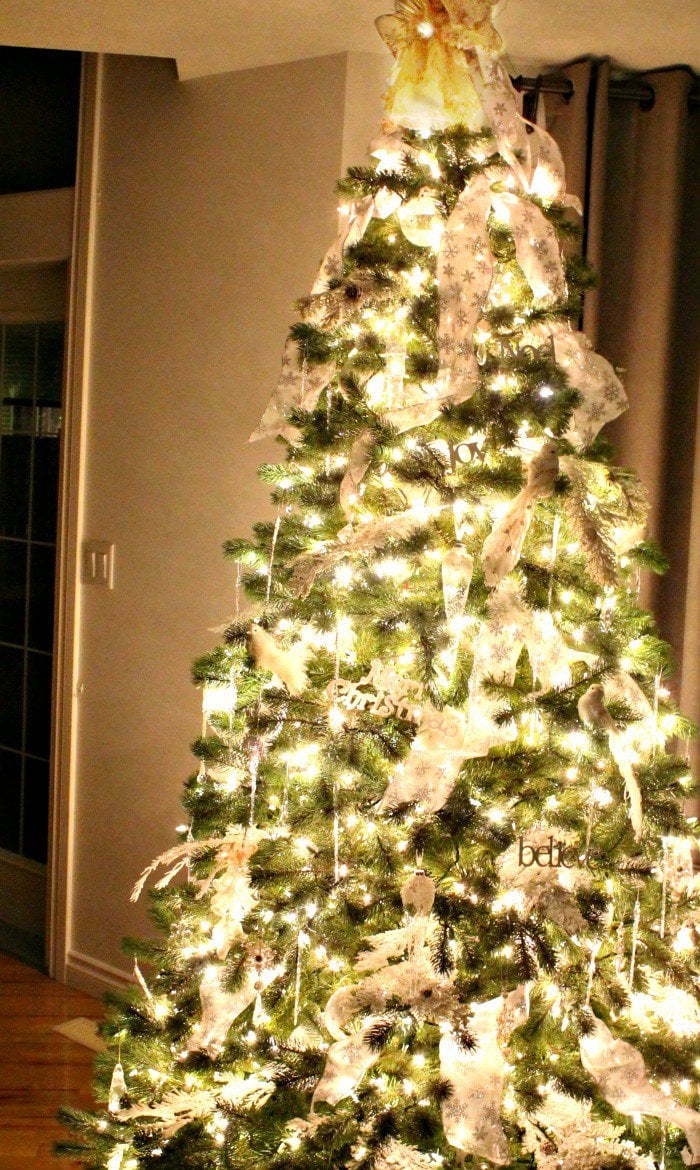 You may be interested in seeing how the Christmas tree is the centerpiece of a Calm and Bright Christmas theme. Its a front and center part of my Christmas Home tour post.
12 Days of Christmas – Final Day Christmas Trees
What else could be more fitting for a final post than the iconic Christmas Tree. I want to thank Shirley from Intelligent Domestications for putting together the 12 Days of Christmas and for allowing me to participate. Its been a busy 12 Days and I am still excited about it. From now to Christmas you will see some of the other bloggers posts on my social media, so much to inspire.