Christmas Wrapping Station
Creating a Christmas Wrapping Station make Wrapping Enjoyable
A Christmas wrapping station doesn't need to be fancy or expensive, but I strongly suggest following the directions in this post and making yourself one.  The very first thing I do each year is looking through the Christmas wrapping station, and purchase what I need.  Costco and Hallmark both bring in good quality wrapping products early.
Wrapping presents is lots of fun as long as it's under the right conditions.  I do a significant amount of gift wrapping as I truly enjoy wrapping presents and giving gifts that are especially pretty. Every year I wrap all of our gifts and several extras for friends who ask me to help to do there's for them.   I enjoy it, for me a beautiful or cute presentation is a huge part of the joy in gift giving and receiving.
Here's are some suggestions to make Christmas wrapping fun.
Organize your Christmas Wrapping Supplies
Start early even in September you can start by saving boxes, asking for boxes on any purchases you make.  Gather and preparing pine cones, buy wrapping tape, look online for some new ideas.
a
Create a  Wrapping Station
a
Organize a wrapping center.  We have a tall plastic Rubbermaid container that holds wrapping paper upright, and a cheap set of plastic drawers.  Both are several years old now, maybe even a decade (or two lol).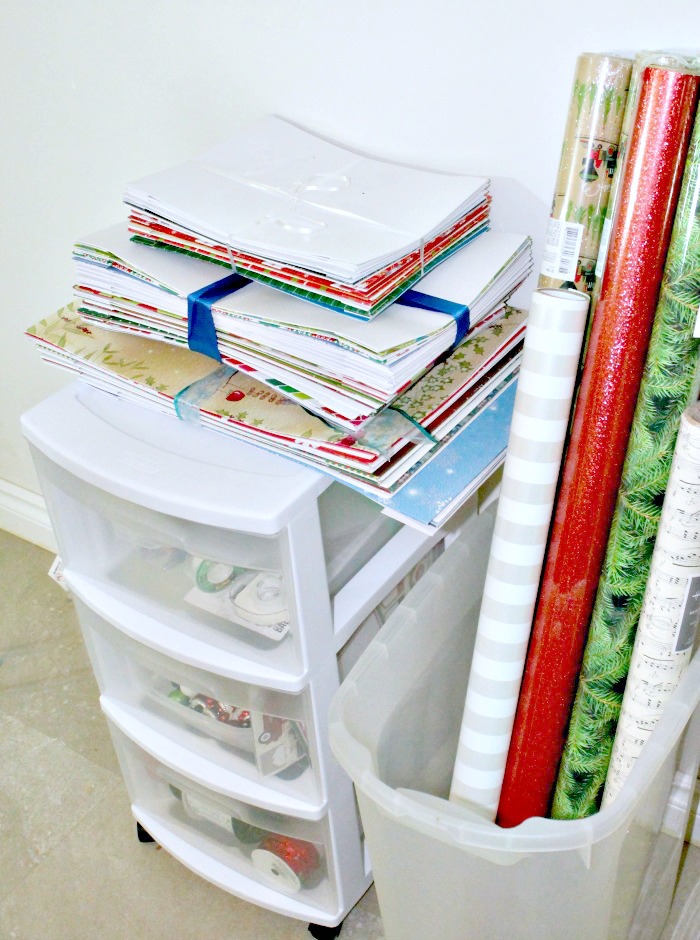 If you're not ready to invest in something permanent, set aside a bedroom drawer or a box in the cupboard.  Place a waste paper basket nearby. It doesn't matter where you build your wrapping station just as long as you have your supplies gathered and organized ahead of time.
Besides wrapping paper make sure to have scissors, scotch tape, packaging tape, measuring tape,  envelopes for gift receipts and pretty pens in different ink colours.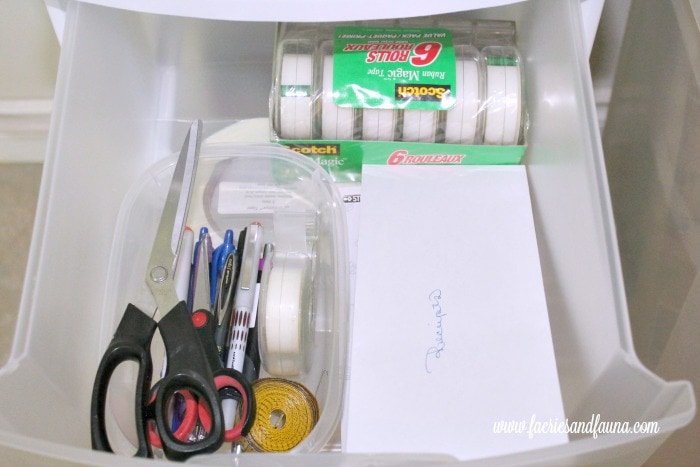 Sort through last year's leftover wrapping supplies.   Check what wrapping supplies you can use and donate away any wrapping supplies you won't be using. This time of year the donation centers really welcome gift wrapping.
Iron recycled ribbon or tissue paper, mend any reused boxes if needed.  In the above picture, you can see how I organized my collection of gift boxes that I saved after last years gift opening.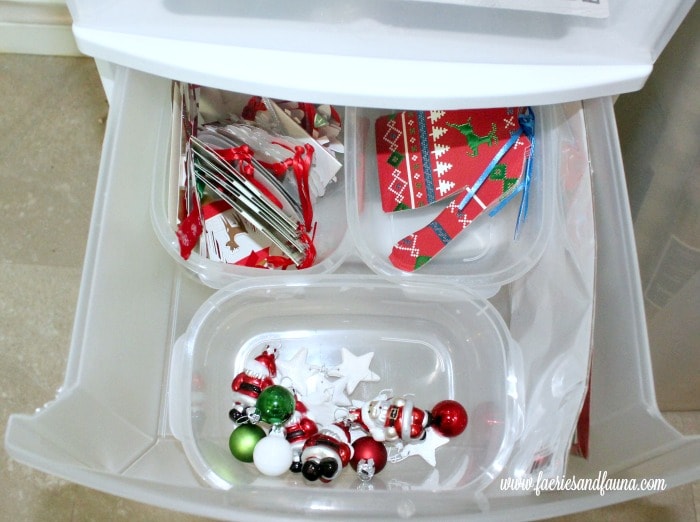 If you're going to have a color scheme purchase new supplies for this year.  Make sure you have assorted sized boxes, tissue paper, real ribbon with wired edges, thin ribbon, twine,  wrapping paper, embellishments, gift tags and lots of tape.
Already this sounds like a lot of work and it sure can be. Isn't it nicer to do it early as soon as the Christmas supplies come out, instead of December when you're crazy busy?
Having everything in a designated spot really shortens the time it takes to wrap.  Not having to leave what you're doing to search for tape, the scissors, or a box the right size makes Christmas wrapping much nicer to do.
 a
Choose a Theme for your Gift Wrap or  Choose Not To
a
Some people will tell you to chose a theme and two or three coordinating colours for your gift wrapping.  I disagree.  If you are a blogger who will be taking home tour photos for your blog, of course, you want your parcels to match the decor.  Coordinating paper makes your Christmas tree look much more coherent and designed.
If you have children at home so you hide the gifts until Christmas Eve,  does it really matter if it coordinates?  I don't think so.  Go ahead and wrap each person's parcel in their favorite colour, cartoon character, or theme.
Make your parcel fun for the receiver.  I will make super feminine gifts for my daughter in laws with silver paper and pink pearled ribbon and lace; for Hubs not on your life.  His favorite and only colour is blue. The point here is to have a PLAN and purchase what supplies you need ahead of time.
a
 Purchase Real Ribbon
a
Learn to tie bows, they are much prettier and personal than purchased bows are.  It really is easy to do and all kinds of how to videos and tutorials.  Always use wired ribbon, the wired ribbon at Costco is decent quality and it costs less than pre-made bows do.
Look for Christmas Paper with Cutting Lines
Not all paper has cutting lines printed on the back which is too bad.    The paper at Costco and Hallmark usually have the lines, its worth the time to check before selecting your Christmas paper.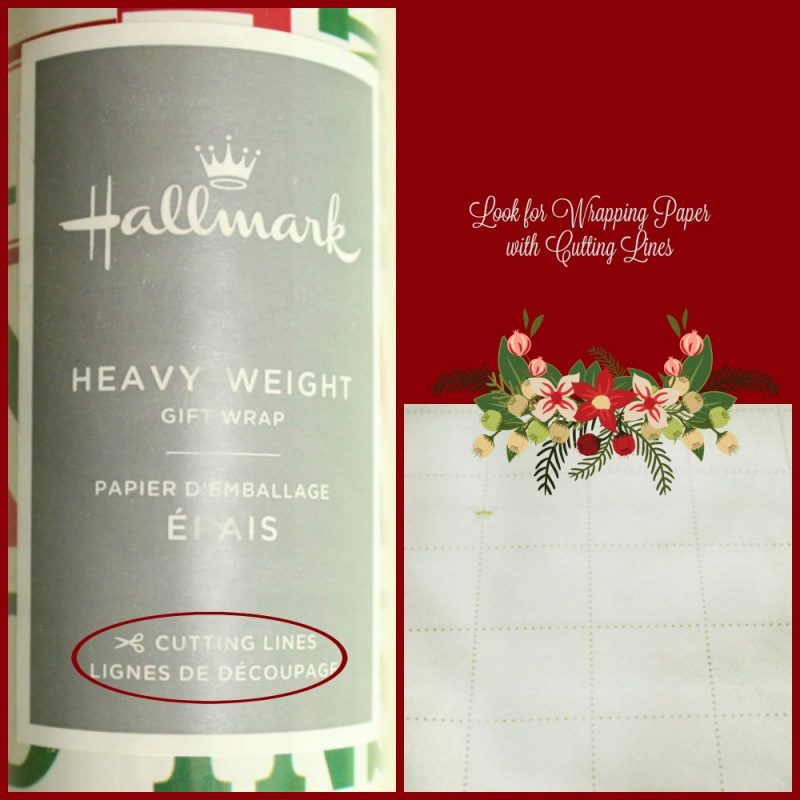 a




Purchase or Make Embellishments
This is the most creative part of wrapping.  It doesn't need to be expensive.  Make a snowman using a piece of ribbon and three buttons, add pinecones, a pick of red berries, a cotton boll, a candy cane, cinnamon sticks, dollar store snowflake or Christmas bells.
Wrap in Sessions
Wrap in sessions, two hours now, two hours later, two hours when the mood hits you or two hours every evening.  If possible, wrap as soon as you bring your purchased gifts home, whatever works best for you.  Remember that marathon wrapping sessions makes it a task and isn't nearly as much fun.
Make Christmas Wrapping a Mini Event
Eat some of the snacks your making for the holidays.  Play Christmas music. Have a favorite beverage.  Get comfy, wear your PJs or a favorite Christmas ugly sweater.
Doing these things makes the gift wrapping very enjoyable for me.  I daydream about how excited the granddaughters will be getting their presents.  How much my daughter in law enjoys her Christmas wrapping,
I curate a group board on Pinterest with several of my favorite bloggers specifically for Christmas wrapping.  There lots of inspiration there and more being added all the time.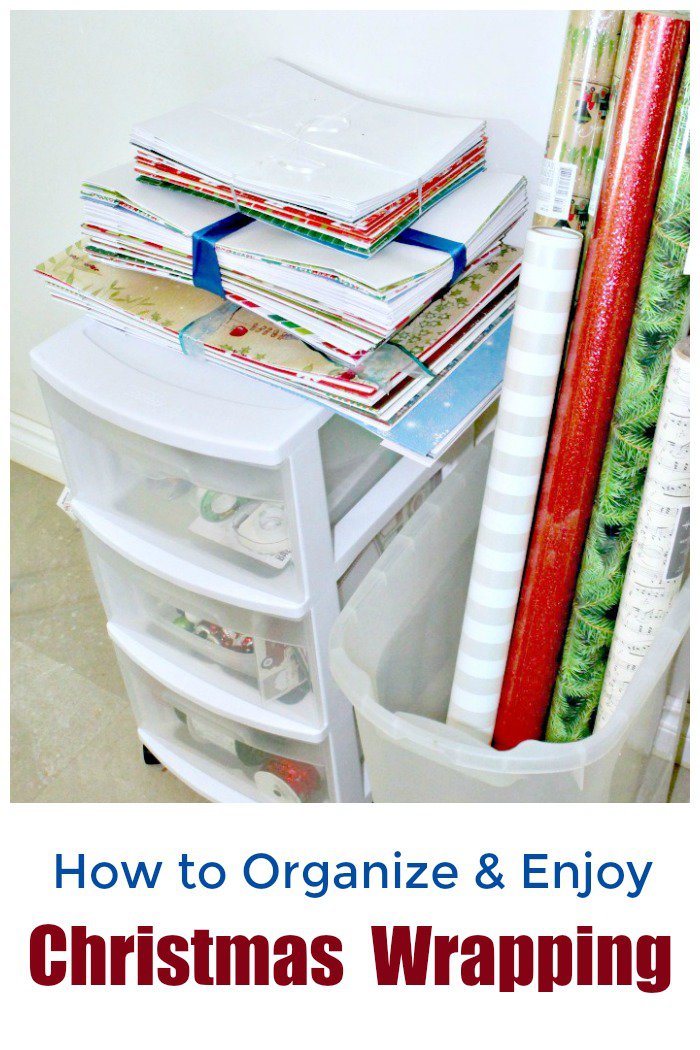 I am beyond excited for the Christmas holidays to start.