Old-Fashioned Dill Pickle Recipe
Of all canned pickles I think the recipe for old-fashioned dill pickles is the easiest to make pretty much everyone's favorite pickle. Who hasn't eaten a dill pickle? Now that Hubs is retired and eating at home most of the time, I've dusted off all my old fashioned pickle canning recipes. Its been awhile since I last made this pickle canning recipes and I am happy to be sharing them with you.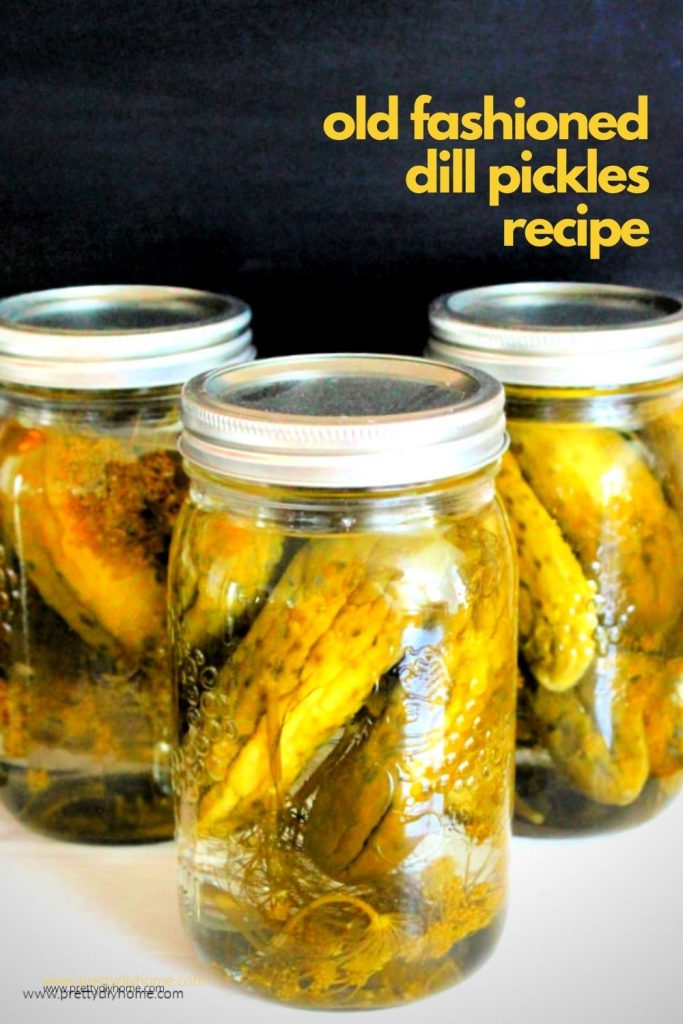 This old-fashioned dill pickle recipe uses the simplest of ingredients, in the old days we use to add alum for crispness, I don't use it anymore as I want my pickles as chemical free as possible.
Newer recipes call for the pickles to hot water bathed for for 15 minutes. Or Stored in the fridge. This is new to me. If you feel safer doing so, please do.
Old-Fashioned Dill Pickle Ingredients
5 lbs pickling cucumbers
Fresh dill (green dill heads)
1 quart pickling vinegar
1 pint water
2/3 cup pickling salt
2 cups white sugar
Optional (garlic)
Dill Pickle Instructions
Prepping the Pickling Cucumbers
Start by choosing small pickling cucumbers, smaller cucumbers are crisper. I don't slice the pickles for my dilled pickles.
Wash the cucumbers in cold water making sure they are clean, cut the very tips off the ends to remove the little bit of stem. Prick each pickle with a fork a couple of times. Cover with a tea towel and set aside.
Sterilizing Jars and Lids for Pickles
Canned foods have two basic categories, high acid and low acid. Pickles are high acid so there is no need to use a pressure canner. Pickles are incredibly easy to make. I promise, if you can boil water you can make homemade pickles. The thing to watch out for is safety and cleanliness.
There are four ways to sterilize jars, in the oven, dishwasher, microwave and stove top. The method I choose depends on how many jars I need to sterilize. I made a double batch of this dill pickle recipe so I needed 10 quart jars. Instead of boiling them I put them through the dishwasher with the heated drying cycle on. Time it so that your dishwasher is done when your ready to make the dill pickles.
Making the Dill Pickle Brine
Mix vinegar, water, pickling salt, and sugar in a large saucepan over medium high heat, skipping the dill and garlic. Stir until the sugar and salt is dissolved. Cook until boiling, then turn down to simmer while filling your jars.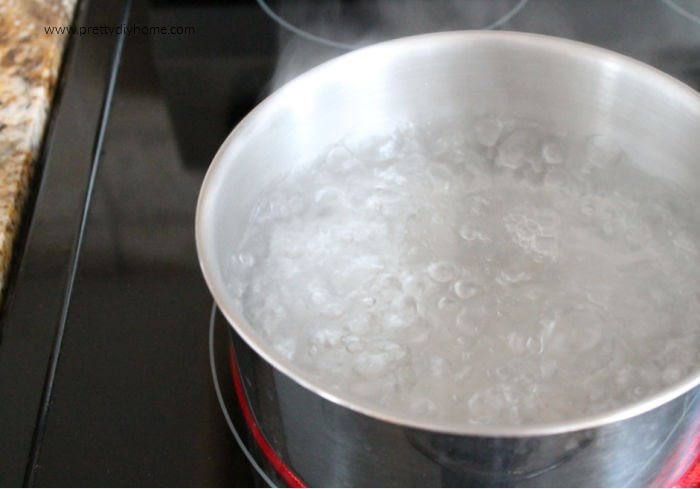 Don't substitute the vinegar or the salt for normal table vinegar or salt. Pickling vinegar is more acidic and pickling salt is purer then table salt. Table salt will change the colour of your pickles and will cloud the brine.
Filling the Canning Jars
Place one sprig of dill in the bottom of each jar. Stuff each jar with as many pickling cucumbers as possible. Place a second sprig of dill on top. If your wanting garlic dill pickles, peel and place a garlic clove in the bottom of each jar.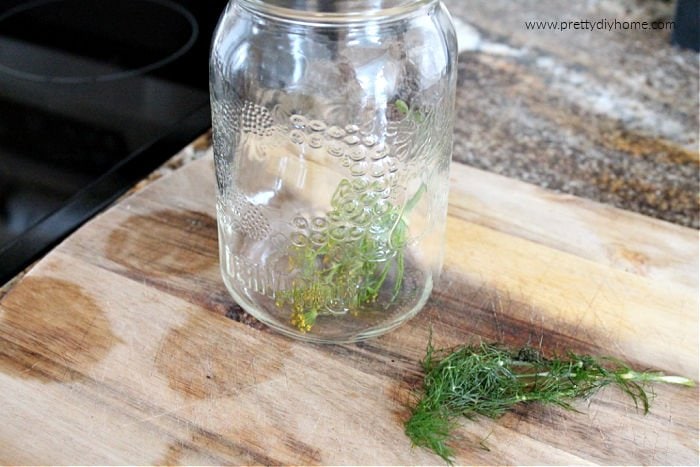 Making sure you leave 1/2 inch of head room to the top of the jar fill each jar with the hot brine. Place a hot lid and ring on top as quickly as you can, turn to seal the jar.
Once jarred, leave your pickles to cool.
Don't touch the jars while cooling. As the jars cool you will hear them "pop". Once the jars are cool, push on the lids to test if they are sealed.
If the lids push down and you hear a warbling sound, the jar isn't sealed. This can happen for lots of reasons, maybe the jar wasn't hot enough, or their isn't quite enough brine etc. If a jar doesn't seal, store it in the fridge instead of the cupboard. Eat the refrigerated pickles within two months.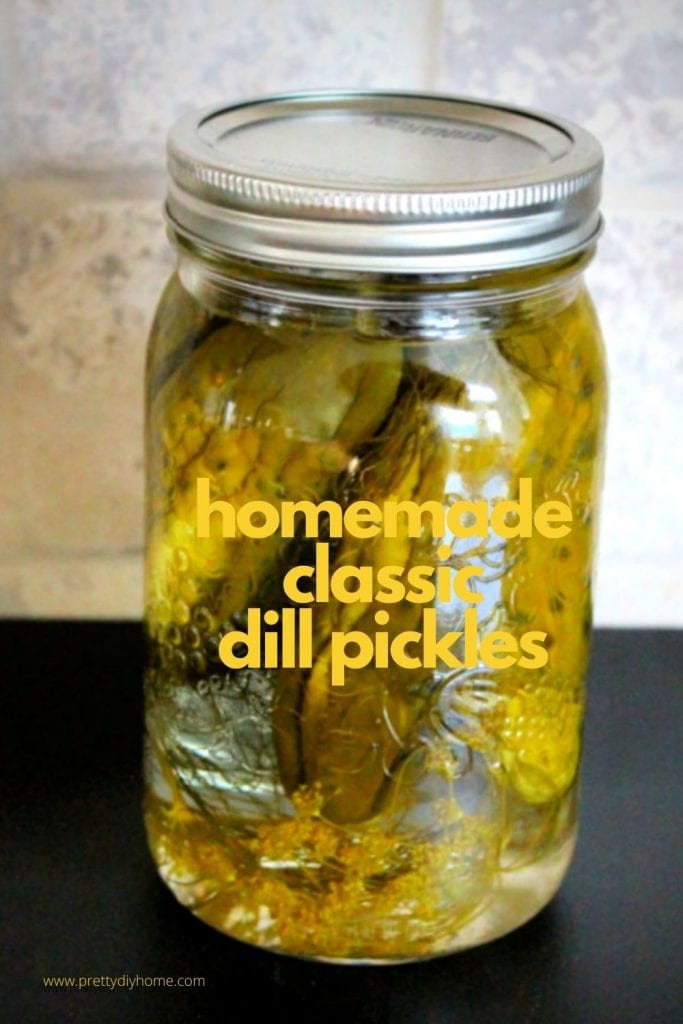 Storing Old Fashioned Dill Pickles
Once you realize how easy pickles are to make its kind of fun in a geeky kind of way. Hubs is certainly enjoying making them, every day he has a new batch he wants to try. For the best quality don't make more pickles than your family can eat in a year. Store your canned pickles in a cool dark place. For the best flavour leave canned pickled for about six weeks before eating, this gives your pickles time to ferment.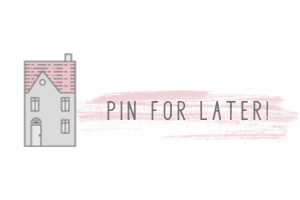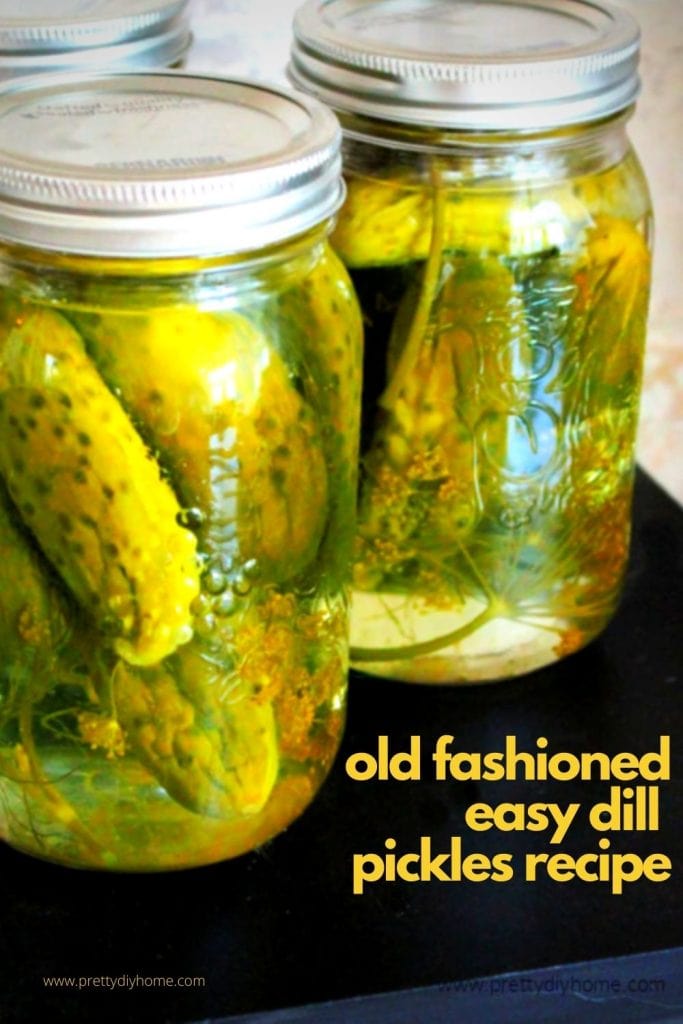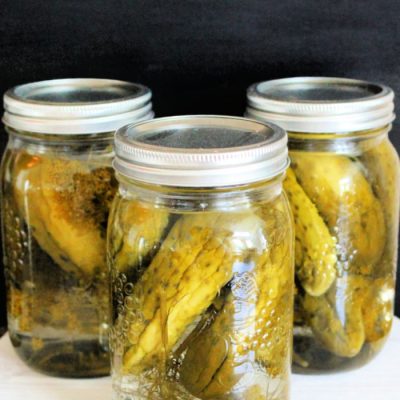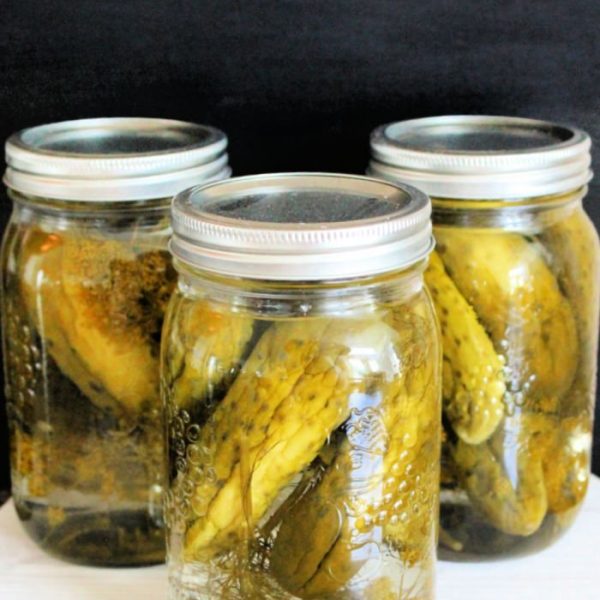 Old-Fashioned Dill Pickles Recipe
An old-fashioned dill pickle recipes with lots of crunch, flavor and no chemicals like alum and food coloring. Note: Newer recipes call for the pickles to hot water bathed for for 15 minutes. Or Stored in the fridge. This is new to me. If you feel safer doing so, please do.
Print Recipe
Ingredients
5

lbs

small pickling cucumbers

1 bundle

fresh dill sprigs

2 green sprig tops per jar

1

quart

pickling vinegar

don't substitute

1

pint

water

⅔

cup

pickling salt

don't substitute

2

cups

white sugar

5

cloves

garlic

optional 1 per each quart jar.
Instructions
Sterilize your jars, I used a dishwasher, but choose whatever method your prefer.

Wash and trim the cucumbers. Poke each one with a fork a couple of times. Cover with a clean towel and set aside.
Make the Pickling Brine
Place all ingredients into a large saucepan. Heat over medium high heat stirring to dissolve the salt and sugar. Let cook until boiling. Turn down and keep the brine simmering as you prepare the jars with cucumbers.
Filling the Jars
Add a sprig of dill to each jar. Add a clove of garlic if using (optional, I don't use garlic in my dill pickles)

Fill each jar with as many small pickling cucumbers as you can stuff into the jar, while allowing the top ring area to remain clear.

Newer recipes call for the pickles to hot water bathed for for 15 minutes. Or Stored in the fridge. This is new to me. If you feel safer doing so, please do.
Dilled Pickled Carrots and Beans
The flavours of dilled beans and carrots go very well together. I really enjoy having this Dill Pickled Carrots and Beans recipe canned and ready in the pantry. Its a really simple side to add to any buffet from BBQs to roast beef dinners.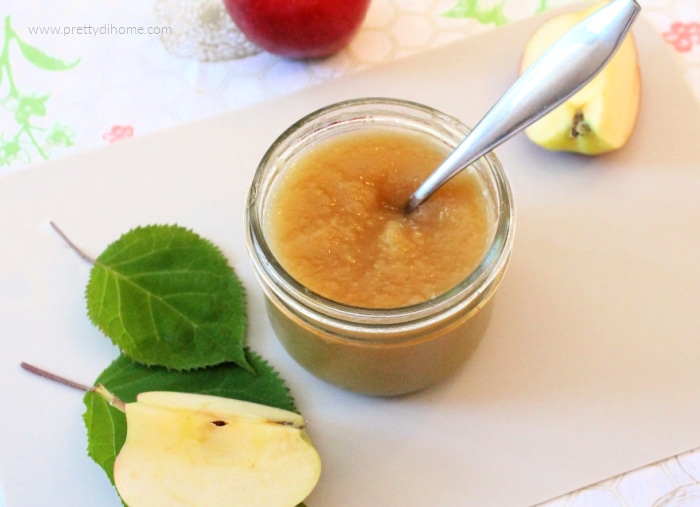 Apple Butter Recipe
This Apple Butter Recipe is not only delicious with lots of flavour for Fall, its a great way to preserve apples, or crab apples. The recipe has cinnamon, allspice, and cloves or you can leave it plain. Any way you make it its fantastic on waffles, oatmeal, yogurt, toast and so forth.