Christmas Decor Ideas with Tartan & Plaid
20 Plaid for Christmas Ideas
Christmas decor ideas with tartan and plaid are always popular. Its one of those tradition Christmas decor ideas thats always in style. Plaid for Christmas comes in every colour from bright reds to moody dark blues and greens. Christmas plaid decor is one of my personal favorite decor themes as you can dress it up as part of a traditional Christmas theme, or add it to a farmhouse theme.
Being of Scottish heritage I have always loved tartan, especially at Christmas time. Its fantastic for any of the cold months from Fall, Christmas and Winter. You don't need to be Scottish to love tartan and especially red tartan has become a traditional Christmas pattern.
Deciding on a Christmas theme is not only one of funnest Christmas tasks it can also be one of the hardest. So many different choices, and trying to use what you already have in new and novel ways is always a good time, but if your out of ideas it can be a bit overwhelming. I hope this post finds you relaxes and ready to enjoy loads of practical, and affordable ways to decorate an average home for the Christmas holidays. Not sure what I am going to create this year, but I hope you find this post inspiring and exciting. I can't wait to start Christmas decorating, how about you?
Christmas Plaid Decor in the Front Foyer
Lets start at the front door, where everyone first sees our holiday home.
Such a fun front foyer, with that lovely tartan cushion. The whole thing is casual with many lovely unique layers. I particularly love the sleigh ride sign, it looks really unique and very easy to replicate. I may have to try and make that sleigh sign.
Christmas Home Tour | Ella Claire Inspired
This simple Christmas front foyer is part of a gorgeous Christmas home tour with scads of tartan plaid. So much inspiration it was hard to pick just one gorgeous photo.
Cottage Christmas Home Tour | Fox Hollow Cottage
I would love to be able to see guest reactions when they enter this gorgeous foyer from Plaids and Poppies. Seeing the stunning Christmas tree through the entry door is stunning. I just love how the door frames the Christmas tree with all the lovely Christmas decorations.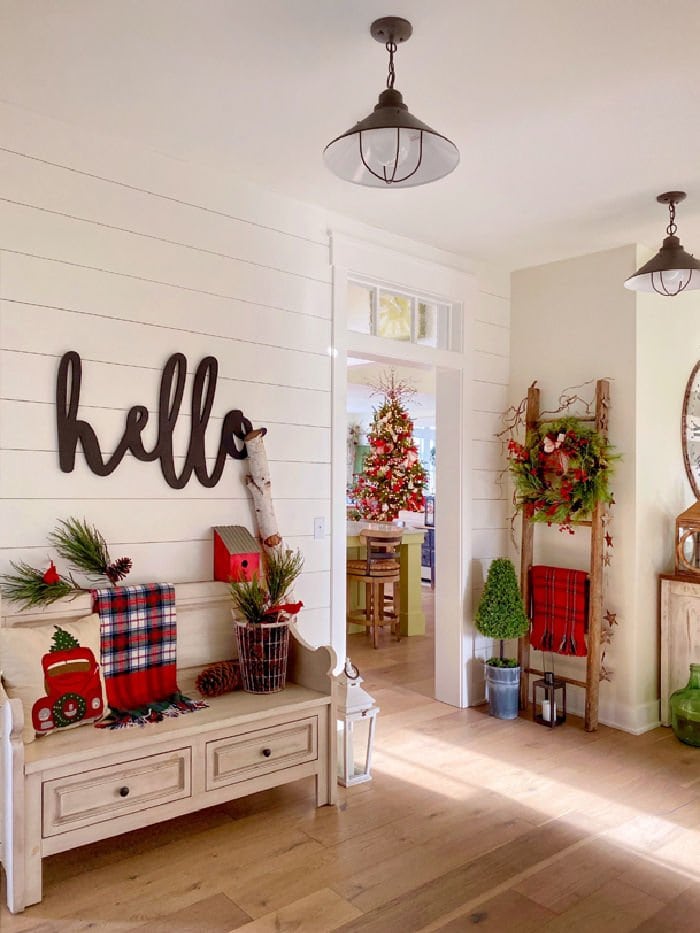 Christmas Home Tour | Plaids and Poppies
Such a fun and casual farmhouse entryway. We built our own hall tree this year and I cannot wait to decorate it. All the pretty packages, maybe their gifts, maybe there decorations. Maybe they are meant to be mailed out soon. Such a simple and fun idea for decorating.
Holiday Housewalk | Golden Boys and Me
Christmas Plaid Decor in the Dining Room
Whether you wanting a simply plaid basket you can move, or a large plaid centerpiece for the dining room, using plaid fabric, ribbons or ornaments adds a quick festive touch to these plaid for Christmas dining rooms.
I wanted to share this next blog post with you from Delightfully Noted because she does an amazing job of adding little bits of tartan for extra zest. The tartan is gently sprinkled throughout her home and gives it a warm cozy feel.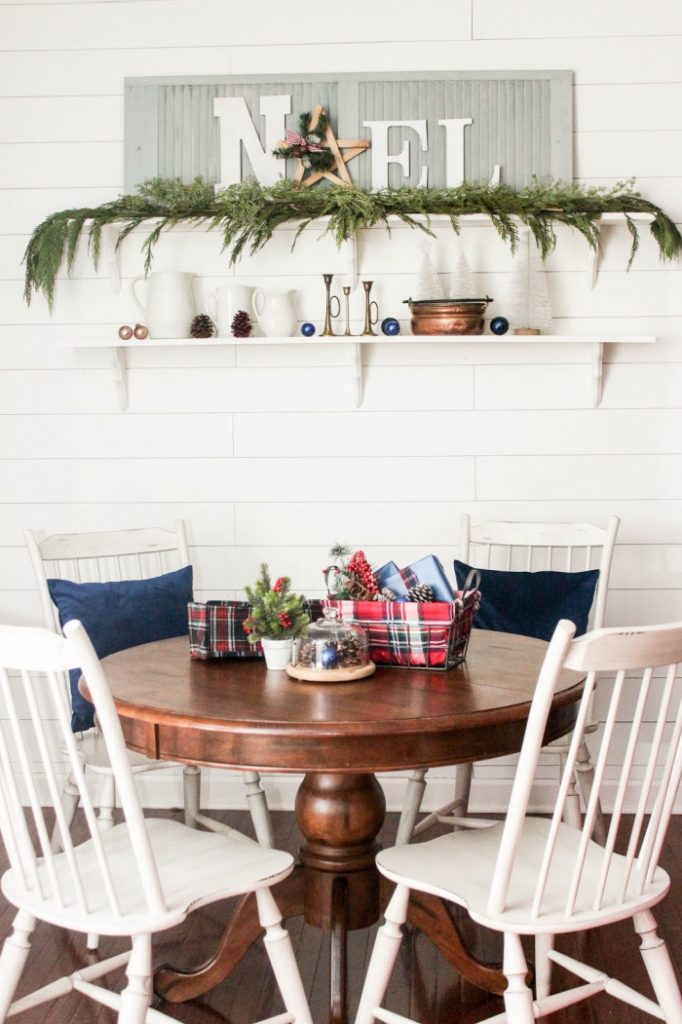 Blue and Red Christmas Home Tour | Delightfully Noted Blog
Such a unique and easy to do tablescape. A pretty white tablecloth and ribbon is all you need to get started.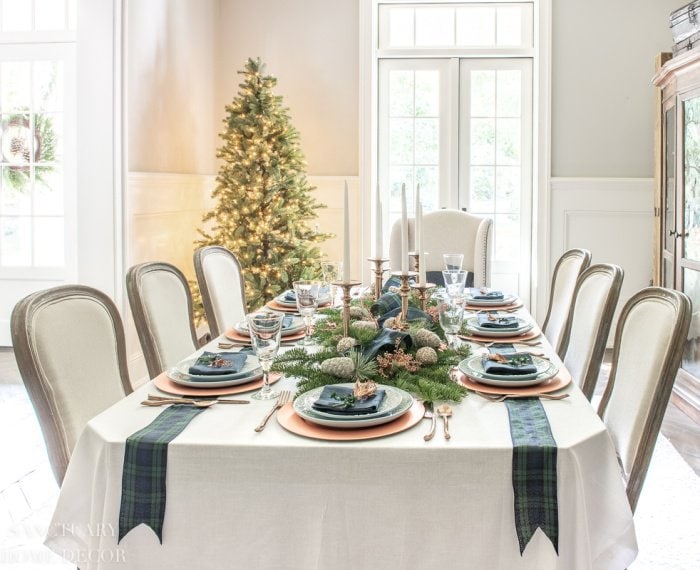 Warm and Cozy Christmas Home Tour | Sanctuary Home Decor
Notice the different types of plaid in this Christman plaid dining room from So Much Better with Age. The dark brown table draping is so cozy, warm and welcoming.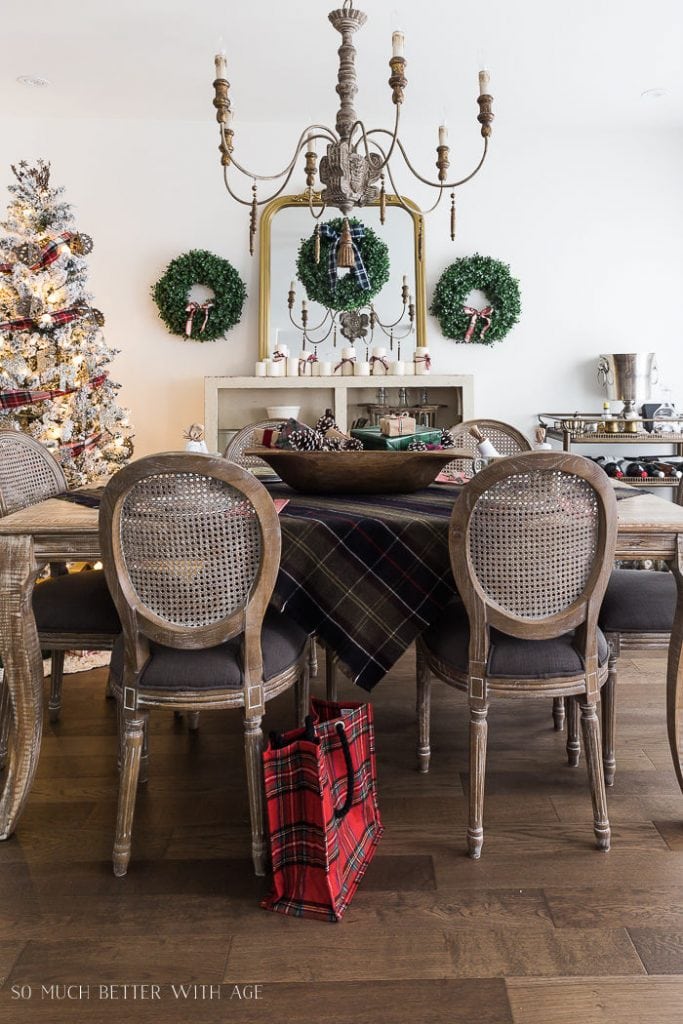 Christmas Plaid Table Setting | So Much Better with Age
Blue is by far my husbands favorite colour, and I have a very hard time decorating with it. Starting with a inspirational post like this one from Citrine living and some blue and green tartan I think I could do it. How do you feel about decorating with blues?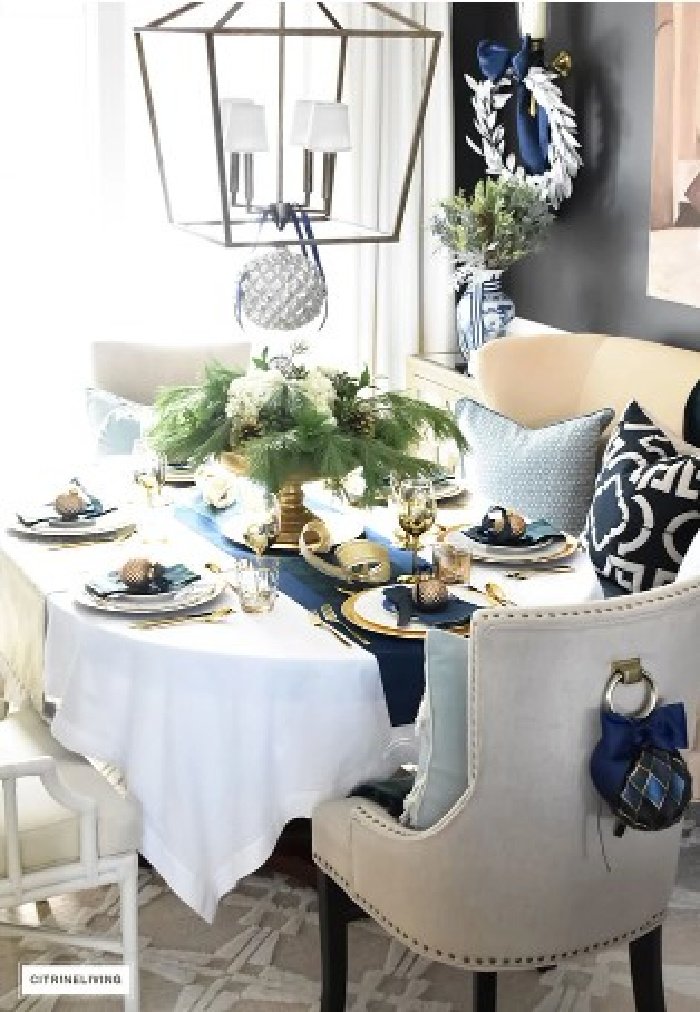 Classic Christmas Tablescape with Tartan, Navy & Green | Citrine Living
This home tour from The Craft Patch is full of little bits of tartan festive touches. She dotted little bit of tartan throughout every room in this beautiful home.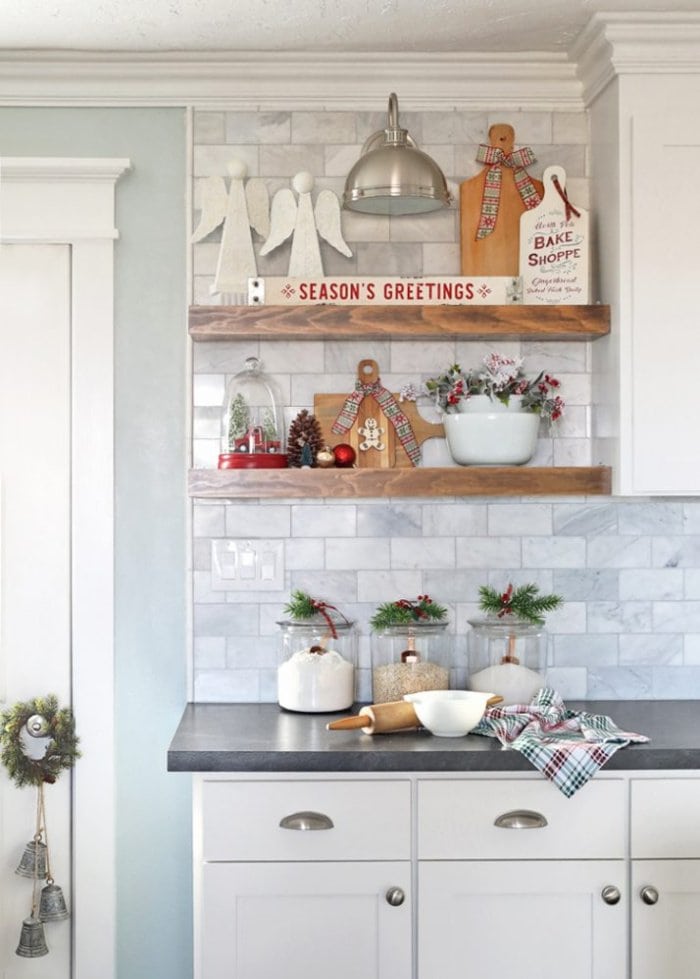 Cozy Farmhouse Christmas Home Tour | The Craft Patch
Christmas Plaid Decor in the Living Room
Christmas mantels all decked out in plaid for Christmas are remarkably cheerful. The little pops of colour that plaid brings to any type of mantel decor adds interest, or a pow factor to the areas they decorate. Its rather hard to describe, but check out these next blog posts and I think you will see what I mean.
This whole post from A Wonderful Thought is gorgeous, but I had to share the simple and gorgeous tartan artwork she created for over the mantel. This is one of those inspirational Christmas ideas we need pinned so that we can remind ourself of it when we need it.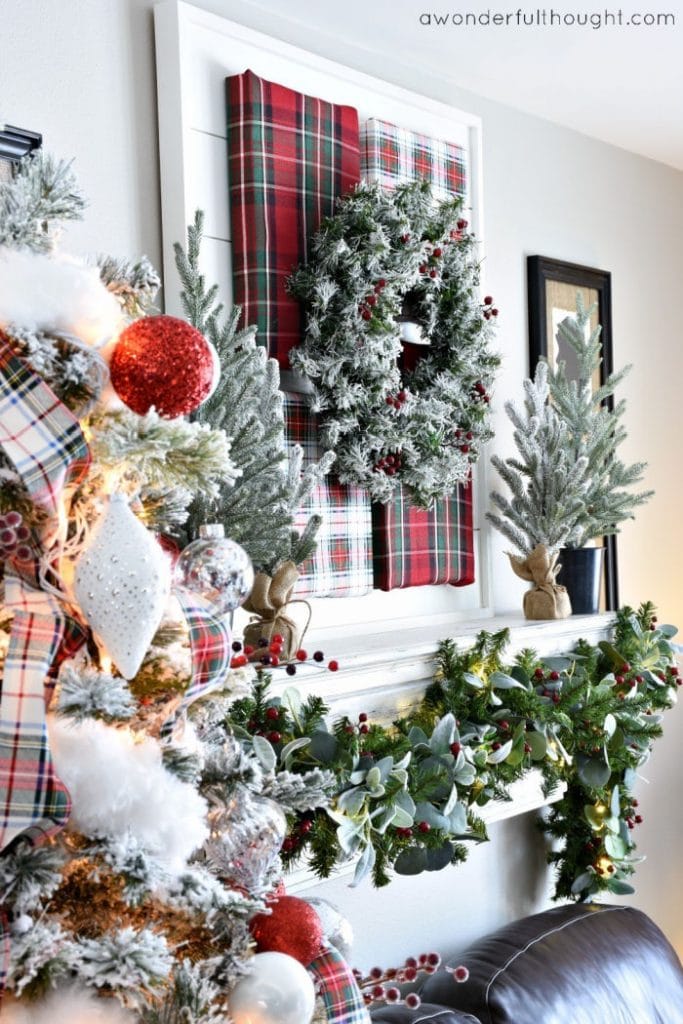 A Red Green and Plaid Christmas Tree | A Wonderful Thought
The little touches in this living room from Kelly in the City, like the tartan plaid gifts really appeal to my frugal nature.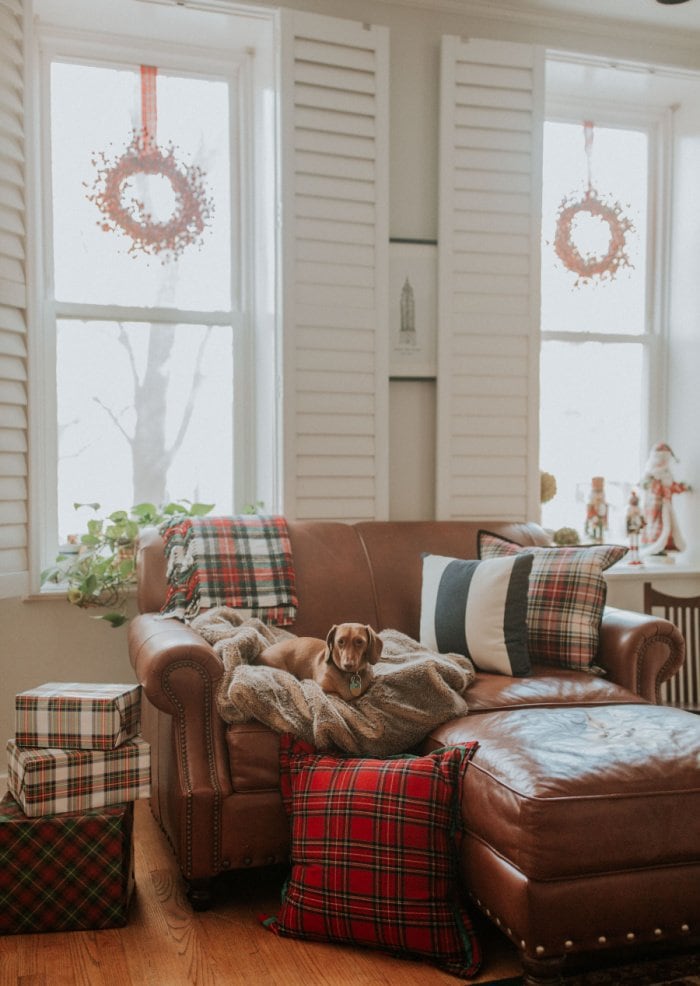 Preppy Christmas Decor | Kelly in the City
Plaid for Christmas Trees
Of course I had to share some gorgeous tartan filled Christmas trees. This next tree has so many interesting Christmas tree decorations its hard to point out exactly what your favorite part is. With all the different colours she uses in this trees, its amazing how it all ties together with the tartan.
Traditional Plaid Christmas Tree | Positively Splendid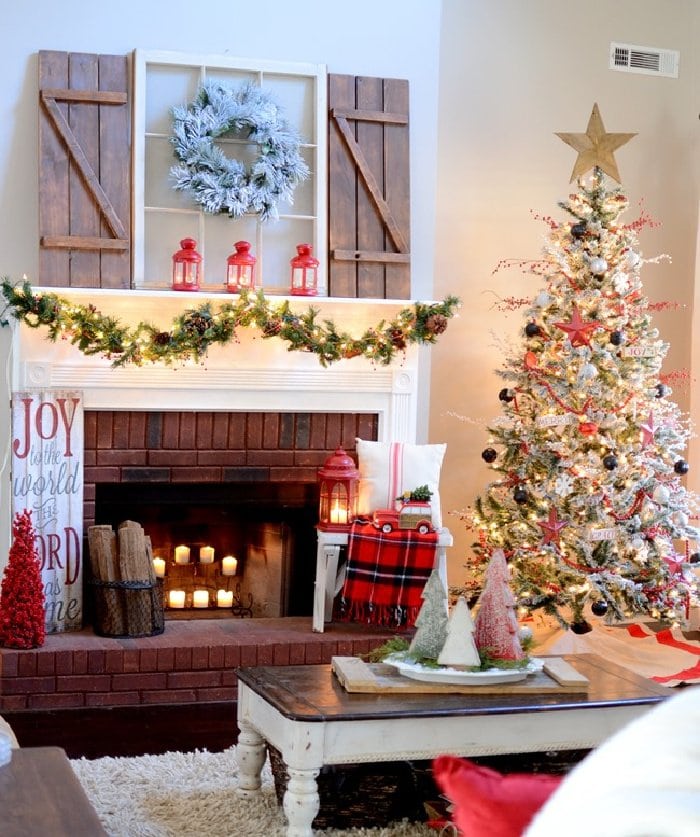 Christmas Home Tour | The Frugal Homemaker
This Christmas living room is stunning with all the little bits of gold. The bells from the Christmas tree to the golden frames is so dramatic. Don't you think the plaid adds a quiet cozy feel to this room. Wouldn't it be wonderful to snuggle up into one of these chairs, I bet her guests can't wait to visit.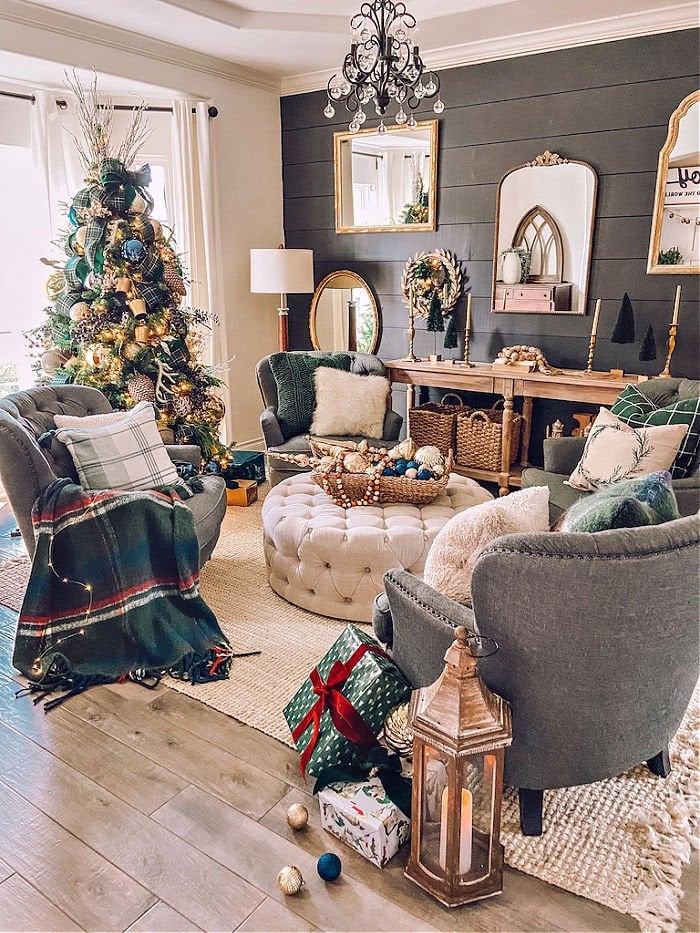 Blue, Green, Gold Plaid Christmas Tree | Life by Leanna
Buffalo plaid, Christmas tartan, and stripes all fit together in this fun living room. Such a fantastic example of how to match together strong patterns.
A Holiday with Heart | A Thoughtful Place
This picture from Common Ground really exhibits how tartan can be used in various decor. I am a total fan of how she put a unique gathering of various styles together and it works so well.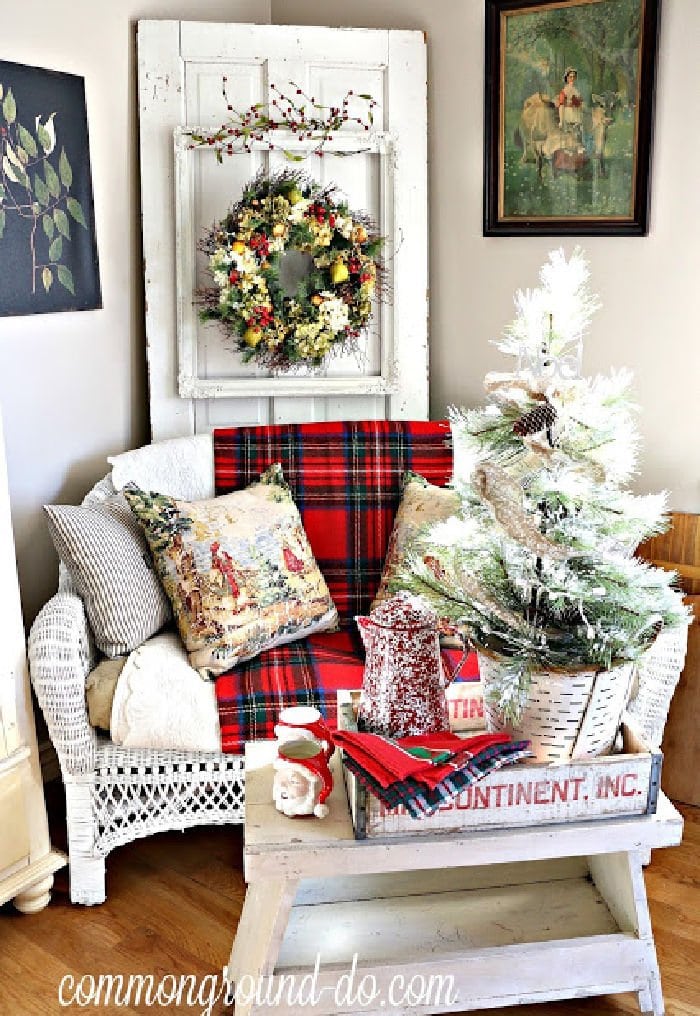 Christmas Kitchen and Yes its Plaid | Common Ground
This farmhouse cushion is the perfect backdrop for an oh too cute woody panel. This entire home tour from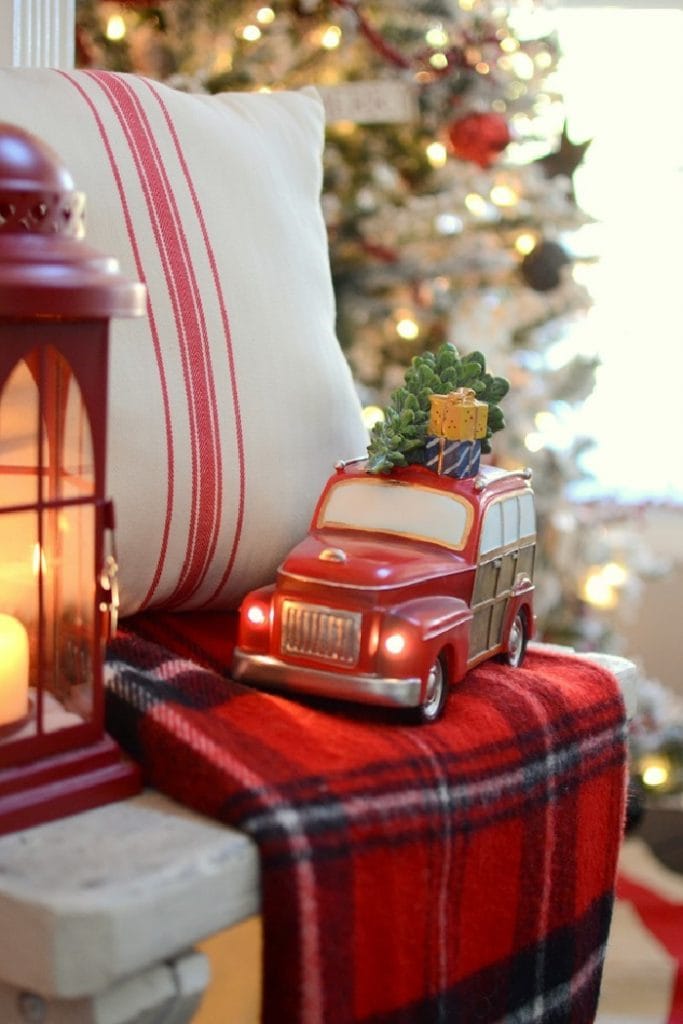 Christmas Home Tour | The Frugal Homemaker
Do you see all the different plaid touches in Kara's Party buffet table? Lots of cute ways to add plaid, I see more than a few DIY projects in her buffet.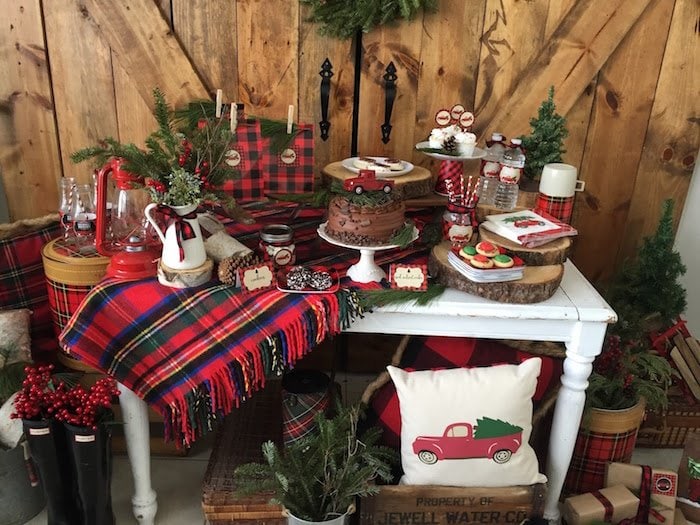 Vintage Rustic Plaid Christmas Party Ideas | Kara's Party Ideas
Christmas Plaid Decor in the Bedroom
Even with the dramatic black cabinet and amazing DIY artwork, Christmas plaid decor really makes this bedroom spectaci;ar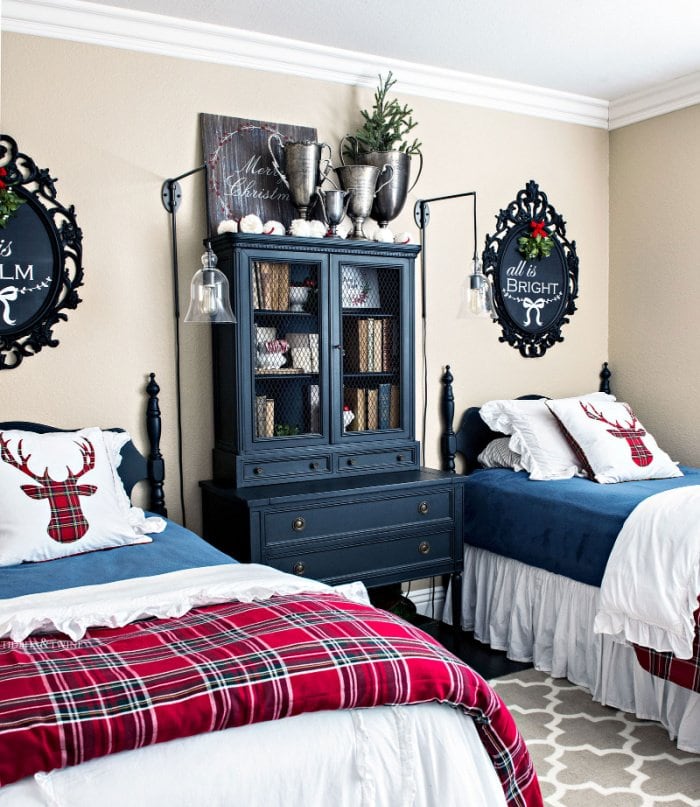 Christmas Tour Guest Bedroom | Tidbits and Twine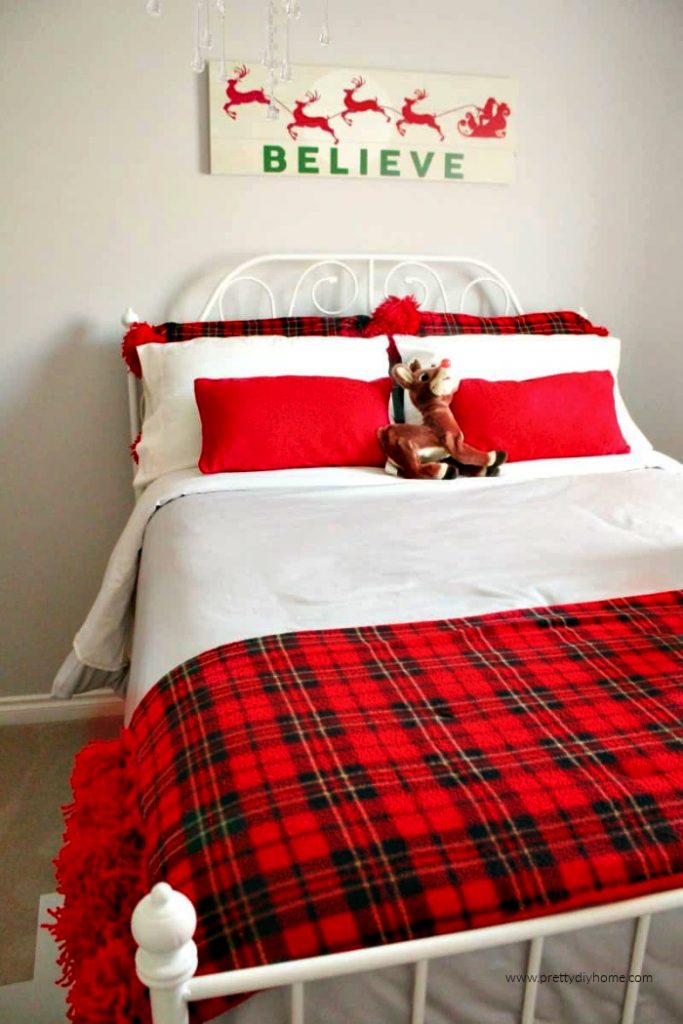 Christmas Home Tour | Pretty DIY Home
I decorated our home with lots of DIY plaid accessories a couple of years ago. My daughter in law loved it, so I gathered it all and gave it to her. If I decide to do tartan this year I think I should try the blue and green tartan. I am not sure if I have enough time to create it this year, but certainly am inspired to create it for next year.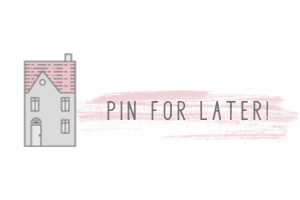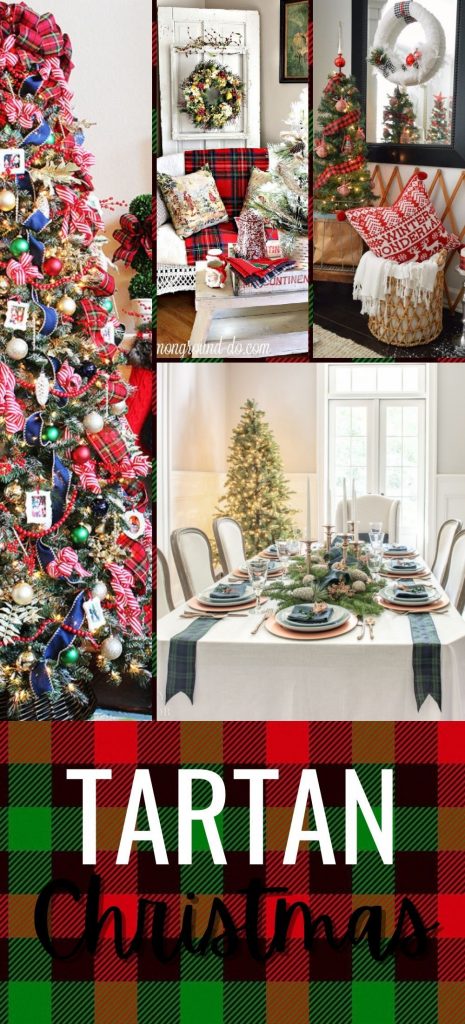 Some Other Christmas Decor Ideas
Traditional Christmas Decor Ideas
Traditional Christmas decor is for those of us who love nostalgia. Its a warm classic style often in reds, green and whites. Traditional Christmas decorations can be as elaborate or classic as you want. A warm welcome style for the holidays