DIY Children's Reindeer Name Sign
DIY Art has come a Long Way
I have a real fondness for DIY artwork, I think it comes from the many years I rented my home.  I could freshen up a room and cover the oh so beige walls. DIY art has come a long way from the days when we taped posters to the walls, hung carpets up (ugly lol) or stretched material around frames.  Almost anything was better than that basic beige.
I have several DIY artwork posts I will be sharing this Christmas.  This one if for my grand daughter's guest room.  The girls are getting too close to the age of questioning Santa.  I decided to encourage them to believe just a little bit longer by celebrating Santa and Rudolph in their room.
a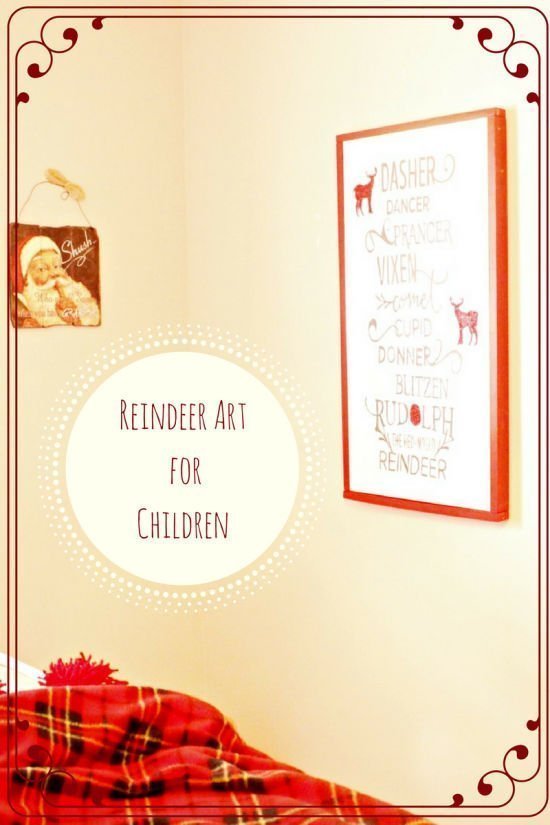 a
a
I have seen various reindeer signs online including this one from the LisaMarie Blog.  I love it, but its a bit too mature for my needs.
This version is in cheerful bright children's Christmas red, with glittery reindeer.  Although the reindeer outlines are not absolutely perfect I wanted them to sparkle with glitter.  This sign turned out exactly like I hoped it would.
Here how I made my version:
Stencil the Reindeer Names
You will need:[wc_row][wc_column size="one-half" position="first"]rectangular canvas
freezer paper
paint – red, dark grey, and white
[/wc_column][wc_column size="one-half" position="last"]small paint brushes,
red glitter
two- 1″by 2″ pieces of lumber.
[/wc_column][/wc_row]
Paint the entire canvas surface white and and let dry.  Then create your stencils.
Using a Silhouette
I purchased and modified a silhouette template to create and cut  one solid long template   I explain the process more in this earlier post –   diy sign post.
Without Using a Silhouette
To create this without owning a Silhouette cutter, Design each name in a font you like onto a  8 by 11 inch piece of paper.  You can use either card stock, or regular paper and a and scissors.  Make sure your letters are thick enough, pretty thin fine script fonts can be very tedious and difficult to cut out by hand.
Secure the template (s) to the canvas with painters tape.  Using a small sponge and a tiny little bit of paint start dabbing on the paint.  Make sure that the sponge is almost free of paint before you start dabbing the paint to the canvas.   This helps reduce the likelihood of bleeding. Keep dabbing until the paint is as dark as you want.
Let everything dry thoroughly,  remove the template.  Tidy up any bleeding that occurred with white paint and a fine paintbrush.
Once painted let it dry.
Create the Reindeer
Make two stencils by either method and place them where you like.    You can purchase a reindeer template through silhouette, or find a free one through www.pixabay.com where I found this one.
Create the templates and attach to the sign where you like.  Paint the reindeer red and immediately cover them with lots of glitter.  Let dry overnight.
Pour the glitter off of your painting onto a newspaper or paper towel.  Place the excess glitter back into its container.
To get the edges crisp, wet Q-tips with water and brush away any glitter that remains. (Mine had quite a bit clinging to the canvas by static, it came off very easily.)
a



a



Make the Frame
Measure your canvas,  ours was 15″ by 30″ .
Cut the long sides (30″), place along the canvas.  Measure the top (Ours was 16 1/2 inches).  Doing it this way leaves you the overhang necessary to account for the thickness of the side frame.
Sand the frame thoroughly then apply primer and two coats of red paint.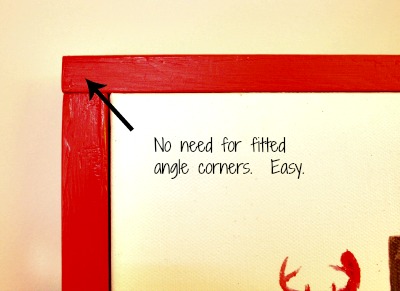 Once dry nail the long side pieces to the frame.    Attach the top and bottom portions o the frame to the canvas making sure the ends are square.
a
a
I wish I had made something like this when my boys were little,  not sure how long the girls will love it, but if I convince them to believe in Rudolph one more year it was worth the effort.
Its cliche but what the heck  ….
It's beginning to look a lot like Christmas