DIY Christmas Garland Stars
Salt Dough DIY Christmas Garland
This is my first post about our Christmas Tree. Our upstairs tree is 9 feet and this year I chose to do include red for the first time ever. That means the tree will need a mountain of new ornaments. As always budget restraints curb my shopping to include some refurbishing and DIY projects.
Twine is very farmhouse style and rustic,  this particular tree is not all sparkle and glitz but it is Christmas so I added glitter to the stars.  It is subtle but you can see it sparkling just a little bit.
To make this DIY Christmas garland you will need a single batch of salt dough, large and small star cookies cutters, florist wire or ornament hangers, burlap string, spray paint (mine is white) and corresponding glitter.
Christmas Garland Salt Dough Recipe
1 cup salt
2 cup flour
1 cup warm water
Mix the salt and flour very well. Once blended make a well in the middle and add your water. Mix until all ingredients are well blended.
I used the bread hook of my Kitchenaid mixer and kneaded the dough for five minutes.
Alternatively, sprinkle flour onto the counter and knead the dough until smooth. The longer you knead the smoother the dough will be.
Like all dough, if you find it too dry add an extra tablespoon of water, too sticky sprinkle a little flour on top and knead it into the dough.
Roll out the dough to 1/4 inch thickness. I used my fondant roller and guides, but you can use a regular rolling pin as long as the thickness is uniform.
Cut out all the stars you can, re-roll and keep cutting. I used both large and small star cookie cutters. I cut 50 large stars then used up the rest of the dough in small stars (163 small). Don't let the number of stars bother you, it is a single batch of salt dough, so it's not a massive amount of work.
Insert a wire into the top of each star. Don't form the wires into circles yet, wait until the dough is baked and hard. Doing it now you may tear the dough.
Place the stars on parchment paper and bake at 200 F. Depending on the size of your star cutouts bake about 45 min to an hour. If your stars start turning golden take them out right away.
After the stars are cool to the touch and hardened fold your wires into circles.
Lay the salt dough stars out.
Paint with spray paint.
Sprinkle with glitter while the paint is still wet.
Let dry a couple of hours.
Turn the stars over and repeat on the other side.
a


Assemble DIY Christmas Garland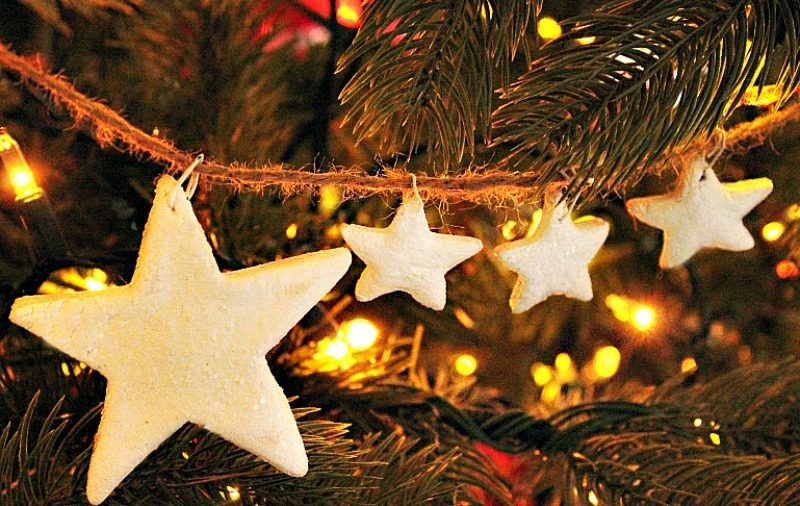 a
Cut 30 feet of twine, start at the top of your tree and wind the twine around the tree exactly as you would garland. Thread your stars onto the twine as you go around the tree, placing spaces between each star. You can use whatever pattern you like I did one large and three small stars.
Continue around the tree until done.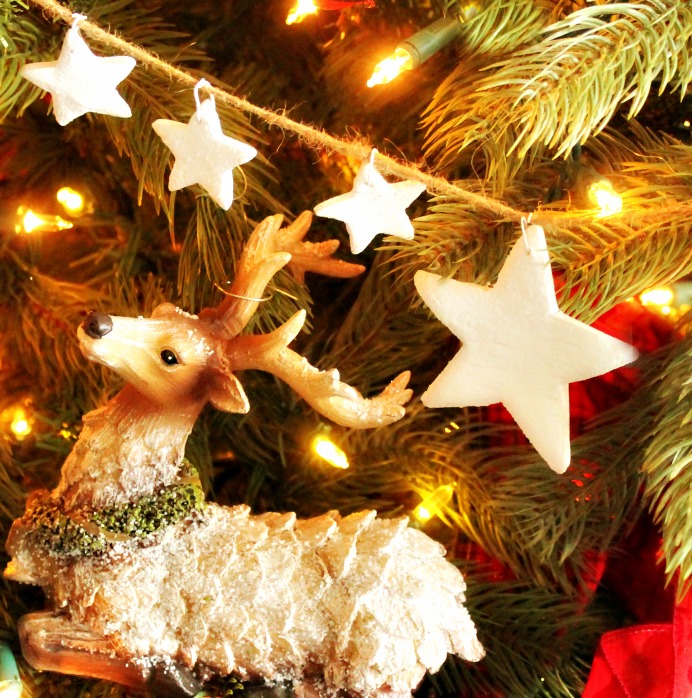 aa
Step back and adjust your placement as you like.
In order to create and post in time for Christmas, I am making this garland in October, I have so much to finish right now. I can see Christmas holidays on the horizon though.
This time of year is so hectic, but don't you love it!
PIN ME TO MAKE LATER
Other DIY Christmas Tree Ornaments
Here are some other DIY Christmas ornament ideas for the Christmas tree that you may like. DIY ornaments are fun to make and I have a tradition where guests can choose one of the ornaments to take home with them.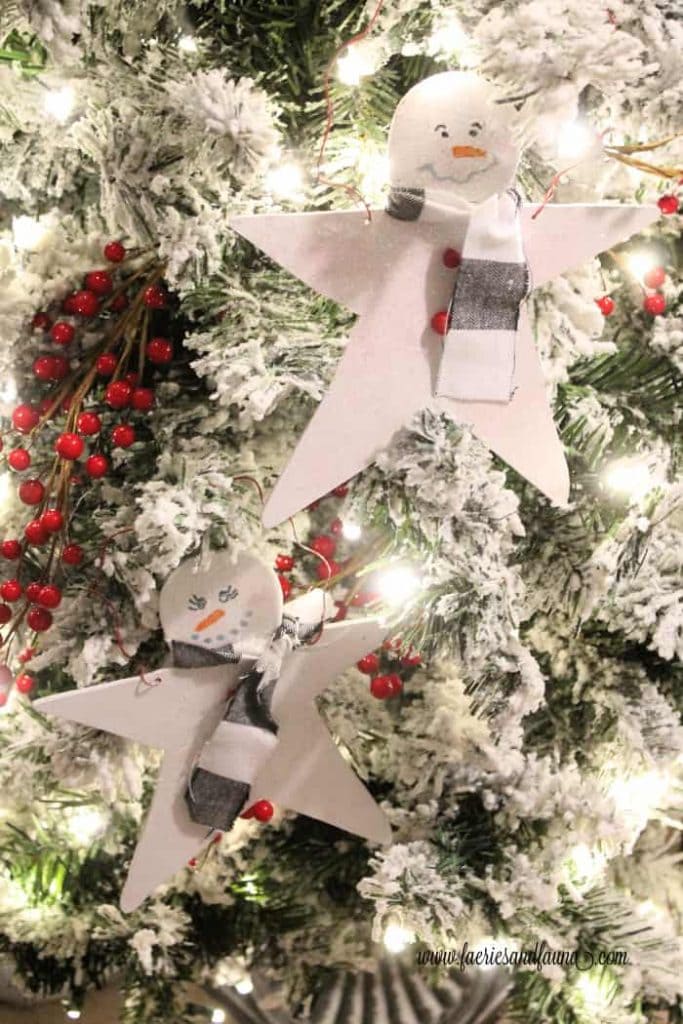 DIY Christmas Snowman Star Ornament
Farmhouse DIY Christmas Ornament Using Dollar Store Supplies
Want to make this? Pin it for Later.