DIY Christmas Paper Scroll Sign
DIY Christmas Scroll Sign with Lettering
I know that it is extremely early to be posting a Christmas project, but with all the things I want to make I need to get started early. This DIY Christmas scroll sign is for above the bed in my grand daughters room.
Welcome to this month's Pinterest challenge, hosted by Erlene of My Pinterventures! In the challenge, held once a month, bloggers like myself tackle a project we've pinned I fell in love with this pin and knew I could find a way to create a scroll sign using a pattern instead of calligraphy.
My tradition is to decorate the girl's guest room as much as I can for the Christmas holidays. I do it for two reasons, to build special memories for little ones and to honour my Grama. My own grandparents were all gone before I was born, but this amazing couple told me as a toddler that they would be my Grama and Grampa and they always were. I was so very blessed. Do you have a special memory from childhood about your Grama?
I took the bus for 12 hours ever year from the time I was eight to visit my grandparents every summer. She had this huge guest room that was all mine, with a nightlight, a makeup dresser, and hand crocheted bedspread and all the G rated Harlequin romance books a teen could read. I loved that room, oh how I loved that room.
Now each year my little ones arrive and run straight upstairs to see their bedroom, its beautiful to watch, but takes planning and time to create, so this Grama has to start early.
Their room has been Santa themed, winter wonderland themed, reindeer themed, but this year I decided on something a bit different. This year there room is girly girl pink Christmas.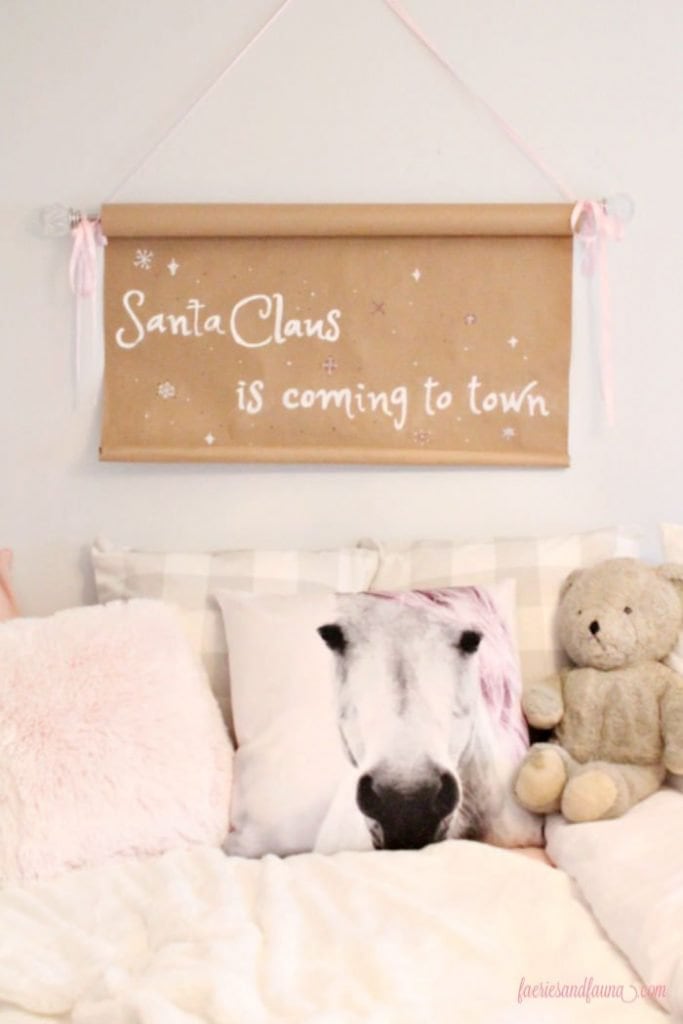 Christmas Paper Scroll Sign Supplies:
To make this simple Christmas sign for over the bed you will need.
Wide roll of plain brown wrapping paper. Mine is 30″ wide.
Small pretty curtain rod
Pink ribbon
Tape
Clean white eraser
Chalk, ruler
White chalk paint pens
Pink pen
Rag or paper towel
Creating the Lettering
You can create any saying you like using Canva, its free and has a wide assortment of fonts for you to choose from. This template was made using two 8.5 by 11″ templates, and Princess Sofia font in size 250. You can also create lettering in Word if your more familiar with it. To size the font I knew my paper roll was 30″ wide, so doing the math I know I need to use less than 4 widths of 8.5 width paper.
Tracing the Lettering onto the Brown Paper Scroll
Lay out the roll of brown paper about 36″ long, placing either weights of some sort or tape to keep the bottom two corners from curling.
I have a cutting machine, but simply printing and tracing with chalk is faster, less fussy to do, and almost free so I prefer doing it this way. Print out the separate Santa Claus is coming to town printable. Flip over and trace the back side with chalk. You can place the paper against a window it will help you see the letters.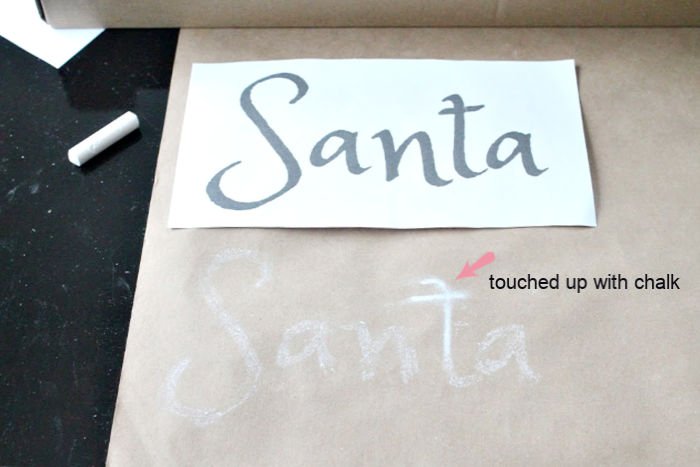 Line up the Santa and Claus printables so that the bottom of the a's are level with each other. Use small bits of tape to hold the corners and rub the wording with your finger to transfer the chalk.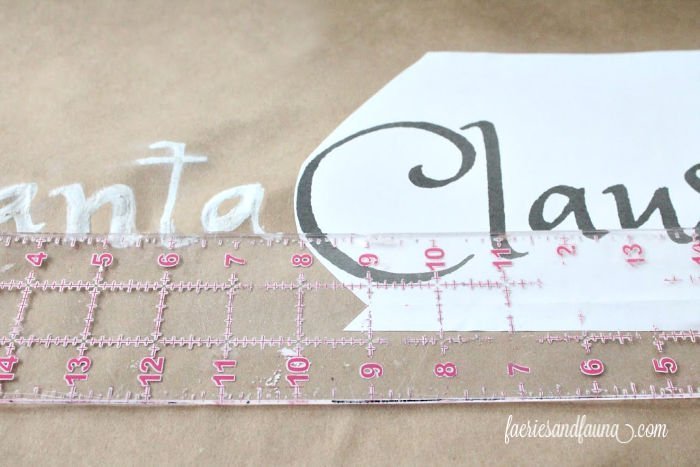 Check and see how well the chalk transferred, outline any parts your hesitant about tracing with the chalk. If you mess up the chalk, just wipe off with a cloth and start over. Once your sure about the outline of the lettering colour in the chalk letters with the white chalk paint pen.
I then drew simple snowflakes white dots and little pink star bursts around the lettering with a pencil. Once I liked their placement I painted over them with a white chalk pen and a pink pen. Let the lettering dry well for about an hour.
Once the lettering is dry use a clean white eraser and get rid of any chalk marks or smudges.
Hanging the Christmas Paper Scroll Sign
Cut the paper at least 48″ from the bottom. Place the curtain rod along the top of the paper, tape it to the curtain rod in middle and both ends. Roll up the paper around the curtain rod.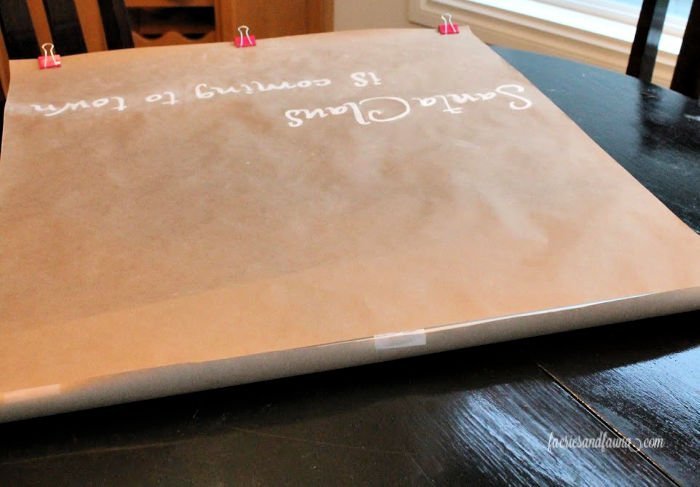 Roll up the bottom of the paper scroll, tape the ends of the tube to hold it in place.
Tie pink ribbon to the ends of the curtain rod, and hang it.
This Christmas paper scroll sign is very easy to put together, I have finished wood framed scroll art board that I will share later on this month. Here are all the other Pinterest Challenge posts. Enjoy, I am sure there are lots of great ideas for us.
TO JOIN NEXT MONTH'S #PINTERESTCHALLENGE, CLICK HERE TO SIGN-UP ⇒ November Pinterest Challange
---
For more Pinterest inspired projects from this month's Pinterest Challenge hosts, check out the links below ↓

My Pinterventures • Eye Love Knots • Faeries and Fauna • Life Beyond the Kitchen
Across the Boulevard • Purple Hues and Me • Intelligent Domestications
My Family Thyme • Mom Home Guide • Our Unschooling Journey
Our Crafty Mom • Sum of their Stories • Farm Girl Reformed
Decorate and More with Tip • This Autoimmune Life • Sew Crafty Crochet
Domestic Deadline • Cookies Coffee and Crafts • My Sweet Things
Christina Faye Repurposed • Blogghetti • Teadoodles • Our Good Life
Now, let's see what the other hosts have created ⇓⇓


—